FEATURES
Vulfpeck: The Gamewinners
By Allegra Rosenberg · October 17, 2016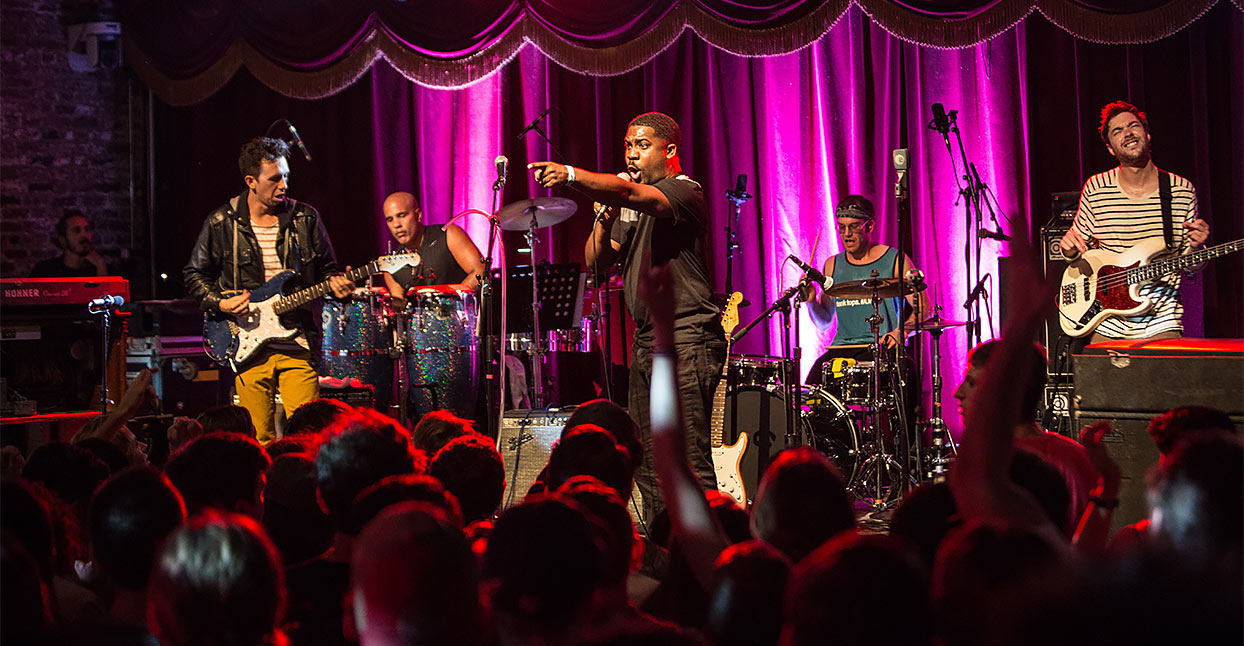 It's a sweltering September evening in New York and, onstage at the Brooklyn Bowl in Williamsburg, Vulfpeck have a wound-up, sold-out crowd in the palms of their hands. After cajoling the front row into singing a pitch-perfect A, drummer/guitarist/vocalist Theo Katzman proceeds to lead the audience in what he calls the oldest form of human bonding—three-part harmony. He teaches, then conducts, the audience through the entire chorus of the group's joyously catchy tune, "Back Pocket." Alto, tenor, bass, all together now: "Put it in my pocket, in my pocket, in my back pocket, whoa-oh-oh!" What could easily devolve into an out-of-tune, off-beat mess at any other show instead becomes a choir, whose voices soar high above the tight rhythms of the Ann Arbor four-piece.
Vulfpeck was formed in 2011 by a group of music school friends at the University of Michigan: Katzman, keyboardist Woody Goss, bassist Joe Dart, and the band's maestro, drummer/keyboardist/guitarist Jack Stratton. Stratton's guiding concept for the band was an old-style studio rhythm section, after the fashion of The Swampers or The Wrecking Crew, skilled groups that provided the backing instrumentation for the biggest hits of the '50s and '60s. True to that idiom, the first four Vulfpeck EPs were largely instrumental—lean, clean funk that instantly found favor among truly devoted fans. Propelled by a stream of mildly-viral lo-fi music videos and the passionate word-of-mouth of those same fans, Vulfpeck secured staying power in an often fickle music industry.
But unless you're a college student, a working musician, a Bandcamp devotee, or an active member of the jam-band scene, your familiarity with Vulfpeck probably comes from a stunt they pulled over two years ago called Sleepify. An album composed of 10 silent 30-second tracks that the band asked listeners to stream while they slept, in order to rack up royalties, Sleepify captivated the attention of the music industry in a way that only a certain kind of disruptive and highly-clickable jab at the establishment can. Unfairly—but predictably—that attention didn't extend to the equally-innovative EP of actual songs they self-released later in 2014, Fugue State, or their 2015 debut full-length, the exuberant Thrill Of The Arts.
.
00:10 / 00:58
Though they might never again score the kind of headlines that viral hijinx got them, 2016 has been Vulfpeck's biggest year to date. They've sold out three-night runs at both the New York and London Brooklyn Bowls, and played to crowds of thousands at Bonnaroo and Outside Lands. The pre-order for their sophomore LP, The Beautiful Game, raised nearly $30,000 during the first 24 hours it was online.
Backstage at the Brooklyn Bowl, before the triumphant final night of their New York run, the four members of Vulfpeck are sanguine about their recent triumphs.
"I happen to know that [the success] has been gradual," Stratton says matter-of-factly. "We have been onboarding about 400 fans a day for the past year." Bassist Joe Dart disagrees. "You don't play a slightly bigger show every week by increments of 10 people," he says. "It's just all of a sudden—here's the gig, and it's bigger than [the last one] was. But it comes out of nowhere." The band's Bonnaroo set was something of a shock to the system; the group actively worried about whether or not they would be able to pull off their schtick-filled live set in front of a mainstream festival crowd. Their fears were unwarranted: when they took the stage, they found themselves in front of an audience of 5000-plus, who demonstrated—loudly—that they embraced Vulfpeck with enthusiasm.
You get the sense, listening to Vulfpeck recount their musical histories, that the band's formation was almost inevitable. All of the band's members were raised in musical families, and most of them hail from the Midwest. Goss' father played jazz and blues piano as a hobby. Katzman's father was the renowned trumpeter Lee Katzman, whose impressive discography spans over 50 years of big band, bebop, and jazz. In the '50s and '60s, the elder Katzman worked as a studio musician in Los Angeles during the height of the session era, and may have appeared on records with one Israel "Izzy" Baker—Joe Dart's maternal grandfather, an accomplished violin virtuoso whose career highlights include the signature screeching strings in Bernard Hermann's score for Alfred Hitchcock's Psycho.
Jack Stratton's father led (and, in fact, continues to lead) a Cleveland-based klezmer group called Yiddishe Cup, with whom Jack began playing gigs at a young age. "My dad taught me to pay musicians day-of," recalls Stratton. "It's in the Talmud." Stratton inherited more than good business sense from his father— his unique stage presence and "artificial-hip" dance moves were also passed down, l'dor vador. "It all became clear when I finally saw Jack's father and his band play a few months ago," says Dart. "It was like I was watching Jack Stratton onstage. Really, when I'm watching Jack, I'm watching Bert—it's pure apprenticeship." Vulfpeck's Jewish roots are vital to their philosophy. Led by Stratton's larger-than-life tummler persona, Vulfpeck have solidified their identity on that liminal boundary between past and present, the home base of Ashkenazi Jewish-American music since the times of Gershwin and Harburg. They make music for celebration, for community, for gatherings and get-togethers, the heirs apparent to a long line of haimish troubadours who, coming at popular music from a position slightly outside the mainstream, managed to capture the zeitgeist of a time and place and state of mind better than anyone else.
Goss, Dart, Stratton, and Katzman are at the center of every show and recording, but they are at their best, both live and in the studio, when their sound is filled out with additional instrumentation, and collaboration with other talented musicians. On their first four EPs, they kept it close to home, bringing in their University of Michigan friends Antwaun Stanley on vocals and Joey Dosik on keys and saxophone for a few tracks, like "1612" and "Outro." Thrill Of The Arts saw the doors open a little wider to include legends like David T. Walker and Blake Mills, and, on The Beautiful Game, they curated an astonishing slate of talent to populate their compositions. Minneapolis funk guitarist Cory Wong is "the Billy Preston" of the record, with his shining Strat popping up on nearly every track. Dosik and Stanley make their triumphant returns, as does Thrill guest vocalist Christine Hucal. And six other guest stars, including Pegasus Warning and Bethanni Grecynski, all add their own individual flavors to the Vulf universe. The result is a rousing, tremendous record.
The rotating cast of cameos was hardwired into the concept of Vulfpeck from the start. An old Wikipedia entry for Vulfpeck, which Stratton wrote in 2013 when the band was still obscure, perpetuates all sorts of humorous misinformation, about the foursome, including: "the band has backed dozens of popular singers." But despite counting amongst their fans popular musicians like Bastille, Bootsy Collins and Jack Garratt, their guest spots have remained fairly low-profile, pulled mostly from the session worlds of Los Angeles and New York, or the band's extended Michigan family. In fact, Vulfpeck's loyalty to their university origins are integral to their identity as a band.
Katzman, the group's oldest member, graduated U of M in 2008, but stuck around Ann Arbor for a few years, befriending Stratton, Goss and Dart as they all worked to form a musical community. Goss booked shows at Ann Arbor venue Canterbury House, and brought Stratton's college big-band funk collective Groove Spoon in for a show. At the time, the band included Antwaun Stanley and later, a young Joe Dart. Dart recalls his first tour of the University of Michigan campus as a high school student, being led around by his older brother and attending electro-rock band My Dear Disco's sold-out record release show at the Blind Pig. It was there that he saw Theo Katzman, Joey Dosik, and Tyler Duncan (Vulfpeck's engineer) for the first time. "All these people were there, and I thought, 'There's something going on here.'" That 'something' didn't come out of nowhere—it was the result of deliberate determination by the local community of musicians. "I was just calling Jack in the morning," Katzman remembers, "waking him up and being like, 'What's the deal? How do we build a scene?' I almost feel like every dollar I've made as a professional musician is traceable back to two streets in Michigan."
The Beautiful Game is a compelling hodgepodge, one so diverse that Stratton admits it might not even appeal to him if it weren't his own band's record. "[But] we're all trying to take it there, you know," he says. "You think of Muscle Shoals… people know them for the funky stuff, and then you hear them on a Paul Simon record. It's like, 'Oh! They can kind of play anything.'" The Beautiful Game opens with a solo clarinet doina by Michael Winograd, who Stratton describes as, "the Lebron James of klezmer right now." "Animal Spirits" is a pure Jackson Five hit, all falsetto and lifting choruses, which leads right into the instrumental, Weather Report-esque Dart feature "Dean Town." "Conscious Club," a vocal re-dub of a disco-ready track that appeared in instrumental form on Thrill Of The Arts, stars LA session singer Laura Mace in a tour-de-force performance. "She's a musician's musician who can sing anything," Stratton enthuses. "She destroyed the vocal session, everything in just one pass."
The record veers into country on "El Chepe," experimental on "Daddy He Got A Tesla," and nigh-on cantorial on "Aunt Leslie," but maintains a distinct identity throughout, stamped by the core quartet's musical chemistry and Stratton's remarkable talents as a bandleader, producer, and mixer. It is music that feels incredibly good to listen to, and, going by the band's gleeful live shows, feels incredibly good to play. A Vulfpeck record, by its very nature, is euphoria in real time, a literal record of the minutes in which it was tracked, live to hard drive, in a single room, with all the yelping and grinning and camaraderie intact.
With a profoundly DIY approach that eschews nearly all the traditional personnel "must-haves" of their peers—including manager, label, and publisher—Vulfpeck's success is entirely the product of the group's sheer determination coupled with the brilliant strategic vision of their founder. Case in point: Stratton refused to book a single live gig for Vulfpeck until he could count on it being sold out, which meant that for the first three years of their existence they didn't play live at all. "It's a kind of myth that you have to be losing money for the first couple years of a band," he says. Through their regular yearly releases and clever multimedia clips, which were enthusiastically shared by their growing network of fans on social media, Stratton hit upon a formula that works— one that, despite the opportunities it has brought to their door, is Vulfpeck-specific enough that it might not be as effective in the hands of any other group. "We're lucky that my absolute favorite music correlates to the most popular music ever, so if we were into a more obscure thing…." Stratton trails off, but his point is made. The golden sounds of the '60s and '70s pop, soul, and funk from which Vulfpeck derive their musical identity are time-tested and persistent, and it's Vulfpeck's combination of those vintage vibes with a social strategy that has given them their edge.
"The beautiful game," according to Stratton, is what they call soccer in Europe. But it seems that Vulfpeck is playing a beautiful game all their own: making a living, making the music they want to hear, beholden to no one except for everyone who loves them. It's a game that's been good to them so far—in an industry full of scams, scandal, debt, and doubters, Vulfpeck is doing the impossible. They're winning.
—Allegra Rosenberg