FEATURES
Voltax Add New Dimensions to Traditional Metal
By Philip Freeman · June 09, 2017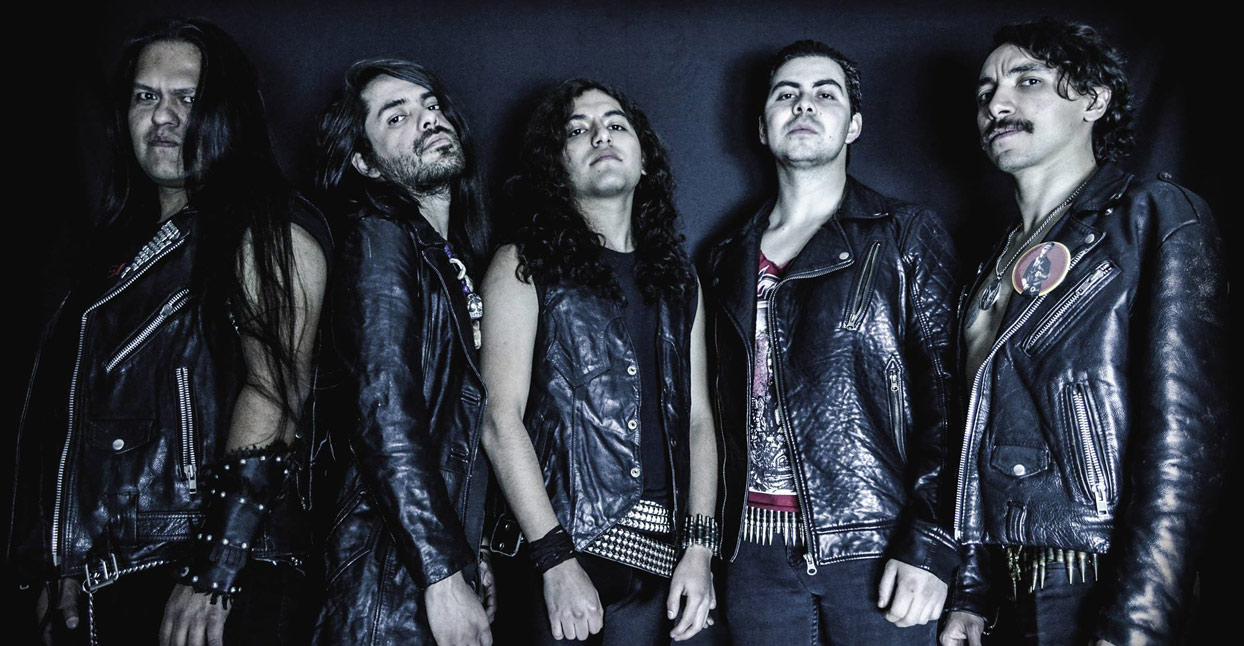 Voltax formed in Mexico City in 2006, while many of their fellow Central and South American metal compatriots were into the worldwide retro thrash renaissance at the time (see: Brazil's Violator, Chile's Dekapited). But rather than pursue that style, they went in an even more classicist direction—their songs have the galloping bass lines and thundering drums of early '80s metal, taking obvious influence from Judas Priest, Paul Di'Anno-era Iron Maiden, and even Running Wild. Vocalist Jerry Aguirre has a hoarse, shrieking voice, but he sings, rather than barking or roaring. Their songs have soaring choruses, and occasionally whoa-oh-oh backing vocals.
Over the course of four previous albums, Voltax have evolved into one of Mexico's most impressive underground metal bands. They've stuck to their guns, creatively speaking, making slight changes each time out but never abandoning their classic metal sound. Their second album, 2010's Fugitive State of Mind, is their loudest, most aggressive effort. On 2013's Hiding Into Flames, they stretched out and displayed real ambition, recording their longest song to date, the nearly 10-minute "The Vision."
Merch for this release:
Compact Disc (CD), Cassette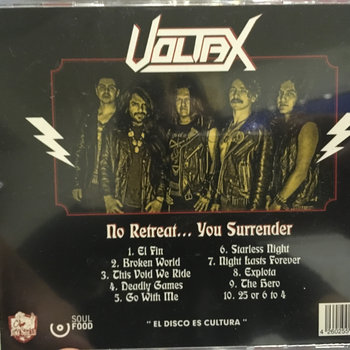 Now, with the brand new No Retreat… You Surrender, they're expanding their sonic palette a little more, to make room for a different '80s retro style. The album begins with "El Fin," a minute-long intro that's pure synthwave. "Starless Night" and the album's closer, the Chicago cover "25 or 6 to 4," feature more synths and some hard-driving, Deep Purple-esque organ. And while it's a cover, Voltax make it entirely their own with a little boost from a shredtastic guitar solo by Raúl Fernández Greñas of '80s Mexican metal band Luzbel. That guest appearance in effect brands Voltax as the torchbearers for traditional metal in Mexico, and the style couldn't be in more capable hands.
Guitarist Diego Magdaleno Machuca answered questions by email.
The band has been together for a little over 10 years. What has changed about the Mexican metal scene in that time?
Mostly the growing size of crowds following more underground genres, and also new bands with the right skills to sound good. Also having more shows from foreign bands that you never imagined to see playing at your city. That all looks positive. Oh, and the big boom of social media, which we all are riding on.
You guys formed at a time when there was sort of a thrash revival going on, with bands like Fueled By Fire, Merciless Death, and others. What made you decide to pursue a more traditional metal sound instead of being swept up in retro thrash?
No one was doing it, at least in the direction Voltax took; no other band sounded like this.
You've got a new guitarist on this album named Ricardo Doval. How did you find him, and why did your last guitarist leave?
I met Ricardo around four or five years ago; he contacted me asking if he could take guitar lessons with me. But the kid knew how to play, and from there on we became good friends. Our former guitarist [Christian Tejeda] left because he couldn't reach the level we all looked for after a year of playing together; we had to ask him to leave, on good terms. I thought immediately about Ricardo [then]. He got the gig pretty easily and gained our trust in him and his guitar capabilities.
The new album has a synthwave-style intro, and there are keyboards on a few of the songs. What inspired this evolution in your style?
Bands that have used synths or keyboards in heavy/rock music have been a constant influence on the band for many years, and it was actually on the last album that we started to take it seriously. Plus, Hector [Ulises Vera, bassist] is a hell of a good piano player.
Merch for this release:
Compact Disc (CD), Cassette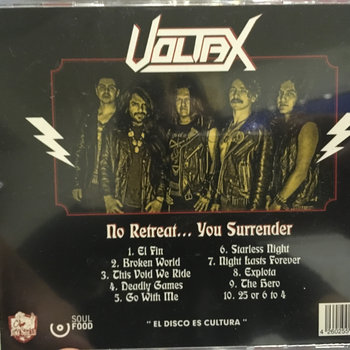 The cover of Chicago's '25 or 6 to 4′ is not something most metal fans would expect to hear, but it's really good. Why did you decide to cover that song?
Except for the track on our second album called 'Vida Después De La Muerte,' originally by the Mexican '80s band Megaton, we didn't want to do any more covers, except for something different and special. For the new album, that right moment came when we all agreed that we all really liked the early works of Chicago and this song was just the perfect chance to pay tribute to the magic of rock 'n' roll as a whole, with this song being the channel. We totally made our own interpretation of the song, making it much more heavy, slow, and dirty. We [did] such a unique version that several reviews from different media haven't noticed it's a cover song! We had a very special guest doing guitar solos, too: Raúl Fernández, guitarist from Luzbel, one of the most important heavy metal bands in the history of Mexican metal. Huge honor and amazing work.
Merch for this release:
Compact Disc (CD), Cassette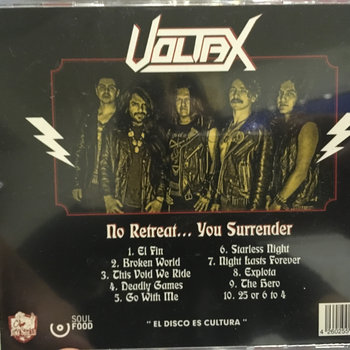 You usually have one or two songs in Spanish on each album, and this time it's 'Explota.' Do you think it's important to do that?
It is important. We feel we need to show our mother language respect, plus it really sounds like another band [when we do that]. Many Mexican followers prefer Spanish, so these songs are very welcome every time we play them live. We are starting to toy with the idea that we need to make an album totally in Spanish. We will see later…
Your last album had the longest song you guys have ever recorded, 'The Vision.' What made you decide to do a nine-minute epic?
We really like epic stuff that can take you to different 'scenarios,' on a journey throughout the song. We felt very inspired back then on this album, and this was our way of creating what we understood back then as epic metal. It was a very bright and creative moment back then, one of my favorite songs ever.
Hiding Into Flames had a lot more separation between the guitars, and a lot more twin lead work. This time, the two guitars are not as separated in the mix, and they're working together more.
This was totally intentional; we wanted to sound tighter and heavier and [put] even more emphasis on the melodies the guitars were going to do. Every detail was carefully worked out on this new album; couldn't say the same about Hiding Into Flames.
You won third place at the Wacken Open Air battle of the bands in 2011; have you had the opportunity to return to Europe on tour since then?
Not since that year, but finally we are going back to do a mini tour in Spain and afterwards visit the mighty Muskelrock festival in Sweden.
You just played in the U.S. recently; did you have any more trouble entering the country than before Trump took office? 
We just have to keep a low profile because even though we don't really make money from these visits, they will keep seeing it as us getting paid to play, and how do you explain to these people that underground heavy metal is not really the richest enterprise out there, right?
—Phil Freeman