FEATURES
TRNSGNDR/VHS and the Art of Confrontation
By Max Savage Levenson · Photos by Alexandra Brandon · August 15, 2016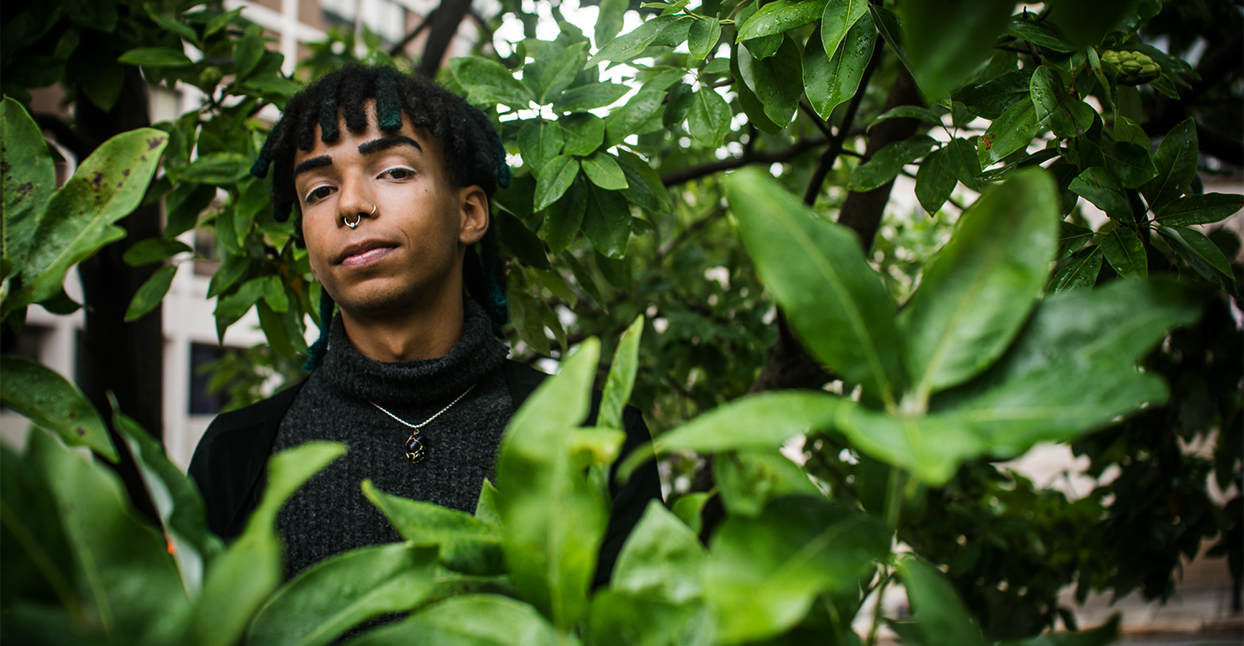 Alexandra Brandon, who records and performs as TRNSGNDR/VHS, has set up her gear on a small, squat table towards a corner of a gallery inside Baltimore's fabled Walters Art Museum. The ceiling, far above, is mostly glass, but the room feels a universe away from the muggy evening outside; the gallery's heavy wooden double doors are open, but very little sound escapes. The net effect is like entering a safe room—albeit one where the walls are fire-engine red and covered in paintings—a place that seems to exist out of time.
On the table in the corner, Alexandra has set up an iPad, a small mixing board, a few effects pedals and a grey roof shingle, the latter of which is  connected to a red contact microphone that's about the size of a quarter. She checks the equipment with intense focus, huge headphones cupped over her ears. In the airless silence of the room, it's strange to think about the world of sound exploding into Alexandra's ears just feet away.
Alexandra is here for a one-off performance, part of a larger series of installations that the museum curates as a way to use music to recontextualize the art—much of it centuries old—that hangs on the walls.
As her showtime draws near, museum docents and curators dash in and out of the room, bringing water and offering assistance with manic fervor—for a moment, we could be backstage at Madison Square Garden. But when Alexander Jarman, the museum's Manager of Adult and Community Outreach Programs, leads the audience into the gallery, the small crowd, limited to about 20, walks with trepidation, like kids entering a haunted house. Jarman offers a few words of introduction that feel almost cautionary—in other words, brace yourself. Then, he turns the floor over to Alexandra, who begins to play.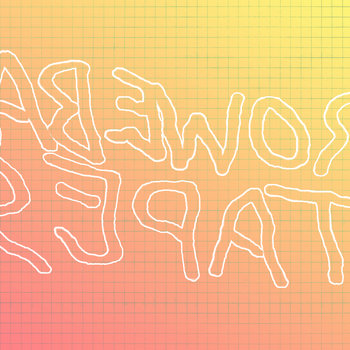 .
00:10 / 00:58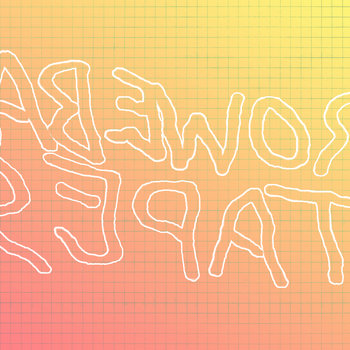 Alexandra's work isn't exactly conducive to a museum setting. Her sole release under the TRNSGNDR/VHS moniker, last year's Condominium EP, is a study in brutal cacophony. Its four tracks consist of relentless blasts of screeching noise and violent hiss, pounding against constant, lurid synth gurgles. Buried in the chaos, almost like half-erased sketches, are rhythmic ideas—pulses and heartbeats that create an urge to dance. TRNSGNDR/VHS' live performances emphasize both the music's aggressiveness, and its underlying kinetic movement. On one occasion, she abandoned a venue's stage to walk across the top of the bar; on another she cranked the volume until most of the audience left in panic—an event that she recalls with more than a little glee.
Sitting in the living room of her third-floor brownstone apartment in Baltimore's Mount Vernon neighborhood, Alexandra explains that, earlier this year, she received an email from Jarman inviting her to participate in the Walters' ART/SOUND/NOW program. Now in its second season, the series encourages musicians to create work that enables the audience to see the museum's collection in a new light. The composition would need to clock in around a half hour—which is longer than TRNSGNDR/VHS' entire catalogue combined—but Jarman, the series' curator, was confident in his choice. "There's a lot of room to explore within Alexandra's music," he told me. "I describe her work as challenging, but still inviting." For Alexandra, who was ecstatic and perhaps a bit perplexed by the invitation, it was an opportunity to explore a different avenue of confrontation with her art.
In high school, Alexandra, who also studies photography at the University of Baltimore, became fascinated with a Tumblr page called MedievalPOC. The blog traces the extensive history of people of color being, literally, whitewashed out of artwork, and cropped out of textbook re-productions. "[It] emphasizes the modern racism that retroactively erases gigantic swaths of truth and beauty," its author, Malisha Dewalt, told NPR in 2013.
Confronting this whitewashing in the museum became a crucial element of Alexandra's performance, and she chose the red-painted room in part to acknowledge "a lot of very low-key blackness" present on its walls—like the painting Scipio, which depicts the Roman general's interaction with Massiva, a North African prince, who is depicted as a white European.
As an artist of color living in Baltimore, the notion of whitewashing carried additional weight for Alexandra.  While the city, whose population is approximately two-thirds black, is home to a thriving musical community, virtually every artist who has gained national attention is white: Future Islands, Dan Deacon, Beach House, Lower Dens, Wye Oak. (Animal Collective and Yeasayer can also trace their roots to Charm City). "I would feel more chill being the only black person in a room with 20 white people if I was in a predominantly white city," she told me. "[But Baltimore] is predominantly black. It's a weird thing." The name TRNSGNDR/VHS itself is a challenge to a larger status quo: "Hey, fuck that shit," she said in a recent interview. "I'm just gonna do a noise project that's openly queer." To perform in a museum setting to an audience she (accurately) predicted would not look like her further compelled her to draw awareness to her outsider perspective.
Over the course of several afternoons in her apartment, Alexandra played me passages of her composition as it grew, as well as selections of music that influenced the piece. Those listening sessions, like the gallery, felt a bit removed from reality. As summer storms raged outside, we sat calmly, Alexandra sprawled out on her futon like a Matisse model. The composition that I heard was less sonically aggressive than "Condominium," and far dronier. I asked her if she saw the new piece as less confrontational than her previous work. "No," she responded. "It's just more subtle." Among the other artists that she played were Oneohtrix Point Never, whose work Alexandra praises as "almost impossible to follow," and the Cameroonian composer Francis Bebey, whose compositions break down borders between West African rhythms and electronic production.
On my last visit, the day before the performance at the Walters, a sense of panic started creeping in. Alexandra had just returned from performing a string of shows in New England, including a stop at the E-Volv Tech Festival in Boston, which advertises itself as "a community for self-identifying female, trans, genderqueer, and non-binary producers, djs, live performers, promoters/event curators in electronic music." The festival took place at a club called the Middle East (hilariously, the act on the venue's other stage that night was the half-hearted Trump supporter and Backstreet Brother Aaron Carter). At the festival, Alexandra came face to face with some of her idols, including DJ Haram and the footwork artist Jlin. After the festival, she split a ride with some of the other performers back to New York. "I saw my peoples do really cool stuff," she told me wearily, standing next to a big poster of Grimes in her kitchen, "and now I'm gonna take it up a level." She had barely left her house since, manically arranging sounds in the sweltering heat. When I left, I realized I had absolutely no idea what I would hear the next evening.
.
00:10 / 00:58
The composition begins with blurred blasts of static. Underneath the swelling storm of noise is a barely-perceptible mechanical voice; Alexandra has run Malisha Dewalt's NPR interview through a text-to-speech converter. As the waves of sound build, the audience slowly disperses into clumps of two or three. Most walk with their hands behind their backs, looking at the art as if oblivious to the extreme and violent sounds coursing through the space. The sound is blistering—a howling windstorm fed through a distortion pedal. Strange things happen to the portraits on the walls as Alexandra plays. The faces, like Philippe de Champagne's Portrait of an Alderman or de Ribera's St. Paul the Hermit, start to seem menacing, as if the music has driven a forceful wedge into the space anchoring the paintings to the past, and torn them loose, magnifying the harsh history they represent.
Throughout the performance Alexandra smiles peacefully, her eyes nearly shut as she triggers sounds on the iPad, adjust knobs and runs her finger over the roof shingle like she's stroking a cat. Like on the "Condominium" EP, there is something slightly rhythmic that begins to sneak its way in and out of the sound. There is no real arc to the composition—just waves.
When the piece ends, it is unexpected and unannounced. The sound cuts out, like a book being slammed shut. Afterward, the audience mills around, reeling a bit. "It's not what I'd call uplifting," said Mimi Bodell, 79, "but that's the times we live in." ("It was very nice and I'm glad I came!" she later added). Before the crowd dispersed, a lively young man named Leo Gray spoke up. "[The music] really brought out the angst in all the white dudes' eyes around the gallery," he said, almost feverishly. "It was so funny walking around and thinking, 'These people look so worried.'" The crowd laughs. "I felt great hearing that," Alexandra responds from across the room. Then she turned back to her instruments, with a big smile.
—Max Savage Levenson