FEATURES
Trentemøller Discusses Every Track on His New Album, "Fixion"
By Andrew Parks · September 01, 2016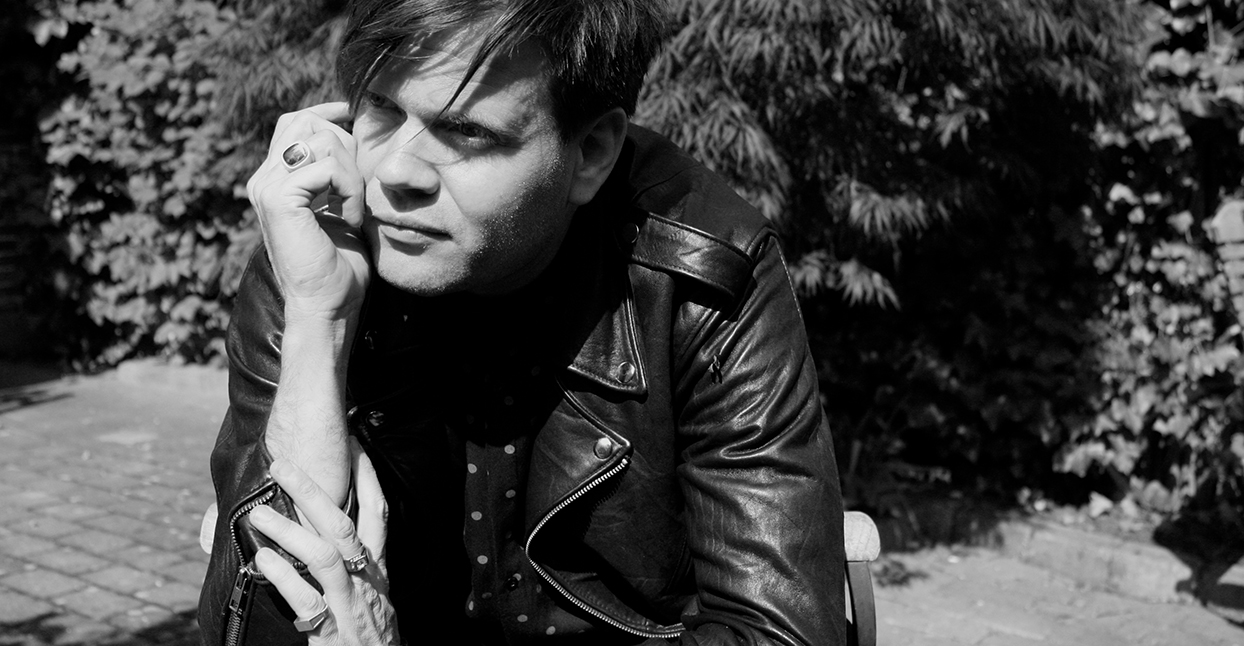 "It's easy to make a dark album," says producer/multi-instrumentalist Anders Trentemøller. "It's actually more of a challenge for me to go in the opposite direction and find a little bit of hope and light, so it doesn't get too heavy. That's also how my own life is. I'm not sitting in my apartment and crying all day."
In addition to letting in more light, the other big change in Trentemøller's songwriting, in the decade since his absorbing debut album The Last Resort, has been a concerted move away from the studio and toward the stage. While most of his music is written and recorded solo, behind closed doors in Copenhagen, years of touring with a live band—including dates with Depeche Mode—have turned the knob twiddler into more of a mute frontman.
In most cases, at least: Trentemøller's new record, Fixion, is his most focused effort yet, abandoning the loaded guest list of his last LP, 2013's Lost, in favor of a handful of more-than-capable hands (recurring collaborators Marie Fisker and Lisbet Fritze, and Savages singer Jehnny Beth). Trentemøller also steps up to the mic himself for the first time, and while his melodies are mangled beyond recognition, they cut just as deeply as anything else on the record. It's a carefully sequenced collection that has more in common with Joy Division than the dimly-lit dance floors where Trentemøller first found his footing.
"For me, [music] is about beauty and longing," he explains. "It can be comforting to embrace the not-so-happy vibes in life rather than be scared of them."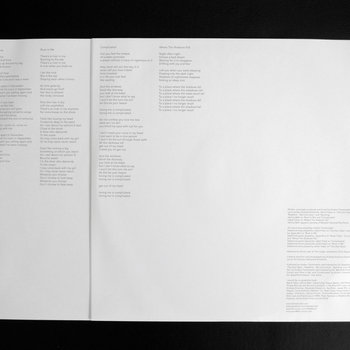 .
00:10 / 00:58
Merch for this release:
Compact Disc (CD), 2 x Vinyl LP
We asked Trentemøller to share the stories behind the songs on Fixion, which unfolded against a heady backdrop haunted by everyone from David Bowie to Stanley Kubrick.
"One Eye Open"
This is the first song Marie Fisker and I worked on for this album. Marie is in the same studio I am, so I just knocked on her door and gave her this instrumental. It was quite easy; she wrote really fantastic lyrics, and we worked on the melodies together. I thought it'd be a great start for the album, because it kinda captures its whole vibe.
Lost had five or six different vocalists. It worked, but I also think it's hard to get a natural, personal flow. In the beginning, my idea was to only have Marie do vocals. She's the one singing with me live, so we've had a long musical relationship, and know each other quite well.
Every time she sings, I get emotionally touched. It really blends well with my music, even though she's into more traditional songwriting, like Bob Dylan. We meet in my musical universe, and I try to make sure the lyrics are open and abstract, not a story told from A to B. Most of the singers I work with have that attitude with their music as well—leaving everything open.
I didn't tell her anything with this song. I just gave it to her, and she worked on it in her studio for two or three weeks. She's very private, so she really likes to work alone and try to find the right melodies and words for the music.
"Never Fade"
That's actually me singing, put through a guitar and some pedals to make it sound even more blurry and out of this world.
It's the first time I've put my voice on a song—and maybe the last. I'm not a great singer, but it's only two sentences, so I thought, 'What the hell?' It's a track I did quite quickly. It doesn't have a lot of depth. It just goes with the vibe of the album; I wanted to give a little space before we go to the third song, which is very heavy and dark. It's a little uptempo for that reason.
I'm going to sing it live, too, which will be quite a challenge. It is definitely a song I'm going to rehearse in the shower.
"Sinus"
This song was inspired by the intro to The Shining. I really love that movie, especially Wendy Carlos—her soundtrack is really fantastic, especially the long sequence where the camera is floating in the air, following this car driving to the hotel. That late '70s, early '80s vibe definitely inspired me.
"Sinus" is actually the first song I started working on for the album, before I started thinking about vocalists and stuff like that. The idea came up while we were touring. I always bring a little setup—a laptop and mini keyboard—and I started working on the most basic elements of this track in the band bus. It wasn't so much from me listening to the music from the movie. It was more about that vibe, the way I remembered the sound of the music.
I think I was 14 or 15 when I first saw The Shining. I was scared to death. I've seen it at least 10 times since then. I like its creepiness, the fantastic performances by Jack Nicholson and Shelley Duvall, and the whole visual aesthetic of the movie. I really love the scene with the kid driving his toy car really late, and the sound it makes when it goes off and on the blanket. Those small details—the visual side and the soundtrack—definitely inspired me.
"River in Me"
Jehnny [Beth] actually joined us on some shows from our last tour, when [Savages producer] Johnny [Hostile] was supporting us in Europe. I'm a really huge fan of Savages. I loved their debut album, so I was really happy when the band asked me to mix their new record. During that mixing session, Jehnny and I talked about how great it would be to do music together one day.
About half a year after that, I finished mixing their new album, and sent her two demos. One of them was "River In Me"—just basic drums, bass, and a little bit of synths. Normally, when I'm working with Marie, the whole instrumental is finished. But I felt like this demo I had finished in 10 or 15 minutes had a great energy that'd fit her voice. So I sent it to her, and we talked about meeting in my Copenhagen studio to finish the song together. That was a new way for me to work; normally, with Marie Fisker, it's a long process where we work isolated from one another. But here, we only had 24 hours to do two songs. That gave it a special energy I really love.
On the first day, Jehnny sang some cue vocals, and we talked about what the lyrics could be. Then, she went to her hotel and did them overnight. The next day, it was much easier for me to start recording the vocals. Because we had a time limit, it was very intense. There was no time to do a lot of overdubs or 20 different takes. That was really fun for me—very focused and intense compared to when I work on a track and sit on it for two months.
"Phoenicia"
This was actually written in the Catskills. My girlfriend booked a weekend for us to get out of the city. It was interesting going from this vibrating city—with a real pulse—to this bed and breakfast. We were the only ones staying there, so it was very lonely. I was in there for three days, and one evening, I began writing this track. The funny thing is, this track's not that quiet. It's one of the songs that's more playful and psychedelic. Even if you're in beautiful surroundings, that doesn't mean you're going to make beautiful, relaxing music. It's another space for you to be creative.
I did this in the very end of the writing process. I thought the album needed a song that was a little more loose and playful. I also wanted it to be quite psychedelic. When you're in the final part of making an album, you start to notice what's missing.
"Redefine"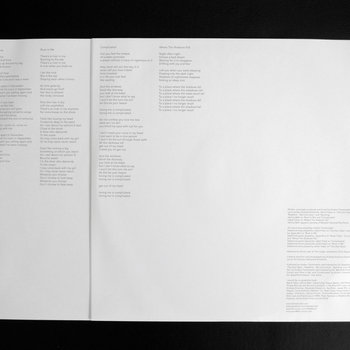 .
00:10 / 00:58
Merch for this release:
Compact Disc (CD), 2 x Vinyl LP
One of my favorite songs on the album. It has more of an uplifting feeling. It's definitely something I wanted—a little more live and simple, mainly the drums and the bass line and the vocals and synths coming in and out. I really love the two voices Marie did. It's not just in the background; they're two melodies that mix in and out of each other, all the way through.
"My Conviction"
A song that's quite different from what I normally do. It has a funky feel to it. Now that we've started rehearsing for the live shows, that's definitely one of the songs that works very well; we can extend the groove and play a little more with the whole structure.
"November"
That was one of the songs I did while I was staying in Brooklyn. It was done on a very rainy day—in November [laughs]—and was very much a little journey, a little instrumental that catches the vibe of where I was that specific day. It's also the track that takes the tempo down on the album and makes space for a more atmospheric, ambient vibe, which leads right into "Spinning."
"Spinning"
The next song I wrote after finishing "November." Me and Marie tried a lot of vocal ideas before we came up with this. I wanted her voice to sound out of this world in a way, as if it were underwater. That was a great challenge for us. It was really hard for me to convince her to mess with her voice. In the beginning, she had a hard time hearing her voice fucked up so much. But in the end, she was really happy about it. She just needed some time to see what I wanted from her vocals. I needed to convince her to let go. But now she's really happy about it.
"Circuits"
This is the kind of electro-punk-y stuff I wanted on the album. I really wanted something that was the opposite of "November" and "Spinning," something that was more uptempo and crazy, but still had an electronic touch. It was all about capturing a punk energy without vocals. I spent a lot of time trying to find cool melody lines for the synthesizer. I came up with a bunch of different themes, but they all sounded a little bit boring. So I ended up doing this thing with small, weird changes in the melody that sound ethnic in a way. It's fun to play with a band, too, because of its uptempo energy.
"Complicated"
This is even farther away from the Savages universe [than "River In Me"]. It has a much more melancholy vibe to it. Even if our music is quite different, [Savages and I] still listen to a lot of the same bands. The whole atmosphere was very playful and relaxed, even though we knew we didn't have much time. We both talked about Scott Walker and David Bowie a lot. It's not something you can hear in the music, but we love their work. I remember Jehnny showing me the video for a new Bowie song I really loved and hadn't heard yet. Having a little break from our own music inspired us and took away some of the pressure.
"Where the Shadows Fall"
The end of the album. I started working on it when we were in the Catskills. My girlfriend is singing on it. She used to play guitar in my band but she's over here now as an architect. That's why I'm back and forth between Copenhagen and Brooklyn—so I can visit her and work. She's not a vocalist normally, but we thought it would be cool for it to have a ghostly vibe, so we talked about recording her voice eight times on top of each other. There's eight layers of her singing the same melody. It ended up sounding great, so I thought it'd be a nice way of ending the album.
Being a couple and working together can be hard when it comes to creative stuff, but since she's been playing with me in the band for the last five years, we know each other and she totally understands the vibe in my music. We did the vocals in just two days.
—Andrew Parks