FEATURES
Traveler Become Their Own Heavy Metal Heroes on "Termination Shock"
By Brad Sanders · April 16, 2020
Last February, Canadian true metal band Traveler released a self-titled debut album that stood out from its crowded scene largely by channeling Judas Priest and Iron Maiden more successfully than anyone else. They weren't afraid of the comparisons, either. "Starbreaker" shares a title with a beloved cut from Sin After Sin, and "Behind the Iron" winks at the fact that it sounds like a Powerslave outtake. As great as that record was, its full-throttle heavy metal songs were almost templatized, and they seemed to only scratch the surface of what the band was capable of compositionally. Now, they're back with Termination Shock, an album that one-ups its predecessor in both ambition and execution.
Merch for this release:
Vinyl LP, Compact Disc (CD)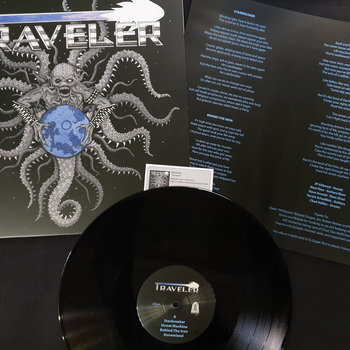 "[The sound on the first record] was pretty much intentional, man." says Matt Ries, founder, primary songwriter, and lead guitarist for Traveler. "That's my own fault with the first one, kind of using the same song structure. And I had a lot of fun doing that, but I definitely made a conscious effort to not do the same repetitive structures on this one."
That effort is evident. Each song on Termination Shock feels like a challenge the band has issued itself, and they pass each one with flying colors. "Shaded Mirror" and "Foreverman" are mid-tempo rippers with soaring choruses. The title track is a high-drama sci-fi epic in miniature, a trad-metal Alien. "Deepspace" flirts with speed metal, and the anthemic closing track "Terra Exodus" is a leather-gloved middle finger at the ruling class.
In the process of writing their way out of the first record's box, Traveler found a musical identity to call their own. It's built on Jean-Pierre Abboud's peerless vocals, Ries's and Toryin Schadlich's twin guitar leads, and now, an unpredictability as songwriters that registers as just a bit off, in the best way possible. Even "Diary of a Maiden," a song that openly pays homage to their heroes from London, bears the band's unique imprint. ("I made an effort to call myself out on it if I'm paying tribute to someone," Ries says of the song's title.)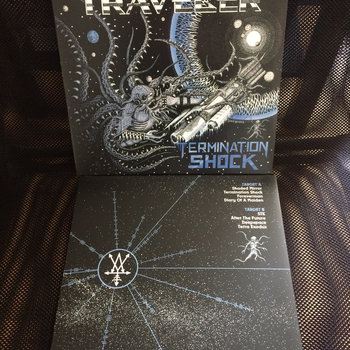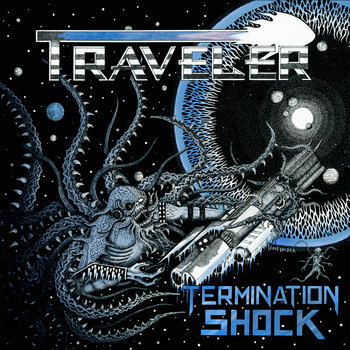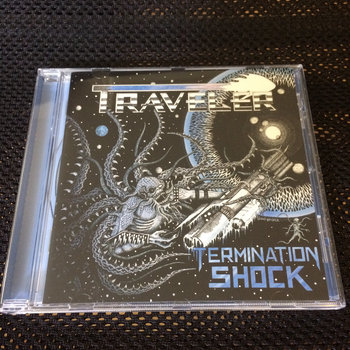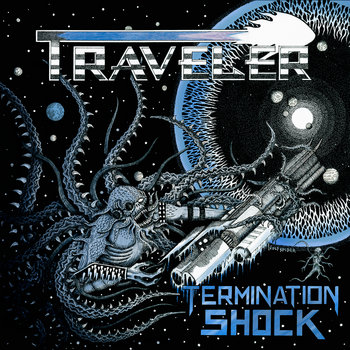 .
00:10 / 00:58
Merch for this release:
Vinyl LP, Compact Disc (CD)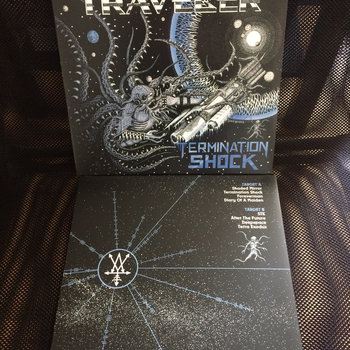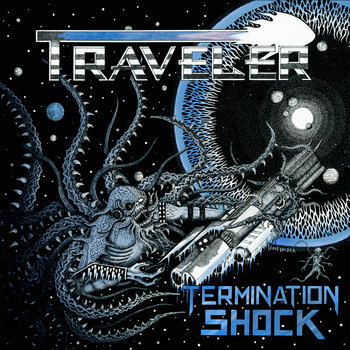 Ries conducted this interview from Calgary, where he's in quarantine after the band's first-ever European tour was cut short by the Covid crisis. Schadlich and drummer Chad Vallier are also Calgary based, but bassist Dave Arnold lives in Edmonton, and Abboud is currently stationed in Michigan. Despite the miles between the members and the more complex songwriting, Termination Shock was a more collaborative album than Traveler. Ries wrote the first album by himself, but here, major contributions were made by Abboud, Arnold, and Jean-Pierre Fortin of Canadian metal legends Deaf Dealer, who wrote "STK" and gifted it to the band.
"We [had] to learn these songs on our own and then come together to jam them for the first time. The first time we [heard] these songs all put together [was] within the recording process, so it's a little different how our band works," Ries says. "But where there's a will, there's a way, man. We make it work."
Despite—or perhaps because of—that process of working in isolation before coming together, the recording feels very much alive with the energy of discovery. The band sounds thrilled to be hearing these songs unfold for the first time, and every change in tempo and key feels like a revelation. Ries points to "After the Future" as a song that particularly embodied the adaptive, collaborative nature of the recording.
"That one was written completely backwards," Ries says. "I had the idea all laid out, and I recorded the demo for it, and as we were recording the vocals for it, me and JP [Abboud] had to completely flip it around to make it what it is right now. A lot of the melodies came in way later. We actually drove ourselves nuts with that one. That one's a bit of a headache, but we're really happy with the way it turned out."
Their hard work paid off, and Termination Shock stands as one of the finest albums of the current true metal boom. It also affirms the band's position in the canon of Canadian heavy metal, a lineage that includes the likes of Deaf Dealer, Razor, Exciter, and Annihilator—all bands that, like Traveler, started with an established template but went on to forge their own paths.