FEATURES
The Lover and the Killer
By Will Robin · September 09, 2014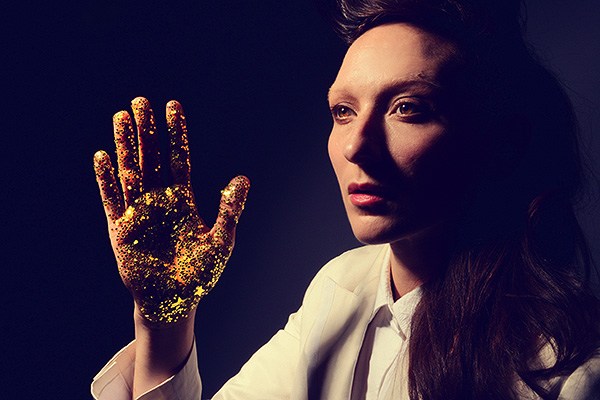 "How is it that every human being has the capacity to be both the lover and the killer?"
"This is my hand, this is my wrist, this is my arm, this is my fist," chants Shara Worden, unadorned and unrelenting. A bassline quickly ascends a five-note scale and promptly begins again, ad infinitum. "This is my face, this is my mouth, this is my eye, this is my brow." Worden continues to proclaim her presence, as My Brightest Diamond—her ever-shifting band, here in its fourth major iteration since 2006—builds around her.
The repetition of each mantra, the simple act of naming, accrues into a kind of manifesto. "'This Is My Hand' was literally this ritual of me taking back my body, for myself," Worden told me in a phone interview. The song is the titular track of a new album that brings My Brightest Diamond back to basics, emphasizing rhythm above all else.
Underlying that stripped-down approach is a personal vision. "Here was this record where I was trying to make dance music, and I realized that I really can't," she said, somewhat in jest. It wasn't that Worden didn't know how to dance; it was that she had been pulled away from it for most of her career. Entering the music scene in her late teens, Worden immediately encountered gendered limitations. "I figured out that people were not going to take me seriously as a woman, and so I stopped dancing," she said. "There was a lot of baggage, so I became more and more intellectual, even though I'm a really intuitive and emotional person—and I also really love to dance. But in my own mind, I really wasn't able to, because I wasn't going to be taken seriously."
"I'm coming to terms with the fact that I want to be a whole person, and that includes that I have a body," Worden said. Her insistence in "This Is My Hand" reclaims that space; the rest of the album explores similar territory. "By now, if I'm not going to be taken seriously there's no hope," she added, laughing. "There's no hope of me ever being taken seriously. So then in that case, screw it."
Following My Brightest Diamond's 2011 All Things Will Unwind, Worden immersed herself in a series of compelling projects, from singing David Lang's death speaks to writing her own Baroque-style opera to acting in a Matthew Barney film. When returning to the studio for the next MBD album, Worden confronted the basic existential issue for any musician today: "I'm about to make a record and people don't buy records anymore, so what does that mean?" Worden found an answer in her fascination with three books that all deal with myth, music, and human evolution: Jared Diamond's The Third Chimpanzee, Daniel Levitin's The World in Six Songs, and Robert Graves' The White Goddess.
"What does the modern tribe look like?" she wondered. "We're such a fragmented culture. I thought, 'Okay, what if the concert becomes the tribe, and we're only a tribe for a single night?'" The tribal rituals of the concert experience might involve clapping hands, waving lighters, dancing; This Is My Hand draws those out, emphasizing the collective along with the rhythmic, fueled by the elemental themes of the books.
This approach is crystallized in "Pressure," the album's opening track. It begins with the staples of the marching band—drumrolls, percussive filigree, and taut winds—a tradition that balances raucousness with tight coordination. For the past several years, Worden has integrated the Detroit Party Marching Band into her live shows, making the experience at once expansive and participatory. "For me," she said, "the marching band became the symbol of the place in American culture where folk, the idea of music being available and accessible to everybody, meets shared music-making. It's a communal experience." In "Pressure," Worden's varied musical persona is also on display with her ability to turn on a dime from a propulsive, jazzy vocal sound to quintessential, My Brightest Diamond moments of stop-time ethereality. Toward the end of the song, the music suddenly moves into a fluttering sonic plane as Worden sings softly of "Pink, purple, green, red, yellow, blue."
Worden initially wrote and recorded a larger body of songs for the album, but found herself dissatisfied. She decided to pare down and rewrite, transforming broader themes into intimate ones. The brooding and bluesy "I Am Not the Bad Guy" began as a narrative about an innocent man wrongly jailed, which Worden wrote for a Buster Keaton film. Its political implications, though, didn't quite hold up as a song; she adjusted the point of view, and put herself in prison. "By changing the perspective of who the 'I' was, it took it to a different place," Worden said.
"Lover Killer" is based on a bit of verse analyzed by Graves in The White Goddess—a kind of poetry game played by Welsh bards, in which consonants remain the same while vowels change ("Billet spied, bolt sped"). Worden sets the poem, a description of a quick and bloody death, in an intricate seven, articulated with handclaps and close-fitting percussion. But she also places herself at the center of the tale. "I wanted to somehow humanize the killer, to make it myself again—instead of 'Those bad people, I would never do that,'" she said. "How is it that every human being has the capacity to be both the lover and the killer?"
This Is My Hand dwells on such questions, but not in a ponderous way. It's really quite danceable.