FEATURES
The Garden are Orange County's Most Uncategorizable Punk Rock Legends
By Jude Noel · September 09, 2022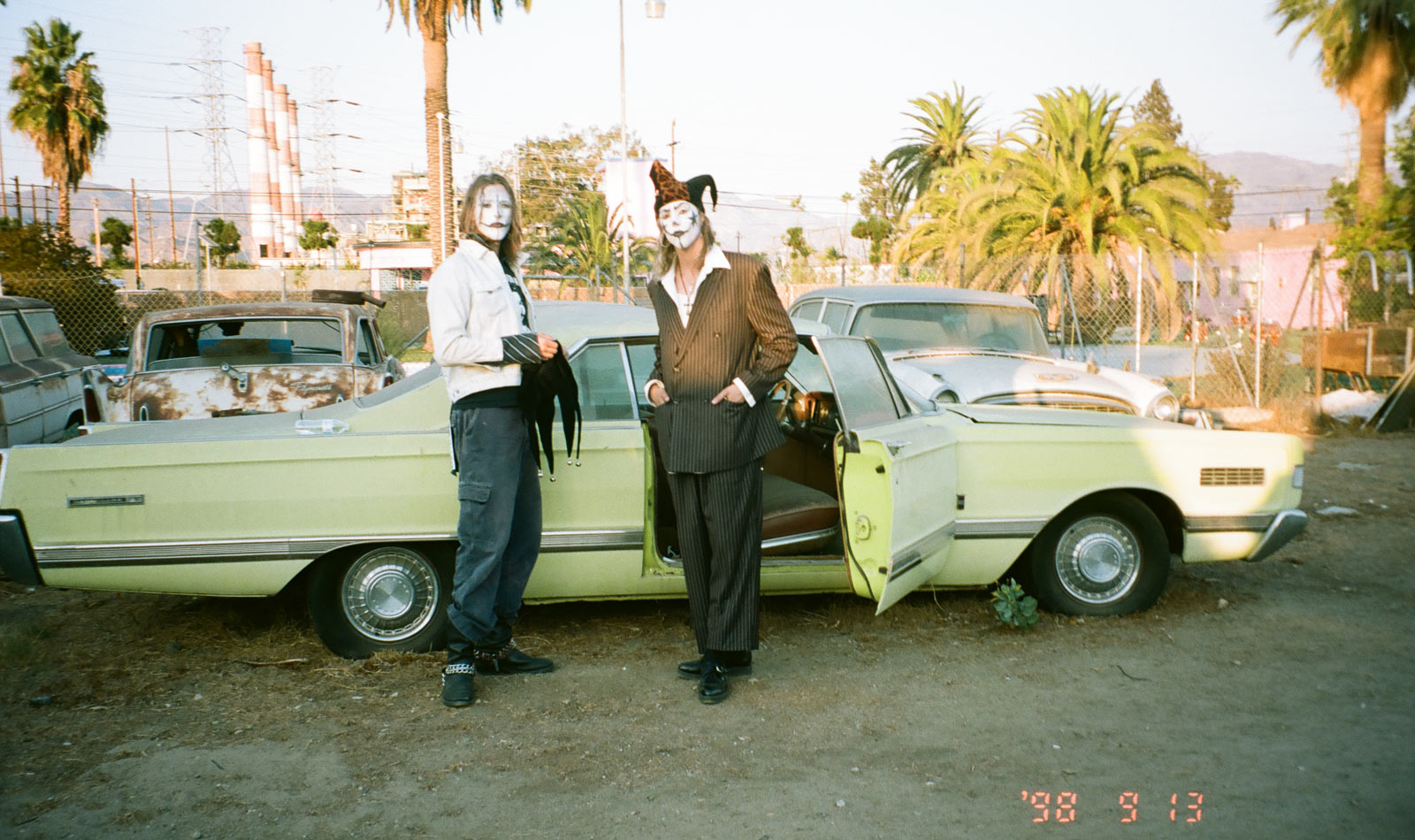 Formed in 2011 by identical twins Wyatt and Fletcher Shears, Orange County duo The Garden have amassed one of the decade's least categorizable discographies. Though they emerged from a local scene that wallowed in reverb and coastal slackerdom, the band's creative ambitions have far exceeded the cozy confines of garage rock. Their past three records use the bare scaffolding of punk—loud, fast, and barely adorned rhythm—to construct a chimeric, carnivalesque aesthetic all their own.
Horseshit On Route 66, their first independently-released album since parting ways with Epitaph Records, revisits the band's earliest interests, mining childhood memories and the hardcore punk history of their native Southern California for inspiration. Though the record's still tinged with the jungle breakbeats and sing-song melodies that have become Shears twin trademarks, it often feels like a fond look back at The Garden's earliest work, building around their nervy interplay between bass and drums.
On their upcoming U.S. tour, which kicks off in early October, the duo will be joined by pioneering noise-punk outfit Flipper. A one-off gig at the Hollywood Palladium in Los Angeles features Saccharine Trust and T.S.O.L., two bands whose genre-bending work in the early '80s predates the Gardens' try-anything ethos in spirit.
"It's kind of like a novelty thing for us because we grew up with these bands so heavily, like on repeat all the time," says Wyatt. "So to be able to have them not only say yes but be willing to go on tour and willing to do shows with us and stuff is a lot of fun."
"Now that we're in a position to bring out all the bands that we grew up listening to, or at least a lot of them, it's kind of huge for us," says Fletcher.
The first half of Horseshit isn't satisfied with mere reminiscence. Starting with the sludge-caked sound of their forebears, the band carefully braids crusty blast beats and extra peals of distortion into their usual blend of chaos. On "OC93," the twins cackle like disembodied voices in a haunted house over hefty low-end, only easing up to rattle off a few bratty Descendents-esque hooks. The following track, "Puerta de Limosina," is pure, bottled violence: an unrelenting barrage of snares and screams that sounds like Melt-Banana, J.F.A., and Death Grips all at the same time.
The children's book series Scary Stories To Tell in the Dark—particularly its infamous illustrations, drawn by Stephen Gammell—also played an integral role in shaping Horseshit's aesthetic. The record even opens with a modern-day ghost story, collaging clips of news broadcasts about a "Haunted House On Zillow."
The twins discuss Gammell's work with reverence, casually dropping the names of the specific stories in which particularly memorable illustrations appeared.
"They were in every book fair—every kid has some memory of it," says Wyatt. "It's always been an influence on The Garden but it's the most prominent on this album, without a doubt."
"I was always pretty frightened of the illustration from 'Haunted House,' and I really like the art from 'Fell from Aloft,' where a guy falls while working on a cruise ship. I know Fletcher's going to agree with me on this, but one of the most haunting stories is 'Cold as Clay.'
"It literally never ends with the inspiration from those books," says Fletcher.
"Orange County Punk Rock Legend" is the new record's biggest outlier: a breezy pairing of jangly acoustic guitar and glitched, synth bass. Despite the laid-back instrumentation, Wyatt and Fletcher bark unintelligibly into the mic as if they're crashing your weekend picnic with a bullhorn and boombox. On paper, the blend of ideas should clash, but in practice, it's oddly transfixing, tied together with a recurring sample that states the song's name.
"[The sample] is somebody we've been acquaintances with for a long time," says Wyatt. "They have a show on YouTube where they interview people who played in punk bands and stuff like that. He's a totally nice guy, but the way he says that is so funny to us—he's so animated. I think Fletcher already had the sample on deck when we were making the song."
To fully appreciate Horseshit on Route 66, you'll need to dig through The Garden's back catalog to trace their full artistic progression—a little something from each era is present on the new album. Keep scrolling to get a guided tour of their decade-spanning career, from their minimalist garage-punk roots to their ambitious experiments with electronica and synth-pop.
What We Are
In early 2012, approximately a year after the band formed, The Garden debuted with a self-titled demo tape hurriedly recorded while the twins waited for their first official record, The Life and Times of a Paperclip, to drop on Burger Records.
"That tape wasn't really meant to be an album or an EP or anything," says Wyatt. "It was actually just a score for a documentary that our friend was making at the time. But that stuff felt way newer to us than what would be on The Life and Times; it was just taking forever for the records to be pressed."
The Garden is fueled by pure extemporaneity. Only one of its 12 tracks lingers for more than a minute, each consisting of little more than a few surf rock bass riffs and Fletcher's frenetic drumming. The jazz-inflected messiness of early SST Records bands like Minutemen and Meat Puppets was a major influence at this stage in the band's career—especially on tracks like "The Sail Boat" and "The Plantation," in which Wyatt's bass playing bounces around in the higher registers, dripping with reverb and delay.
"At the time, we were still living together, so we'd just go into the garage, make something on the spot, and memorize or record it," says Wyatt.
"We weren't taking it that seriously," says Fletcher. "We weren't trying to be well-known or big, anything of that nature. We just wanted to make music that sounded different from what we were hearing around us. Like, 'How can we stand out at the local shows around us?'"
The Life and Times of a Paperclip would finally come out a year later, offering a (marginally) more polished take on The Garden's minimalist demo material. Though still brief, the songs here are twice as long on average, most pairing at least a few lines of absurdist lyricism with the twins' jittery instrumentation. "Grass," "Life as a Hanger," and "The Apple" consider the perspectives of inanimate objects as basslines hiccup and lurch—silly as they may sound, non-sequiturs like "Have you ever seen an apple walking around?" easily remain lodged in one's brain until they seem profound.
"At that time it was just bass and drums recorded on one microphone in a room that was not suited for recording at all," says Wyatt. "We were really inspired by bands like NÜ SENSAE that were touring around us and still playing house shows and whatnot. They were a bass and drums band—just a guy and a girl—for a long time. We were constantly going to record shows, house shows, and random clubs to see bands like them."
"I remember every older person I would run into, I'd ask them if I could play a show wherever they worked at that time," says Fletcher. "Even in high school, I had to do a senior project in order to graduate, and I pretended that I wanted to be a booking agent just so I could book a show and get a grade for it. We had NASA Space Universe and NÜ SENSAE on the bill—a bunch of bands we were into at the time."
---
From Drums and Bass to Drum & Bass
The Garden's 2013 Rules EP marked a major period of transition for the duo. While the majority of the record adheres to the classic formula of guttural riffage and ad-libbed vocals, its bookending tracks dabble in industrial trap production, arpeggiated hi-hats orbiting rumbling pulses from an 808.
"From the very beginning, we wanted to add some sort of electronic element to the band," says Fletcher. "It just took us so damn long to get it exactly as we envisioned it; especially when it came to live shows, it probably wasn't until 2015 that we really got it down. We were trying so many different things to make it work."
The EP's closing cut "Circles" was the band's first foray into synth-pop, a genre they'd explore more frequently on later records and in their solo projects. A slow, lumbering bassline creeps across a looped breakbeat as the twins deploy clusters of keyboard tones.
"Initially, that song didn't have lyrics," says Fletcher. "In the early days of The Garden, we garnered a reputation for fighting onstage. We'd have that song playing at the beginning of the set and then just start fighting. Whoever wanted to get involved got involved. Eventually, it evolved into the full song, but it originally served as a fighting soundtrack."
"I remember on the first tour we did in the U.S.—which was a horrible, horrible tour—the owner of this venue in Texas came outside and was like, 'I heard you guys start fights on stage. You know we can't have that.' And we didn't even do that anymore! The stories got all the way around to Texas and we'd kind of forgotten about them by then."
On 2015's haha, the first of three records The Garden would put out on Epitaph Records, the band explored more traditional structures but branched out into a wider array of sounds. While songs like "Red Green Yellow" and "Cells Stay Clean" might have sounded familiar to the already initiated, the twins' interest in electronic production really began to surface on this record. "Jester's Game" ditches live instrumentation altogether, instead opting for a flurry of jungle breaks and dissonant synths; only the twins' surrealist sloganeering and mastery of rhythm remain. "This Could Build Us a Home" introduces many hallmarks of The Garden's later discography, rapidly swapping between their straight-ahead punk rock stride and gaudy, new wave breakdowns that slow the beat to a half-time trudge.
"We recorded haha over a pretty long period of time since we were touring so much," says Wyatt. "We were working with a producer named Rob Schnapf, who's still a friend of ours."
"We'd always grown up on a little bit of drum & bass," says Fletcher. "The basics, like The Prodigy, Goldie, Photek; but we weren't super well-versed in it at that time. We were trying to expand on it more though, because it was something we'd always liked and we wanted to incorporate it into our own music. Some of the early electronic songs we made were pretty primitive. We were literally still figuring it out."
"We still didn't even really know how to make songs with proper structure yet," Wyatt adds. "They weren't our first attempt, but still an early attempt at making stuff with a verse-chorus-bridge structure. When we first started recording, we came in with the demos, but it was still pretty random; same vibes as our early tapes. Rob definitely taught us how to structure our songs a little more efficiently."
---
A Fool's Expedition
After releasing a string of one-off singles, including the fan favorite "Call This # Now," The Garden returned in 2018 with what is still their strangest LP to date—Mirror Might Steal Your Charm. Expounding on the more successful ideas introduced with haha, the record fleshes out the duo's usually sparse arrangements. Layers of twangy rhythm guitar tangle with Wyatt's bass, occasionally conjuring a spaghetti western atmosphere, while tracks like ":(" and "Make a Wish" sound like kids banging at the new keyboard they received for Christmas—in a good way. Canned snares roll, cartoon sound effects leap out of the mix, and trebly string sections create spooky tension.
"It's definitely a time period stamp for me," says Wyatt. "It's one of my favorites that we've done, but it has its own thing going on. We had a friend engineering for us who was more of a drum & bass-centric guy. I think the electronic elements came through a little more because of that. We were in that headspace more too: jungle, jump-up, make it hard."
2020's Kiss My Super Bowl Ring turned the band's aggression up several notches, favoring a grimy, industrial sound palette as the twins explored the extreme ends of their punk and electronic influences. "A Struggle" opens with a powerviolence salvo before taking detours into classic garage rock and abstract MIDI composition. On "Lurkin'," co-produced by 100 Gecs' Dylan Brady, pioneering cloud-rap MC Le1f turns in a guest verse over a squelching club beat. Released at the same time that a nascent hyperpop scene was beginning to gain greater mainstream traction, the record feels adjacent to—but not necessarily entrenched in—the year's genre-agnostic zeitgeist.
"We're in no way originators of these sorts of combinations of sounds; bands like The Prodigy have been doing it for years," says Fletcher. "But I did notice that when we put that album out, a lot of people were saying that we were just starting to do electronic music. Or people would say we're trying to sound like this band or that band—good bands, but totally not true."
The twins credit crust acts like Nausea and Dystopia as major influences on Super Bowl Ring, as well as Horseshit on Route 66.
"Musically, that album definitely reflected how Wyatt and I were feeling separately in our personal lives at that time," says Fletcher. "A lot of desperation and depressing vibes going on. It's an aggressive album."