FEATURES
The Du-Rites Detail Their Seamless Funk Debut
By Nate Patrin · October 21, 2016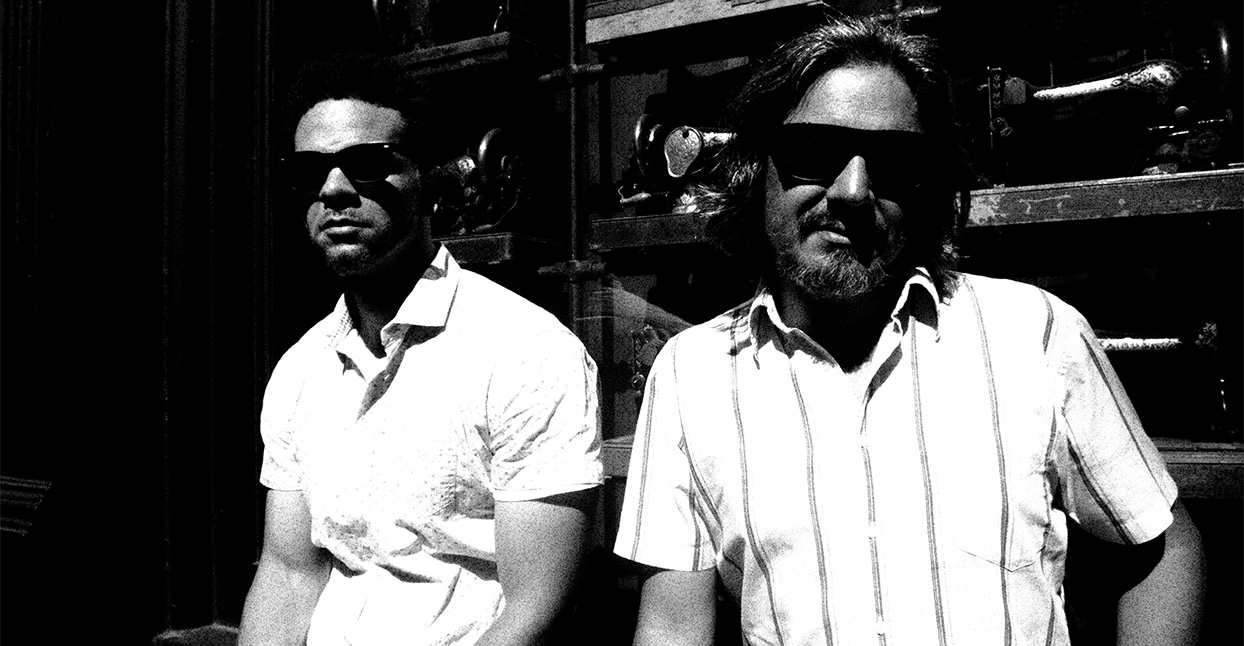 If you've followed MC/producer J-Zone over the past few years, you're not going to be surprised by the mind-rattling instrumental funk of his new album, J-Zone & Pablo Martin are The Du-Rites. Before he was a hip-hop producer, lyricist, and a scholar with an encyclopedic knowledge of the genre, Jay Mumford was an aspiring funk/R&B bassist. In the years since 2013's Peter Pan Syndrome, J-Zone has reemerged as one of the best live musicians in hip-hop, a break drummer in the tradition of Carlos Bess whose instrumental singles and b-sides—including "I Smell Smoke," "Seoul Power," and early 2016's "Funky"— are up there with the likes of the Heliocentrics and the Budos Band as hip-hop compatible tracks with a singular funk focus.
It's "Funky," which appears on J-Zone's solo record Fish-N-Grits, that made the Du-Rites inevitable. Pablo Martin—a guitarist, longtime cohort and latter-day member of Tom Tom Club, added the Telecaster flourish and twang/fuzz texture to the track that made their collaboration worthy of a dedicated two-man supergroup. J-Zone & Pablo Martin are The Du-Rites is fittingly steeped in nearly every permutation of funk thinkable. It's wide-scoped enough to remind you how wild it is that both 1966 Booker T. & the M.G.'s and Funkadelic fall under the same genre umbrella, and it's fearless enough to pull off both modes and then some. Some of Zone's characteristic humor slips through with sample-laced soundbite asides, or the occasional nod to the idea of "cop show music" (one particularly murky plaid-hued track's even called "The Chief & I"). The grooves and the chops are serious. We spoke with Zone and Martin about their new—and great—release.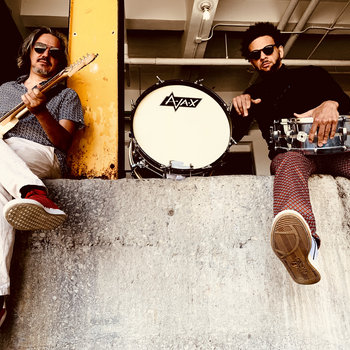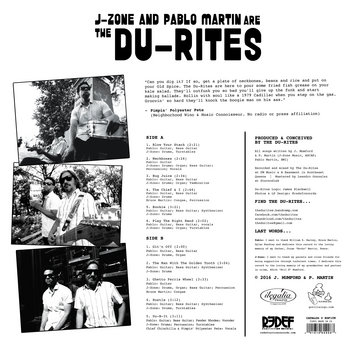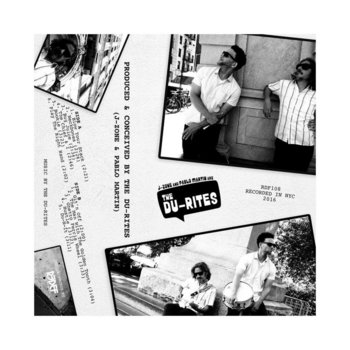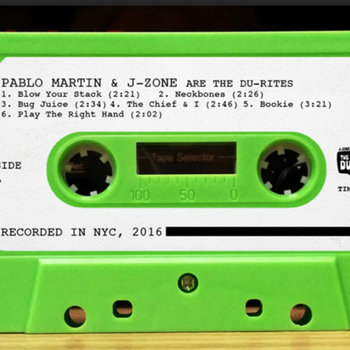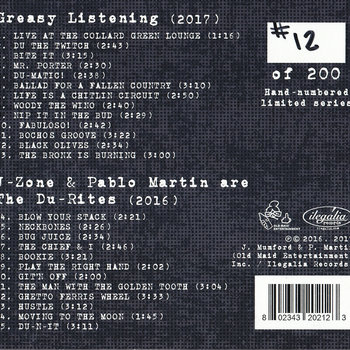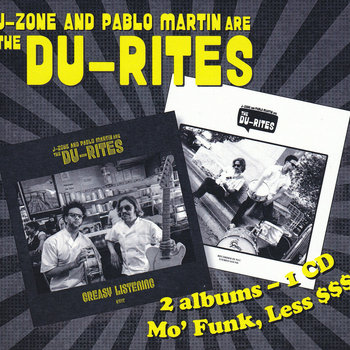 .
00:10 / 00:58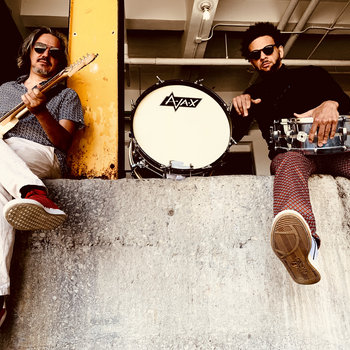 Merch for this release:
Vinyl LP, Cassette, Compact Disc (CD)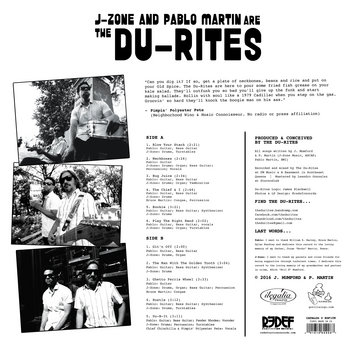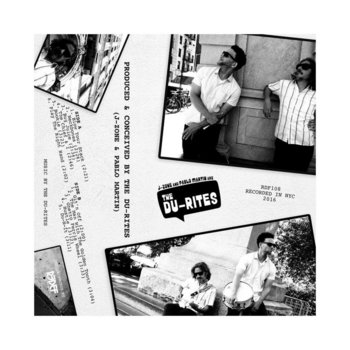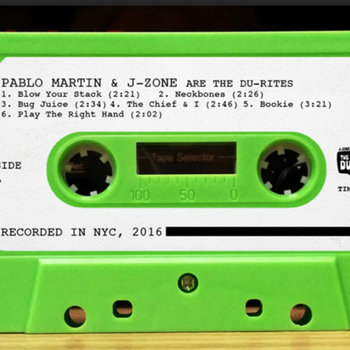 How did you two meet up and start collaborating?
Martin: Jay and I met about 16 years ago while I was working as a mastering engineer for one of these CD broker companies in NYC. He came to me with a rush project [J-Zone's A Bottle of Whup Ass EP]; I thought it was hilarious, but at the same time very real. I was used to kids coming to me, rapping about all the money and girls they obviously didn't have. But Jay was rapping about shitty cars and radio DJs not playing his stuff. I've been mastering his albums ever since, and we became friends. A couple years ago, I saw a post from Jay on Facebook inviting musicians to play with him. I waited a couple hours to see what kind of response it got—it got none, so I called him because I've heard he was now drumming and I was curious. I went to his place with my bass and we jammed for the afternoon. I thought that for a person who had only been playing for a year, he was amazing. We did "The Chief & I" that day. We kept collaborating on our funk stuff, and I called him when I needed a drummer for my rock project. So he's been a core musician for me for the past three or four years.
The kind of music you're playing on this album feels like it's crossing generations: You can hear the 1968 and the 1975 as well as the 1994. Is there any particular moment in history, or a precedent that you think back to when making music like this, or does it all sort of blend together?
J-Zone: Both Pablo and I like all eras of funk, but when it comes to inspiration to make stuff, I personally lean more towards the 1969. I'm a big fan of the minimally-miked drum set, a lot of bleed, imperfections, slight jazz influence, syncopation, Hammond organ, and fuzz guitar. I like the "cop show funk" and the slicker funk of the late '70s and '80s as well, but I didn't really know how to execute it 'til we made this album. Pablo is a master at actually knowing how to dial in those vibes. I learned a lot about drumming and composing for that slicker style from taking Pablo's direction.
Martin: I'm into groove, no matter from what era it comes from. As long as it all sounds cohesive.
What kind of instruments and equipment did you use to get that particular sound?
Martin: I used my [Fender] Telecaster [guitar] and a cheap, made in China Vox amp that I found in the trash in the East Village years ago. I also used a cheap preamp to have some tube distortion. It wasn't my intention to glorify the lo-fi; I don't think the record is lo-fi. I would have used expensive high-end gear if I had it, but I was where I wanted to be with my cheap toys.
J-Zone: I used three or four old '60s drum sets and some combo organs from the same era. I recorded with cheap dynamic mikes mostly. We also used some modern gear, but I really think the rooms we were using, the mixing board, the tuning of the instruments and the actual positions of the mikes had more to do with the sound. No matter what we use, it still sounds like The Du-Rites. That said, a pro engineer would have a heart attack if he or she saw how some of the stuff was done. But a lot of the mojo of our sound comes from the imperfections in the gear and the set up. It's a really quirky sound that came from having a lot of imagination and not a lot of money!
Are there any other hip-hop-influenced live bands or musicians that you really keep tabs on and get inspiration from?
J-Zone: There are some really good bands out there but, I'll admit, I usually go to jazz clubs to catch live music. That inspires me, even though I'm not a jazz cat. Going to jazz clubs and seeing how those guys approach their craft always makes me want to go home and practice. A lot of my inspiration actually comes from DJing, too. I have a monthly gig in NYC spinning funk and soul 45s, and when I'm doing a set and watching people's reactions, I'm actually studying and being inspired by the music I'm playing. I take note of what gets people going at these gigs and refer to it when composing my own stuff.
Martin: When I'm not funking with Jay, I mostly go back to my old punk-rock and new wave influences. I try to listen to as much music as I can in every genre, but I try not be directly influenced by it, because I still have the idea of coming up with something original in a world where everything seems already invented.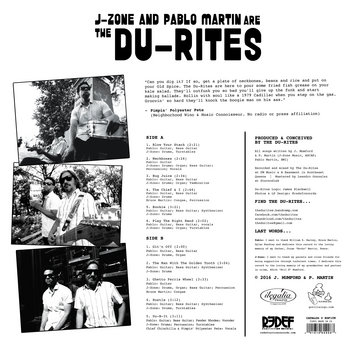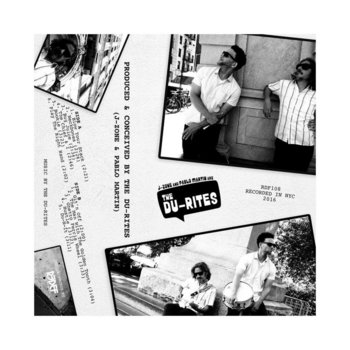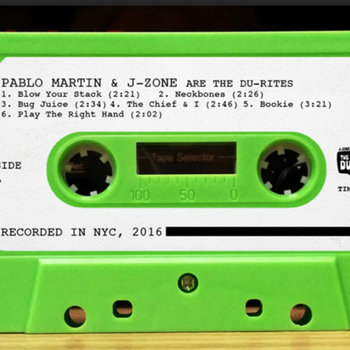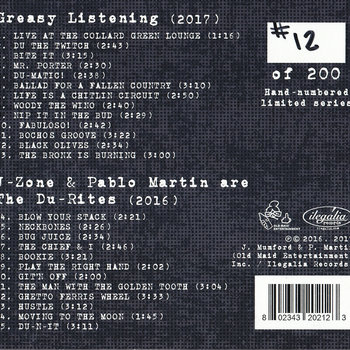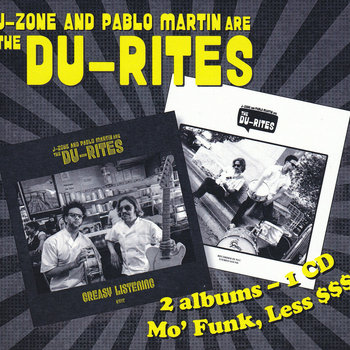 .
00:10 / 00:58
Merch for this release:
Vinyl LP, Cassette, Compact Disc (CD)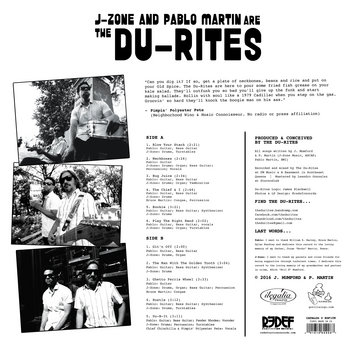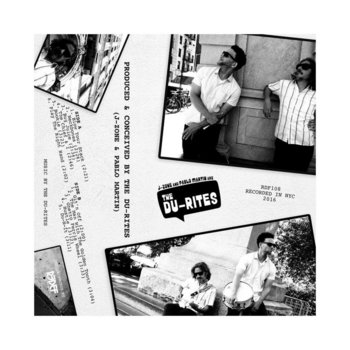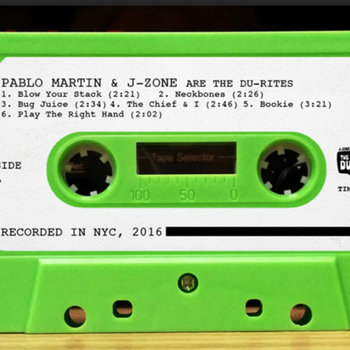 When someone's digging for beats, they can wind up with something that 100 percent bangs from a super-unlikely source (like weird hippie rock, Euro-sexploitation soundtracks, kids' educational records, etc). What's the least conventional, or most unexpected influence that's informed your live stuff?
Martin: There is a lot of punk rock hidden under the groove on the Du-Rites album, and I think that is one of the best things about it. A musician has to be constantly digging into the strange and unexpected, whether they're sampling or [playing].
When you're deep into both funk and hip-hop, how do the mechanics of one genre inform the appreciation and creation of the other?
J-Zone: Hip-hop came from funk, as far as the concept of groove, which is why sampling funk records was a staple of hip-hop production for so long. Groove is paramount. You can be a virtuoso musician and have chops for days, but when it comes to funk, if you lose the groove, chops don't mean shit. As a musician, your first instinct is to show people you're dedicated to your instrument, so it's easy to want to show off, or to frown on just keeping a groove for four minutes.
I approach funk and hip-hop in similar ways. As a hip-hop producer, I'd always try to get heads nodding, but I'd add the off-kilter TV sound bites and oddball samples to kind of show my cerebral side. As a musician and composer, my first concern is getting you moving, but I may spice up the groove in the drum break, toss in a quirky fill or breakdown, or ask Pablo to go off on guitar for musicianship sake just to get a few 'What was that?!' moments. But the shit has to groove.
Martin: I'm not as much into hip-hop as Jay, obviously, but I'm into groove, which is the key in any kind of music. That's where James Brown, Iggy Pop, and Duke Ellington coincide. It's also the power of two guys with different music backgrounds finding a common ground where they can understand each other and play together. We both know how to funk for real and that shows on the album.
How often do you think this is music that might wind up getting sampled, and does that ever specifically drive the kind of music you're making?
J-Zone: I've released drum break albums for the sole purpose of being sampled. The Du-Rites album is definitely sample-able, but that wasn't our main intention. Like, we may have moments that would make great loops, but we weren't thinking about sampling producers when we were making the album. We just wanted to make some hard-grooving, left-field funk that was inspired by everything, but sounds like nothing else.
Martin: I made this album with the idea of coming up with the purest funk I could, revisiting the styles, but also trying to be contemporary and fresh. The Du-Rites is not an album made for DJs and producers to sample as a primary function—it's an album to be listened to. It's clearly fresh material that could be used by producers and DJs on their beats, but they'd have to work around the music and find the beats like the old days. I would be absolutely thrilled if anybody picked this album as sample material and made new beats and new songs out of it. That would be a huge success for the project from an artistic point of view. It means that our music is moving people in some way.
—Nate Patrin