FEATURES
The Creation's Eddie Phillips on "Rushmore," Little Richard, and Being Copied by Oasis
By Ron Hart · March 21, 2017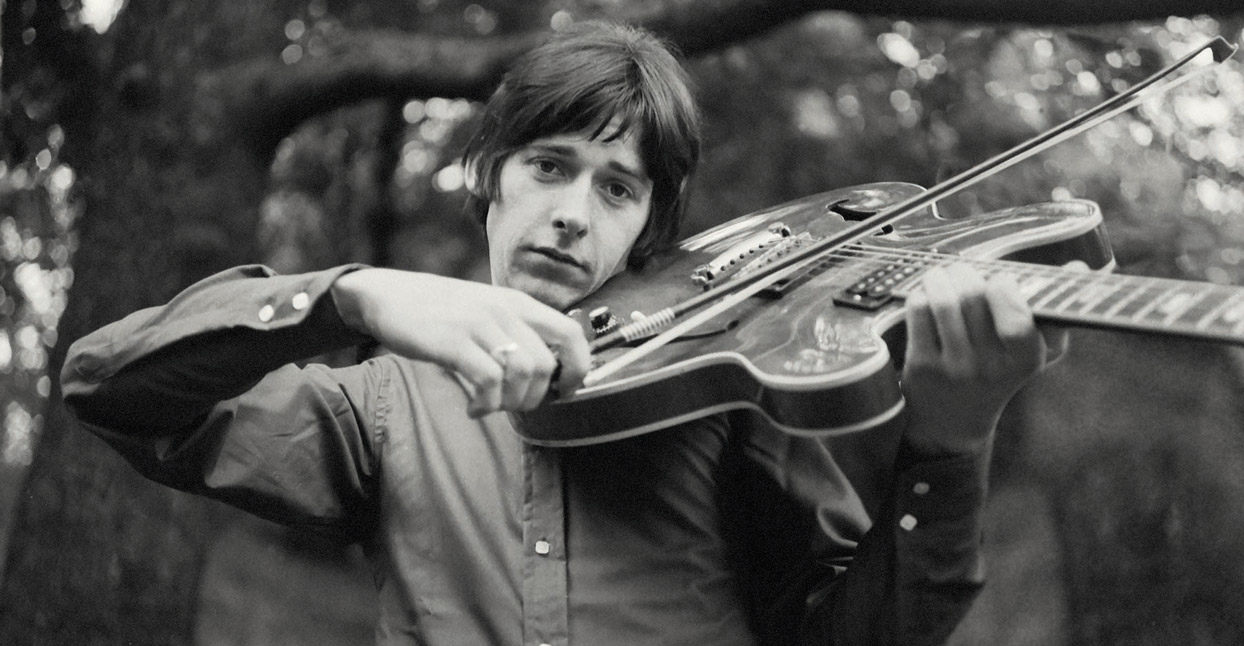 Our first introduction to the character of young Max Fischer in Wes Anderson's Rushmore comes by way of his lengthy extracurricular resume—Stamp & Coin Club, Fencing Team, Trap & Skeet Club, Rushmore Beekeepers, etc etc etc. But just as memorable as Fischer's list of exploits is the music that scores it: the fuzzed-out 1966 single "Making Time" by the UK group The Creation.
The song, which kicks against the mundanity of working in a clock factory, is cut from the same cloth as equally ecstatic mid '60s anthems like The Kinks' "You Really Got Me" and The Who's "My Generation," and with good reason: all three were produced by Shel Talmy, a Chicago native who spent the meat of the 1960s living in London. In The Creation, Talmy saw a band willing to push the boundaries of rock 'n' roll, and to explore the use of noise and overdrive in the context of melodically-driven tunes. Where the feedback Talmy added to The Who's "Anyway, Anyhow, Anywhere" was rejected by Decca Records (they thought there was something wrong with the test pressing), The Creation, led by singer Kenny Pickett and guitarist Eddie Phillips, were more than willing to crank things up to 11. Phillips even ramped up the noise factor by using a violin bow on his electric guitar, a technique that would be hijacked by Jimmy Page a year later when he made his debut as the new member of The Yardbirds and then, more famously, in Led Zeppelin.
Sadly, the band never scored a hit single during their initial run, but a decade after they split up, Boney M.'s Eurodisco version of "Painter Man" finally put The Creation in the UK Top 10. As it turned out, this was only the beginning of a wave of appreciation for the group: The cover art for their single "Biff Bang Pow" can be seen on the inside of The Jam's classic third LP All Mod Cons, and, in the '80s, Alan McGee decided to call his new record label "Creation," in direct tribute to the group. The label's earliest signings—the Jesus & Mary Chain, Ride, Swervedriver—all shared The Creation's signature fondness for noise and distortion.
The scant yet sacred discography The Creation produced during their initial two-year run has been compiled and released a number of times over the course of the last 50 years, but the Numero Group's new collection Action Painting is by far the most exhaustive anthology to date. A beautifully-packaged, two-disc hardcover box set, Action Painting gathers up all the original singles recorded by the group's original lineup and pairs them with songs by their first iteration as The Mark Four, as well as newly mixed versions of the group's most well-known tunes. Like the originals, the remixes were produced by Talmy who, at 79 and legally blind, is still a genuine master of amplified fidelity.
We spoke with Creation guitarist Eddie Phillips about Action Painting, as well as the history of one of the most electrifying, influential, and underrated acts to emerge from the British Invasion.
One of the earliest tours The Creation had done was with Little Richard. What was that like?
Eddie Phillips: We were on ['60s music TV show] Ready Steady Go the same week Little Richard was on it. After the show, we did a two-week tour of the UK with him, which was a real gas.  He didn't really come very often to the UK. But when you talk about an awesome performer—he really was that. It was just fantastic.
He signed my cherry red Gibson 335 , 'To Eddie, Good Luck Always, Little Richard.' After I left The Creation, I still stayed friends with Kenny Pickett, and I lent him the guitar in the early '70s for a short period of time. While he had it, the neck got broken. He called me afterwards and said, 'I'm sorry, but I sort of had an accident with your guitar. Can I buy it off of you?' So I sold it to him for 100 quid. Then, it ended up in the hands of Dave Gregory from XTC. Dave said he needed to bring it in for repairs—because I half-wrecked the guitar to begin, with using the bow on it—and, unfortunately, Little Richard's autograph got rubbed off. How mad is that?
Certainly the music of The Creation played a role in the gestation of British punk. Were you a fan of what was going on during that era?
Phillips: I always liked punk, and always felt for that movement, because they just took it back to the grassroots again. When Kenny and I put songs together, we would just—not lock ourselves away—but we didn't really aim to let anything else in. We always tried to stay true to the inspiration of what led us to make the music we made in the '60s, and we would always try to put our heads back into that whenever we put anything together.
Punk rock seemed to have doubled down on the same kind of feral energy that rock 'n' roll exuded back in the mid '50s.
Phillips: I'm at an age when I remember that first hitting the street back in '55, '56. I was 14 then, and to be a teenager, a young teenager, when rock & roll started was just fantastic. There were two great times for me throughout music: One was that period when we got all the great rock 'n' roll styles: Chuck Berry, Little Richard, Jerry Lee, Elvis. One of the reasons why I picked up the guitar in the first place was because I saw Buddy Holly live, and it was one of the best nights of my life. By the time he came over to England, my friend and I had just started to strum on the guitars and we'd play along to "That'll Be The Day" and "Peggy Sue", because they were nice and easy to play. I still remember how fantastic that show was, and the strange guitar that he played, which was a Fender Strat. It just blew me away.
Then, of course, there was the mid '60s, which was my other favorite time. You will never see the likes of either era ever again.
The Creation was one of the few '60s bands that punk bands in the '70s were listening to.
Phillips: That's true. John Lydon used to say that The Creation was one of The Sex Pistols' favorite bands, and they actually covered "Through My Eyes." They featured [that cover] in that movie that came out about them around 20 years ago, The Filth and The Fury. Our songs crop up in strange places. They made a movie about Jimi Hendrix a couple of years ago, and they used "Through My Eyes" in the movie. I saw it on television recently, and there was a scene set in a nightclub in the '60s, and the song was playing as they walked down through the smoke into this old dive of a club.
Speaking about that time, did The Creation ever consider recording a full-length album? A lot of your peers in the mid '60s were slowly pivoting towards crafting LPs instead of singles.
Phillips: Well, unfortunately we didn't last long enough to do so. By the end of '67, I had left the band and Ronnie Wood had come in as my replacement. Then he kinda did it his way, which certainly wasn't my way of doing things When I was with The Creation, it was always about the creation of songs as everybody knows them, really. We didn't have a chance to do something grander, if you know what I mean. Shel was always happy with the songs we came up with to record, and it was a shame we didn't stick it out longer to see where it took us, as far as recording a full-length record goes. But that's life, you know? These things happen, and you make decisions. Sometimes they're right and sometimes they're not. Maybe you can look back at them years later and by that time you have already forgotten the reasons you made them in the first place [laughs] .
But it seemed at the time you had a great situation with Shel Talmy, especially since he had his own record label and you were signed to it. It seems like the band had more freedom in that regard than some of your counterparts who were recording for the bigger record labels.
Phillips: We always enjoyed working with Shel. He would call us up and say, 'Let's go to the studio in three weeks.' So me and Kenny would get our heads together and write some songs—it was always kind of written at the last minute. When there's this sense of 'must-do-it' urgency, that's when you come up with your best stuff. If someone was to say, 'You've got six months to write a song,' you will take all of those six months to write the song. But if someone says, 'I'll give you four days to write a song and practice it and then go in the studio and record it,' you would probably do it and it would be quite alright [laughs] . I always felt it worked out better that way. I spent some time in my life writing songs for other people, and the funny thing was when you get this idea for a song and go in the studio to demo the tune, it would turn out pretty great. Then we would go in the studio with the musicians and put the track together, and I think on at least three or four occasions, the label would turn around and say to me, 'Gee, we like the demo you did best.'
What did you think of the idea of Creation Records being named after your band?
Phillips: When I first heard Oasis, I just thought they were a ripoff of The Creation. Well, not a ripoff , but you knew they looked at our videos and listened to our songs. Plus, the way Liam Gallagher was onstage, that persona—it looked to me as though he got that from Kenny Pickett, because Kenny had this arrogance about him when he was on the stage. Oasis used to remind me of The Creation quite a lot. We actually did a night at the Royal Albert Hall, and it was a Creation Records birthday bash. When we were on there we played a few songs as The Creation with the original lineup. This would have been about 1994, I guess.
One thing I noticed about The Creation was some comic book references, the most obvious one being the name of your song "Biff Bang Pow." Were you guys big comic book readers?
Phillips: Oh yeah. We were big fans. We were all brought up on Superman and DC Comics. I'm sitting in my study now, and on the table is a Superboy magazine, and next to that is a Superman magazine, and on the cover of this issue Superman had lost his eyesight, and the women are walking by weeping and putting money in his hat. And next to him is Superdog, wearing a cape. The artwork is just fantastic. Even at my age now, I'm still looking at this stuff.
We also loved the 1960s Batman; I personally don't enjoy the new Batman movies. I quite prefer the lighter, campier Batman with Adam West and Burt Ward. We got the title for "Biff Bang Pow" from those captions in the show when somebody gets knocked on the chin. We would actually open our live sets with the Batman theme, and we'd really rock that thing.  We'd also try to have effects onstage during our shows, and since we couldn't get dry ice, we'd buy all these packets of smoke powder from the joke shop. And we'd get an ashtray from somewhere and pour the stuff into it, and then the roadie would set light to it. But you'd have no control over how dense the smoke would be, and some nights it would get too smoky, so when the curtain would open and we'd start whacking out the Batman theme the smoke would start billowing out into the crowd. And Kenny would then be onstage doing his pop art with aerosols, and it was this big thing that hit you the first second you saw the band.
How did Kenny Pickett get the idea of painting live onstage during Creation shows?
Phillips: We started that in '66, when "Painter Man" was released as a single, and we were trying to think of something extra we could do onstage. I had the bow thing going on, but we figured we could do some painting as well, because of the song and because the 'pop art' thing that was going nuts in those days. What we ended up doing on a show with The Walker Brothers was, we managed to buy some wood and some paper, and our roadie made a screen out of it. The only paint we could buy on a Sunday afternoon was in a garage where they sold the aerosol cans to touch up cars. That's how we started it, and it turned out that's all Kenny would use was the aerosols. He was kinda like the first graffiti artist [laughs] . There wasn't anyone else writing with spray paint in 1966, at least in England. And Ken would just go nuts with it.
How did you come up with the idea of using a violin bow on the electric guitar?
Phillips: What I was looking for was something that would give me a long sustain, and the fuzzbox wasn't even invented yet back then. So to get that long sustain, I thought maybe what I could do was to get a thing that would make the bottom E play while I can hammer on notes on the top E. First thing that I tried to do was take a hacksaw and put a bottom E guitar string in it, so the windings on the one string would go one way and the strings on my guitar would go the other way and these windings would sort of rub on each other to make the sound I was looking for, which it did. But unfortunately, the hacksaw cut some scars on the guitar neck, and those scars were still there when Dave from XTC took it.
Also around the same time, John Cale was amplifying the viola in The Velvet Underground. Had you heard of the Velvets at the time?
Phillips: I knew the band, and I did hear some of their stuff. There was a movie, The Exploding Plastic Inevitable, there was this track on it which fascinated me, and I saw the credits and it was by The Velvet Underground, and I thought 'Yeah, that's really good.'
It's pretty safe to say, it seems, that you and maybe Link Wray were some of the first guitarists to really explore the utilization of feedback.
Phillips: Well the strange thing there was that previous to the Gibson 335, I used a Sonic Buddy guitar, a Futurama, which was sort of a strap-type guitar. I would be playing it fairly loud, and the feedback would naturally happen off the guitar. I didn't expect that, and I was wondering what I could do about it. Then I realized that you can control it and sometimes, depending on how you stood, or the room you'd be playing in, those things would also make a difference, sonically speaking. Everything was connected. So what I was able to do was perfect it a bit when The Mark Four recorded the song "I'm Leaving," and I was able to play the whole solo with feedback. I remember one of the engineers stopped the session, because they thought something had gone wrong, but I had to tell him that's the way it was supposed to sound [laughs]. He finally got it after a while, and I was able to put the whole solo down.
It's amazing to think of how far the utilization of feedback has come in rock music with Neil Young, Thurston Moore and, of course so many bands who were recording for the Creation Records label…
Phillips: Shel Talmy had turned me onto the E-Bow, which created some pretty cool, wacky sounds as well. So then I had come up with the idea of the violin bow on the guitar, but it turned out the bow didn't work the way I wanted it on the strings. So Jack, our drummer, suggested we added some resin to the bow. So I go back to the shop and buy this resin stuff and went into the studio to resin up me bow, and it worked, and I was able to try out all these different things in terms of controlling the dynamics of the way the sound of the bow and guitar would feedback.
Finally, what did you think when you first heard "Making Time" during that one scene in Rushmore?
Phillips: It fit that little part in the movie so perfect. It was a great movie. It's funny, we went to see Rushmore when it came out in London's West End the first week it was in theaters, and we went to the last performance of the evening. So this was about midnight, and we sat in the cinema until all the credits came up so we can see the song and our name appear on the big screen, but nobody else was in the audience by then except for the overnight cleaners [laughs].
—Ron Hart