FEATURES
On "Concrete Desert," The Bug and Earth's Dylan Carlson Destroy L.A.
By Tristan Bath · April 04, 2017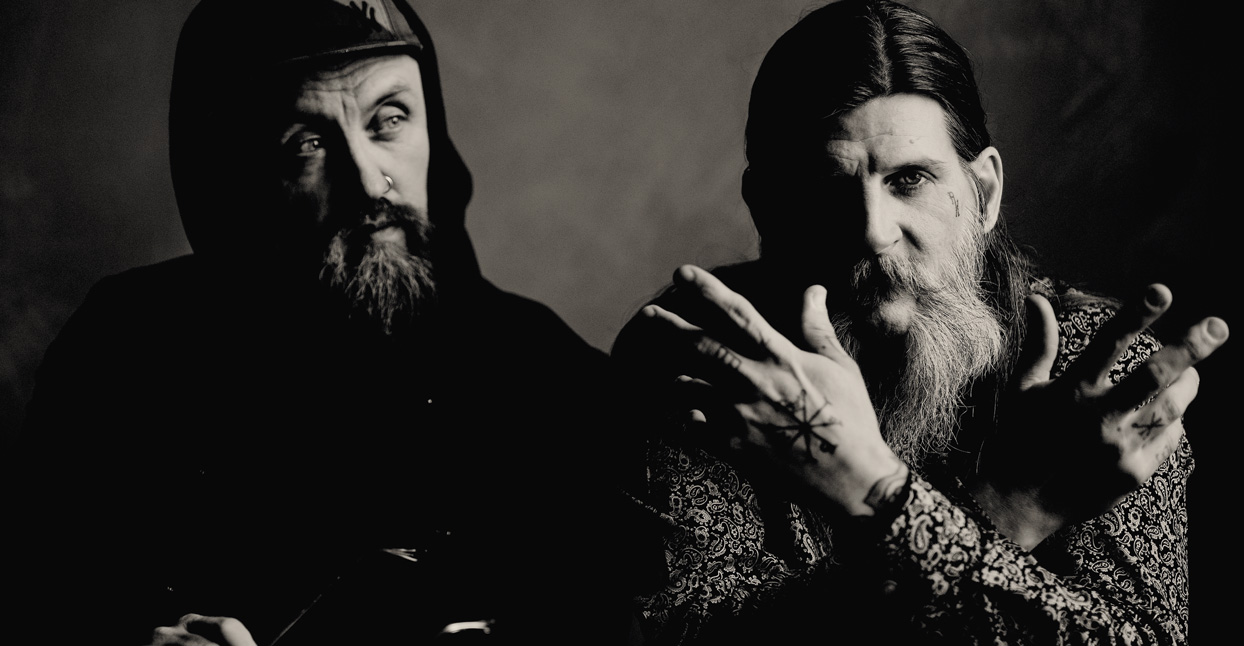 Kevin Martin and Dylan Carlson have both been making music since the tail end of the 1980s. Martin first made his mark as a chameleonic presence in Britain's industrial music scene, later metamorphosing into dancehall and dub, and founding his best-known project, The Bug, in the process. Conversely, Carlson essentially picked up his guitar, strummed a single epic chord, and never let go. As the core member of Earth, Carlson essentially invented drone metal, taking stoner riffs to their logical conclusion and, more recently, setting the project loose to explore mysticism and melody. The two artists had been considering collaborating for a long time, but didn't actually meet until they bumped into each other by chance on the streets of Krakow. "We were strolling around looking to find some cake," confirms Martin.
Carlson had once toyed with having The Bug remix Earth's back catalogue (sadly, the project never came to fruition). Martin reciprocated, asking Carlson to contribute guitar to a track for his guest-heavy 2014 album Angels & Devils. But the resulting music didn't quite fit that album's bifurcated extremes, and the first Bug vs. Earth music eventually appeared on its own double A-side single later that year, Boa/Cold.
Merch for this release:
Compact Disc (CD), Vinyl LP
Both the promise of Boa/Cold and chance meetings like the one in Krakow helped pave the way to an inevitable full-length. Martin began sketching out basic musical ideas, and the pair booked some studio time in Los Angeles around their appearance at Ninja Tune's 25th anniversary concert in the city. The resulting full-length, Concrete Desert, is dominated by the diabolical spirit of L.A., expanding on Boa/Cold's poised blend of mystical Earth guitar licks and The Bug's industrial dub settings. "It's sort of a reaction to that environment," says Carlson. The L.A. documented on Concrete Desert is a place drained of hope and disconnected from reality; a city whose inhabitants only interact during traffic jams.
Previously a longtime resident of London, and now a Berliner, Martin recalls his surprise at the harshness of Los Angeles. "I'd basically been dropped in L.A. by Ninja Tune [for the anniversary concert] without a phone or car, and I just ended up traipsing around the city like a nomad," he explains. "Dylan told me when we were in the studio that nobody walks in L.A. The only other people I crossed paths with were people who looked at me like I was unstable, or these massive communities of homeless people… just blatantly stuck in the street in L.A. This is meant to be the 'American Dream,' yet it seemed massively segregated to me—racially, culturally, economically. It just didn't hold true, you know?"
Merch for this release:
Compact Disc (CD), Vinyl LP
The Bug's 2008 album, London Zoo, traced a similar thematic path, documenting the underbelly of London via angry dancehall. On Concrete Desert, Martin swaps that album's fire-breathing MCs for a purveyor of mystic rock ritual. "Dylan's discovered his tone," says Martin. "The greatest challenge as an electronic producer is trying to make music that people instantly recognize as being you, and not just a preset. Whenever Dylan put his stamp down on any piece of music we've worked on, it's made me work harder. He just ups my game."
After Carlson's guitar sessions, the final step in the process sat firmly with Martin. "It was all about finding which tone or texture fit Dylan's sound and could stretch it even further," he explains. A self-described analog fiend, Martin describes his studio as "a cross between a NASA spaceship and Toys 'R' Us". The process went from days recording Carlson's guitar, to weeks and months finalizing the sound for Concrete Desert—"to give a sort of haze to the proceedings" as Martin puts it. He conjured layer upon layer of synth, bass tones, and effects, keeping massive beat drops at bay, and emphasizing hold over release. The result is an aural texture that summons the veil of L.A. smog. Those blurry sonics dominate the album's finer moments, such as choking tonal wash of 'American Dream', or aching amplifier moan of 'Broke'. "I wanted to feel as if I was in L.A. when I listen to the record," says Martin.
Ultimately, the Los Angeles on Concrete Desert functions more as microcosm of the Western way of life. "We're in the end game, I guess you could say," opines Carlson. "We're seeing the results of the choices that were made by people to live life a certain way, to behave in a certain way. We're seeing the end of that. There were other ways to have gone, and other ways to have ordered society. There were other ways to have behaved towards one another."
Merch for this release:
Compact Disc (CD), Vinyl LP
In that respect, the Concrete Desert envisioned by The Bug & Earth is not so much documentation of a society in decay, but rather an apocalyptic prophecy born of humanity's history.The vast 14-minute final track introduces mournful synth strings and sprawling guitar textures to the atmosphere, and feels like a tour of the barren landscape of a brutalized planet. Martin remembers growing up during the Cold War. "All my dreams and nightmares were of nuclear two-minute warnings," he says. "It led to me being very short-term in terms of my dreams, cuz I honestly didn't believe the world would exist for very much longer."
"Now, it's even more terrifying," he continues. "It's even more chaotic and random. When you look at the world leaders that are on top of the stage right now, it's just literally insane. It seems almost like there's this blatant disregard—whether it be Trump's ignorant xenophobic bullshit, or Putin assassinating his major opponent, or Le Pen in France. Wherever you go now, it seems people are out to warmonger."
The unenviable truth Concrete Desert presents us with is a sort of Dorian Gray portrait of Western society: Behind a gold leaf exterior of youthful exuberance lies a rotting reality of smog, poverty, and suffering. Scarred by every sin committed to uphold the aspirational exterior of the 'American Dream', the glamour of Los Angeles is nothing more than just a convenient visage, living on borrowed time.
Merch for this release:
Compact Disc (CD), Vinyl LP
One key non-musical influence on the record is J.G. Ballard, an author who has become synonymous with greyscale cityscapes falling into disarray ever since his allegorical dystopian 1975 novel High Rise. In a 1998 interview, Ballard once proposed that, "art exists because reality is neither real nor significant." I suggest to Martin and Carlson that this rings truer now than it did then. In a "post-truth" society, what purpose can art serve? "Art is the reality now," offers Carlson. "Art is piercing the veil and presenting a deeper reality."
"When I started making music, I wanted it to be the most real shit," says Martin. "But the way I've ended up making music is as a parallel world, because the real one's just too fucked to even begin to understand. That's where someone like Ballard is an absolute genius, because he uses language to spark explosions in your brain cells and find a way to describe the world, then you see the world differently. I think when you listen to a good piece of music, you see the world very differently. It can light a fire inside you."
—Tristan Bath