FEATURES
The Black Opera Wants To Broaden The Scope of Hip-Hop
By Gus Navarro · July 13, 2017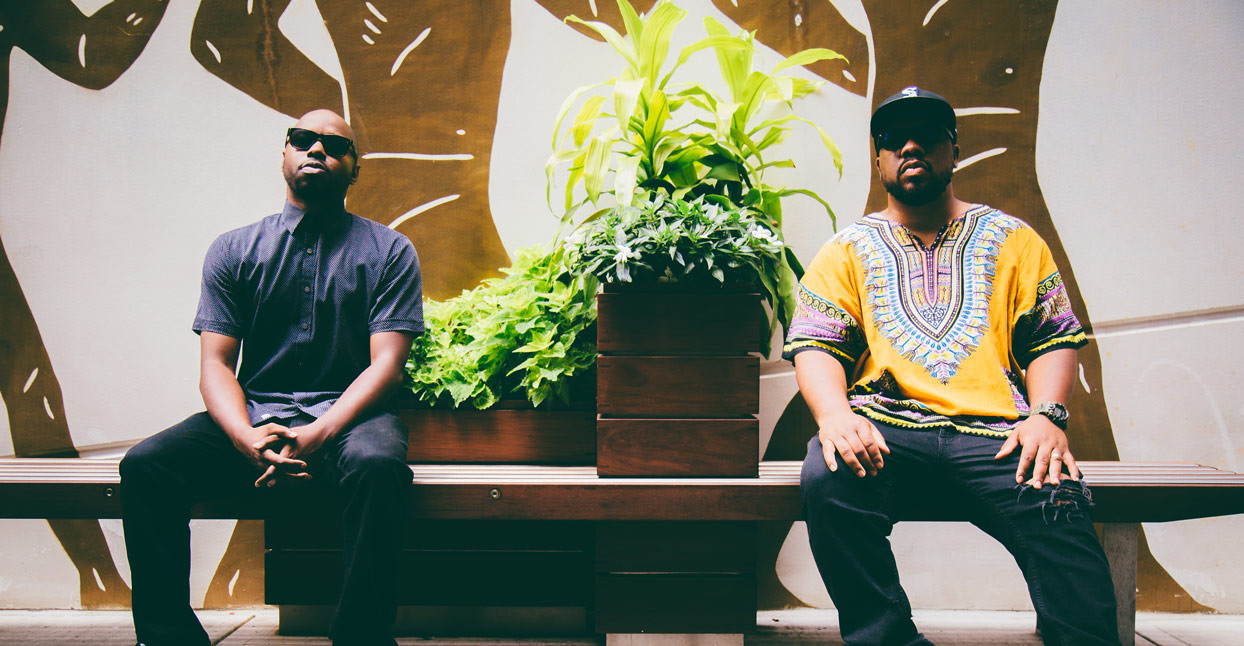 Across several solo and group releases, The Black Opera have demonstrated their ability to create fearless art that extends well beyond the hip-hop scene. Over tough, grinding beats, Jamall Bufford and Magestik Legend rap about the Black experience, encouraging people of all backgrounds to think critically and challenge injustice. Onstage, TBO have become known for their unconventional performances, incorporating costume changes, video projections, live painting—even yoga.
With their most recent release, 80z Babiez to the 2Gz 2, TBO challenge the very premise of what hip-hop is supposed to be. For Bufford and Legend, music is a way to understand what's going on in a specific moment of time. 80z Babiez is something of a generational mash-up: Classic and contemporary beats are sped up, slowed down, and ultimately transformed into something new. Following the release of 80z Babiez, we spoke with Bufford and Legend about the new mixtape, how their work as teachers informs the music they create, and how they're often mischaracterized and misunderstood.
.
00:10 / 00:58
Your new mixtape, 80z Babiez to the 2Gz 2, challenges the idea that music gets old or goes out of style. Can you talk more about the thinking behind the project?
Magestik Legend: I have a couple of bars for that. I will say, the very meaning of this mixtape really defines the essence of The Black Opera. We don't look at music as having an expiration date, or that change in music is wrong. We see music as an evolution of expression, and we've always been this way—even before we started TBO.
You both teach students to write music and to understand the music industry. How does working with kids within a hip-hop context inform the music you make?
Legend: We would never say to a kid, 'Yo, you're on some mumble rap, the new generation is lost.' Instead, we teach and talk to them. And they teach us. We see that a lot of them just want to have fun. Writing super lyrical and complex rhymes, sometimes, really ain't that fun. When you get around these kids, you see that what they're doing is how hip-hop started. They're just picking up the mic and not even thinking about it.
You guys have been doing TBO for over five years. How has your perspective or approach to making music changed?
Jamall Bufford: In my opinion, as music evolves, as time goes on, we're not afraid to adapt. A lot of people are afraid to change, and that's not us. Our perspective has always been the same. We're always about 'We Are One,' we're always about positive energy, we're always about connecting people and bringing our message full circle. That part hasn't changed, but you could say how we approach making music is different than when we started.
Legend: We don't approach music like it's just music. Music is a spiritual thing; it's a creative thing. I feel like every different music style is a color. So if somebody comes with a new style, they're mixing colors and creating something new. Now when I go to paint, I'm using some of those colors to make something else. As the years go on and music styles evolve, so do we. And why shouldn't we?
Your live performances are very unique, interactive and involve all sorts of costume changes, yoga, and live painting. What went into developing such a distinct show?
Bufford: We've done so many shows, as either solo artists or with other crews, that we got bored with how things were done at a hip-hop show. We wanted to make sure that every time we step on stage as The Black Opera, it's never boring and never the same. We also want to be different than every other hip-hop show people have seen. We wanted it to be more like theater, more like performance art. On top of our wardrobe and mask changes, we've added the projector screen and live painting during our performances. I can say without hesitation that nobody is doing the same thing as us. That's all we've ever wanted to do with music.
.
00:10 / 00:58
What are some of the biggest misconceptions that people have when it comes to The Black Opera?
Legend: One of the biggest misconceptions is that TBO is a duo. It's easy to say that because we're the vocalists. TBO is a collective. We've had different artists come in for a season and then step out. Every collective needs core pieces, but we could not do this by ourselves. Buff and I are the foundation, but it's way more than just TBO the duo.
Bufford: Another misconception is that we only make music for black people. We are black artists. We make music from the black perspective, for sure. But our music is not only for black people. We make music that can inspire you, teach you, or maybe push you to try something new. That stuff applies to any human being, no matter what background they have. Just because we talk about the black experience doesn't mean we shun other people outside of our community. If you come to our shows, you'll see that. Everyone supports what we do. Either they understand it, or they want to understand it. And we're open to that. We make music that creates conversation. Hopefully, our music will inspire people to research what's going on in our communities. From what we've seen, that's working. People want to be more informed and impact the world in a positive way.
Legend: I think a lot of times in art, people get the artist's point of view confused with their intention. We are who we are. I wish I could go to the airport or get in a car without feeling like there's a million people looking at me. I'm not even mentioning the cops. I wish I could go overseas without feeling like I'm going to get searched for my skin color. So of course, those types of things are going to come out in our creative expression. All we can do is tell our story. When we come to Europe, a lot people tell us we're storytellers. If you go back to some of our earlier albums like EnterMission., Overture or Libretto: of King Legend, those are all different stories. With something like 80z Babiez to the 2Gz 2 or our most recent LP, African America, those are the stories we're telling now. Those stories will evolve as we do. As long as our stories spark people to think for themselves, we're good.
—Gus Navarro