FEATURES
SXSWatch: Wild Wing are Punks Who Love Memes as Much as They Love History
By Ally-Jane Grossan, Zoe Camp · Photos by Daniel Cavazos · March 20, 2017
If you're looking for a hearty, vulgar laugh, look no further than Los Angeles punks Wild Wing. They're the goofiest guitar band in the City of Angels, with a deep love of memes, doctored photos, and flipping the bird. Here are but a few of the hilarious highlights: a "The Wild Wing Tour starter pack" (the bare essentials include a pair of crutches with boots on the end, a can of Red Bull, an order of McDonalds' french fries, a hospital discharge form for a head injury, and an image of a doctor standing next to a pudgy dog with the caption "When they remove your balls because you kept fucking your owner's wife"); a crude stick-figure Calvin-style drawing impudent to the current US president; there's even a photo of the group standing with a slightly befuddled Guy Fieri.
But there's much more to Wild Wing than memetic trolling and guitar-driven tomfoolery. They're less a rock band than a pack of rock n' roll non-fiction authors, dead-set on fighting the establishment through carefully-controlled chaos, lengthy history studies (and, of course, jokes).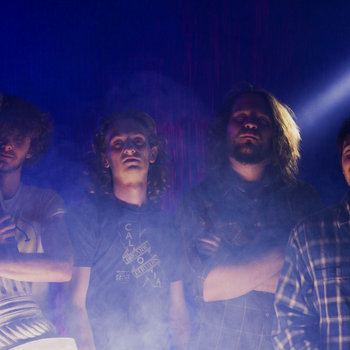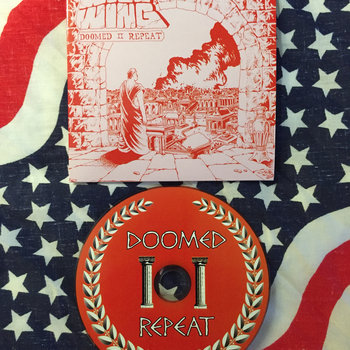 .
00:10 / 00:58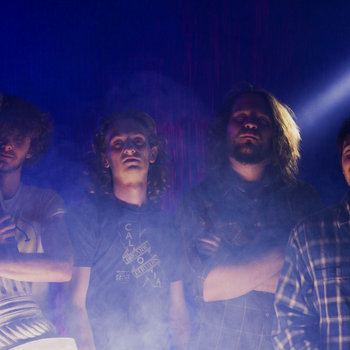 Merch for this release:
Compact Disc (CD)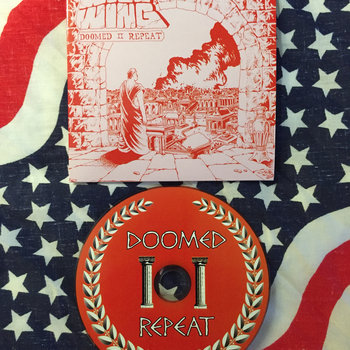 Although Wild Wing are a relatively new band (they formed in 2011), the foursome's creative partnership dates back to childhood. Frontman David Gantz and bassist Theo Cohn met shortly after they were born—or, to borrow the phrasing from their bio, before they "emerged fully-formed from [their] mothers' assholes" (their parents were friends). Drummer Zach Miller and guitarist/vocalist Max Garland entered the fold in elementary school, and they've been jamming ever since. Unsurprisingly, this long-standing, decades-long camaraderie belies a shared creative brain, both onstage and on wax. "Our musical tastes evolved together," Cohn explained. "Music changes, but we keep on changing as a team."
Accordingly, Wild Wing's just-released album, Doomed II Repeat, also reflects a paradigm shift, albeit one rooted in spirit, rather than style. It turns out that these goofballs are huge history nerds, with a particularly strong extracurricular passion for the distant past. Until now, it's been a casual interest–but desperate times call for desperate musical measures, especially when the solution for present tumult lay in the ancient past. Composed during and inspired by the 2016 election, the record finds Wild Wing grappling with our current political chaos through the lens of Ancient Rome: more specifically, the Empire's slow, tortured decline, a parallel that became more prescient as the sessions progressed. "When we were first writing it while the election was happening, we thought we were writing something that was far-off and distant," said Cohn of the record's thematic inspiration. "It didn't seem too realistic. Then we started recording it, and then it became truer and truer."
The band rolled into Austin as part of a grueling US tour this week to play a handful of unofficial SXSW shows. Watching Wild Wing live is like being pummeled—the bass and drums come down hard and fast, almost daring you to look away. At a small show in a fast-casual BBQ joint downtown earlier this week, their roaring rock summoned pedestrians wandering by the open space, compelling them to stay and watch. Between songs, banter drifted from inside tour jokes to imaginary record executives with bad deals to offer. When those met with tentative laughs, they headed straight into another song of infectious garage rock. It's clear the four members of Wild Wing were having as much fun playing as the people in the audience were while watching them.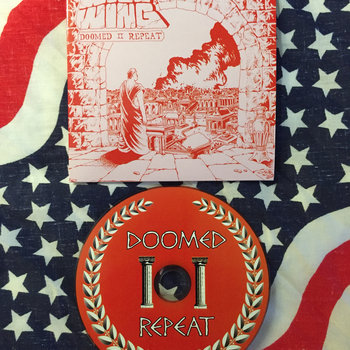 .
00:10 / 00:58
Merch for this release:
Compact Disc (CD)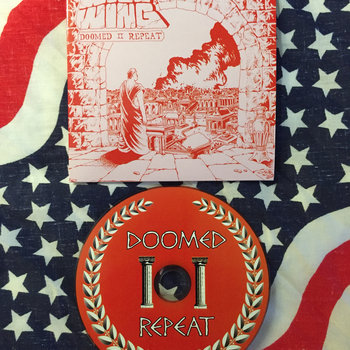 Most bands take inspiration from records, films, politics, and visual art; Wild Wing spent most of their time outside the studio taking a deep dive into history, poring over podcasts about Ancient Rome. "The whole concept of the album is that, when you look at Rome in the time of Julius Caesar, it's 200 years of the Senate not getting anything done anymore," Garland added. "And there's this parallel like, 'Wow. 200 years of the American Senate getting nothing done.' I can see how Julius Caesar came to power."
—Zoe Camp
—Additional reporting by Ally-Jane Grossan