FEATURES
Riding the Taiwanese Soul Whirlwind with Sunset Rollercoaster
By Isabela Raygoza · August 10, 2016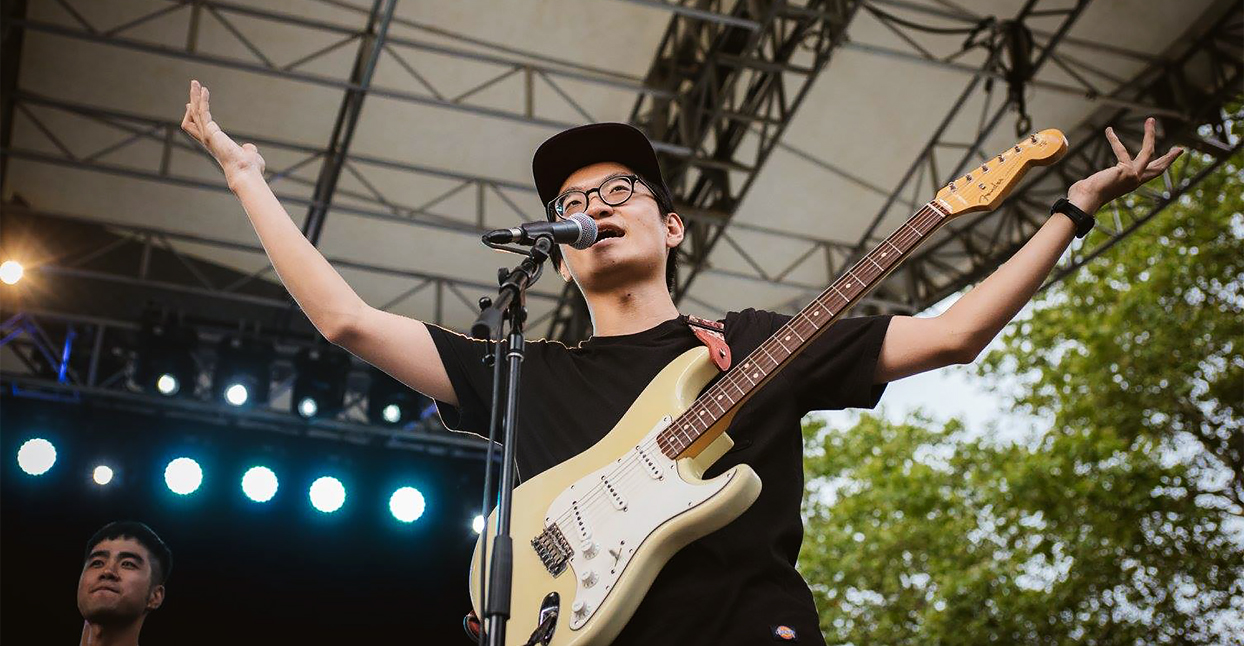 A blissed-out amalgam of Motown's golden era and mellow '80s-style synth grooves, Taipei-bred five-piece mavericks Sunset Rollercoaster's Jinji Kikko EP evokes classic American sounds without empty mimickry. One minute, lead singer/guitarist Kuo's soaring falsetto recalls The Stylistics' Russell Tompkins Jr.; then, he drops back to Earth for a gravelly Lou Reed murmur (as he showcased in the group's blues-soaked 2011 debut Bossa Nova). Which raises the question: How did a soul-psych outfit from Taiwan get so far into different aspects of retro American pop culture?
.
00:10 / 00:58
"The Internet," Kuo says bluntly. "Ten years ago, I was surfing the Web and clicked a 'related links' page, and ended up listening to Velvet Underground. I was like 'Whoa! What is this?!' It sounded lazy, a little skewed, but awesome!' That's where it started." The 28-year-old old-soul musician, who also cites influences as far afield as The Eagles and Guns N' Roses, credits a raucous, now-defunct DIY venue with providing the space for Sunset Rollercoaster to bloom.
"There was a small indie music scene in Taipei, based at a bar/club called Underworld. That place was similar to CBGB," he recalls. "There was a lot of diversity, and it was the home to indie pop, blues, and noise." The legendary underground venue was a gritty-but-glorious force to be reckoned with in the capital's music scene, sparking the formation of countless bands before the venue's demise in 2013, after a 17-year run. "We would all hang out there to see live music. From there, we decided to start our own band [in 2009]."
Inspired by the debaucherous spirit of the club, and immersed in "'60s and '70s garage and pre-punk" like German proto-punks The Monks and the British psych-pop of Small Faces, Sunset Rollercoaster set out to record their rollicking full-length, Bossa Nova. The quintet delivered all the fuzz-encrusted riffage and transformative jangle-pop that woofers and tweeters could bear, bounding across Asia and heading out on their first continental tour. (They also performed at Japan's prestigious Summer Sonic Festival, where they were dubbed the Taiwanese icons of city-pop.)
.
00:10 / 00:58
Despite their newfound musical success and their ability to craft a gripping sound distinctive from their musical peers ("I think we're the weirdos. What's popular [in Taiwan] is indie pop, Chinese mainstream, and K-pop. We sing in English, but in Taipei, most bands sing in Mandarin"), the band decided to split. "We wanted to try something else," Kuo says. That 'something' was a dark industrial band called Forest, a group known for static, noise, and churning electronic beats over moody drum machines. It's a totally different project in every way from Sunset Rollercoaster, one that Kuo formed with his long-time drummer, Lo Tsun.
Kuo and Lo Tsun decided to return to Sunset Rollercoaster after a five-year hiatus, with a few lineup changes: keyboardist Shao, bassist Hung Li, and percussionist Hao Chia. "During our whole break, we were slowly but steadily listening to jazz, blues, '60s and '70s R&B, like Motown, and lots of music with sax," says Kuo, which explains their musical shift. He continues: "Our fans are big fans of synthesizers, and we're now bringing an '80s sound, like Funkadelic's. We're all into Black [diasporic] and African-American music; Lo Tsun likes Jamiroquai and P-Funk! I'm into '80s filters, like the wah-wah, so we bring all of these things together into the Jinji Kikko EP."
The group's new musical affections are on full display on the EP's three songs. "New Drug," which arouses a sensual quiet storm à la Isley Brothers' "Between the Sheets," is full of twinkling chimes and grooving bass; the dreamy "Burgundy Red" feels like taking a stroll down the Southern California shore. Their musicianship certainly showed at New York's Taiwanese Waves showcase, where the group performed in front of a packed Central Park Summerstage audience, and experimented with swirling sax solos and crystalline guitar riffs.
Summerstage was their stateside debut, and also their first visit to New York City. The band will continue their US tour which extends to Canada and Japan until November. Later this year, they plan on recording their second LP. However their eclectic sound continues to change and grow, the results will surely be one of a kind.
—Isabela Raygoza