FEATURES
Sumac Expand and Explore on "What One Becomes"
By Seth Werkheiser · July 01, 2016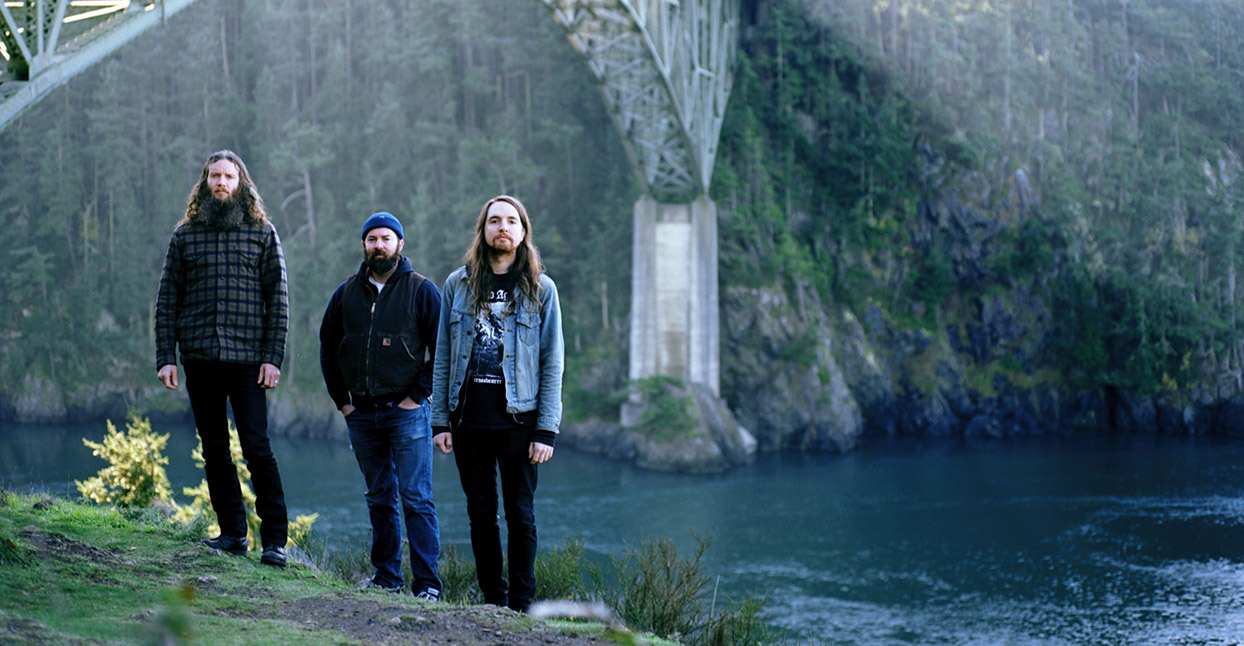 "I think being from an area where there was so much open land, and such a deep awareness of the environment also carried over into the music."
Even after all the years he's spent in legendary metal bands like Isis and Old Man Gloom, Aaron Turner keeps searching, remaining open to new approaches. Playing in Sumac with drummer Nick Yacyshyn (Baptists) and bassist Brian Cook (Russian Circles) has allowed Turner to experiment with ideas that wouldn't fit comfortably in any of his other projects. "All three of us are pretty excited about what's happened so far," Turner reflects.  "I feel like, for me personally, the work that we've done with Sumac achieved some creative goals that I've been working towards for quite a while. I also know that I've found an outlet for these specific ideas and the right people to work on them with."
.
00:10 / 00:58
Unlike on the group's 2014 debut album The Deal, Sumac's immense and powerful new album, What One Becomes, was a full-band collaborative process. "Brian [Cook] was around for the finishing process where we all got together to solidify the structures, and also fine tune the parts as well, which didn't happen with The Deal," Turner explains. "Nick and I pretty much did all of the writing and construction for The Deal and recorded all of the foundational tracks for it before Brian had even played with us. This time around, all of us were together at least for the final session leading up to the recording, which I do think made a big difference."
Returning producer Kurt Ballou (of GodCity Studio and Converge) helped the group cohere on What One Becomes. "[We] work well together," says Turner. "We've developed a pretty good personal chemistry at this point, and I think that collective push towards making the record produced more cohesive results—something that's got a little bit more depth to it, because we all were present and participating in each step along the way."
Sumac recorded in a big room, mostly live, at The Unknown, a former church built in the early 1900s. "I look for ferocity and rawness," says Turner, "not absolutely perfect playing and very clean, separated instruments." Recording each note in isolation and perfection, as is standard practice for many bands, is not the Sumac way, he explains. "There's something that's lost there," he says. "I like when things start to congeal and become one heaving mass rather than this highly-articulated separation of elements."
The Unknown is located in Anacortes, Washington, a fairly small town that primarily serves as the U.S. home port to the San Juan Islands. Turner notes, "It seemed like there was a small but very active musical community up there, and I think that's what originally made us aware of that place." The unfamiliar environment lead to a level of necessary discomfort, as Turner mentions in the album teaser clip, which features footage of the recording process. "Environment can affect your mindset," he says, "and I think I wanted to be somewhere where we were removed from our comfort zone, and from also the distractions of the city, and in a place that itself in someway was inspiring, and would lend itself to the creation of the recording."
.
00:10 / 00:58
Turner moved to Puget Sound, WA back in 2010, with his bandmate, SIGE Records co-owner, and wife Faith Coloccia. "We very specifically chose to live out here," says Turner. "Being in an area surrounded by nature is part of my daily experience when I'm not on tour." The years of tuning into his natural surroundings seem like they've seeped into What One Becomes. "I've always had an interest in space and silence," says Turner, who grew up in Santa Fe, New Mexico (where things are awfully spacious), "and how those work in the context of musical construction, what they mean, how they change the meaning of the things around them."
He continues, "I think being from an area where there was so much open land, and such a deep awareness of the environment also carried over into the music. Just that sense of space and maybe even the length of tracks could be paralleled in terms of the panoramic horizons that I was exposed to as a kid."
—Seth Werkheiser