FEATURES
Stuart Hyatt, The Great Midwestern Sound Architect
By Justin Spicer · September 18, 2018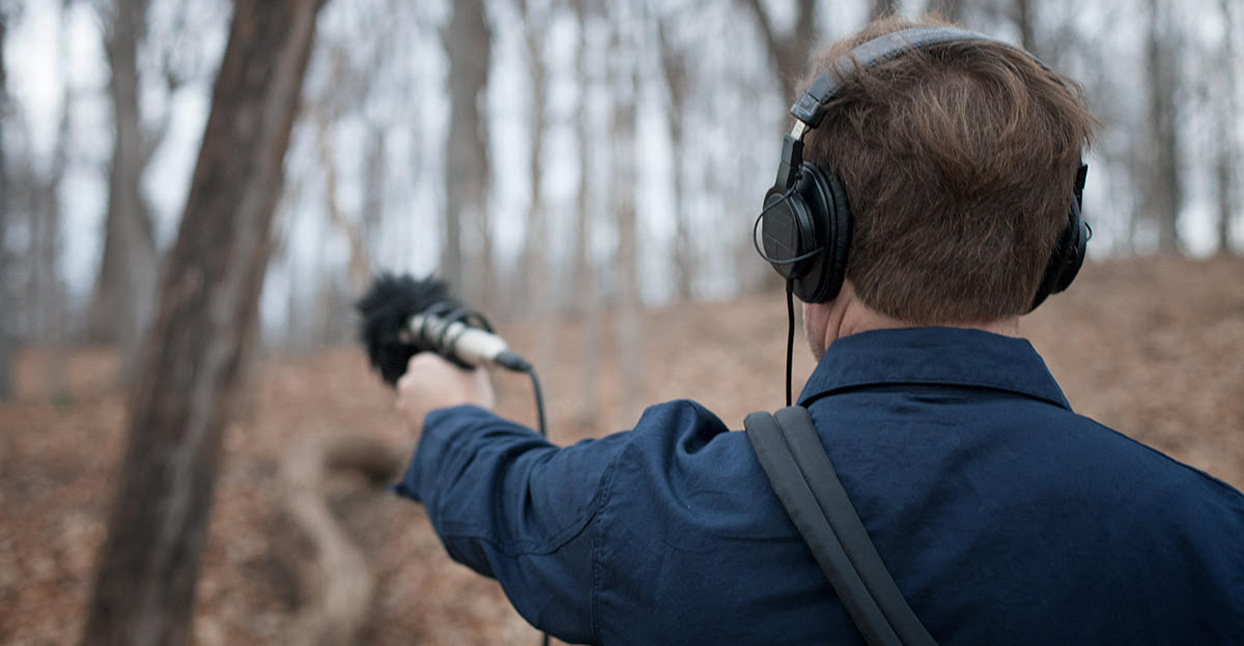 Stuart Hyatt's career as a field recordist, producer, and presenter did not begin with records in mind, but rather as an outgrowth from a different career. "I didn't expect architecture school to lead to a record deal," Hyatt says, "but in hindsight that is precisely how my bumbling career [progressed]."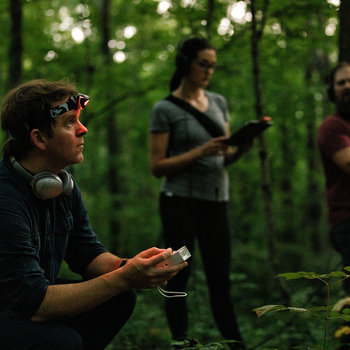 .
00:10 / 00:58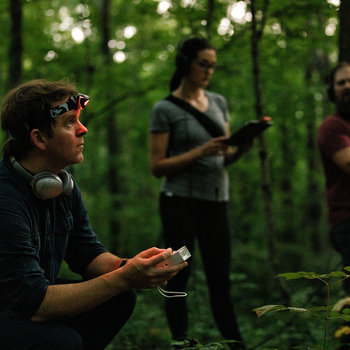 Hyatt was walking Indianapolis' Washington Street (part of the historic National Road originally built in 1811) to get a sense of the street's design challenges. At the time, he was developing his M.ARCH thesis project and was in the midst of a lengthy site analysis, capturing the concerns, observations, and realities of the residents who called Washington Street neighborhoods their home. "Then I thought about the other sounds: animal sounds, industrial sounds, transportation sounds, which led me to study noise pollution and design methods for all of the senses," he says. This exercise in sound architecture did not result in a purpose-built development, but became the basis for Hyatt's debut album, The National Road.
Hyatt understood an album of found sounds, field recordings, and interview snippets would likely be too raw an experiment to release. "I think of [field recordings] as ingredients for creative use and interpretation," he says. On The National Road, Hyatt's work became fertile material for more established artists, including Nick Zammuto, Lali Puna, and Forrest Lewinger, to build upon.
The results present Indianapolis, the city itself, as a versatile background musician, adept at being the backbeat to electronic poetry or to happily bleed into an ambient overture where composition and city coexist as one. The exercise in sound manipulation and creative editing continued to expand with each of Hyatt's subsequent releases, as well as the list of celebrated experimental musicians who joined him: Paul de Jong, Eluvium, Pantha du Prince, Dan Deacon, Juana Molina, Dntel, Mary Lattimore, William Tyler, and Benoit Pioulard.
The upcoming seven-LP box set Metaphonics: The Complete Field Works Recordings collects each release and discusses the role of sound via a titular book which accompanies the vinyl. Broken into four categories—Geophony, Biophony, Anthropophony, and Cosmophony—essayists and practitioners within these fields of study discuss how field recordings "give the listener a deeper understanding of the ways that sound and music define a place," and how Hyatt's work fits within these contexts. Much like Jace Clayton's Uproot, the goal is much more communal than academic, to provide context for why music from a particular region or time wears its location on its sleeve. "If we think about places sonically, I'd say the Midwest is more of a whisper than a shout," he says. "[…] I suppose I need to hold the microphone a little closer, sit a little more quietly, and be a little more patient. This place—topographically, culturally, spiritually—does not just jump out at you; it takes time to reveal its wonder. It requires a lot of listening."
.
00:10 / 00:58
Though Hyatt has ventured to Pennsylvania, Texas, and beyond, much of Metaphonics consists of recordings he's undertaken in an effort to define his hometown of Indianapolis in relation to its geography, history, and people. Following up The National Road, Hyatt worked on an album which celebrated Indiana's bicentennial by coupling historic speeches from controversial Indiana figures, including Eugene Debs and Mike Pence, with the sounds of the annual state fair (The Fair State), as well as an exploration of small waterway traversing three miles of underground tunnels before depositing itself in the White River which runs throughout the heart of Indianapolis (Pogue's Run).
Earlier this year, Hyatt released a collaboration with Michael Kaufmann (formerly of label Asthmatic Kitty), titled Sound Expeditions; it's yet another release in an expanding statement about the city he calls home. Though Hyatt's guest list of collaborators continues to become more global, each pays respect to the city that becomes an equal performer in their compositions. The concerns of an Indianapolis woman about how rapidly the city is changing is a powerful vocal underscored by a winsome melody; the sounds of a forest are juxtaposed with old educational voiceovers and a soothing drone. Hyatt's Indianapolis, even as the foundation artists from all over the world can add their own story to, is still the sturdy bedrock that never erodes.
Hyatt's love of Indianapolis, and his desire to add his own signature to its landscape, led Hyatt to Washington Street as a graduate student in the first place. He wanted to collect the location's voices, sounds, and stories before daring to design a building befitting its history. Thankfully, Hyatt's fascination with field recordings didn't deter his academic pursuits, he says thanks to "sympathetic academic advisors." Yet, it's with a certain Midwestern charm that Hyatt makes his most keen observation about that fateful walk: "Four years later and seven albums in, I still haven't designed a building."