FEATURES
On "Twerp Verse," Speedy Ortiz Beat Burnout and Come Back Revitalized
By Nina Corcoran · April 26, 2018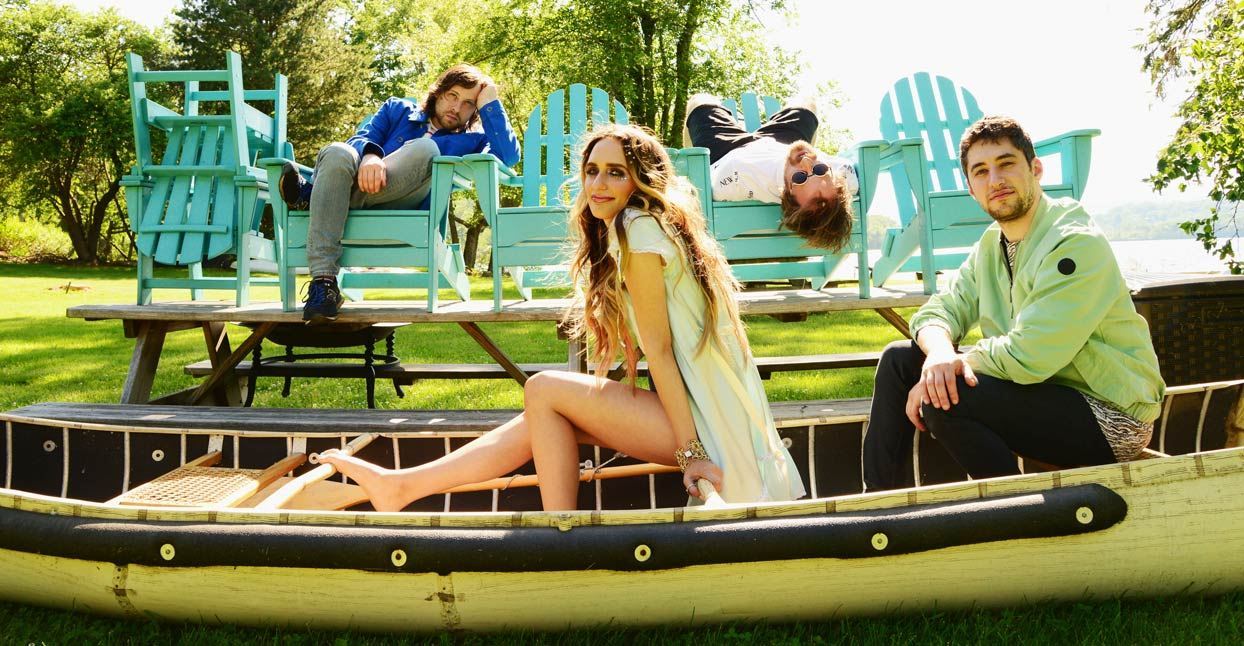 Speedy Ortiz should be burned out by now. A glance at their calendar, no matter the time of year, will show the indie rock band scheduled to perform a handful of shows—either as headliners or openers—as well as a couple festival dates. They've released new music every year since they formed in 2011. The longest gap between releases was a mere 14 months. The shortest was three. They've created help hotlines for their concerts, pursued solo side-projects like frontwoman Sadie Dupuis's Sad13 and drummer Mike Falcone's Hellrazor, and have recorded bonus tracks for charities. The four-piece is constantly pushing themselves to make the most of their platform. Yet, in the midst of arguably the most turbulent year for both America and for themselves, Speedy Ortiz found their groove.
"As we started planning to do another album, I didn't feel ready," Dupuis admits. "Foil Deer, I felt very prepared for. Then we went on tour for so long. When we had a break, I put all of my heart, soul, and energy into the Sad13 record. It was only two weeks, but it turns out trying to write two records in a year is tough. I had such clear goals for other Speedy albums, and I didn't want this one to feel rushed. My brain didn't have a great record yet. But the second we decided we were going to record again, I started getting psyched… [Paramore's song] 'Hard Times' came out when we were mixing the record, and it was perfect timing, because that's what I wanted ours to sound like."
It's fitting that when we talk to each member of Speedy Ortiz, they answer the phone from different locations. Dupuis paces in her Pennsylvania bedroom on the eve of a surgery to prevent future vocal issues (as her mother watches TV in the other room). Falcone chats while house-sitting for a family in Newtown, Connecticut. Bassist Darl Ferm has just gotten off work from his 9-to-5 job in Massachusetts. Guitarist Andy Molholt is about to board a flight to Budapest to celebrate his grandmother's 97th birthday. In other words, everyone is on the go, as usual. Theoretically, the constant movement should wear them down. But instead, the motion only fuels them, transforming road bumps into trampolines so they can bounce off of them and pick up speed.
That's the case for Twerp Verse, the sharpest Speedy Ortiz record to date. Instead of progressing towards synthpop or returning to their grunge-bent rock days, the band find a middle ground between the two. The wonky bass slides in "Lean In When I Suffer" or the resolving chord to a minor seven-chord in "Moving In" bear traces of their guitar roots, even while they occasionally hold hands with a synth or drum machine. The album boasts fine-tuned, polished production. It's both jagged and gentle, giving the illusion that they're relatively relaxed while whipping out impressive, unorthodox musical tricks.
"We took our time with it, which doesn't usually happen in this band because we're usually in a rush," says Falcone. "I think it's the most adventurous sounding record I've played on because of that. After you've played certain songs live so many times, little unexpected nuances will flow into the songs. So a cool drum fill will just happen out of nowhere. I ended up surprising myself and thinking, 'What the fuck? Where did that come from? And how can I do it again?'"
The blending of idiosyncratic guitars with perfect production comes from the band pinballing across the northeast to create the album's initial sketches—and what would become, unbeknownst to them, the backbone of the record. Dupuis created demos on her computer, they toyed around with them at Jonah Furman of Krill's beach house, and then fleshed out those recordings at Silent Barn in Brooklyn. And while they weren't pushing themselves to finalize the songs, when they listened to the Silent Barn demos, they realized those versions, blemishes and all, were actually working.
"I hesitate to say our choices weren't as belabored as they would have been if we knew it was the final project, but in the past, we would spend hours going over something," says Dupuis. Twerp Verse is the first time they've built the album's structure from the existing demos, and it's better because of it. The live feeling of demos allowed each member to feel more comfortable behind their instrument. "Instead of feeling this weight, it felt like the type of rehearsal or band practice we would normally have," says Ferm. "It  helps the album feel a lot less overworked, while still sounding technical and full. And because Sadie writes like four ideas in one song and is open to bouncing ideas around, we could play around with our parts, too."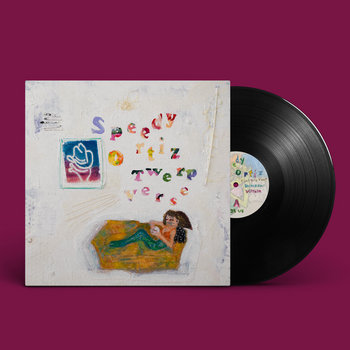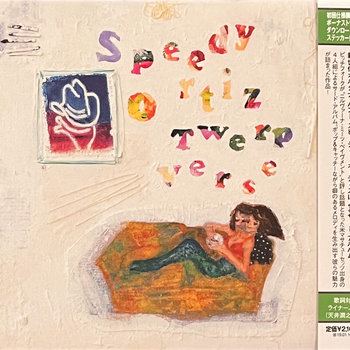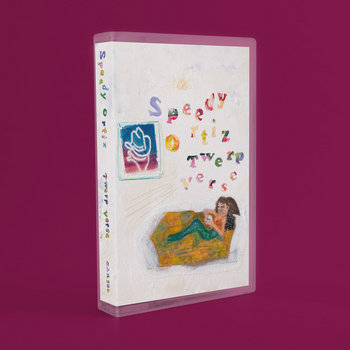 .
00:10 / 00:58
Merch for this release:
Vinyl LP, Compact Disc (CD), Cassette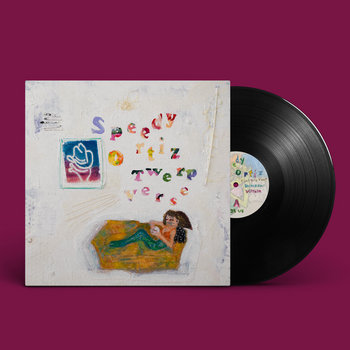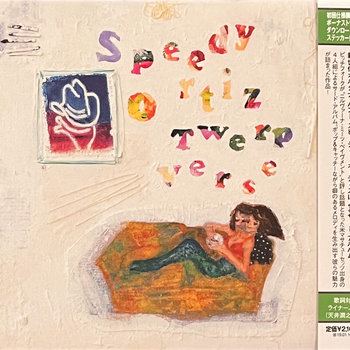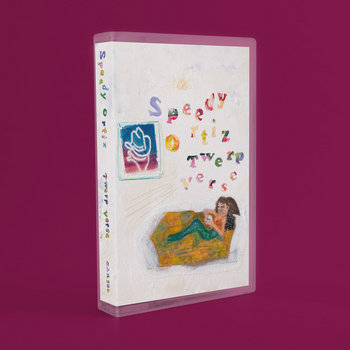 On top of all of this, Speedy Ortiz gained a new guitarist. Devin McKnight, who joined in 2014, left on good terms last year to pursue a solo career. After filling in for McKnight at a few shows in 2016, Andy Molholt of Laser Background was asked to join in his place. He quickly learned 16 songs by ear for their live shows—not an easy task given the frequent spontaneous guitar curveballs. But he eventually brought his own stylistic tendencies to the new material. "I was nervous to give up so much of my free time knowing that Speedy is a band that does so much, constantly, every year," he says with a laugh. But in time, he brought his nuances to the five Twerp Verse songs to which he contributed. If original guitarist Matt Robidoux brought heady riffs and McKnight brought unconventionally twisted flair, then it's fair to credit Molholt for adding a newfound, sunny fuzz.
"I'm obsessed with the idea of what the song wants," Molholt explains. "If you anthropomorphize the song a bit, then the choices you make can help it grow. I'm either going to make the obvious choice, or subvert that and try to be weird. And that was easy to do because whenever I offered up ideas, they would always be like, 'Yes, do that! Do that!'"
Instead of retaining the relatively rough quality of the demos, Speedy Ortiz pushed themselves further. Dupuis reached out to Danny Seim of Menomena, one of her musical role models, to collaborate on the spaced-out number "Villain." They tapped Bright Eyes member Mike Mogis to handle production, and Grammy-nominated engineer Emily Lazar to master the demos. As they progressed through the record, it increased in both fidelity and cost, stretching their songs to sound refined. Suddenly Dupuis's dream of channeling the semi-electronic sound of Paramore or Squeeze was coming true—and with that came a new way of viewing her songwriting. "I remember telling them, 'Make it sound like we spent money in the beginning, too!'" she laughs. "Mogis would do that, but he would argue with me, too: 'Why do you do this? There's six melodies happening at once. I get why it sounds cool to you, but nobody can focus on all of them together.' Having to defend my choices helped me realize which ones are worth fighting for and why songs could benefit from space."
What began as an album in search of inspiration and energy became a record rejuvenated by new creative energy. Working in the shadow of a crumbling U.S. government, Dupuis replaced her original lyrical ideas with straightforward writing centered around community and perseverance. A song like "I'm Blessed," which details coming out as a survivor of assault, addresses the conflict of trying to connect with a community when you're still struggling with your emotions—something Dupuis herself struggled with.
"So many of us are trying to heal from the same stuff. 'I'm Blessed' may not be a poetic, metaphorical, filled-with-devices type of song, but it was vulnerable—and I'm proud of myself for going to the literal place for once," she says. "I think that's why we wanted to make it sound fun. Knowing how to have a sense of humor when addressing things that are hard or traumatic has helped me understand and process grief better."
Maybe it's not surprising Speedy Ortiz haven't burned out. They enjoy staying occupied, and the adventurous Twerp Verse follows that trend.
"The same reason I made the first Speedy album by myself is the same reason Darl and Mike joined the band: we're all anxious people who dealt with depression, and playing music together made us feel connected to our communities in Massachusetts," says Dupuis. For the first time during our phone call, it sounds like she stops pacing to stand still. "When your hobby becomes your full-time job, you gain responsibilities—back then, it meant trying to get on a house show to meet [Matt] Connery from Pile. Now, it means hiring women crew members or paying attention to who we take shows with—because I know that me from seven years ago is coming to these shows. As we spend a lot of time thinking about what we want Speedy to do for other people, we're also getting a lot better at realizing what Speedy can do for us."
-Nina Corcoran