FEATURES
Special Interest Creates Controlled Chaos On "The Passion Of"
By Alex Smith · July 01, 2020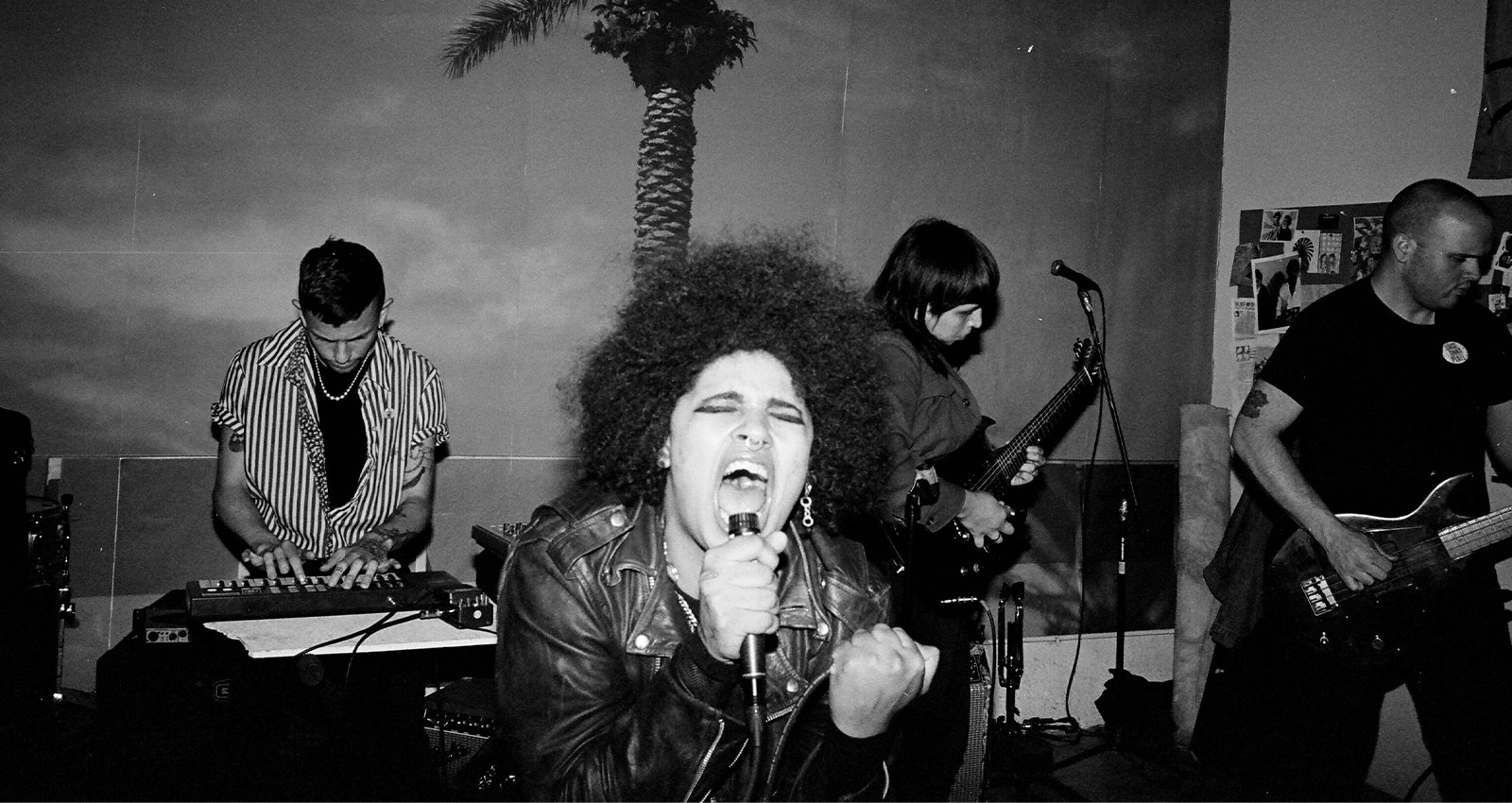 "I teeter on the in-betweens of shock and glam," says Alli Logout, the vocalist of New Orleans post-punk group Special Interest. "My body has always been a source of spectacle, because I'm fat and hot and people just don't know what to make of it. I like to challenge the perceptions of what a frontperson can be. And yes, it can be outrageous and simultaneously profound and powerful. I'm seeking visions and futures that can hold all those things, and I'm seeking those things within myself. It's incredible to watch how those feelings have manifested in my performance."
Special Interest are all queer, and half of them are POC; that fact is central to who they are, and to the music they make. Their rousing new album, The Passion Of, which follows 2018's fast, short, and loud Spiraling, offers 11 tracks of controlled, anthemic chaos. Searing industrial soundscapes are paired with hypnotic dance rhythms and Logout's gutsy, no-holds-barred vocal delivery; their lyrics are part narrative, and part call to action. The band delights in twisting subgenre signifiers together in dramatic ways, as on "Head," where they take a throttling broken beat and play siren-like squeals on top. On the slow-burning "All Tomorrow's Carry," Logout puts socio-political angst front and center. "Are we going out/ I watch the city crumble/ Yeah they were pushed out/ Soon evacuated/ House was near dilapidated," Logout sings, perfectly balancing disco and discourse.
.
00:10 / 00:58
Merch for this release:
Cassette, Vinyl LP
The band has changed naturally over the years, adding members and tweaking their sound. Though they started as a two piece, Special Interest now consists of Logout and Maria Elena on guitar, with Nathan Cassiani on bass and Ruth Mascelli on synth and drum machine. All of the group's members are New Orleans transplants, drawn to the city's eclecticism. That same spirit of eclecticism surfaces in their music. As Mascelli—whose decision to play a Casio SK1 through cheap pedals and a noisy amp created the foundation for the group's post-industrial sound—puts it, "Punk music tends to be pretty standard in terms of what instruments are used, so I think people are just excited to see something different. The DIY scene in New Orleans can be very anything-goes, and we are definitely a product of that."
Still, the group is conscious of their status as relatively recent participants in the city's long history. "None of us were here 15 years ago [during Hurricane Katrina]," Elena says. "I waited tables for a long time, and tourists at the bougie 'global cuisine' restaurant I worked at would blithely ask me if the restaurant had been underwater. I wasn't here, and it felt like a gut punch. People I love, people I work with, people I just know survived something that was really fucked up, and [other] people are musing about it over their first course."
.
00:10 / 00:58
Merch for this release:
Cassette, Vinyl LP
Some of that sentiment comes through on album closer "With Love," when the band sings "To smell the sweet rot of society as it rapidly decays/ Shit makes my day." It also scans as a prescient statement for the world at large. "If we don't change then we are fucked. If we don't adapt we are fucked," Logout says. "Black folx have always known this reality, and there is something so beautiful yet utterly fucking annoying that people are just now truly seeing this regime for what it is and what it always has been. The words I write that are bubbling inside of me could have been written yesterday or five years into the future. They are not my own, they are from those I carry inside my DNA and from my friends I listen to, learn from, and struggle with."