FEATURES
Sourdure's Experiments Turn French Folk On Its Head
By Phil E. Bloomfield · March 31, 2021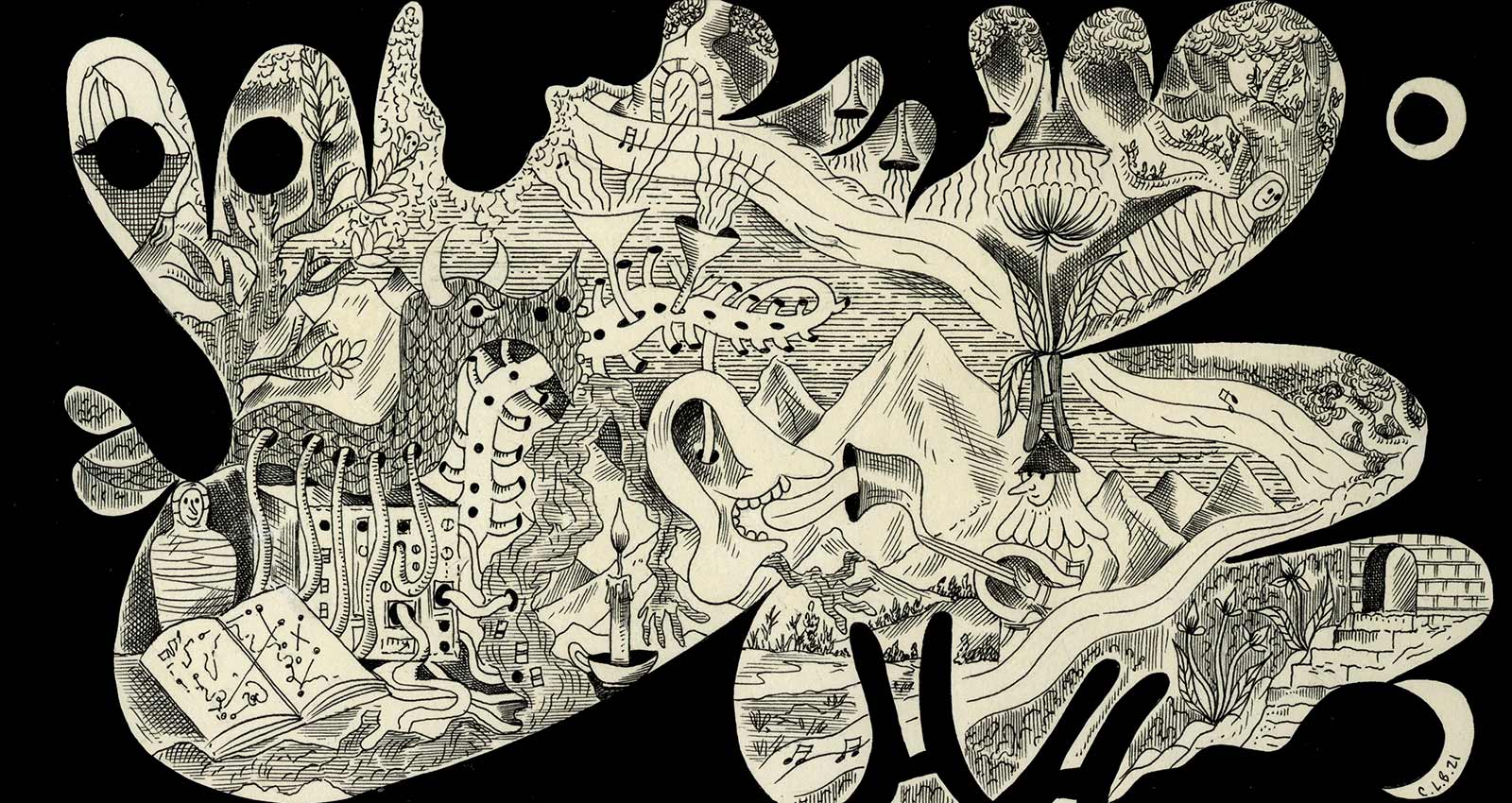 Ernest Bergez isn't sure how he came up with the name Sourdure. "I found it written down in one of my notebooks," he says. "It's probably a slip of the tongue I either said or heard and noted it down." In French soudure means a weld, while sourd translates to "deaf." It's a fitting name for someone who makes music that often sounds like a beautifully intricate contraption, soldered together from mismatched parts.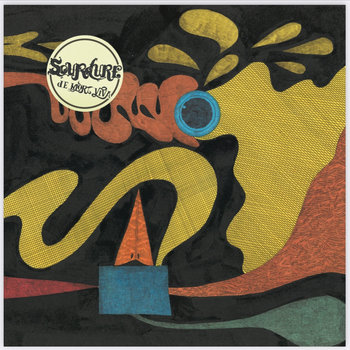 .
00:10 / 00:58
Merch for this release:
Compact Disc (CD), Vinyl LP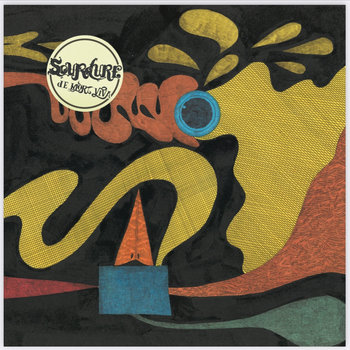 His fourth record, De Mòrt Viva, contains his most fluid and coherent work to date, but it's still unusually restless music. Loosely speaking, he takes the folk traditions of Auvergne—a region in the mountainous Massif Central, deep in the center of France—and augments them, implanting electronic textures and foreign aesthetics. He wrote and produced the album himself, enlisting collaborators to help provide raw materials, from Wassim Halal's daf hand drum to Amèlie Pialoux's medieval wind instruments. "What I had in mind was to create physical sensations through listening," he says of the album's arresting sonics, a product of both his engineering and choice of source material.
A growing number of artists are exploring the fertile ground between folk traditions and modern experimentation, but Bergez's work still sounds unprecedented, willing to explore possibilities that most wouldn't consider: rap cadences, Middle Eastern instruments, home-brewed musique concrète. Little surprise that he spent his teenage years messing around with instruments and software. "I discovered a lot trying to make things on my own based on what I heard on records." As well as an autodidact, he was a serial obsessive: "There were times when I was only really into rap," he says, and others when his focus was on making house or drum & bass.
Bergez's mother is from Auvergne, but despite growing up with parents who listened to everything from rap to electronica to Algerian raï, post-punk, and dub, he knew nothing of the traditional music of the area. The first time he heard traditional music sung in Occitan, the traditional language of the south of France, it "was like a slap in the face," he recalls. At the time he was deeply into an avant-garde approach to sound and composition, but the open, collective approach of the music spoke to him on a different level. "Traditional music seemed to respond to a different system of values," he says. "It was something that was really rooted in life, and not just in forms of presentation." While training as a music teacher, he was required to learn a new musical practice: he bought himself a cheap violin and started to learn traditional repertoires.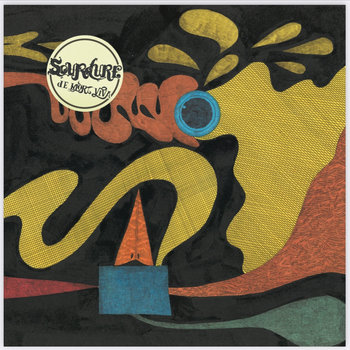 .
00:10 / 00:58
Merch for this release:
Compact Disc (CD), Vinyl LP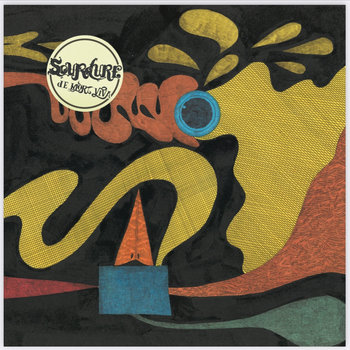 By working from collectages, field recordings made by amateur musicologists and folk enthusiasts in the 1960s and '70s, he learned the music of his ancestors. He found the experience liberating, which he attributes to the psychological benefits of being freed from the need to make new things. "It profoundly changed me, I had less need to feed certain obsessions, to look for radical sonic formulas, to find clever production ideas." Yet paradoxically, it also provided ample material for Sourdure, as his initially naïve reproductions "evoked many things but at the same time sounded like nothing else."
The arcane nature of De Mòrt Viva owes a lot to the language its sung in, the traditional language of troubadours. As with music, Bergez is self-taught. Auvergne is technically bilingual, but no one in his family spoke Occitan, and it's not taught in schools (unlike in other regions of France). He explains that his music as Sourdure is intimately linked to the language: "In parallel to the music, there's been a life goal to start speaking this language." To that end, his lyrics on De Mòrt Viva—inspired by literature and poetry in Occitan—reflect his desire to "offer songs in this language, now, in the present." For him, it's as much a written work as a musical one—"The lyrics are autonomous," he says—and he's since published the lyrics in Occitan and French.
He set out to draft something that fulfilled his own need for spirituality, "something which could be read on many levels." As he was writing, he realized that there was a hidden logic to his words. "Well, logical, not really. But they were linked to each other by a whole bunch of connections." Inspired by the ancient Chinese divinatory system of I Ching, De Mòrt Viva is constructed as a form of 'pagan tarot' with recurring linguistic themes and musical motifs, to be interpreted by the listener. The sequencing of the album is arbitrary. Its not a set of songs "with events that take place one after the other" but instead "a galaxy, with elements positioned in different places in space, where any kind of relationship can be interesting."
Subjectivity is something Bergez prizes. Explaining his work as a producer and engineer, he neatly summarizes his philosophy. "Technique… I never take it as something objective. It's never neutral." It's like a photographic filter, he says, "something through which I hear a sonic reality." De Mòrt Viva, then, is a kaleidoscope for the ears: "In one track you hear different spaces. It's sometimes very contradictory. You feel like you're in a room, and at the same time, you feel like you're outside."