FEATURES
Sonny Singh's Solo Debut is Both Political and Personal
By Annie Mok · May 20, 2022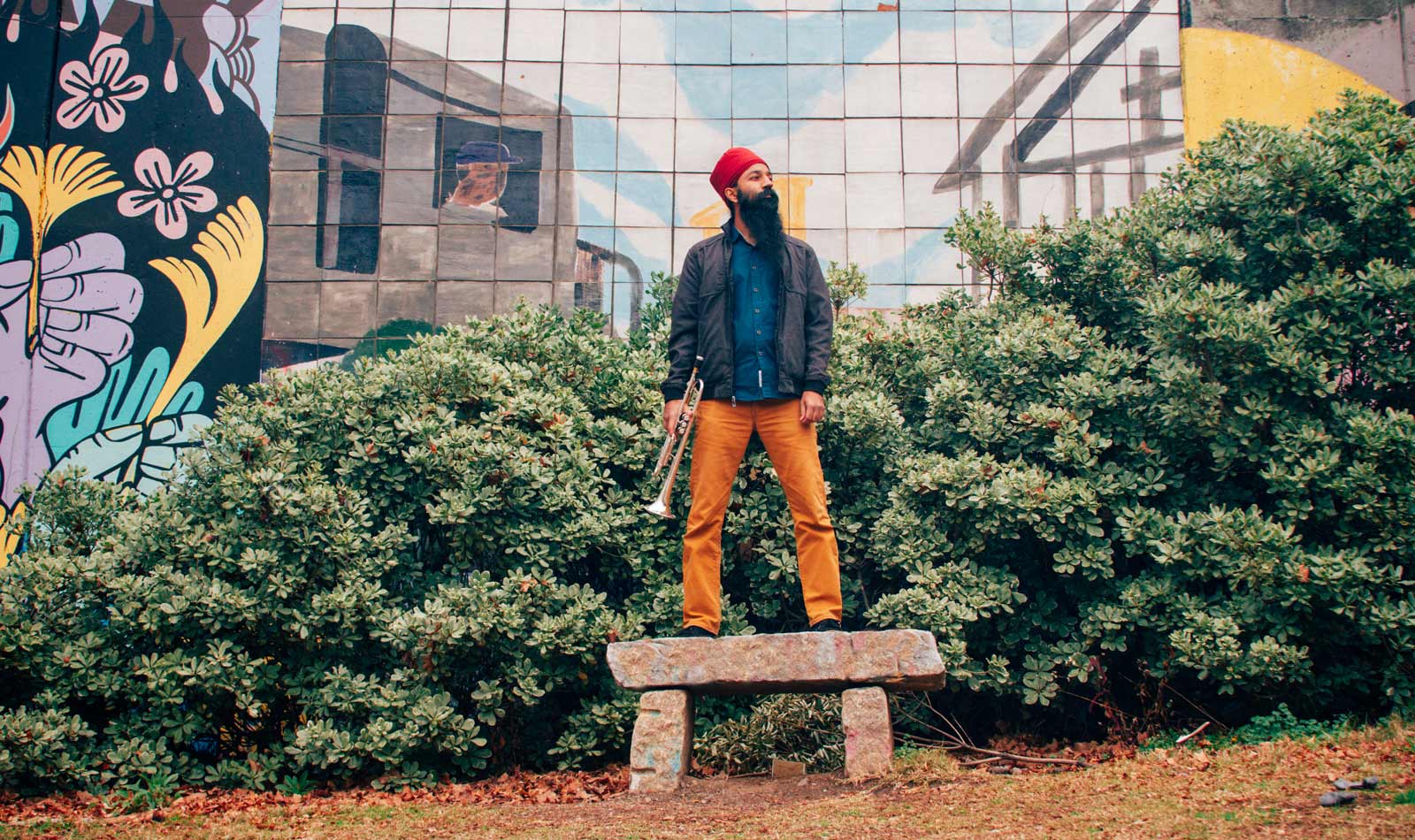 Sonny Singh is a Brooklyn-based Sikh vocalist & trumpet player. He started his musical career with the group Outernational, who collaborated with Rage Against The Machine's Tom Morello, under Morello's solo stage name The Nightwatchman. Singh left the group in 2008, "because of pretty serious political differences, including my bandmates' hostility towards spirituality," he says. "They were/are a part of the RCP [Revolutionary Communist Party]." Shortly after, he became an original member of the Brooklyn Bhangra group Red Baraat.
Merch for this release:
Compact Disc (CD)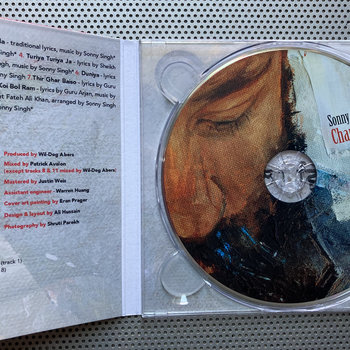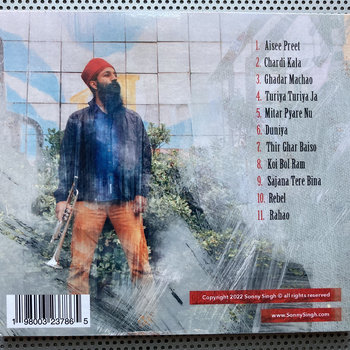 "Red Baraat was a much-needed musical change for me, both because it was a deep and direct dive into Punjabi and South Asian musical forms, and also because the core of our music was joy," says Singh. "Early on, I didn't think I would dedicate so much of my life to the band because it seemed less serious, less meaningful than an overtly 'revolutionary' band like Outernational. But over time I realized just how important joy is for all of us, and that bringing others, and myself, joy through our music was actually an incredibly powerful use of my time. So I went all in, and the band had tremendous success in a short amount of time—I think in part because the joy in our music is so palpable."
Singh's latest project is Chardi Kala, his first solo album and a collection of songs that centers his background and religion, which remains deeply tied to his political activism. Both the Sikh religion and its practitioners remain deeply misunderstood in the U.S., which has resulted in racist violence. Singh's choice to write the album mostly in Punjabi and Hindi is reminiscent of choices made by artists like director Satyajit Ray who, over his long career, made films only in Bengali, never in English. Despite receiving international acclaim, Ray always declined offers to make films in America.
Merch for this release:
Compact Disc (CD)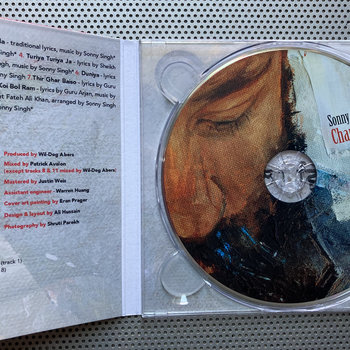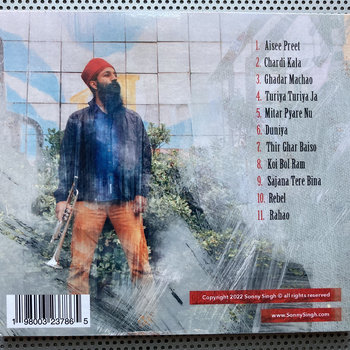 "For some reason, I have found myself gravitating away from singing in English over the years—I used to do a lot more of it in Outernational of course, and before that in a ska band in college," says Singh. "With Chardi Kala, I am tapping into how I first related to music as a child—singing kirtan, Sikh devotional music. So there's probably something to the fact that I came into singing, and playing music in general, first through Gurbani—Sikh devotional poetry. Singing in Punjabi, Hindi, and even Spanish somehow feel more organic to me these days than singing in English."
Many of the lyrics on Chardi Kala come from Gurbani (Sikh devotional poetry) and Sufi poetry set to original music. The choice subtly defies the Western myth of "individual genius," as does Singh's eclectic yet personal sound. In his songs, the unmistakable wah-wah of funk guitar, sits alongside Neelamjit Dhillon's tabla and kanjira, Singh's voice soaring above it all, bright and hopeful.
Merch for this release:
Compact Disc (CD)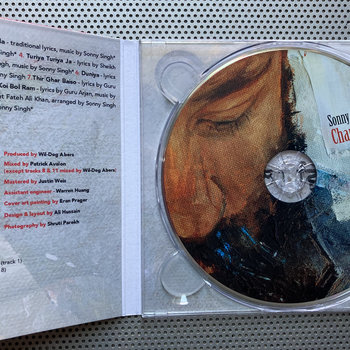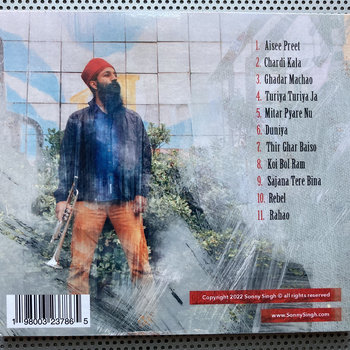 The title track opens with stillness: first comes mellotron from from Ozomatli's Wil-Dog Abers—who also produced the record—then the stark glitter of Jonathan Goldberger's electric guitar, with Dominic Johnson's violin adding an undercurrent of sweetness. And then Singh's voice arrives, like the breaking of morning sunlight, a bursting open of joy. It seems intentional that in the cover photograph for the single he looks upward, towards the heavens, towards the future.
Singh's work as a teacher, political writer, and activist flows naturally through his artistic practice—as well as his spiritual one as a Sikh man. "The fundamental truth in Sikhi is the idea of Ik Onkar—Oneness," he says. "The one force that is greater than us all as individuals and connects us all. Some call that god, some say love, some say energy, some say light."
Social justice is core to Sikh religious practice, as are singing and music. The website Discover Guru Nanak explains the basics of Sikhism by saying, "Sikhs believe in the oneness of all beings and the equality of everyone." Guru Nanak, the 15th-century guru who founded Sikhism, wrote his verses "in poetic verse […] intended to be sung […] Guru Nanak himself was known to sing his teachings as traveled across South Asia on foot."
"Acknowledging that divine light exists in all of us is a call to action—that we must do everything in our power to challenge oppression and exploitation in all their forms," says Singh. "My spiritual practice has more to do with how I try to live my life in an intentional way, putting this principle of Oneness into action, than how often I go to the gurdwara or recite prayers. That's not to say that the latter practices aren't important. But without interrogating how we live our lives, what good is prayer?"
Merch for this release:
Compact Disc (CD)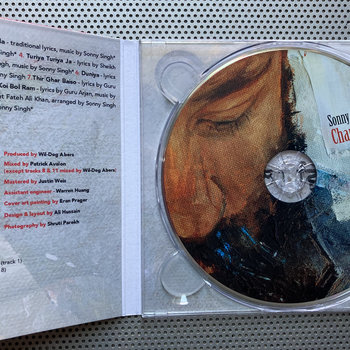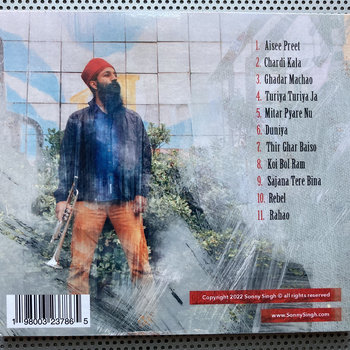 The English translation of the lyrics to "Chardi Kala" reads: "Live in eternal optimism, with ever-rising spirits/ Shout aloud in ecstasy, true is the great timeless/ One Nanak, with Naam (Name) comes eternal optimism, and with your blessings, peace and well-being for everyone." (The Nanak Singh refers to is Guru Nanak.)
Regarding the especially beautiful last line here, Singh explains: "Nanak naam chardi kala tere bhane sarbat da bhalla—this is the last line of a Sikh prayer called Ardas that Sikhs around the world recite daily."
Naam, which translates to "name," is a common word in Gurbani, the collected writings and hymns of the Sikh gurus, but here it has an extra dimension. "Naam, according to late Sikh scholar Puran Singh, 'is the supernaturally natural function of a poetical genius who though in body is at all times of day and night under the influence of the higher soul words of freedom," Singh says. "It is the pure subjectivity of love bursting up under the soul and invisible spirit guidance from below the crusts of earthiness, from under the hard conditions of earthly life.'"
This connects to the title of his new album—and to his life's work in general. "When we connect to that force of Naam, we remain in chardi kala—eternal optimism—and work for the well-being and dignity of all people," he says. "This idea of 'sarbat da bhalla' is an important one in Sikhi—that it's not just about fighting for your own community, but for all who are oppressed or suffering. In other words—not me, us."