FEATURES
Snapped Ankles Bring Wildness to Rock
By Robert Whitfield · July 05, 2017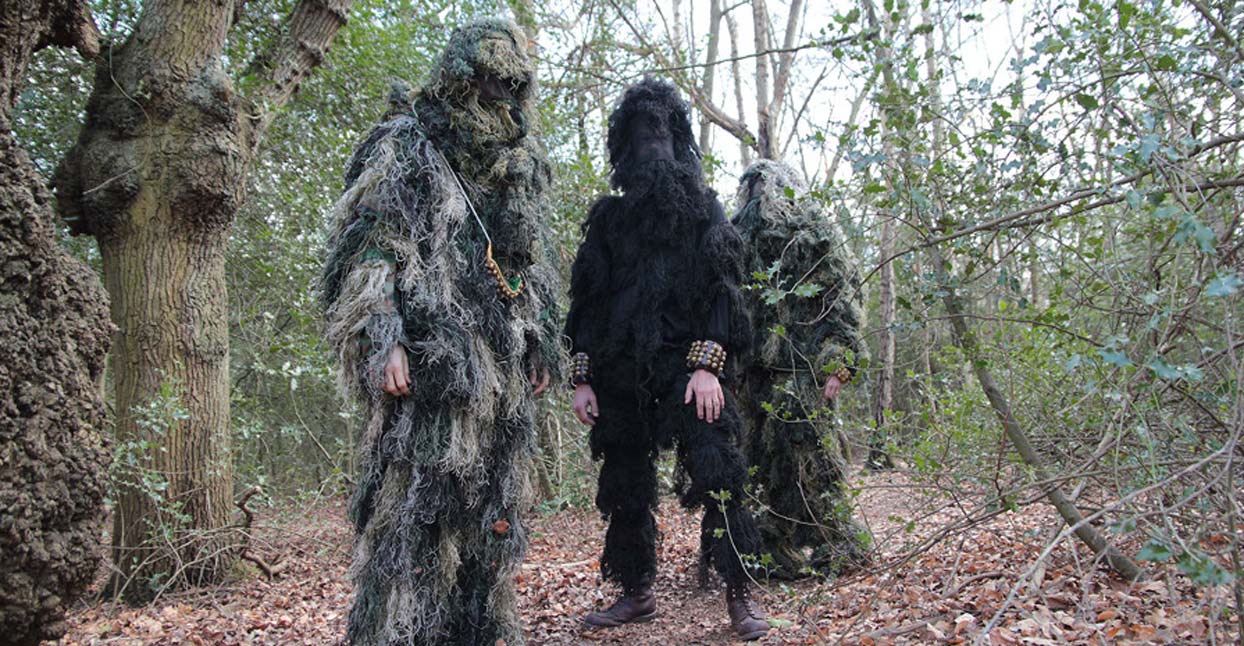 The mild-mannered voice on the other end of the phone was not what you would expect—but then, expectations should always be checked at the door when dealing with Snapped Ankles. There's very little information on the band, the members of which are often seen dressed up as monstrous shrubberies. What mentions are out there tend to refer to the band as if they were wild animals, not a rock band. The person we interviewed was to be referred to simply as a "Snapped Ankle."
What we do know is this: Snapped Ankles formed in 2011 and built a reputation for playing warehouse art events, often soundtracking films and performances. In March they signed to the Leaf Label and announced themselves to the world with "I Want My Minutes Back," a gloriously catchy krautrock track, which was quickly followed by EP The Best Light Is The Last Light, which fused electronic music, motorik grooves, and kitchen sink lyricism. Their debut album, Come Play The Trees, is next on the horizon and offer the perfect opportunity to uncover some of the truth from behind the suits.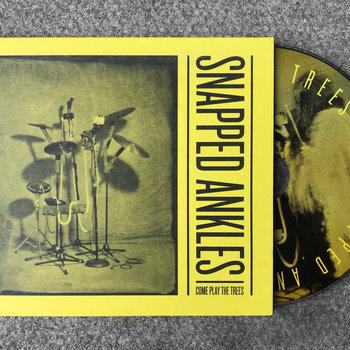 .
00:10 / 00:58
Merch for this release:
Vinyl LP, Compact Disc (CD)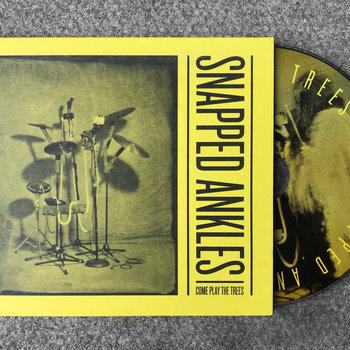 Snapped Ankles originally formed in 2011, but it's taken you until now to really focus on releasing material. How have you reached this point?
We actually came up with the name for the band about a year before, but we just talked about being in a band and thinking up ideas around that. Then, in 2011, we started getting invited to play at warehouse events, where we would play along to people's films. We'd set up with our own little PA in the corner and just pay grooves, as we didn't have proper songs at the start. A lot of the motorik rock comes from that period. We were just jamming along and playing parties where that sort of music fit.
We did that for a few years, and every year or so we would say, 'We need to capture some of this and record it.' So we'd go and record some songs, but it takes a lot of time when you're doing it on your own, and we were still doing gigs. We spent our last five years doing performances at art events as much as traditional [shows]. So we've been busy, but kind of just trying to create something odd, and doing it the long way. Sometimes the wrong way.
.
00:10 / 00:58
Merch for this release:
Vinyl LP
Since you started as a live band, how challenging was it to record your songs for the EP and album?
It took a lot of work, but now the album's done, we have a point of reference to make our live show sound like the album. Before that, our songs were quite elastic. They would change on a regular basis depending on how we felt, the instruments we had, or how long we had to play. Now, they're less elastic, and sort of better for it. But at the same time, you lose some of that looseness. It's a trade-off really.
'Jonny Guitar' is a really good example of how something has grown. There's a version of it that's three minutes long, but after we lost our original bass player (he now makes music videos) we had to rejig the group and ended up playing the same song in a totally different way. So when it came to making the album we had to decide what to do with this track. We had two versions—one that was kind of epic, and another that was more immediate. We thought about doing a 7" double A-side, but then we ended up linking it all together and making an eight-minute pop epic.
It sounds like for you live performances have been much more of a driver for the band than the need to really release anything substantial. Would you say that's true?
I think so. As a music project, it's grown up in its own separate world. We were never part of any music scene. Now, one of the guys has a studio in the Total Refreshment Centre, where there are bands like The Comet Is Coming and Bo Ningen. So we're rubbing shoulders with more bands, as opposed to five years ago, when all of our mates had a warehouse space and were performance artists, installation artists, dancers, and anything in between.
How have you found that change from being part of a scene that's more arts-focused to one that's more music-focused?
I think it all complements itself really. What's nice about the Total Refreshment gang and people like Kristian, who recorded our music, is they're quite good at telling us what to do, who to speak to, and [helping with] all the little micro decisions you have to make all the time. So it's good to have that sharing of knowledge that comes from knowing people who've done it a few times. It's a hard thing to get your music out there.
'I Want My Minutes Back,' which was digitally released in March—we made a vinyl version of that a couple of years ago. We had State 51 doing distribution, but without any promotion it all disappeared into the ether, the giant sea of music. Now with Leaf, it makes a bigger splash, and it gets us quite excited that we're able to get the songs out there and let people hear what we've been up to the last few years. Hopefully something that comes from a slightly different angle.
I want to talk about that different angle. On stage, you're known to use log synths and homemade instruments, rather than the traditional guitar, bass, and drums of a motorik rock act. What was the reason behind this?
I was making an installation of a sound forest and looking at instruments from a trashy, punk band aesthetic—the scratched, fucked-up guitar, or the smashed, broken drum kit—and thinking, 'If you take it a bit further, where do you end up?' At the same time, I was playing around with electronics and building my own circuits. I found that they were so immediate—you could make hand-made techno with one oscillator and a couple of nice pedals. Suddenly it was like, 'OK, we don't need to have a shiny synth when you can get little clip on triggers and have anything triggering anything.' I asked myself, 'How does that work for a live performance where you want the polite threat of violence, but a celebration at the same time—that classic rock hedonism. What's going to get you that? What is that wildness?' I think that's why, rather than trying to make an instrument, we said let's try and make the dirtiest, mankiest instrument possible. A rotten old log is a good place to start.
And what about the suits, how did those come about?
We'd been doing research into African carnival clothes and masks and then came across books on these [Norse] pagan hill tribes. They look like yeti or Chewbacca. We thought, 'That's brilliant, it totally fits and there's a kind of 'non-aesthetic.' As long as we can do it in a way that we don't end up looking like The Wombles, and is sort of scary and aggressive, maybe we can start with these.
When we started to explore the history of the pagan forest devils, there were a lot of correlations with what those monsters signified to us and the role of rock music. I think it's like Elvis's hips. At that moment in 1958, they were the most threatening thing ever. From that to things like Iggy with his chest out, jumping into the audience. We love all that energy of rock 'n' roll, the great sexual threat, and finding new ways to explore that, so we thought, 'Hedges haven't been done yet.'
They're pretty big suits. What's it like wearing them stage? 
Becoming masked was a liberating experience for the whole band. It instantly unified us, and the connotations were something quite interesting. It started to throw up all these suggestions of mysterious and unknown forest devils, as well as having the ridiculousness of a band [like us] turning up at these venues and playing.
[The suits] are very cheap and lightweight. People always ask, 'How can you play in that?' But from a performance perspective, they look great when you start dancing and moving. They get tangled up in things and things fall over, but it all adds to the organized chaos of our live shows.
I think it's interesting that while your aesthetic pulls from myth and nature, the music you make is much more modern and industrial. Was this a conscious juxtaposition?
Yeah, and again, I think that appeals to us. It's like how Kraftwerk in 1974 lost their drummer and got two percussionists with electro pads. They approached the analog synthesiser and that music as a future robot; that was the view at the time. Now, we're in the future, where robots are real and electronic music isn't a robotic future. It's more organic. In motorik rock there's a deep sense of jazz in there with improvisation and the possibility for permutations of new grooves. Whilst Kraftwerk dressed as robots to complement the music, we're going back to nature to show the wildness of electronics at their most basic.
—Robert Whitfield