FEATURES
Slope114 Use Homemade Synths to Create Otherworldly Sounds
By Tamara Palmer · January 19, 2017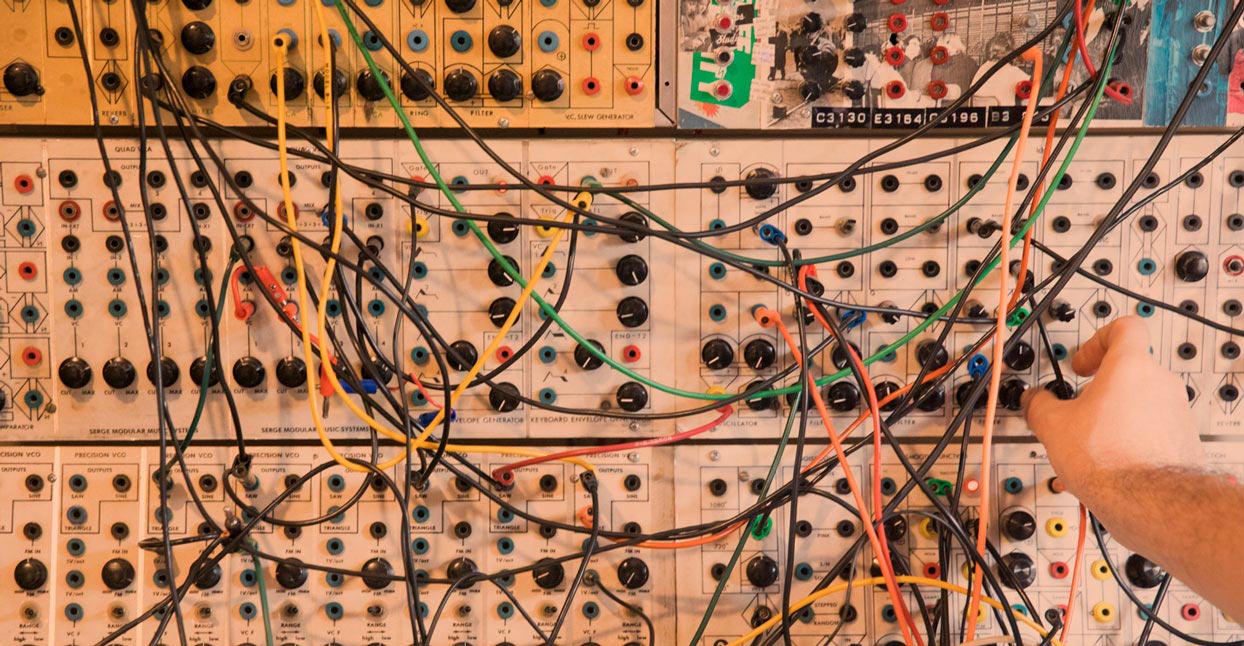 In a two-part tour video shot recently in England while performing for London superclub Ministry of Sound, San Francisco duo Slope114 (Elise Gargalikis and Dmitri Ponce) found multiple opportunities to subtly slip in their raison d'être.
"Do your art on your own terms continually," asserts Ponce, "and stick out like a sore thumb."
That approach has already earned Slope114 some coveted overseas gigs, and offers them limitless potential for the future. While both Gargalikis and Ponce have had significant experience working with other artists and labels, they've blossomed by eschewing traditional music business models, opting instead for true independence. Their fanbase, largely built from posting songs and creative sessions to Facebook and YouTube, has helped earn them a significant following. They also successfully crowdfunded a vinyl pressing of their new record, Satya, which they sold—and quickly sold out of—via Bandcamp.
"None of my homies that used to produce in the late '90s, early 2000s wanted to make records anymore," Ponce remembers. None of them wanted to invest in pressing because it was a money pit. What we learned is that pressing records attracts people that buy records, so it's not like we're making this thing that's impossible to sell. Both of the records we pressed ourselves together were paid for by our supporters and it took 70 people to fund each one. We pressed 300, so 70 are already paid for, and you're gonna sell another 30 on the night of your release party, or you give some away so you end up with 200. So if you can retail that 200 through your Bandcamp page, who needs a distributor?"
Slope114's approach to music-making is similarly DIY. They build all of their instruments themselves, modular synthesizers in the style of pioneer Serge Tcherepnin (their name is a reference to the dual universal slope generator on Serge modules). The resulting instruments look like retro telephone switchboards; one of Ponce's modules even has an old black and white photo of those telephone operators Mod Podge'd onto it. To do such painstaking creative work in an era when people compete to push as few buttons as possible is one indication that the duo take their art seriously.
Another is that their influences stretch back further than most of their peers. The latest Slope114 release, "Sweet Sue," is a loose cover of a popular jazz standard originally written in 1928. The song first came into Gargalikis' orbit when she saw Lucille Ball singing it on an old episode of I Love Lucy when she was a kid.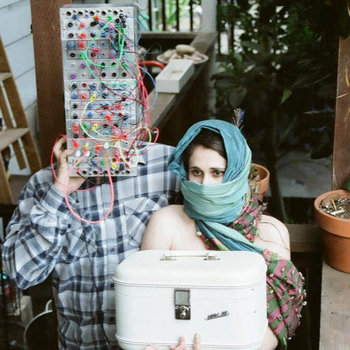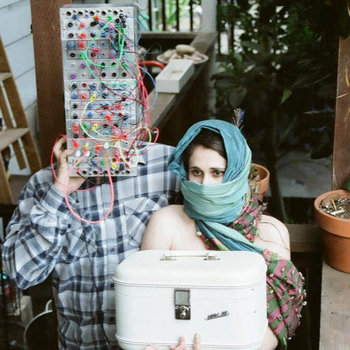 "I thought the words were really sweet and colorful, and it's an easy melody to modify," she notes. "Plus, I really love Lucy, so there's a lot of nostalgia in there, too."
The apartment Slope114 share is a self-contained music and art studio that inspires playfulness and inspiration. It's a sanctuary of creativity, festooned with flashing lights, draped in cords, and adorned with silk screen frames and musical ephemera to keep their active minds stimulated. It'd be easy to stay here and never leave. But while Slope114 have fostered a supportive international online community, they've also cultivated a physical one in San Francisco—and in the very same Lower Haight neighborhood where Tcherepnin created the Serge Modular Music System.
For the past five years (and with the blessing of Tcherepnin himself), they've mobilized gatherings they've dubbed "Church of the Super Serge" on the third Saturday of every month at Robotspeak, a Haight Street shop that sells modular synths as well as other analog and digital synths. Gargalikis estimates that the Church regulars range in age from 20 to 65. They also frequently perform next door at Vinyl Dreams, a discerning electronic music shop owned by close friend and former Amoeba Music buyer Mike Battaglia.
Slope114 is currently working on a double LP, and hopes to bring the evolving live show around the world. Daring to create outside of the confines of the dance floor has set the duo up for a future where anything, musically speaking, is possible.
"Dmitri pushes me out of my bubble as an artist," says Gargalikis. "He really makes me be creative and confident when I tend to be reserved. I think our songwriting together really flows because I'm often singing what he thinks. It makes us both want to create something really meaningful and timeless."
—Tamara Palmer