FEATURES
Skyzoo's Hyper-Lyrical Underground Rap Is Still Going Strong After 20 Years
By William E. Ketchum III · July 22, 2020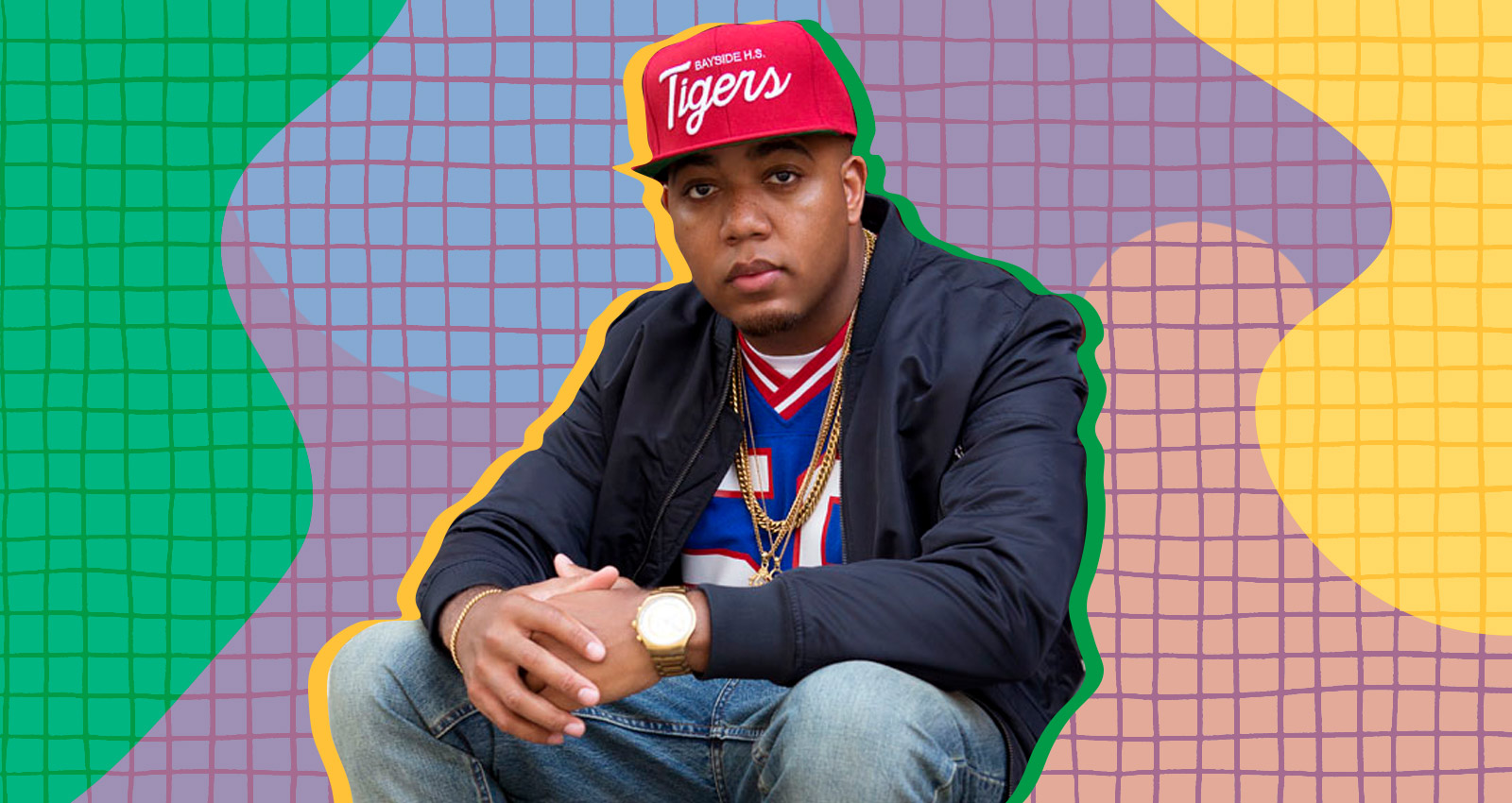 On November 12 of last year, Skyzoo experienced one of the most frightening moments of his career. He was on tour with Detroit rapper Elzhi to promote Retropolitan, his LP with legendary producer Pete Rock. It was hours before showtime at Your Mom's Place, a venue in Oklahoma City. And one of the most revered underground MCs of the last 20 years had lost his voice.
"I tour a lot, I record a lot, so I'm always using my voice," he says. "I never get a break, which is fine. Ninety-nine percent of artists, when they do a show, that night, their voice is kind of wack. But throughout the day it gets better, and you have another show later that night." But that night, a year's worth of vocal problems finally caught up with him. "I'm sitting back there whispering. I'm drinking hot toddies, and I'm getting tipsy because they say that's what brings your voice back. I'm losing my mind. I told myself, 'When I get off this tour, I gotta figure this out.'"
This month, Skyzoo had surgery to get a polyp removed from his vocal chords, which meant that he wouldn't be able to speak for the five weeks that followed. So before the surgery, he was scrambling: he was trying to finish up his next album, All The Brilliant Things, he was completing songs for other artists, and he was recording voice notes to play for his two-year-old son. He knew that once the surgery was done, he'd have to live in silence for more than a month.
.
00:10 / 00:58
Merch for this release:
Vinyl LP, Compact Disc (CD)
But fans of Skyzoo would be hard-pressed to complain about a five-week break. The Brooklyn MC has released plenty of music—two projects in 2020 alone—and is known for his complex, thoughtful lyrics.
Born Gregory Skyler Taylor, Skyzoo grew up in Brooklyn, idolizing New York rap legends like Nas and GZA—as he describes them: "the guys who were saying something." He eventually began to find his own gifts as a rapper: hyper-lyrical verses heavy on double-entendres, wordplay, and metaphors. His storytelling id crammed with imagery, symbolism, and personification; he uses tales from his neighborhood as a springboard to show how the motivations of people on his block also apply to similar situations around the world.
"I grew up in so many different worlds," he says. "I lived in the hood, but I went to school in Manhattan. I used to walk by a junior high school that was across the street from my building in the PJ's to go 35 minutes into Manhattan on the train at 12 years old. I would be in one world in the hood, then I'm on the train and I'm in Chelsea or Union Square. My friends in school don't look like my friends in the neighborhood. I observed the similarities and differences, and I always wondered why. I guess it spilled over into my music."
.
00:10 / 00:58
Skyzoo paid his dues on mixtapes, like the 9th Wonder-produced Cloud 9: The 3 Day High, before releasing his solo debut The Salvation in 2009 via 9th's Jamla Records and historic indie rap heavyweight Duck Down Records. A meditation on temptation, with production from Just Blaze, 9th Wonder, and Illmind, the album established him as one of rap's brightest new talents, with tough beats that matched his cutting lyricism. In the years that followed, he'd release more conceptual records: On Music For My Friends—which featured guest shots by Jadakiss, Black Thought, and Westside Gunn—he wrote from the perspective of his 13-year-old self, telling his friends things he wishes he could've said. A Dream Deferred reckons with unrealistic expectations, and In Celebration of Us is a meditation on Blackness. He's released two records in 2020: The Bluest Note reflects his love for jazz, with Skyzoo laying bars over live instrumentation by the Italian jazz band Dumbo Station;  Milestones, released on Father's Day, contemplates fatherhood; it's based on his own experiences as a dad, as well as his experiences growing up as one of the few boys in his neighborhood with a father in the house. His next album, All The Brilliant Things, will break down gentrification—something he saw up close and personal in his home borough of Brooklyn. He likens his work to Spike Lee, a director to  whom he paid homage in one of his songs: "All of his movies are coming from the same source of energy because he has his own style," he says. "but every script is different. She's Gotta Have It isn't School Daze, which isn't Mo' Better Blues, which isn't Malcolm X, but we know they all came from the same director."
He's also developed another rap hustle: ghostwriting, a gig he got via his longtime friend, collaborator, and neighbor Illmind. The producer was working with other artists in Los Angeles, and on one visit, he brought Skyzoo along. "A month later we were in L.A., he was making some beats, and I was writing to them on the spot and recording them," he says. "One of the artists he was producing for came in the room, and he said, 'Yo, who's that?' Illmind says, 'That's my man Skyzoo.' He says, 'Yo, that's crazy! You got more?' I just kept writing, and they kept me out there for three weeks. Then other artists was coming to the lab, heard what I was doing for artist A, and then artist B was like, 'Yo, I need your number, too.' It just spread like wildfire."
It even spread into Skyzoo's own lyrics. On the song "Luxury," he refers to himself as "Casper the Friendly, writing for the Forbes list," but he insists that ghostwriting was a difficult business to break into. "A lot of ghostwriters are rappers who didn't make it," he says. "Their pen is crazy, but for whatever reason, they didn't make it. Maybe their voice is weird, maybe they're awkward, maybe their stage show isn't right, maybe they don't have the look…I'm a rapper who's 'made it.' I can put out records whenever I want, I can tour all over the world, people look at me in pretty high esteem. As a ghostwriter who hasn't done all of those things, you're a little mad that someone like me can move around and you can't. They're not going to walk me in the room, because I might take their job. I'm trying to get a second job, they're fighting for their first job."
.
00:10 / 00:58
All of which makes Skyzoo's vocal trouble in Oklahoma City that much more dire. But his response reflects the resourcefulness that he's drawn on time and again over the course of his career. Instead of cancelling the show, he explained to fans in a coarse whisper that his voice was gone, but promised that he'd find a way to make the show worth it. He proceeded to perform one of his most unorthodox shows: he played Retropolitan from start-to-finish, lip-syncing along to the verses. He ended the night by giving free merch to anyone who attended.
"I lost a bunch of money, but I figured it was the least I could do for people who paid $15, $20 to come to a show and I couldn't do it," he says. "It was the worst show I've ever had. [But] those people are still die-hard Skyzoo fans. I may have lost money in the short term, but in the long term, those people are locked in forever. They'll never forget that night."