FEATURES
Singing the Roots: The Challenging Rise of Zanzibar's Siti & The Band
By Amanda Leigh Lichtenstein · June 15, 2018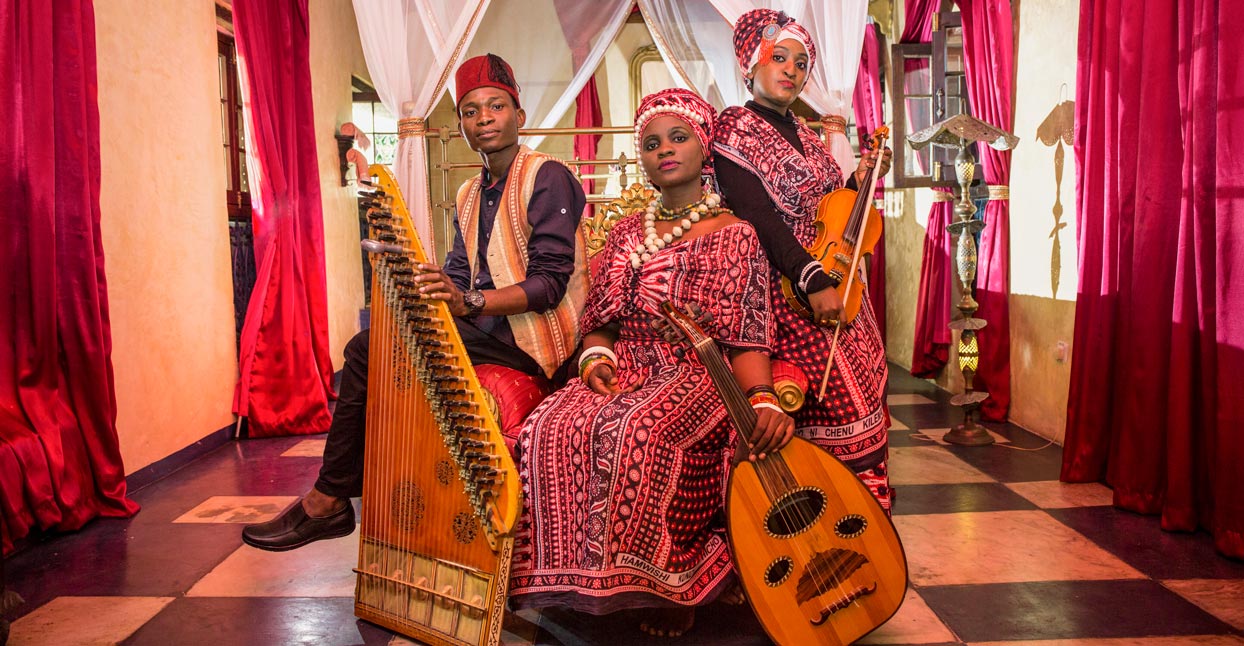 Sitting peacefully on the baraza facing the Indian Ocean in Stone Town's Forodhani Gardens, musician Amina Omar Juma recalls growing up with a grandmother who loved to sing, though few around her ever knew it. On the island of Zanzibar, bound by Swahili culture and Islamic tradition, singing in public as a woman was at one time considered taboo.
Amina, known as "Siti Amina," now takes the helm as the charismatic lead singer and oud player of Siti and the Band, one of Zanzibar's fastest rising musical outfits. Their debut album, Fusing the Roots, was released to rave reviews; on it, Amina and her band offer surprising twists on Zanzibari folk sounds, drawing from deep cultural roots to inform their music and its message.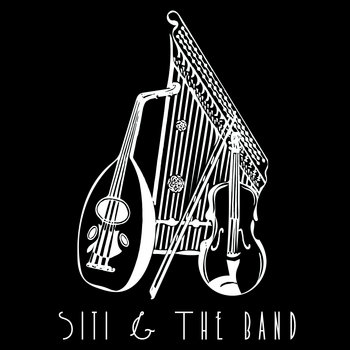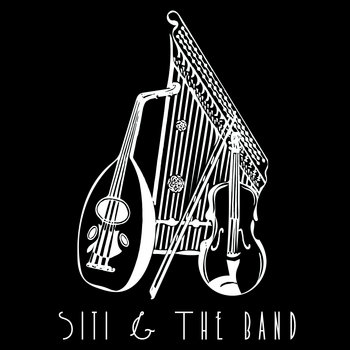 Siti Amina and her band intentionally channel the spirit of Taarab legend Siti binti Saad, a Zanzibari woman who rose to international fame as the first woman from East Africa to record her music, producing more than 100 records in her lifetime. A chance meeting with a member of Nadi Ikhwani Safa, Zanzibar's all-male Taarab ensemble, led her down a rare musical path as a singer in a world dominated by men. Discarding her birth name for the more honorable "Siti," she defied social norms by performing veiled for royal crowds, boldly protesting class oppression and domestic violence through her music.
Over 100 years later, Siti Amina follows in her musical hero's footsteps. "I always remember singing as a child," she says. "I got so completely interested in singing, but Swahili society had … issues … with my singing." In 2003, she convinced her cousin Sandra to form a "Zenji Flava" (Zanzibari hip-hop) band called Cool T, and they won a talent show competition presented by Busara Promotions, the non-governmental organization that now produces Sauti za Busara, East Africa's largest live African music festival.
"We were so happy then, but our neighbors saw us and they were shocked," Siti Amina recalls. "Of course it got back to my grandmother. And she was like—no."
When Siti Amina's mother passed away—when Amina was just 7 years old—her aunts and grandmother raised her and insisted that she finish her studies. She obliged, successfully doing so at 18 and getting married soon after. But Siti Amina admits, "music still boiled in my blood." In 2012, three years after her son was born, she signed up to compete in Bongo Star Search in Dar es Salaam. Her husband wholeheartedly disagreed; the two had an explosive argument that eventually ended their marriage. "I didn't make it to finals [Bongo Star Search] but I felt it was enough," Siti Amina says. "I always told my husband that my biggest ambition was music. He wouldn't support me. But I never dreamed of anything else."
Back in Zanzibar and newly separated, Siti Amina signed up for vocal lessons at the Dhow Countries Music Academy (DCMA), the island's one and only professional music school. Founded in 2002, the school "preserves, develops and promotes the unique musical heritage of Zanzibar and the Swahili coast," training more than 1,500 students with certificate, diploma and private courses over the last 15 years. Current managing director Adrian Podgorny remembers Siti Amina "hanging around the school and rehearsing" because the DCMA felt like home.
While studying at the DCMA, Siti Amina formed a band and started rehearsing: she sang and played a pear-shaped oud (lute), her cousin Rahma Hassan Ameir took the violin, and their friend Gora Mhammed Gora plays the 78-string qanun, one of Taarab's more famous traditional instruments. This fusion of traditional instruments with East African rhythms and traditional folk melodies sent them down a soulful, experimental path, pairing virtuoso musicality with exciting new sounds.
"Starting a band was really tough, I struggled on all sides," Amina says. "My ex-husband was against it. My family was against it. And most of all, I struggled with myself as a new mother. But I continued fighting, fighting, fighting."
Podgorny agrees that Zanzibari musicians struggle, and imagines a DCMA where the school plays a much more integral role in alumni success. "Local musicians earn very little, sometimes just 20,000 shillings (9 USD) a gig, a job that is often not fun. Yes, it's rewarding, but it's not always glamorous." He continues, "heritage preservation is one thing, and Taarab is certainly part of the island's identity, but we want to make sure our graduates earn a living from their talents."
Siti & the Band have played informally together since 2015, but when they started collaborating with Lorenz Hermann, a fellow DCMA student from Germany, their musical path lit up with new possibilities. Hermann co-founded Stone Town Records with Kassim Omary "Mash Marley," a new recording studio in Stone Town, Zanzibar, before completing his certificate in music theory at the DCMA, and was eager to fill the gaps he noticed in professional services for musicians in terms of branding, marketing, promotions, and negotiations. "Music teachers often walk a fine line between teacher and agent," blurring boundaries between education and business, Hermann says. Determined to break out independently, Siti & the Band approached Hermann about working together, and he agreed to manage the band by late 2016.
Before too long, Siti & the Band were off to Dar es Salaam to record Fusing the Roots, under Stone Town Records, in partnership with Wanene Entertainment. This time, James Clemence "Jimmy the Drummer" joined on drums and Abdulrazak Abubakar "RazaKey" hopped on the keyboard. The band recorded eight songs at 200 USD each over a three-day period in a state of the art facility, thanks to a friendly discount from Wanene founder Darish Pandit and financial support from now-late professor Mitchell Strumpf, the DCMA's then academic director. They released the album in January 2018, performed the following month live at Sauti za Busara music festival in Zanzibar, and kicked off their East Africa tour to Kenya and Uganda by March 2018.
The whole album "is pure Zanzibar," Hermann raves. "It's got amazing violin solos, the sounds of qanun, instrumental pieces. 'Ugende' [the first track] has this rock sound, while Halindwa features a trumpeter from Zimbabwe and the kiyaso beat from Pemba." Ancient Zanzibari ngoma rhythms shimmy side by side with Turkish and Persian rhythms, with a bit of Zenji Flava thrown into the mix.
While their first record aptly represents the band's talent, Hermann says "what they do best is live performance. It's always an explosion of music spheres, emotions, layers, and instruments." Siti Amina explains, "When I sing, I am free. Music has no boundaries and I want my audience to hear that and feel that with me. If it makes you feel free with me, I am happy."
Musical collaborations with Berita Afro Soul (South Africa) and Shamsi Music (Kenya) while attending Doa Doa East Africa Performing Arts Market in Kampala prompted the band to set their sights on more regional and international tours and gigs. While committed to reaching local audiences, the band realizes there's a limit to how much they can earn in Zanzibar. Online platforms like Bandcamp help captivate new audiences, but it's still important, according to Siti Amina and Hermann, to leave Zanzibar if they want to grow. "South Africa is a major part of our strategy," explains Hermann. "We'd also like to take more steps across the ocean in 2019."
On their success, Podgorny reasons, "Siti and the Band are doing something different. First, [Siti Amina] speaks from the stage about women's rights, and that sets her apart. She's politicized Taarab in a way; it's not just about the repetition of verse and chorus. It's also about thoughtful composition, arrangement, and messaging. It goes beyond entertainment. You can tell they rehearse, they have presence, it all works together."
The band's homage to legendary Siti binti Saad has stirred a revival of sorts, connecting young audiences to the power of traditional music again while offering up something new. In early 2018, the DCMA partnered with British music producers Sam Jones and Pete Buckenham and DCMA musicians, including Gora Mhammed to re-record Siti binti Saad's entire songbook at Raha Leo Studio in Zanzibar. "It's important for Zanzibar to remember that while women traditionally stay at home according to Islamic customs, two of Taarab's most influential stars are women—Bi. Kidude and Siti binti Saad," Podgorny says.
"When you talk about Zanzibari women," Siti Amina asserts, "It's the women who have made our unique island famous, it's the women who are our culture bearers, and we should, of course, be proud."
In between touring, recording, and composing, Siti Amina has returned to the DCMA as a teacher, along with band members Rahma and Gora. Siti Amina now earns a living from her music and sends her son to private school. As a teacher, Siti Amina is an example to young Zanzibari women aspiring to sing their roots. "[I]t's been important to lead as an example. We have to go to our roots to find our beauty. It's easy to get lost out here [in the world] and when we eventually do [get lost], our roots guide us back to ourselves."