FEATURES
As Sinkane, Ahmed Gallab Discovers His True Calling
By Marcus J. Moore · January 02, 2017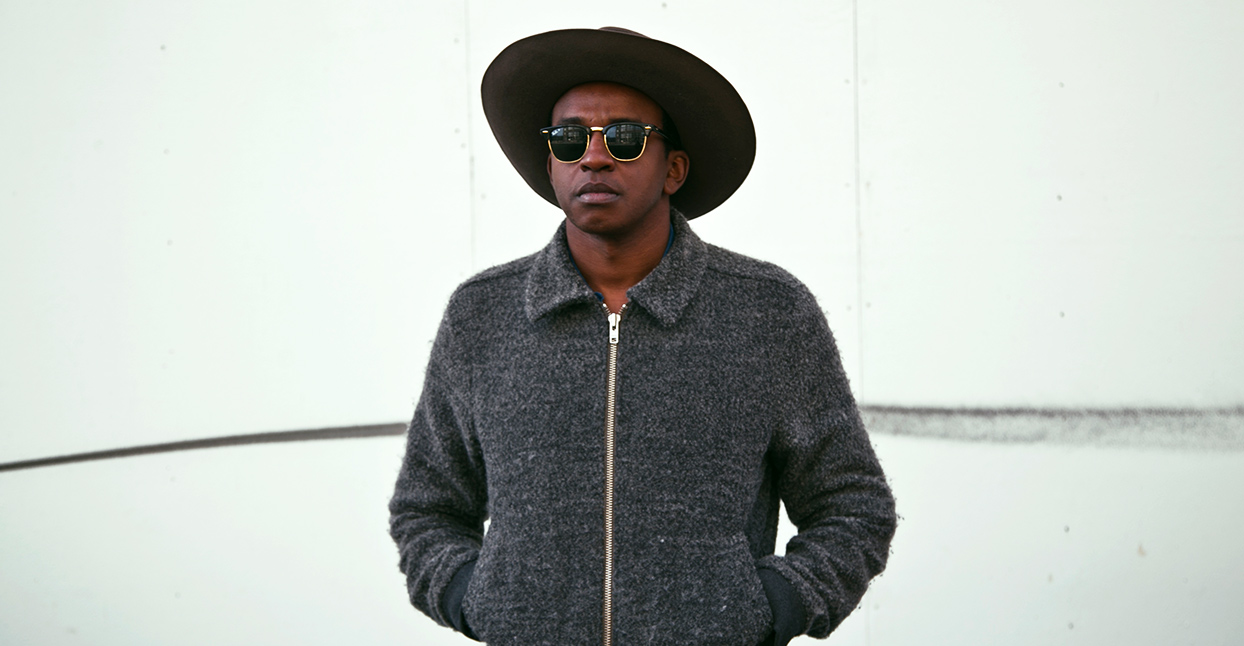 On "U'Huh," the lead single from Sinkane's new album, Life & Livin' It, bandleader Ahmed Gallab sings to alleviate our concerns. In his view, the struggles we endured in 2016—the endless parade of death, the social unrest, and the presidential campaign—can be overcome if we all stick together. "It's always been this way," Gallab sings. "As long as we try, we're gonna be alright."
That message isn't surprising if you've followed his career to this point: His previous albums, Mars (2012) and Mean Love (2014), radiated the same positivity, even if they didn't directly address such issues. Musically, Gallab has always been something of a polymath, and his new record as Sinkane is perhaps his most fully-realized, mostly because he's stopped trying to fit in. Its songs—a blend of Afropop, funk, and jazz—give off a tropical atmosphere without belonging to any one genre in particular.
We spoke with Gallab about the new album, his personal and creative growth over the years, and how working with his idols helped him come to grips with his identity.
You wanted Life & Livin' It to be a joyous record, but your previous albums—Mars and Mean Love—feel festive as well. What did you do differently this time?
When I started writing Mars, I had a breakthrough in understanding what I wanted to do musically. I was really inspired and enlightened by a new understanding of how I could take all these influences and create something. And while I was doing it, I found myself experimenting with my music. That made me question a lot of issues I had with myself—my identity, my place in the world, and who I was. So the subject matter was kind of cathartic to me. With this album, all of the experimentation I did on the last two has led me to a place where I feel free. Instead of questioning my identity, my religion, my place in the world, I felt I could write from a very honest, confident, and inspired place.
What did you discover about yourself while creating this album?
I came to peace with not knowing. I grew up living in the United States and living in Sudan. I'd go to Sudan and not feel at home there. I'd feel like a foreigner in a place that I thought was mine. Then, I'd feel the same way in the United States. That caused a lot of frustration for me, and a lot of confusion. After we released Mean Love and did a lot of touring for that album, through my travels and experiences, I realized there weren't any answers to the questions I'd asked about myself. I just needed to be. I needed to have experiences. I also got an opportunity to play with a lot of my idols, and that made me feel like I was a part of a musical community. Before, I felt like I was chasing something. Playing with all these people—from David Byrne, to Pharoah Sanders, Damon Albarn, and Money Mark—I felt they were way over here, but I'm way in the back. Once I got to play with them and get the acknowledgment from them, I received a sense of confidence in knowing they accepted me as one of their own. It allowed me to approach this album in a way that I hadn't in the past. I knew it was my time.
At what point did you start composing Life & Livin' It?
I started writing the album in January [2016]. I spent three months by myself, in my studio working on all the songs. Then I brought in my band; we learned all the music. In May, we had a residency at [Brooklyn venue] Union Pool, where we tested these songs live. Then we hit the studio in August. That said, there are a bunch of ideas on this album that are really old. The song "Deadweight" took me six years to finish. It wasn't until now that I had all the baggage out of my head. Now, I can approach everything with an open mind and a relaxed state to finally finish the song. When you listen to a lot of these songs, they're all very expansive. They have the opportunity to go somewhere. I hope the listener can take that and understand there's another element to the music—which is the live performance. When I listen to my favorite music, it's a very personal experience for me. I feel that when you have a simple message that people can digest, you get the point across, and people can really enjoy it.
Were you influenced by the current social and political climates?
Specific political events weren't addressed. I didn't decide, 'OK, I'm gonna talk about Donald Trump running for president, or the issue of engaging with the white middle class all over the world.' I didn't want to do that in particular. But I do believe there's a universal understanding of struggle, happiness, and sadness. People all over the world engage when they can relate to those kind of things. With this album, I wanted to talk about my personal experience—my experience as an American in the United States, being an American in Sudan, being a Muslim, being a Black American. I wanted to detail my issues as a Black American with black people, with white people, with everyone. Those events are more universal than political, but I feel you can reposition a lot of what I'm talking about and connect them to what's going on. For instance, on "U'Huh," I wanted to talk about the fact that shit kinda sucks. But it's always been this way, ya know? When you talk to your parents or grandparents, they're all gonna tell you what was going wrong in their day. So the idea of, 'Man, it's really fucked up now' is not new. It's a common thing and we live with that, and will continue to live with that. I think approaching those situations with a positive mental attitude is the only way people can come together to get to a better place.
.
00:10 / 00:58
You've had vast cultural experiences. How does that inform your music?
I moved to Ohio when I was 13. Before then, I was living in Utah. I lived there from age 5 to 13. Moving to Ohio was a huge culture shock for me. I was no longer the only black person in town. My school was culturally diverse; there were a lot of different kinds of people. It made me confident about who I am. I went through it, ya know. That has definitely influenced my writing process. I remember moving to Ohio, and I made a videotape for a friend of mine in Utah, and she said, 'Wow, this is the first time I realized you were a black person.' She literally said that to me! I was so confused by that. Then I realized growing up in Utah, young kids don't really understand. Things are just so homogenous there. Then going to Ohio, on the first day of school, I was wearing a 311 t-shirt, and all the black kids were calling me racist. I skateboarded and everyone's like, 'Why do you do that? You're a black person. You talk funny. You act weird. You listen to white people's music.' It was a shock to my understanding of identity. Who am I? It was a really weird and confusing upbringing.
So that goes back to what we discussed at the top of the conversation. On the previous albums, you were coming to grips with who you were. On this one, you're unrestrained.
A lot of my material came from touring. Just traveling and becoming friends with people from all over the world. I realized that people are all the same everywhere you go. We feel the same feelings—the sadness and the joy. Anywhere in the world, you can understand those feelings universally. Many of the things that set us apart are these confusing issues: 'You're different from me because you look differently, you talk differently, you act differently.' Growing up, it was frustrating to deal with, but I feel like I came out of it a better person. Having gone through those situations and taking them head-on.
—Marcus J. Moore