FEATURES
Shy One's Colorful Grime Origin Story
By Joe Muggs · July 06, 2017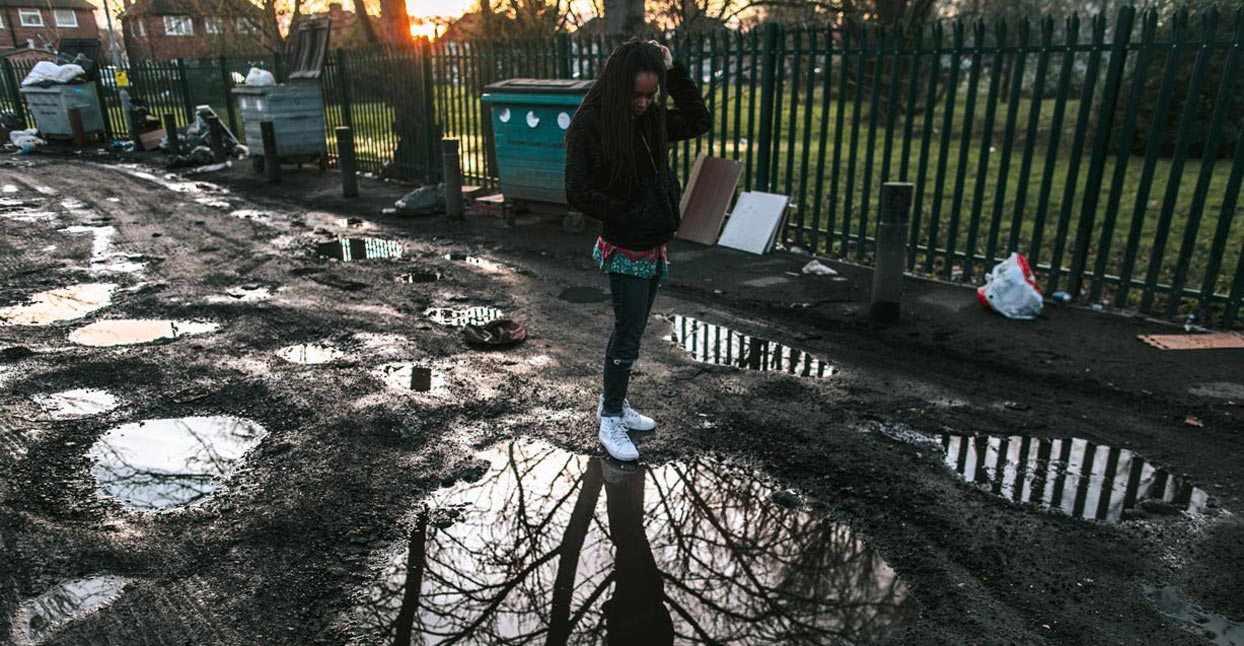 Mali Larrington-Nelson, aka Shy One, doesn't believe in rushing. Her 2011 EP Decaffeinated Love and the follow-up album Bedknobs & Boomkicks (both on the DVA music label run by maverick producer and radio personality Scratcha DVA) didn't generate tidal waves of hype, but they did win passionate fans among the people who heard them. Then, a five-year silence set in until the Other Side EP arrived on U.S./Japanese label Diskotopia last year. Now, Shy One is back with her new EP, Waterfalls.
Her production style, like her club and radio DJ sets, is unique in its ability to fuse all of London's underground subgenres of the past few decades into a completely coherent whole, always with a fine balance of soundsystem fierceness and soul/jazz poise and sophistication. Maybe it's to be expected that she should have a sense of history: after all, her father is Trevor Nelson, a prominent soul/R&B DJ and a BBC Radio fixture of many years.
But when we met her for a beer in a South London café garden, it became clear her music discovery has been idiosyncratic and 100% her own doing. Even though she has been sporadic in her releases, it's obvious her immersion in music over the past decade-plus has been total and there's even more to expect in the future.
What takes up your time these days?
Loads of radio. I'd like to say that I'm spending time planning my radio sets, but usually I do them last minute. And I'm working on tracks every single day on the tube to and from my part-time job. I've been working on an EP with a grime MC, Kwam. He's sick. We worked on a tune about 10 years ago, and now we're finally doing a project. Then finishing my own tracks too, of course—and ending up in [British pub chain] Wetherspoons at the end of the day.
How come we've not heard more from you since your album?
Because I've had a terrible work rate! But now I've gone from one extreme to the other. Now I work whenever I'm sitting down—on the tube, on the bus, on my lunch break—but before that, I'd drag it out for months. A lot of that was to do with not having confidence in my abilities. It was really odd: the easier it came to me, the less I believed in it. If I made something quite quickly and thought it sounded good, I'd immediately start second-guessing and being suspicious of it. So I wouldn't finish tracks, it just wouldn't happen. But now my whole attitude has changed and my work rate reflects it; it's a snowballing thing at the moment. I feel like I'm making up for lost time. This year I want to drop three projects.
You bring in a lot of eclectic threads into your production, but you started out in grime, right?
Yep. 8-bar grime. [8-bar was one of the early subgenres of grime, tending to be rugged, high-energy rhythms that switched pattern every eight bars—hence the name—to facilitate MCs swapping rapid-fire verses. —ed.]
And was that mainly what you listened to as a teenager, too?
When I first started making beats, yes, that's what I was obsessively listening to. I remember listening to So Solid Crew, and then finding a mix CD with Dizzee and Wiley on, and that's when I realized it had become this new thing: grime. Before that I listened to garage. My mum was a raver—a young mum raver—so I grew up listening to hip-hop, jungle, a lot of pirates and stuff. Electronic music was always there. Broken beat and neo soul came about later too. But grime was the main one where I was proper obsessive. I'd go to sleep listening to it, all through secondary school. Proper grime nerd!
Grime is many things to many people—can you pin down the specific appeal for you?
Hard to pin down, but something about the aggression in it—not that I felt like I was some angry, confused teen. In fact maybe it wasn't aggression, maybe it was just energy. It was odd how beats that didn't even have melodies could say something. It was the instrumentals that grabbed me most of all, how they could express something without having any of the structure of a song or anything like that—literally just bass and drums, the infectiousness of the beats. I didn't like all of the MCs, but some I did—especially Wiley and Roll Deep, obviously. And it was great having grown up on Tribe Called Quest and that, to then have something way more relatable, something that sounded like the guys that chilled on my block instead of like Tip and Phife.
Did the fact that your dad was involved in music make it feel like it was something you could pursue?
Not at all. I never thought of a music career as something I could make money or live off, not until the last two years. Subconsciously I think he influenced me just in terms of loving radio. I used to listen to him when I was little, and my mum would tell me I could talk to him through the speakers and I'd try to—it was really dumb—or I'd go crazy over shout-outs. I never saw him play a set, though, until two years ago.
Did you hear much older music history from him—did he talk about Notting Hill Carnival, warehouse parties, and so on?
Not so much. I'd hear wicked stories from my mum, and from Jazzie B [Soul II Soul founder]—he's my godfather. He'd tell me about the sounds and the warehouse parties they used to do. But it was only little bits, so even now I hear stories and it gradually comes together, like a slow picture being painted. I'm not in a rush, though, it's good to learn.
As a teenager, were you already starting to join the dots between grime and other related styles?
Yeah, I did. I started with grime, but then I got into jazz through working back from hip-hop samples. I discovered Illmatic really late—like, 10 years ago—and a couple of other classic albums, and I started digging for the samples, which led me to Bill Evans and Ahmad Jamal and stuff. That's when I started making some of the tracks like 'Untitled 9' which actually saw the light of day.
.
00:10 / 00:58
How did you make the connection with Scratcha [aka Leon Smart/DVA]?
It was through an MC. I wish I could remember who it was. It might even have been someone like Kwam, one of these old grime MCs from back in the day who I'd sent beats to over MSN [Messenger] and decided to vocal one of them in Scratcha's studio—'cause he was engineering for a lot of people back then. This would be 10, maybe 11 years ago. Then Scratch liked it because it was weird [chuckles] and reached out, like, 'I like this because no one else does.' So I sent him tracks for a while, then he invited me down to the studio, but nothing happened—really because of me. I took a year or so completely out of music. But he was still playing the tunes as a DJ, and every so often he'd go, 'What are we going to do with these tracks?' And eventually I said, 'Fine, put them out.' And all this because of an MC who, at that point, I probably hadn't even met in the flesh yet—so, big ups to either Kwam or Nico Lindsay, maybe Leeman…probably Kwam, though.
Did you feel connected to the grime scene growing up in West London?
It was weird, I grew up in Harrow, which is right on the outskirts of the Northwest, but we had Freeze FM, which I think was one of the most important pirate stations. So Roll Deep, East Connection, all the main people would come down there. That was my connection to it all. Other than that it was all Internet—so much 'right-click, save-target-as,' like saving the little clips of tracks on Independence Records' website, and online forums like RWD Mag's forum. Freeze was my portal into grime, though! I was in a crew, too, so we'd travel in, we'd go to Shepherd's Bush, hang out there, and go to the studio and stuff. But I never went to any of the pirates there. I'd have to go home because my mum wasn't having it, it was proper curfew. But pirate radio was my savior. I've still got all the tapes I recorded of it, I knew the daily timetable of the stations, that's how I kept up to date with what was happening.
Did the early scene feel like there was any organization? From outside it could look pretty chaotic!
It felt like there was some organization to it: not in the sense there were brands wanting in and publications covering it much, or anything like that, but there were raves and there were DVDs, so people were holding it down that way. The radio stations too, but that was funny—you'd constantly hear about people having to climb over a fence into a caravan site then run past dogs just to get to the studio. That never sounded that organized! I guess overall it never felt like there was a direction—it was just something that was happening.
So when did you actually start going to raves yourself?
It'd be 2008 or around then, basically when I was 18. I did it legit. I've seen friends say they were sneaking into clubs at 12, 13, and I'm like, 'What?' I was at home, playing Sims and making beats [laughs]. A friend took me to some dubstep things, I was lucky enough to go to DMZ and FWD>> around then, I got into Mala and Coki, I definitely liked the more dubby stuff. And Ramadanman, Pearson Sound with that more electronic feel. You know that track he did, 'Untitled' [2012]? How do you even class that?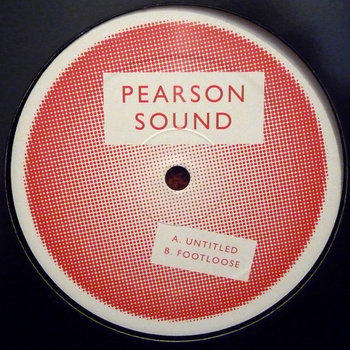 .
00:10 / 00:58
Merch for this release:
Vinyl LP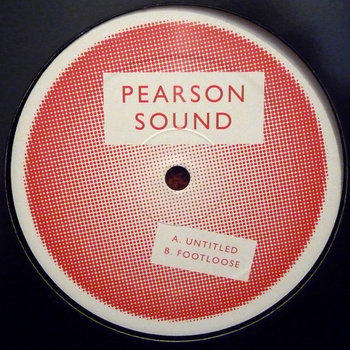 Well, that's when we started using very vague terms like 'post-dubstep' and 'bass music,' and really since then the genres have felt like they're in constant flux. It confuses a lot of people, but how do you feel about the state of London's music culture?
Well, the clubs aren't healthy because they're all being shut down! It's heartbreaking, in fact. There's just a few nights that are going hard, but then again maybe I'm not too clued up on the scene. I'm a bit tunnel vision, in that I go where I'm booked, or to my mates' raves. I never feel like I'm raving much, but then again, I'm always out—not sure how that works. Music-wise, there's a few great producers, but then I'm crap with keeping tabs on everything. Someone like Akito, for example, he can cover so many bases. I do like 'bass' as an umbrella genre, I'm certainly happy being within that myself. You can be really experimental and just say, 'It's bass.' I love that people are slowing things down to like 105bpm; Ikonika's done some great stuff like that recently. But yeah, I don't know what's going on most of the time!
You are getting down to releasing, though…at last. Do you have specific ambitions now?
Not really. I just want to get stuff out there, but I'm not in a rush. Nothing done just for the sake of it. This is the only way I really know how to get myself across, the only way I know how to interpret my feelings and experiences in life and shit—I'm just a slightly awkward beatmaker, and I put everything into that. I would like to get more out there because it's my documenting of experience and history. It sounds so corny, but that's honestly what it is. I'm processing life as it goes along, and I want to catch up with that and be able to keep doing it. That's all I care about, so I need to do it. This is me.
—Joe Muggs