FEATURES
Sharon Van Etten Shares "Not Myself"; Proceeds to Benefit Everytown for Gun Safety
By J. Edward Keyes · August 22, 2016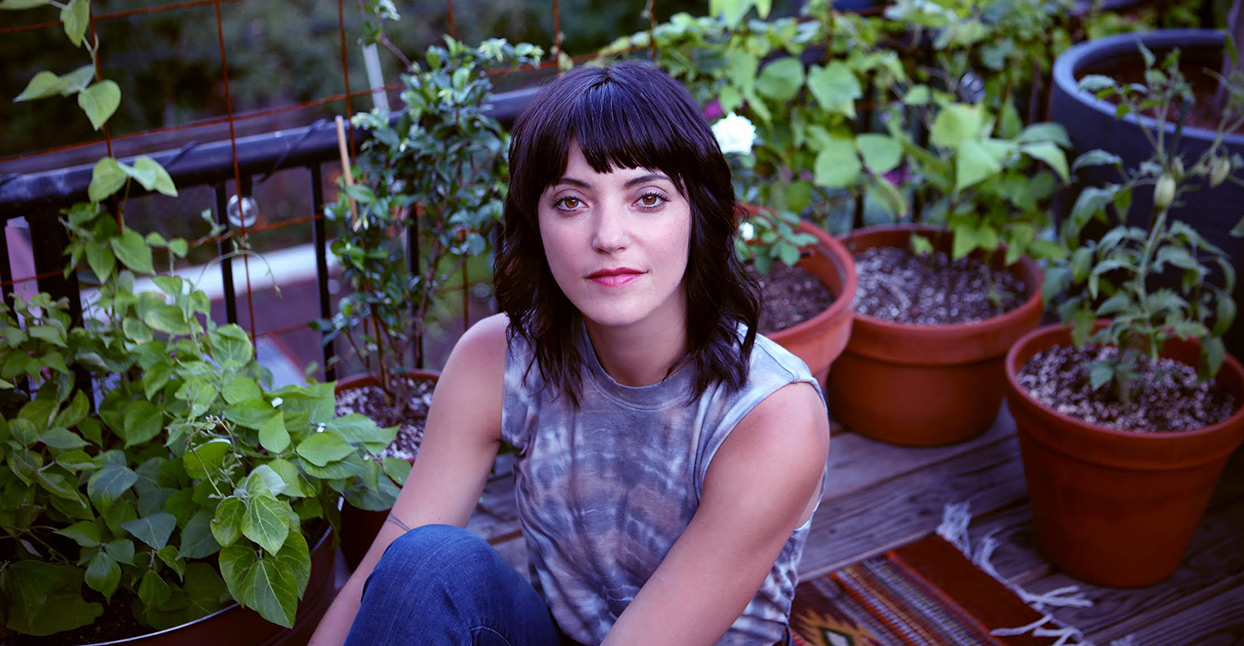 Sharon Van Etten was at home with her family in New Jersey when the horrifying news of the shooting at Orlando's Pulse Nightclub occurred. Distraught, she began to think about how she could craft a song that would not only reflect her feelings on the event, but also raise money to prevent something like it from happening again. The result, "Not Myself," is a stark, aching piano ballad centering on the need for people to be who they are—regardless of race, sexual orientation, creed, or belief—and a call for unity, companionship, and strength. Rather than being a barbed political broadside, the song puts a human face on tragedy, and is a plea for tolerance, understanding, restoration, and rest. We're honored to premiere the track today, the proceeds of which are being donated to Everytown for Gun Safety. A statement from Sharon is below, followed by a short Q&A with her about the song.
.
00:10 / 00:58
A Statement from Sharon Van Etten:

I was home with my parents in New Jersey when I heard of the shooting at the nightclub in Florida.  Hate, violence, and intolerance has always upset me, but I haven't been this overwhelmed with sadness and disbelief in a long time.  The victims were only trying to be themselves and be comfortable and safe in their surroundings.  That safety was violated out of fear and with a gun.

I originally wanted to raise money for the victims and their families, but I knew the issue was bigger than this.  I wrote "Not Myself" for the victims of this horrific event, but I chose to support the research and awareness work of Everytown for Gun Safety Support Fund: a movement of Americans working together to end gun violence and build safer communities.

In the memory of those trying to be safe and be themselves, I hope we can all come together to help prevent another massacre like this and end gun violence.

Sincerely,
Sharon Van Etten
You say in your statement that you haven't been "this overwhelmed with sadness and disbelief in a long time." What do you think it was about this particular incident that hit you so hard?
I think it was the fact that, when you're somewhere as vulnerable as your home, which is where I was, you're feeling safe. I was home visiting my parents, grounding myself for a second, just being in real life. And then, having my morning coffee and looking up and seeing something as tragic as this on the TV, with the death tolls rising, and just not knowing what to say, or how to provide comfort. We live in a time where it feels like we should've come far, right? You want to think people are more tolerant—and maybe it's because we live in New York, where we take that for granted. Sometimes things like this are a sad reminder that we still have a lot to overcome. I just can't believe that something like that can still happen, and that people can still be in that much fear.
You alluded to something I've been thinking about a lot lately—especially against the backdrop of the election. It really does feel like, more than ever, America is split into two strong, opposing camps, one of which wants to change and move forward, the other of which is desperately clinging to "the way things used to be." It does feel like we're at some kind of specific cultural flashpoint.
I just find it really hard to believe that a lot of the issues that are being discussed are even still issues. I feel like we've made so much progress, and now we're going backwards. I don't understand it.
In light of all that, what struck me about your song is how personal it is. Songs like this can so quickly slip into polemic, but you decided to put a human face on it.
The song is more of a meditation for me on how it made me feel—putting myself in the shoes of someone who experienced it. We're all trying to just fit in, to belong, and to be ourselves. It's not even whether you're straight or gay or white or black—it's not any of those things. It's about being safe and being able to be yourself. And I think that's something we can all relate to. Obviously, this was an act of hate, and it was specific—but the song is more about the idea of having your own freedom to be yourself, and that it shouldn't be something that someone can take away from you. I felt that for the victims and for the families. Somewhere, sometimes, you're supposed to be able to let your guard down.
Why did you choose to partner with Everytown for the song?
When I first heard the news and had the idea for the song, I talked to friends and colleagues about wanting to do something. I try not to be too political when I'm using my artist name, but I also try to speak up and be a part of something that's really important, and not necessarily political or religious. Initially, I wanted to try to raise money for the victims and their families. But as I was researching the best way to direct funds, it looked like they'd surpassed what they wanted to make already. In talking more about it with my friends, the bigger issue became about learning more about why he had a gun, and why it was that type of gun, and why it's so easy to buy something like that, and why it was so easy to walk into a club with a gun like that. To aim to have the money go toward research and awareness—I feel like it's more important for the long term, and hopefully will have a greater effect on changes to come.
We've talked a lot about political ideas and social ideas. You're a musician, so I was wondering: what musical ideas have been fascinating you lately?
Lately, I'm all over the map. I don't have pressure to have a record out in a certain amount of time. So I'm still playing my harmonium, and I'm still playing my piano, but I have a studio that has a drum kit and a bass setup and a guitar setup, and I'm writing full-band songs by myself. As far as subject matter, it's mostly about being home, being around the people I care about for the first time in a long time, figuring out what my home life is like. It's been about a year that I haven't had to be on the road, so I'm just learning what it's like to be home as an adult and working. That sounds so boring, but it's been really great.
—J. Edward Keyes