FEATURES
The Undisputed Queen of the Berlin Underground: Shambhu Leroux
By Amy Benfer · December 21, 2016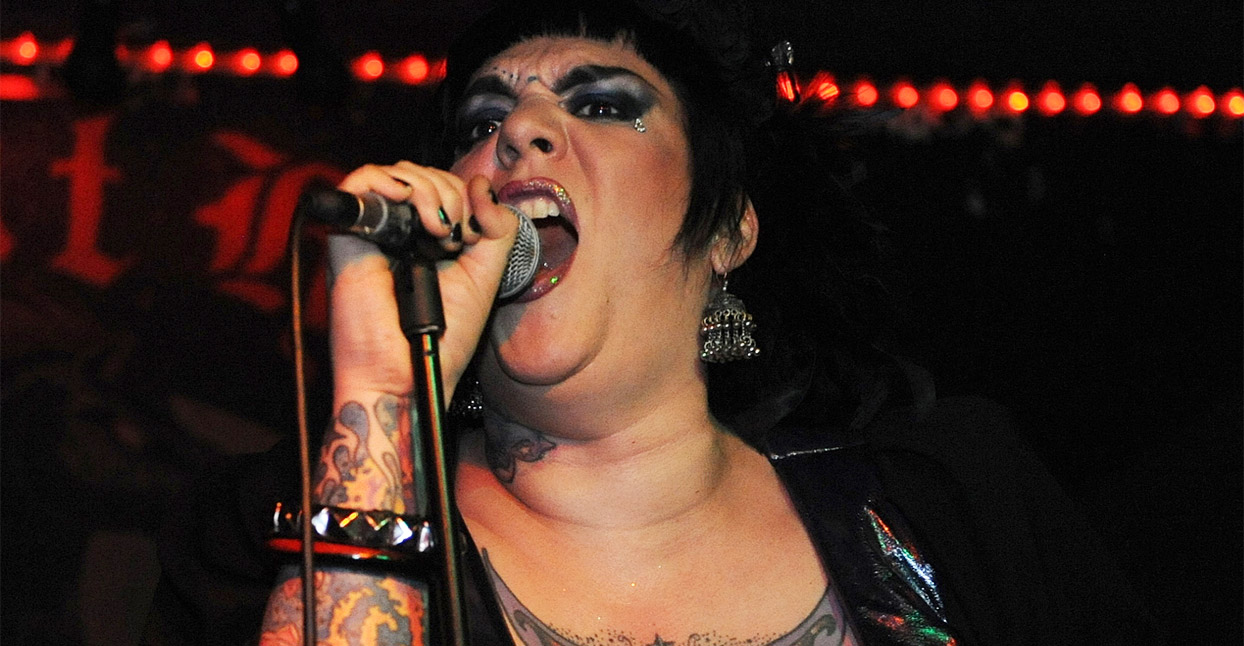 It's a Thursday night at Wild at Heart, in Berlin's Kreuzberg district, and the area in front of the stage is so packed you can't move in any direction without dodging lit cigarettes. Then, without warning, the crowd suddenly parts, and a woman is led, demurely, by hand to the stage. The lights go up,  the bass, drums, and guitar kick in, and the ferocious, six-foot-tall, black haired, crimson-lipped woman, who's covered in tattoos and draped in silk belts out, "GET BACK SATAN!"
You could call Shambhu Leroux a blues singer. She has also been a Parisian punk rocker, a classically-trained Indian Kathak dancer, and, for the past 16 years, the undisputed queen of the Berlin underground. She first gained notoriety as the lead singer for Sin City Circus Ladies, a notorious psychobilly band that began in the Berlin subway; later, she toured with the Dwarves, Dead Moon, and Queens of the Stone Age. When Sin City Circus Ladies folded, Leroux reinvented herself as a barmaid at Berghain, the cavernous club built in a former DDR power plant, infamous for parties that begin on Friday and run through mid-Monday afternoon. At Berghain, Leroux ruled the bar "with a special mix of grace and violence," according to her husband, American DJ and producer Sheldon Drake.That description that could double as metaphor for her music's peculiar mix of power and fragile beauty.
Then, Leroux turned to gospel. She recorded two albums as Shambhu and the True Love Hearts, and put out a split 7″ on Berghain's Ostgut label. That was followed by her solo album, Cry to Heaven, released in 2014.
Her latest project, the Shadow of Your Smile EP,  presents new and previous work as duets between Leroux and guitarist Yair Karelic. It opens with a powerful nine-minute version of "Get Back Satan," includes a rare chanson delivered in Leroux's native French ("Ou Sont Tous Mes Amants," an homage to Frehel, one of Leroux's heroines, whom she  describes as a "working-class hooker girl" who became the "French Billie Holiday") and concludes with the title track, inspired by the classic American jazz standard reimagined, according to Leroux, "as a macabre love song of a girl who wants to join her lover in the underworld."
The apartment Leroux shares with Drake in Berlin's Neukölln district is like out of an avant-garde film: classical Indian music hums softly in the background, and Leroux is swathed in black and purple; she's wearing silken embroidered house shoes, and her usual Bettie Page fringe is swept into a chignon so she can show off her brand-new tattoo: a delicate, lacy swirl that traces the outline of her forehead. We talked with Leroux about her history as a vocalist and her transition into gospel music.
How did Sin City Circus Ladies begin?
Sin City Circus Ladies started about 16 years ago. I was in Paris after coming back from India. I was trying to make a band, and it was not working. It's very conservative scene in Paris, very sexist, not super queer-friendly. That was my experience—maybe things have changed now. You'd go to a rock n' roll club, and they'd say, 'We don't serve fags.' So I moved to Berlin.
Berlin was exactly like my San Francisco. You arrive here, you go to a club and people embrace you because you are different. Those were the days in Berlin when people would be like, 'Wow, you are a freak. Where did she come from?'
I met Trinity [Sarrat, of Sin City Circus Ladies] in the Tube. She was begging and playing her guitar. She was quite fantastic, like a '60s pin-up, with wigs and fake eyelashes, and we just clicked. I had no job here, and she proposed for me to play with her in the Tube. I was already a diva, and I was like, 'Are you fucking crazy? Throw myself for cents in the Tube?' But those were the days when you could do that. We were wearing high-heels and corsets. It was well-paid, and a lot of musicians in those days would meet in the tube. It's like a mafia—everyone knows everyone.
But very quickly the boss for Kaffee Burger was like, 'C'mon guys, let's make a gig!' We did the first gig after playing together for two months and—puff! I was living my dream of a punk girl who wants to sing in a band. I was not emotionally prepared. I was a fuck-up. I was a drinker, I was a fighter, I was always looking for trouble. But I always give two-hundred percent on stage—even though sometimes you would have to drag me on stage. I was really naughty. I was doing ecstasy from city to city in the bus.
Some of the Sin City videos are fantastic. What was the live show like?
We had wonderful shows, some almost Biblical [in their legendary nature]. Once, we were doing this show in a squat, and the police came and shut it down. I was just like, 'Fuck it! Let's go and finish the concert somewhere else!' A friend of ours was having a wedding at Thommy-Weissbecker-Haus, and I was like, 'Let's go there!' We marched down the street—the fans were carrying the stuff, the big bass, we were singing in the tube. It was like a fucking movie. We walked up to the stage like the big stars, like, 'The headliners have arrived!'
This band was like a shooting star. Everyone who came to shows felt this band was very fragile and powerful. There was a beauty about it—like a Tibetan mandala, you know? Where they just do this mandala and at the end they just destroy it. You felt like it was a really great moment in the Berlin underground, but it would pass at a very quick speed, and either you'd catch it or you would not.
This was a rock n' roll band with everything you want—the drugs, the band, the alcohol, the sex. But when I stepped back, I realized that it wouldn't give me the energy and the love I put in it. I could never adopt a rockabilly lifestyle, I mean, please. But I like Bettie Page and I like the S&M stuff. It's hilarious.
My friend, the drummer of the band, died. I was super high on drugs at that time. And the thing just passed by like a nightmare. Very often I think of him when I sing onstage. There's a few songs, like "Portrait of A Man," for example, where I really channel his energy. I just needed to heal.
When did you switch to gospel?
That happened during the cocooning of four years in Berghain. Believe me, you listen to techno all that time, and you end up not liking techno. I would be so drained by the work that I would just want to go home and listen to Nina Simone.
I'm not Christian. When I listen to gospel, it's the passion that's important. It's the love. I don't give a shit that they have this love for God. It's still love. It's still viable for me—Mahalia Jackson, Sister Rosetta Tharpe. When I was a psychobilly, we knew all these people because they are part of rocker culture. Everyone knows Sister Rosetta Tharpe was a Christian playing guitar. What they don't know is that Elvis Presley was fucking soaking up everything he could learn from her, because she's one of the most amazing geniuses of her generation. No one wants to talk about it because the music is Christian. I mean, come on. Give me a fucking break. That's stupid.
So how did Shambhu and the True Love Hearts begin?
This French guy, Yves [Fontanille] was looking for a special singer, and he contacted me. I'd had a four-year break, and I was very optimistic to start music again. We did Fistful of Tears. Then, this friend of ours invited us into the studio to produce and play. We made Cry to Heaven.
I wasn't like, 'I want you to respect our sound!' I like being very flexible. What I support in the music: it's emotional. Even when it was psychobilly, I had moments where it was really written in blues. It was very deep. It would be more '60s and pop-ish and I would be like, 'No, no I will dark it up. I will gloom it up.'
You grew up in the suburbs of Paris. What was that like?
My mother, she's a child of war. My grandfather was a soldier in Saigon. We come from a very heavy line of women who have been struggling. My mother came to Paris from the Indochina Wars at seven. She had a very rock n' roll lifestyle. My mother is really something very special. I would never be the woman that I am now if I hadn't had a mother who was that supportive. But don't come too close. She will just rob you. My mother was a professional thief. She could just empty your pocket.
We were living in hotels, we were always running away, we never had really a flat. When I was 15, or 16, I wanted my freedom already. I lived in the street at different periods. I met lovely people, people coming out of the shadows and carrying me and giving me a little break, and after that I had to go and fight again and survive. And that's where I met all the nasties—the punk rockers, the beggars, the freaks. I have to say, it was very exciting. I just loved it. I'd see a group of punks drinking in the street and I would be like, 'Oh, I want to be there.' And I was there pretty soon, pretty fast.
My first record I bought [was] New York Dolls. I realized I am not the only transvestite, gay person who likes rock n' roll. There is something out there for me, too. I was hanging with big punk rockers, junkies from the suburbs. It was quite dangerous, obviously. But I was taking care of myself. I loved to have a dance lesson. Because first of all, I can have a shower. And it was good for me to be fit and be somewhere else other than that shit—that hotel, fights, prostitution.  I was about to fall very, very down. I went to India. I tried to rebuild myself into the person that I wish was real. And it became real.
How did living in India influence your music?
I was a Kathak dancer for almost eight years. I fell in love with Indian classical music. The music is connected with the dance. I can't play tabla, but I know how tabla works—all the different rhythms, the tintal. Trinity and I would work on some rock n' roll, and I would say, 'We need something different,' and play some raga, or some Bollywood '60s stuff. It's not just classical Indian music. We are talking about a universe of possibilities of sound. Sounds that actually heal you, like Bhairava, which is my favorite mood. It's a tone that's very peculiar, very dark. It's like blues. It's music you listen to at twilight, it's extremely mystical.
Now, after all this rock n' roll, psychobilly, '60s, blah blah blah, I want to bring these things together. At some point, I was like, 'Oh this is so weird. Where is this thing coming from?' I was in India, and I was a rocker all these years. Where is the connection there? The moment I asked that, I realized I was the connection. I was the bridge between these two things.
The audience is always super intimate. At shows, it seems like everyone knows and loves you.
I'm trapped a little bit in the golden cage of Berlin, [I've been] the queen of the underground for so long. But it's not like I try to do something to get out of that. I was more interested in the live show, kind of this Mad Max meets Blue Velvet.
Yair [Karelic] is an exquisite guitar player. He's the kind of guitar player who reads poetry. We decided to do a side project where we do all the songs from the band as a duet. With Yair, there is a psychedelic touch. With this project, I've be trying to go in a more spiritual direction, almost like healing people.
I consider the music that I tried to do uplifting for the spirit, soulful music. I don't want to call it gospel, but there's big gospel inspiration, definitely. I like to call it the gospel of the agnostic. It's wandering. I don't believe in God, but I'm scared of him. I don't want to believe in all that crap, all the institutions, and the believers and the crazy, but still, I'm afraid of him.  It's not a type of music. It's music that will make you ask yourself some questions. I hope it's going to go where I want to go.
I am not here to be loved by everyone. But there are some people who just got it, they got it hard and they got it deep. And there's other people who are like, 'Yeah, she's a blues singer.' I touch the people who need to be touched.
—Amy Benfer