FEATURES
On "Mama Funny Day," Veteran Producer Sarazino Charts His Global Path Home
By Catalina Maria Johnson · October 29, 2018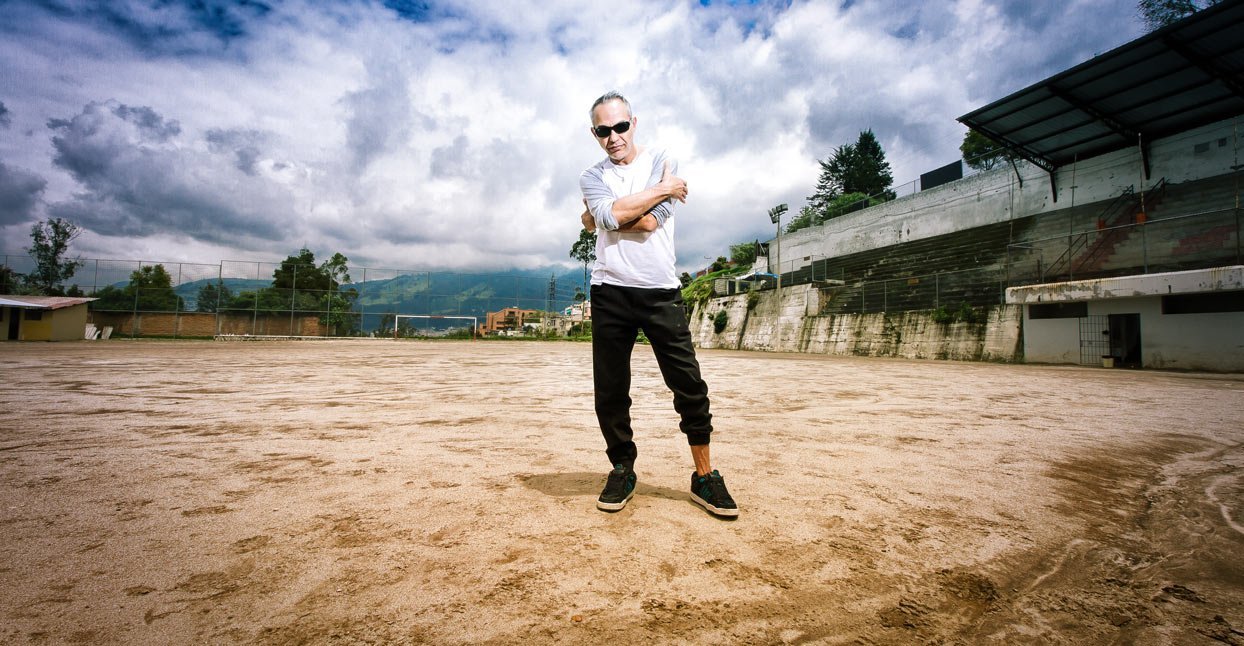 "Pack your bags—we're going to Burundi tomorrow!" declares Lamine Fellah, aka Sarazino, recounting how his dad greeted him one day when he returned from school. As a member of a diplomatic family, the 48-year-old musician explains that "home" changed at a moment's notice. Born in Algeria, Fellah has now lived in Ecuador for the better part of two decades, but before that lived in Spain, Burundi, Burkina Faso, and Canada as well as his homeland. As a quintessential globetrotter in both his life and his music, all of his journeys pour into his music in one way or another. "Immersion [into other cultures] forces us to adapt," he says.
While Fellah's travels have brought his life immense richness, they've also been indelibly marked by tragedy. His own father was killed by Islamic extremists in Algeria, forcing the entire family to exile in 1993, two years before Fellah's musical alter ego, Sarazino made his first appearance. (He created this moniker by modifying the word "sarraceno," an ethnic slur used in Spain against Northern Africans, such as Algerians and Moroccans.) Fellah also tells stories of living through an attempted coup in Burkina Faso in 1989, huddling overnight without electricity while hearing the shelling in the city; and a decade later, living through a financial crisis in Ecuador, which plunged the nation into poverty.
.
00:10 / 00:58
After his childhood and adolescence in Africa and Europe, Fellah moved to Montreal to study political science and economics—fields that he promptly abandoned upon graduation for the music-making he'd loved since the age of 14, when he started his own band in Burkina Faso. Although he credits his time in Montreal with developing a "musical rigor" and a penchant for certain melodies thanks to encounters with French music in Montreal, Fellah felt something was missing for him there, so at that point, he decided Latin America was one of the few places he hadn't yet explored. Most conveniently, his brother was on diplomatic assignment in Quito, Ecuador—so he decided to pay him a visit.
It was love at first sight for Fellah, and he felt like he belonged in Ecuador. "I felt more represented in the mestizaje, the mixtures of the Afro-Ecuadorian and indigenous [people of Ecuador]," he says. He realized that the heart of Latin America was the perfect place for him to experiment with new rhythms and new tendencies, a place where he says, he could "do cumbia and Afrobeat."
Mama Funny Day, Fellah's third album on the Cumbancha label, reflects the many spaces and places he's lived in over the years. He serves up captivating and upbeat grooves, addressing political and social topics like the current plight of refugees the world over and freedom of information, and mixing reggae, funk, and rap-tinged ballads with Arabic, Latin, and African beats in several languages—-a perfect soundtrack for global citizens.
Reggae has always been the foundation for much of Fellah's music, although his personal experiences are, of course, never absent from his work. Fellah had come to discover and love the political reggae of Argentine band Los Pericos and Basque-French musician Manu Chao in the '90s; in his own music, he mixed in those influences with the the positive attitude and rhythms of Burundi and Burkina Faso. For example, "Daddy Ho!" sets Nigerian singer Niyo Pumpin's vocals over reggae, with lyrics in French and English.
Other influences in Mama Funny Day are thanks to Ecuador's positioning as a crossroads for mostly African migrants leaving Brazil, trying to reach America. These temporary residents of Ecuador allowed Fellah to stay in touch with the latest African trends, like Afrotrap, as well as beats from lands like Haiti, Nigeria, and Cameroon—all of these sounds, as well as those of his homeland, are likely to make an appearance in Fellah's music.
The Algeria of Fellah's childhood, and particularly Rai grooves, which were a part of the soundtrack of his household—he calls them the "nostalgic" sounds which were always a part of his musical stew—are in the foreground of the song "Jugarse la vida." This lovely and somewhat melancholic tune's lyrics speak of risking your life to take a chance on a better life, and incorporate soaring vocals by Moroccan singer Anwar Maghreb.
The 15 tunes comprising Mama Funny Day equally reflect what Fellah calls his "production M.O.," collaborating and co-creating with other artists. (He's also known as a thoughtful producer, and has produced the work of a variety of artists from Colombia's urban folk singer Pablo Tucuprá to Ecuador's hip-hop artist Guanaco MC.) Fellah provided his guests—so chosen for the various styles and genres he was looking to "privilege" in a given piece—with vocal guides and instrumental stems, which the featured musicians would modify as they see fit. Together, the two parties polished the finished product to their liking.
This producing-composing process often makes for pleasant surprises, notes Fellah. "Is There A Place," co-created with Zolani Mahola (lead singer of South African supergroup Freshlyground) was modified drastically when Mahola inserted her chanted chorus of "Is there a place that we could go?"; Fellah notes that it was "so much more superior and beautiful" than his original plans.
"Berrani" is a driving rock-reggae tune with a Manu Chao vibe that showcases the talents of Argentine pop-rock singer Sol Pereyra. Sung partly in Arabic and partly in Spanish, its title comes from an Algerian term that roughly translates to "foreigner without fear"—a heroic epithet honoring the thousands of war-torn refugees presently embarking on treacherous voyages across the Mediterranean, as well as the men, women, and children who have lost their lives in the process.
.
00:10 / 00:58
Fellah is a strong believer in the right to information, and believes that the protection of whistleblowers is fundamental for the common good. He touches upon the issue on "Frente Latina," which opens with samples taken from WikiLeaks founder Julian Assange's audio statements: "[…] supporting freedom of speech, freedom of the press, essential elements in any democracy… you can't build a skyscraper out of plasticine, and you can't build a just civilization out of ignorance and lies." To drive the song's message home, Fellah enlisted vocalist Liliana Saumet, of Colombia's Bomba Estéreo, who proclaims simply and powerfully on the track: "The media can you fuck you over when governments are corrupt."
No matter what the journeys of Fellah's life have taught him, his compositions highlight positivity very consciously. "I like to focus [on the idea] that we will be better tomorrow," he says. He also wants, in his collaborative methods, to make a musical call to mutual aid and recognition between the cultures and musicians in the songs—-Nigerian, South African, Moroccan, South American. "We need to create bridges," he exclaims. "There's enough aggression [on] the planet!"
In other words, he declares, the better you come to understand others, the better you understand yourself, and the happier and more fulfilled you become. And listening to the spirited Mama Funny Day, that couldn't be clearer.