FEATURES
A Guide to Sadness's Depression Metal
By Patrick Lyons · June 23, 2022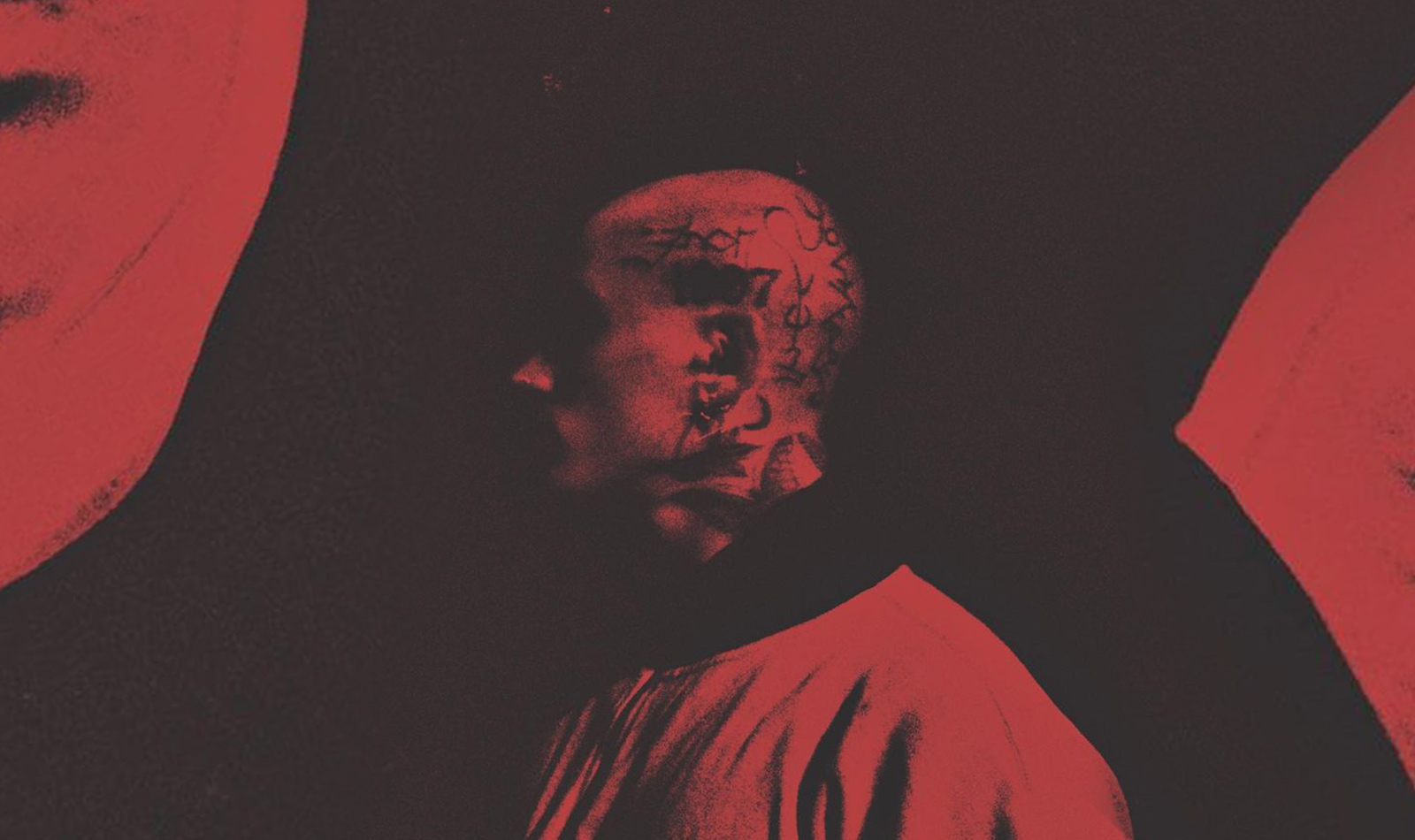 Think of rock-adjacent music's most emotionally stirring sounds—climaxes of post-rock epics, plaintive piano melodies, life-affirming gang vocals, ambient swells, sweeping shoegaze guitars, throat-shredding wails, massive synths—and now combine them. That's what Sadness sounds like.
The solo project of Damián Antón Ojeda of Oak Park, Illinois, Sadness is dizzying not only in its cross-genre catharsis overload but also in its output. Not counting physical reissues, the Sadness Bandcamp page currently catalogs 39 releases stretching back to July 2014's Close. Whether full-lengths, EPs, singles, or splits, that's an average of over five a year. Take Ojeda's numerous other projects (such as Life, Comforting, Kaskaskia, Liminal Dream, and Trhä) and his age (he turns 25 next month) into account, and regardless of whether the music's any good or not, his drive puts the rest of us mortals to shame.
But dear God is Sadness good. Ojeda's blend of depressive black metal, shoegaze, screamo, post-rock, and ambient combines familiar elements in a fashion and scope that, despite seeming like second nature to him, is otherwise alien in its lack of forebears or contemporaries. And while nerding out and wondering, How does he make this stuff? is fun, the immediate impression Sadness gives off isn't one of virtuosity but pure, unadulterated emotion. Take a song like last year's "Bigbury April Twilight," a 15-minute epic that cycles through IDM and synthy black metal before breaking into a big, wide-open section with an anthemic melody that screams "arena rock." It doesn't feel like Ojeda deploys these twists and turns with a wink or a try-hard attitude. Instead, it's almost like he's treating the song's emotional throughline like a melody—teasing it, adding tension, and then cathartically resolving it.
There are, of course, barriers to entry. Though nowhere near as ghoulishly hissy and shrill as some black metal artists, Sadness's material is all fairly lo-fi, albeit in a way that warms the music more often than it chills. The longer songs, which many times stretch beyond 20 minutes, can meander without much thought given to linear composition. And obviously, with all 39 of those releases, there's the question of where to start. If you've read all of this, haven't exited out of the tab, and are still thinking this might be something you'd be into, here's a breakdown of four Sadness essentials and four next steps to introduce you to Ojeda's brilliance.
---
Sadness's first few releases fall neatly under the umbrella of the subgenre DSBM (depressive suicidal black metal), which, as its name suggests, uses traditional black metal's sonic framework to more melancholic ends. You can hear a lot of mid-2000s DSBM generational touchstones like Coldworld and Gris in Ojeda's work as a teen—anguished vocals, blast beats constantly alternating with half-time breaks, guitars playing melodies more somber and melodic than their buzzsaw tones seem to suggest—but on Somewhere Along Our Memory, he started to tweak that formula. WIth all but one of the album's five tracks over 10 minutes in length, and closer "When the Snow First Fell…" nearly 20, the extra space allowed Ojeda to create multi-part epics, devoting a good third of the album to more acoustic-led passages. The last three tracks, starting with the phenomenal "Kiss In October," make use of a recurring piano melody, which in addition to offering cohesion also makes good on the overarching theme hinted at by the album title.
Despite Ojeda's breakneck release schedule, it often takes him years to complete music. "I work really fast, and usually I finish the instrumental side of a song in a day or few, but then it takes me years to finally get around to finishing the vocals," he explained in an interview earlier this year. Circle of Veins was recorded in 2017 but not released until March 2019; it garnered Ojeda the most press of his career to date, with outlets such as Stereogum, The Quietus, and Invisible Oranges all positively reviewing it. From the jump, it's easy to see why. Opener "Eye of Prima" marries Have a Nice Life-style industrial/post-punk plod with buoyant tremolo guitar lines and a cathedral-sized hook, maintaining subtle shifts throughout its thrilling nine-minute runtime. From there, Ojeda continues to follow his poppiest impulses, with synth-led shoegaze banger "Lana" sounding like angry M83, and epic closer "I Follow Rivers" riding out into the sunset in a blaze of glory. Although Ojeda would release an album destined to become his biggest cult favorite just days later, Circle of Veins is the precise moment of the Sadness project coming into its own.
Deafheaven's 2013 breakout Sunbather is unquestionably the most famous metal album with a pink cover, but Sadness has a good claim to #2 on that list. A mega-hit on online music communities like Rate Your Music and Reddit, I Want to Be There is among the most noteworthy albums within the "blackgaze" subgenre in which Deafheaven also has a firm foothold. But whereas Sunbather focused on punchy, propulsive full-band grandeur, Ojeda's entry into the canon relies more on atmosphere and emotion. Through soft-focus synth landscapes, song titles like "I Want to Be With You" and "You Dance Like the June Sky," and far-off vocals whose words are less integral than their strained tone, the album achieves a sense of longing and nostalgia that's palpable at every turn. An incredible mood piece, I Want to Be There contrasts quite powerfully with Circle of Veins and highlights Ojeda's skill at culling well-curated full-length releases from his wealth of material.
One of Sadness's longest releases at 72 minutes, last fall's April Sunset contains some of the project's loveliest quiet moments and fullest-sounding climaxes. Choruses rise like massive peaks out of surrounding ambient fogs, offering countless unexpected turns that still feel of a piece with one another. Ojeda wrests impeccable atmosphere from watery synths on nearly every track, making the contrasting skyscraping hooks feel like the sun finally breaking through at the end of a rainy day—perhaps an April sunset? It's usually not as pronounced as his other influences, but the riffs on songs like "Bigbury April Twilight" and "Spotlight" give off a Smashing Pumpkins vibe in their scope and melodrama, yet another node of emotional rock music that Ojeda has mastered.
Ojeda released his first Sadness album a few weeks before his 17th birthday, and while much more rough-hewn and derivative of existing DSBM than his later work, Close is still a valuable touchstone for more devoted fans. There are obvious building blocks for Sadness's eventual sound strewn all over the place—the delicate, overlapping melodies that kick off "Useless," the surprising hugeness of "Life Would Be So Beautiful…" despite its low fidelity, the near-constant contrast between the harsh and the melodically gorgeous. Ojeda's clearly picking up tricks from other one-person black metal projects, but Close's most unexpected artistic choices present the most accurate vision of what Sadness would become. When opener "Lonely" breaks out of its gloomy opening dirge into a prettier, unadorned guitar lick, only to pair it with some of Ojeda's most deranged screaming—that's the good stuff.
More recently, Sadness has been on an absolute tear, even by the project's high standards. Since the September release of the Rain Chamber EP, Ojeda's put the aforementioned April Sunset, the last two items on this list, and nine more projects of varying length. This output has varied drastically, even more so than Sadness'a previous material. Rain Chamber bears some of April Sunset's aqueous sonics but takes them to much different places than that album's sky-cracking anthemics. All three of its songs contain some of Ojeda's best-ever ambient passages, tranquil tones constructed out of wet keyboard sounds. Most surprising is the title track, in which the jittery opening keys slowly form the pulse of a groove that's almost dance-y before Ojeda gives us the half-time breakdown and melodic resolve we expect from him.
It's usually absurd how well-curated, paced, and structured Sadness releases are, but sometimes, there's gotta be stuff on the cutting room floor that doesn't fit anywhere else. Maybe that's the case with last October's Motionless, Watching You EP, which consists of two tracks that, within Ojeda's oeuvre, couldn't be more different. Opener "Blue" is already melodic enough as it begins, opening up into an airy, shoegazey hook, but its second half goes even poppier, with Ojeda settling into a Seventeen Seconds-era Cure guitar riff and even dropping his voice down to do some classic post-punk mumble-singing. In juxtaposition, second track "Your Train is Leaving" is among the most straight-up black metal cuts Sadness have ever made, all tremolo guitars, breakneck drum fills, and bloodcurdling shrieking. Concluding with six minutes of abstract ambiance, it certainly makes for an odd bedfellow with "Blue." Motionless, Watching You is the best illustration of Sadness's stylistic breadth.
Apart from a vinyl reissue of Rain Chamber, the two-track Our Time is Here is Sadness's latest offering. As may perhaps be hinted at by its bright Gustav Klimt cover, it's the cleanest and most melodic project in the discography to date. It's basically straight-up emo. It shouldn't be that shocking, considering that Life, one of Ojeda's other projects, first and foremost makes screamo, but even that material is harsh compared to these tracks, "Sunset Girl" and "Late Spring True Love." Hearing Ojeda combine his penchant for intoxicating atmosphere and heartstring-tugging melodies with Siamese Dream-style riffs, brighter melodies, and more open-hearted singing is simply a treat. Sadness often begs the question of why more post-rock bands don't attempt stuff this heavy, or why black metal bands are afraid to get this pretty, and now you can add, "Why don't more emo bands make stuff this richly textured?"