FEATURES
Russian Circles Strive for Timelessness
By Zachary Goldsmith · August 03, 2016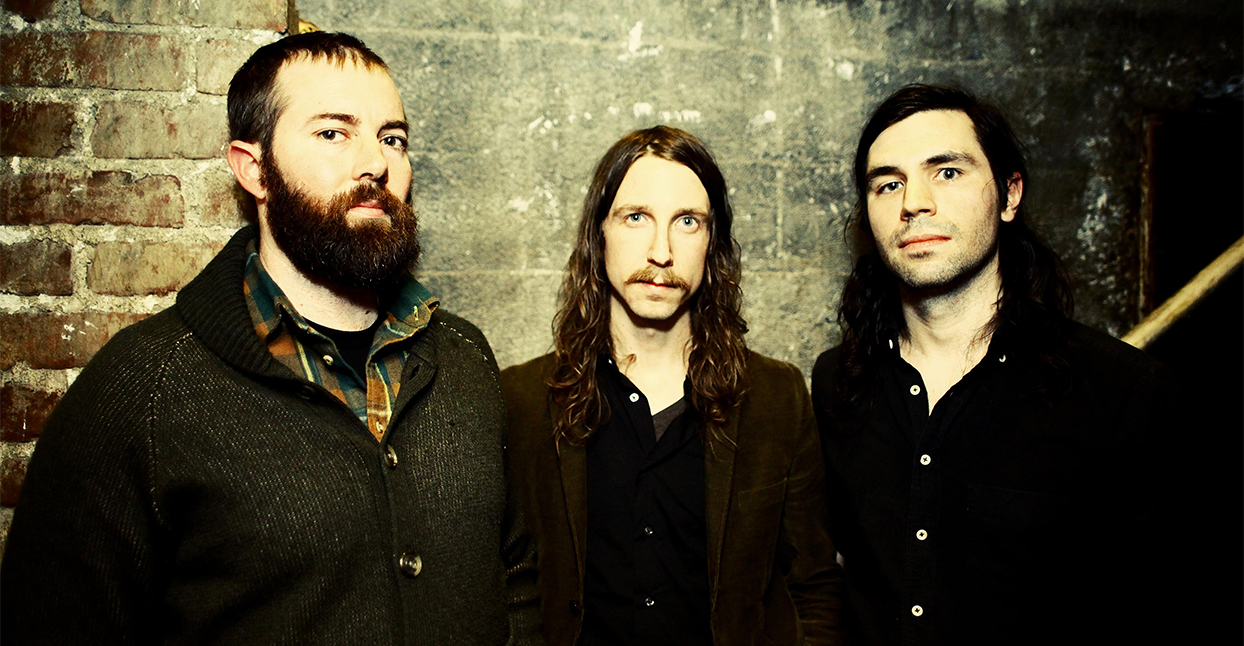 On May 27, 2016 Mike Sullivan, guitarist and co-founder of the primarily instrumental group Russian Circles, was driving the band's tour van when he was hit dead-on by a reckless driver. The van was totalled, and all involved suffered serious injuries. "After speaking with the nurses and doctors, I realized, lying there and making jokes, just how lucky I was," he says. Although it wasn't as bad as it could have been, Sullivan sustained trauma to his neck and back, and still has lingering migraines. For a guitar player, the neck and back injuries are devastating. Shows had to be canceled, and Sullivan still can't wear a guitar for more than 20 or 30 minutes at a time. He has as positive an outlook as possible, though. "The crash couldn't have come at a 'better' time," he says. "We had finished recording and were really in a lull before tour." Thanks to a steady regimen of painkillers, and a whole bunch of rest and relaxation, Sullivan is now ready to get back in the van and share Russian Circles' new album, Guidance, with the world.
.
00:10 / 00:58
When I call him, he's working on his guitar. "Going down a wormhole after which I'll have to call my friend and say 'I fucked it up, can you fix it for me?'" he jokes. Sullivan says that the band's music "comes from a dark horrible place," which makes it even stranger when fans "come up and let me know that our music is the soundtrack to their sex lives." But the nuances of perspective and interpretation are familiar to Russian Circles. The cover art for Guidance features a man, "marching to his execution to be decapitated," says Sullivan, "Yet there's a sense of inner peace that resonated with us. One person can look at it and see an element of despair and hopelessness, while other people might see the peaks and valleys around the corner. Good and bad construction, creation and destruction—they all exist together, side-by-side."
Given the soundtrack-like nature of their music, it's no surprise that Sullivan enjoys the '"travel" part of touring. "I'm from the Midwest, where it's all flat plains," he says. "So when we hit the Rocky Mountains, I'm glued to the window in the van." Drawing on nature helps Sullivan write "timeless" music. "We want to sound like a rock band that could have recorded 30 years ago," he says. "Centuries after centuries of culture is kind of set in stone. So when you step away from the digital world, you get a more enduring, timeless feeling. The songs have more meaning that way."
.
00:10 / 00:58
That striving for timelessness and refusal to be driven by trends extends to everything the band does—even to something as seemingly trivial as what they wear on stage. "I don't feel like I have to have name brands or anything, or a denim vest with all the coolest patches, to prove my cred," says Sullivan. "I sweat my ass off when I play, but I'm like a monk and wear the same thing [every night]. Stage clothes are a dedicated purpose. Kind of like keeping the same good energy locked in. Why change a good thing?" And that's what Russian Circles does— they continue to maintain a good thing, slowly evolving while retaining the core of what makes them special.
"I still see us as a van-and-trailer type of band," says Sullivan. "I'm hesitant to replace the van with a bus, probably because of punk rock roots." Yet, the band continues to gain traction and play larger and larger venues—They even have a burger and beer combo named for them at the famous Kuma's Corner in Chicago. And even though their van is no more, Mike admits he's "hesitant to become a bus band. It's like flying first class—once you know what it's like, you can't go back."
—Zachary Goldsmith