FEATURES
Renata Zeiguer's Indie Rock Makes Room For An "Old Ghost"
By Saby Reyes-Kulkarni · February 21, 2018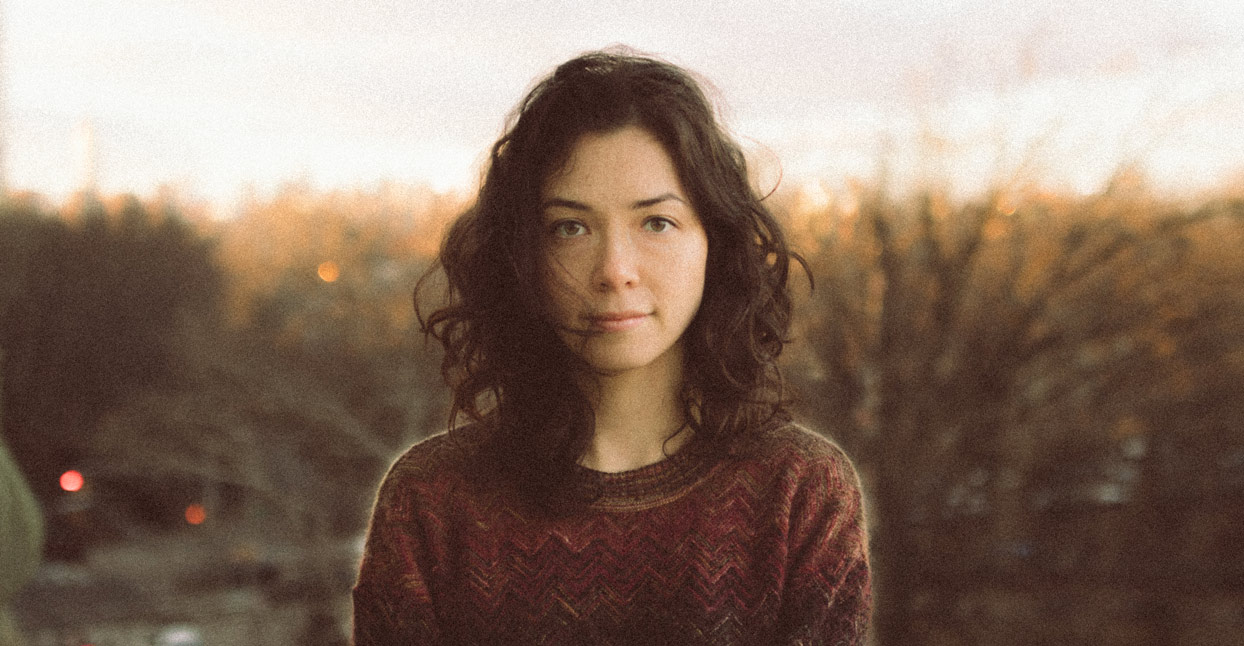 Fear, we're so often told, is something we have to first confront, then move beyond. But what if that fear stops us dead in our tracks? On Renata Zeiguer's full-length debut Old Ghost, the New York-based singer-songwriter and guitarist confronts fear as both a paralyzing force, and a traveling companion that you learn to live with.
Merch for this release:
Vinyl LP
"A cloud is hovering, standing permanently still / Old ghost that I can't kill," Zeiguer sings on "Gravity (Old Ghost)." As Zeiguer explains it, that cloud takes many forms—alienation, depression, trauma, family dysfunction, a sense of personal inadequacy. And yet the music on Old Ghost is anything but overcast. Though Zeiguer takes cues from the vulnerability of vocal-jazz giants like Billie Holiday and Ella Fitzgerald, her guitar playing nods to the springy bossa nova-style of João Gilberto and Seu Jorge, as well as the dreamlike, far-away ambiance of vintage exotica records.
Zeiguer draws on the upbeat qualities of these influences to create her sparkling brand of indie rock. And even when she slashes the mood with shards of thick, grainy electric guitar fuzz—as she does on the second chorus of album opener "Wayside"—her vocal delivery never sounds less than joyous. The way she employs both vocal harmonies and reverb-soaked jazz chords seem to bathe the songs in light, giving an unlikely brightness to her disturbing lyrical images.
"The house is falling down, we're sinking underground," Zeiguer sings over an innocuous pogo rhythm on the Kafka-inspired "Bug." She continues: "You're burrowing in dirty mounds / With insect eyes you crawl around / Please don't go undertow to the basement." As the song's hundred little production and lyrical details come into relief, the music's tone becomes increasingly three-dimensional—light casting delicate shadows across the cracked surfaces of Zeiguer's past.
Merch for this release:
Vinyl LP
While she was writing Old Ghost, Zeiguer was also watching Twin Peaks for the first time, and was struck by the show's signature blend of menace and humor. "The thematic material of that show is really dark," she explains, "but there's a playfulness—and an overarching presence of something being there that isn't overtly there—an abstract darkness and also an abstract beauty. It's a sense of mystery, and the illusion that things are not as they seem—a dream space where subconscious, hidden thoughts and intuitions sort of blend into reality and everything then becomes skewed and questionable."
Zeiguer was also wrestling with depression at the time, ending up in a space where her own perspective became "skewed and questionable." For Zeiguer, one of the difficulties in coping with depression is that, "even though your reality may be blatantly distorted, your thoughts and feelings are still real. Everyone feels depressed sometimes, but what I was experiencing was almost a philosophy of self-deprecation, of insecurity, lack of self-worth, of paranoia over what other people think, of cyclical negative thinking. I was always seeing things in the worst possible light." Writing these songs, she says, was crucial in helping her emerge from that period with a newfound trust in her own intuition.
Growing up, Zeiguer studied at the Manhattan School of Music, where she was classically trained on piano and violin. Needless to say, her adolescence was hardly typical. She didn't, for example, attend rock shows in high school. When she attended NYU in 2008, she was still a newcomer to indie rock. "I'd heard the Beatles, Stevie Wonder, Radiohead, Bjork, and Weezer," she says, "but beyond that I wasn't well-versed." That didn't stop her from finding her way through the New York music scene, where she worked with groups like Skaters, Quilt, Ava Luna, Landlady, and Paper Pyramid.
When Zeiguer picked up an electric guitar for the first time in 2012, after years playing violin, she found the instrument both incomprehensible and freeing. "My brain wouldn't accept that there were these two other strings," she recalls. "It threw everything off, and I couldn't figure out the grid of the fretboard." To this day, Zeiguer isn't aware of what notes she's playing on guitar—the complete opposite of her hyper-awareness on piano and violin. "When you don't know how to play the instrument," she says, "it's probably where you'll get your best stuff."
Merch for this release:
Vinyl LP
As a child who loved to draw, and who was encouraged to improvise during some of her earliest music lessons, Zeiguer has always had an inner confidence when it came to her own creativity—it just took some time and patience to reconnect with it. And if you read between the lines, Old Ghost retraces that process. "In the Western mindset," she offers, "we think we need to control our thoughts. But if you just become aware of them and talk about them, they won't become this big unknown that you have to be afraid of."
"Ultimately," she adds, "I think the album can be summed up with one overarching theme: learning to be yourself in spite of yourself."
-Saby Reyes-Kulkarni