FEATURES
"Reconstruction Site" by The Weakerthans: A Postcard Retrospective
By Hayden Merrick · Illustration by Kate Dehler · August 29, 2023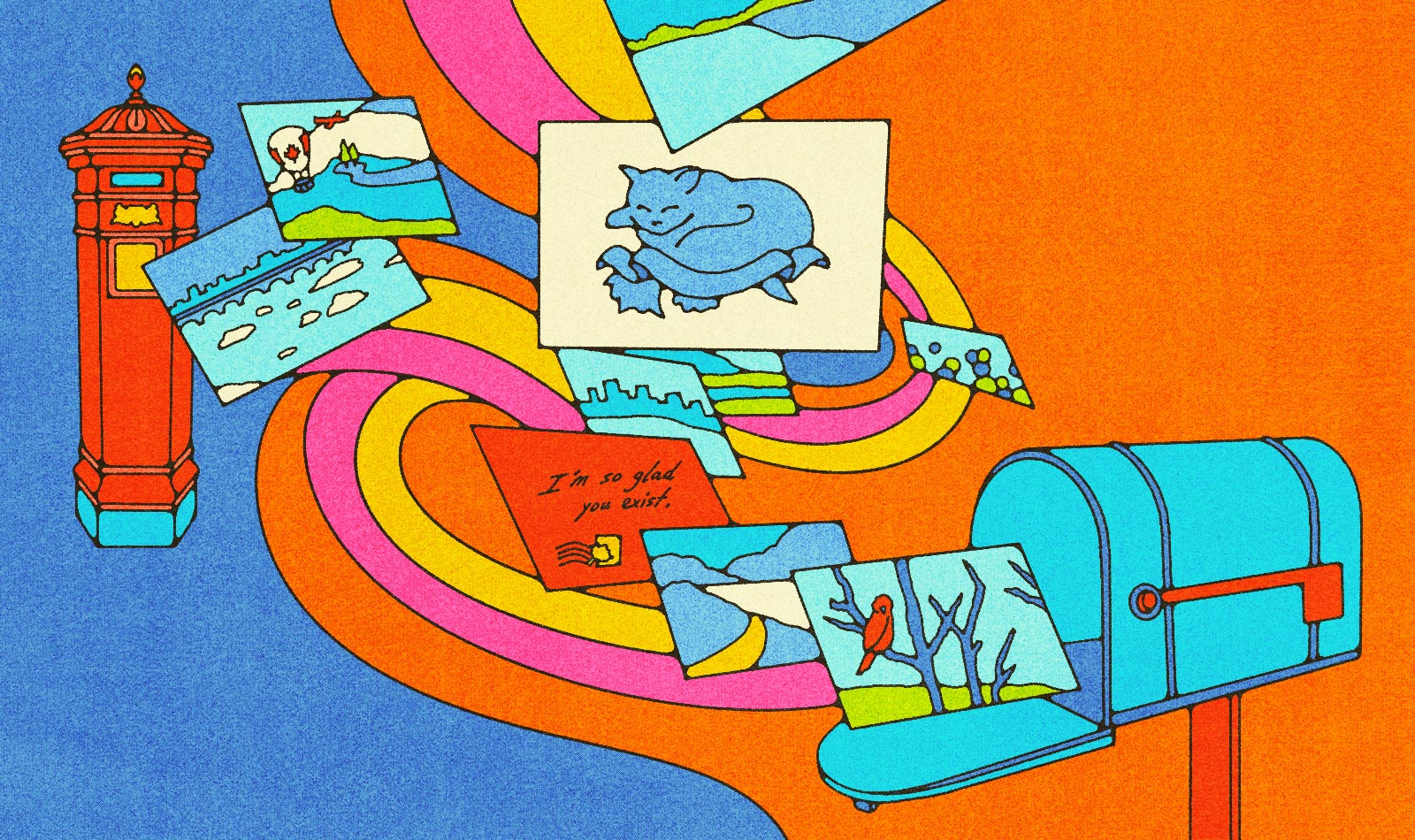 The postcards started arriving two years ago. Most of them came from Canada and found their way to my apartment just outside Brighton, UK. What instigated their arrival happened when I was 18, however: John K. Samson—Manitoban songwriter, frontman of indie rock group the Weakerthans—sent me a postcard. He wrote in all caps, used a thick black marker, and spelled out "Winnipeg" beneath his signature. On the reverse was a baby-blue stencil of Virtute the cat, a recurring character in Samson's songs who tells her depressed owner, "I know you're strong."
Samson was graciously responding to a letter I'd sent to his PO Box. He answered my insipid questions—What's your favorite of your own songs? "'Quiz Night at Looky Lou's'"—but the format of his reply intrigued me the most. The postcard: concise, self-contained, vulnerable to prying eyes; the unrepeatable scrawl of one's handwriting; the image on the reverse inadvertently conversing with the writer's message.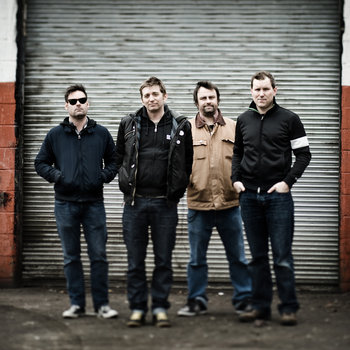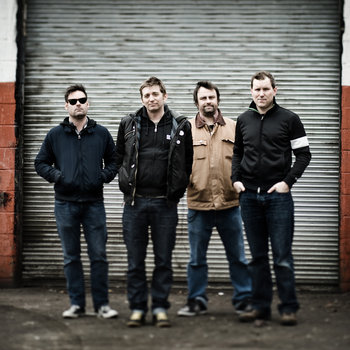 I rediscovered the Virtute card years later while moving house. For my birthday that year, I was gifted Frank Warren's PostSecret, a hardback collection of hundreds of postcards from anonymous secret sharers. My Virtute card, PostSecret, and my discovery of Samson's well-documented preference for the medium, all coalesced into an idea. I started trawling the internet in search of Weakerthans' fans, collaborators, and anyone affiliated with the band. I asked each person to send me a postcard, to share their experiences with the band's music, how it scored certain stages of their lives. I didn't yet know the cards' purpose, but I knew they would prove that my favorite band mattered to others as much as they did to me.
Conveniently, Reconstruction Site, the band's critical and commercial apogee—"a tender love letter to Winnipeg and all of its quirks and gritty beauty," in the words of one anonymous postcard writer—turns 20 this month, an apt time to revisit its story.
---
"I remember the door in the alleyway, west end Toronto, that opened into a room with a tape machine, mixing board + producer Ian Blurton saying something about 'no computers involved,'" so writes singer/songwriter Sarah Harmer on a card with an illustration of a lake; spindly, snow-dashed trees; and an owl perched atop a branch.
The Weakerthans' aversion to computers was nothing new. The first time they recorded on 24-track tape was after Samson departed the far-left punk band Propagandhi and enlisted drummer Jason Tait and bassist John P. Sutton to make the no-frills Fallow. More melodic and first-person-focused than Propagandhi, the Weakerthans' debut folded folk and country influences into its snappy, scrappy punk songs, which took place in all-night restaurants and paint-peeling apartments, and raged thoughtfully against the labor market while also making room for internal struggles—relationships, addiction, mental health difficulties.
The tender and expansive follow-up Left and Leaving upgraded this format with the addition of lead guitarist Stephen Carroll. Reconstruction, then, was the difficult third, with a high-concept story arc that allowed for multitudes: Harmer's cheery country-pop duet "Benediction" is immediately followed by the tempestuous guitar wars of "The Prescience of Dawn"; pop-punk gems such as "The Reasons" are contrasted by the chiming vibraphones and organ of "(Past-Due)"; and despite its lyrics' focus on death, Reconstruction is easily the band's most playful record (more on that later).
Rudy Rempel joined Harmer during those recording sessions in the wintry days of early 2003. "I sensed that an extremely intimate vocal sound was called for, so I set up a mic and headphones in an isolation box meant for tracking loud amps in the studio's kitchen," writes the album's co-engineer, who worked with Blurton on both L&L and Reconstruction. On his card is a map of Canada littered with tiny cartoons of lumberjacks, moose, trains, etc.
Rempel continues, "About the size of a refrigerator, pitch dark, and too low to stand up in, John had to sit on a stool and be lit by a small lamp as he sang. If other singers heard the tale, they often wished to try it themselves, but few could even close the door, let alone spend the hours it took to track two entire albums in that cramped space. I cannot imagine a better metaphor for John's songs than that."
Indeed, staying put requires patience and perseverance; once you've given that you unlock something beautiful. "I clearly recall John K's explanation of "One Great City!" + how he could be critical of Winnipeg because he'd chosen to stay," reflects Cory Wolfe, a lifelong fan who recounts a fleeting romance wrapped up in the band's 2003 Saskatoon concert.
This ironic, singalong tribute to the Weakerthans' hometown encapsulated the population's feelings towards their austere, gray home, nicknamed Winterpeg.
"Everyone around Winnipeg knew who the Weakerthans were. Somehow, they seemed to define our city's moment, our sound," writes Rusty Matyas, a close friend of the band and MVP of their live shows ("I got to start with some rockin' guitar, gettin' sweaty with Greg, then I got to play Christine [Fellows]'s cool piano part in the breakdown, and then in the outro I play some blistering trumpet!" Matyas writes of one live arrangement). Years later, Samson would lend his voice to the Winnipeg Architecture Foundation's app, cementing his role as a voice of the city.
Samson's stories take us out of town, too, though. A blast of upbeat power-pop, "Our Retired Explorer (Dines with Michel Foucault in Paris, 1961)" imagines a sit-down meal between the French philosopher and an emeritus peer of Ernest Shackleton, who yearns to get back on the sled. Its off-the-wall video was directed by Caelum Vatnsdal, who also directed the documentary We're the Weakerthans, We're from Winnipeg.
"Reconstruction Site seemed to deserve only the most elaborate and expensive music videos we could produce," writes Vatnsdal. "A dogsled here, an animatronic penguin there, or maybe a fez to crown every head: no effort was spared. It was the least we could do for these songs."
Between these fictional dinner dates, animatronic penguins, and the "I hate Winnipeg!" refrain, Reconstruction sounds rather jovial. But its sense of humor counterbalances its weightier themes.
Reconstruction is structured around three short songs—"(Manifest)," "(Hospital Vespers)," and "(Past-Due)"—each of which presents one-third of a story about life, sickness, and death respectively. Literally and figuratively the album's center, "(Hospital Vespers)" distills its primary themes into an emotive snapshot of hope against all odds. Its narrator visits their partner in the hospital, brings reading material and a new toothbrush, and stands on a chair to block the security camera, allowing them to get out of bed and pray.
Ontarian folk musician Ivan Rivers covered the track for the One Great Tribute! album and reveals how it ran parallel to his own hospital stay: "I was chasing ghosts and gods and angels and this tune anchored me in the middle of the madness, trying to keep faith in anything as my mind pulled me apart. I've stood on that chair. I've had the nurses come take me away. And despite all the evidence telling me to praise the void, I prayed."
Samson has long been fascinated with the minutiae behind the monumental—whether it's the simple act of standing on a chair, the fragmented story running through Reconstruction, or these lyrics from "My Favourite Chords," my favorite Weakerthans song: "It's here in the smallest bones, the feet and the inner ear/ It's such an enormous thing to walk and to listen." A line from "Utilities," from the Reunion Tour album, provokes a similar point: "I just wish I were a toothbrush or a solder gun/ Make me something somebody can use."
Canadian poet and professor Catherine Hunter picks up on this element of Samson's writing. On a CNIB Guide Dogs Foundation postcard, she writes, "I love the album's poetry, the way the lyrics communicate deep philosophical, political + emotional truths thru [sic] the things of the world: a piece of string, heating vents, batteries from smoke alarms, calendars + commas, napkins dispensers, all 'the tools to be believed with.'"
That final phrase comes from "(Past-Due)," the album's resolution, in which our narrator reads the obituaries and sighs at the omission of details—his tiny feet, that birthmark on her knee. Postcards can give us these kinds of specifics (though, ironically, this article omits them). British fan Matt Charbonneau's handwriting slants severely so that his Weakerthans origin story—a late-night visit to a supermarket parking lot, a special friend, and a healthy dose of narcotics—resembles italics. Rusty Matyas is left-handed and so smudges ink across his card, which is alive with doodles of music notes and smiley faces. And Bassist Greg Smith, who joined the band shortly after Reconstruction's release, writes in purple felt-tip, his joviality emanating from his pen. There are crossings out, crammed-in words, and a miscellany of stamps denoting how far each postcard has traveled. At 20 years old, Reconstruction Site has traveled far too, and there's an undeniable verdict from its supporters, one that has pursued it through the years and, I'm sure, will echo on into the night: "I'm so glad that you exist."