FEATURES
Rebeca Lane: Hip-Hop From the Four Colors of the Corn
By Catalina Maria Johnson · December 14, 2016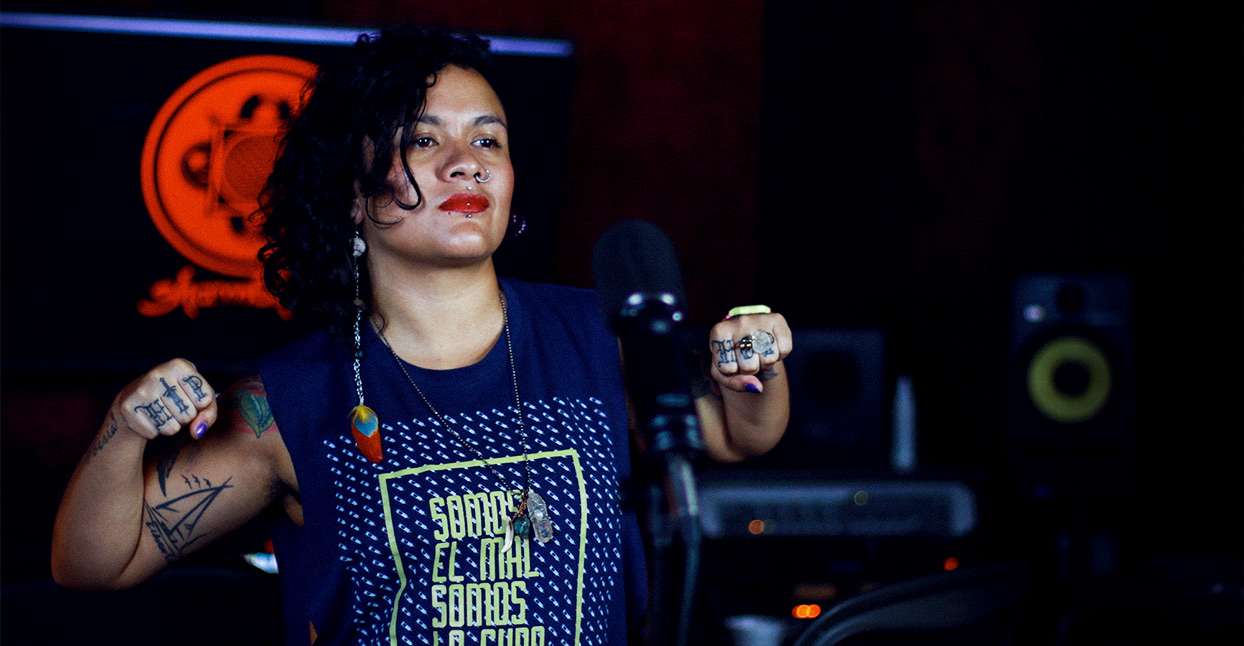 "I don't think the music itself has the power to change the world, but I do believe that it has the power to create a consciousness about what you are or what you worried about—and this is helping out people who are trying to organize and make changes," says Rebeca Eunice Vargas Tamayac—aka Miss Penny Lane, aka Rebeca Lane—via phone from Guatemala City.
A self-described 'artivist,' the Guatemalan composer and rapper—also a published poet and sociologist—has applied art's power to effect change for well over a decade. Born during her homeland's Civil War, Lane describes writing poetry from a young age: "Before I was an artist, I was an activist working for historical memory…along with other people who were struggling to find justice for their families killed or disappeared during the war. My first work was about justice and also [the] experience of women in this country, because it's a really hard country to be a woman."
Lane was born into an artistic family touched deeply by that war. Her grandfather was a lover of literature and their family's poet-historian, creating poems for family celebrations. Her parents were "all about the music," and she grew up with a varied record collection that included everything from salsa to The Beatles. Lane is named for her aunt, the activist poet Rebecca Eunice Vargas Braghiroli, who in 1981 was arrested and disappeared. In fact, the constant comparisons to her aunt, Lane says, created something of an artistic block for her when she first started to write.
However, around age 23, Lane found her own poetic voice under the artistic pseudonym "Miss Penny Lane," as she began to write about a directly personal feminism "not from theories or reading books": She also began working in theater with women, mixing theater and poetry. Lane then turned to spoken word, and ultimately joined the hip-hop collective Última Dosis and also founded Somos Guerreras (We are Warriors), a project that focuses on hip-hop created by women.
As so many other hip-hop artists do, Lane has found particular power and utility in hip-hop's strong oral history traditions, finding that her music sometimes functions as to help young Latinx in the United States develop historical memory. Once, she says, she was in Los Angeles with a group of U.S.-born Central Americans who had never heard from their parents about the war, and they told her how the music helped them understand their own parents and their own history.
In Guatemala, Lane believes that hip-hop has had a very particular and powerful role in terms of offering hope for a whole generation of young people, especially young women. Much as it often does in the U.S., it offers a creative trajectory and a career path. As artists, they can speak out their realities, overcoming the erroneous societal perception that as marginalized youth, they must embody violence and poverty.
Lane has also been active in teaching others to use art to combat gender violence. On November 25, International Day to Eliminate Violence Against Women, Rebeca Lane published the video "Este Cuerpo es Mio" (This Body is Mine) produced by Artevista Films as part of the Justice For My Sister project. In this clip, created with the support of the collective, which uses film to combat gender violence, Lane narrates the story of a woman leaving an abusive relationship with the help of other women.
Alma Mestiza, Lane's recently released fourth album, continues her exploration of a very specific, personal sense of identity and feminism, which she credits in part to discovering the works of Audre Lorde and Gloria Anzaldúa: "All I had heard before was about white feminism, but [Lorde and Anzaldúa] were talking about the oppression of women and also the oppression of being black, or having indigenous roots, or being a farm worker. I connected a lot with it." Works by these authors also helped her understand the reality of her homeland, which has a significant indigenous population; the population of Guatemala includes more than 20 distinct ethnolinguistic groups, although Spanish is the only official language.
This reality, says Lane, is evident in the use of the Spanish-language word ladino in Guatemala, a word used to describe people that are not indigenous: "The word is used by people who actually deny any indigenous roots. People say it in a very [dismissive] way, like 'I'm not indigenous.' And people who have a better way of life, or people in power, or the people in the government, or the people who have money and power here, are not indigenous. But the people who suffered from genocide and the war—over 80%—were indigenous people." She also notes that the great majority of those living in poverty are also indigenous. "People saying 'I am not an indigenous' is linked to saying 'I am not poor' and also, going back to history, 'I am not a slave', because indigenous people were slaves until 1944."
Lane also explains Spanish speakers who identify as "ladino" in Guatemala tend to emulate Europeans: "They aspire to be like white, a white community. And this means denying your indigenous roots and indigenous culture." So as part of creating Alma Mestiza, Lane describes investigating her indigenous roots, not just personally, but as rooted in Guatemalan history and folklore. She speaks of the creation story according to the K'iche' people told in the Popol Vu, in which God created humans with the four colors of corn—white, black, yellow and red.
"In Alma Mestiza," she says, "I am talking about having the four colors of the corn in myself.  So when I call myself mestizo, I am actually proclaiming that I have all these colors in my own color, because I have indigenous blood but I also have the Conqueror's blood—and I have indigenous culture."  It became a question, she says, of understanding how to embrace her own identity within "… a racist culture that denies the conquest, and [denies] that the colony was such a violent process."
Alma Mestiza, she says, also incorporates African and Afro-Latino musical influences in the context of Central American hip hop, for example, including those of the Garifuna people, descendants of African shipwrecked slaves and Arawak peoples who live in Guatemala, Belize and Honduras.
It's part of reclaiming the word mestiza, says Lane, and part of constructing "…another identity for [not strictly] Indigenous people who are acknowledging our indigenous origins and the influence we [take from] indigenous culture. We embrace it, and give it the value it has, and respect it, and speak out against racism [against purely] indigenous people."
Inevitably, our conversation turns to the results of the elections in the United States and their significance for current global events. Lane comments that the ongoing struggle against white supremacy has been fought for centuries by indigenous peoples: "People of color in the U.S. and in Europe, we have to get together because we have all of this knowledge in our culture of resistance, and a history of resilience…We've always done it."
—Catalina Maria Johnson