FEATURES
All-Percussion Art-Punk Outfit Pulsallama Were Born from the Freewheeling Spirit of NYC's '80s Downtown Scene
By Jen B. Larson · September 17, 2020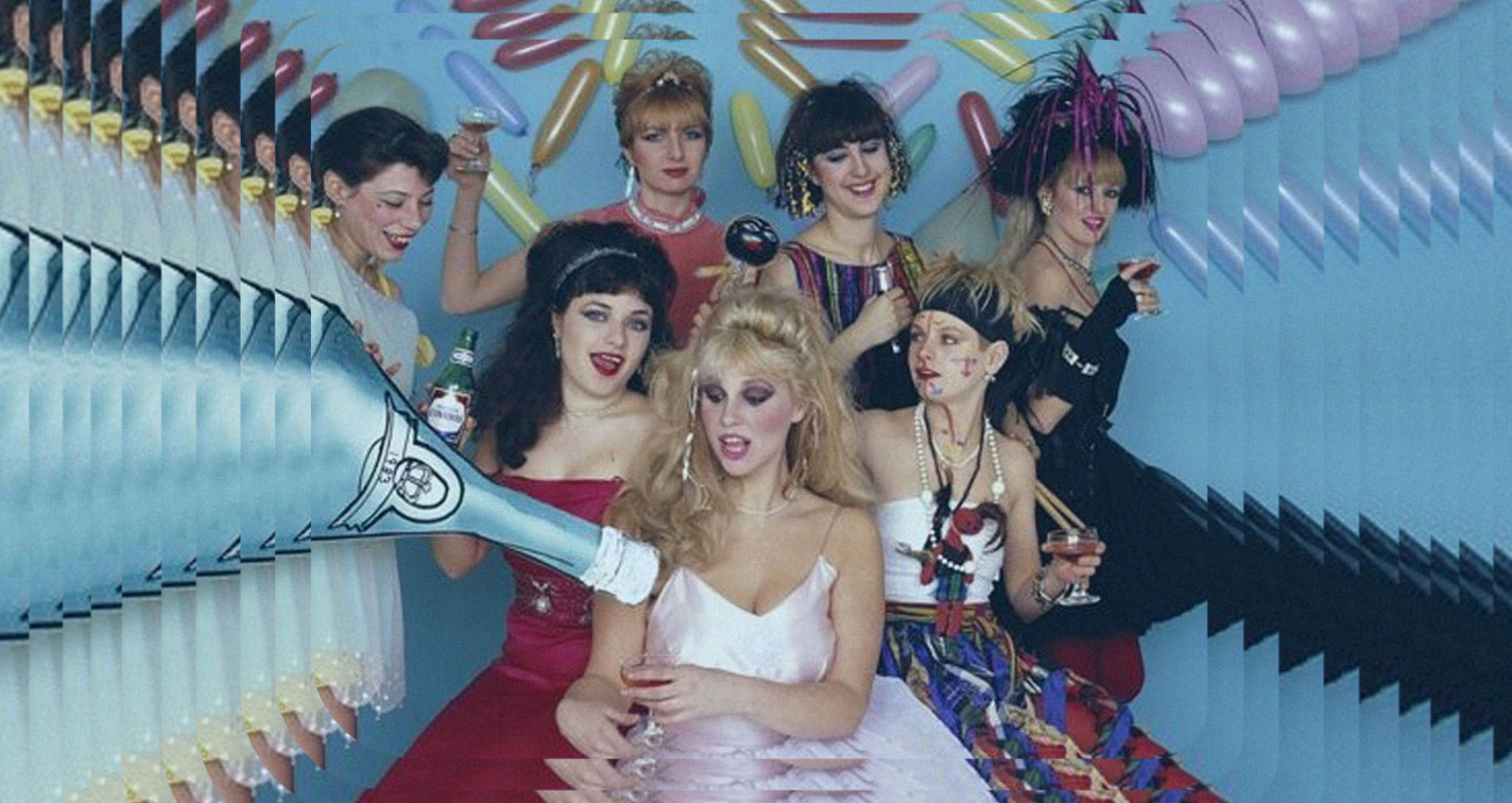 In Manhattan during the late '70s and early '80s, Club 57 offered fertile ground for artists to nurture their creative ideas and meet potential collaborators. At the East Village nightclub, School of Visual Art students, spandex-clad hipsters, and suburban runaways embraced wacky and retro lowbrow theatrical DIY-aesthetics, experimenting with camp and other offbeat concepts. Club regulars treated the church basement-turned-venue as a playground, participating in bad monster movie nights, erotic Day-Glo art shows, and other eccentrically themed parties that some of the more solemn artists brushed off as tacky.
Merch for this release:
Compact Disc (CD), Vinyl LP
From the fabric of this scene emerged a slew of original projects, including Pulsallama, a guitarless post-punk rhythm ensemble with dueling basses and multiple singers, described on their Bandcamp page as "seven women fighting over a cowbell." In truth, they began as performance art. The group's numbers dwindled from 13 to seven after a few shows, and there's no known evidence the group ever actually argued over a percussion instrument. ("I think that's hype," Pulsallama drummer Jean Caffeine says.)
While Pulsallama's lively shows might be a thing of the past, the celebratory, never-ending layers of rhythm that make up their sound can be enjoyed digitally, on CD, and vinyl. In July of this year, the group finally released their only self-titled album via Modern Harmonic records. The songs, recorded live in New York in 1983 (and only ever broadcast on French radio), "[feature] three supercharged versions of their most adored tracks that rival the originals, plus four more that are largely unheard."
Pulsallama formed in the spring of 1980, and were never meant to be a full-fledged band. In the midst of the creative madness at Club 57, manager and event host Ann Magnuson and some friends imagined a performance piece featuring an "all-girl percussive orchestra" for a spring equinox celebration they called Rites of Spring. The group  was an off-the-cuff creation, and their name a nonsensical portmanteau of the names of a vintage Pulse-matic blender and, well, a llama.
For the first show, Pulsallama recruited members from the Ladies Auxiliary of the Lower East Side, Magnuson's "twisted version" of a conservative women's civic club—plus Caffeine, a practiced drummer from San Francisco punk band The Urge. "It was decided that the first performance would be done in togas as a Greek Bacchanal, and that most people would be banging on things," Caffeine says. When audiences delighted in their first performance, the group decided to continue playing together.  Vocalist and percussionist April Palmieri recalls that "[she] did not know it was an actual band, and missed the second show.
Merch for this release:
Compact Disc (CD), Vinyl LP
Influenced by the polyrhythms of Latin, Brazilian, and African grooves, while admiring the work of local no wave peers like Liquid Liquid, Konk, Bush Tetras, and ESG, Pulsallama continued to tighten their jams while staying true to their whimsical stage show. Caffeine says, "When the performance was so well-received, we continued to bang on things…as we continued to bang on things we got better at it, and it became more rhythmic." Citing Tito Puente and early hip-hop as additional influences, she notes, "I was also a freelance DJ in clubs, so I was really into grooves and beats."
The list of percussion instruments used on the record includes—but is not limited to—maracas, vibraslap, bongos, and wood block. The back cover features an essay by musician and radio host Erika Elizabeth that tells a story of a time bassist and percussionist Stacey Elkin played a beer bottle she picked up outside on the way to the show; she continued playing it even after it broke.
The album's cover art captures Pulsallama's lively spirit via an infamous photo of the crew looking like bugged-out housewives on New Years Eve. In it, the women pose in party-mode in what looks like a balloon-filled photobooth. Elkin pours a blown-up cardboard cutout champagne bottle into vocalist Kimberly Davis' real-life already-full vintage wine glass. Each member is gussied up in their actual performance wardrobes: makeshift prom dresses and '50s cocktail attire.
Merch for this release:
Compact Disc (CD), Vinyl LP
In addition to their stage show and costuming, the group's sense of humor also emerges in their lyrics, many of which are based on in-jokes between members, sensational headlines, and pop culture. "The Devil Lives in My Husband's Body" sounds like it may have come from a pulp magazine or the National Enquirer, telling the story of a concerned wife who calls the cat lady next door to perform an exorcism on her barking, possibly possessed, husband.  In "Trash," the group belts, "Trash/ Nasty trash/ Sleazy trash/ Bogus trash!" somehow turning their disgust (at an ex or the city's foul-smelling trash pickup practices, it is unclear) into a dance groove. In "Ulsapay Amallay," they borrow the language of English-speaking kids everywhere who want to hide their communications from their teachers and parents. Which is to say: they sing in Pig Latin. Sonorous words like "cowabunga" and "ungawa" pepper their playful intonations elsewhere on the album as high-pitched or low-toned chants decorate their foot-stomping cheers.
The group played tons of fun events in the city and abroad—local holiday shows at Danceteria, a tri-city tour of the UK, and opening for The Clash on some US dates of their Combat Rock tour. In the States, the Clash rented out space in the indoor amusement park at Asbury Park and the band was invited. Caffeine says, "Almost all of our gigs were exciting and fun. Hauling the drum kit around in NYC was less fun."
When asked where the band was going, in a Videowave interview in 1982, Davis underlines that point as she responds, "I don't like to think about where it's going, [necessarily]…we basically started out having fun, that was the premise and that's what has kept us together." Such genuine playfulness in art is rare; in the reissue of Pulsallama's work, we the audience get a chance to reconnect with rhythmic joy as well as getting another delightful peek into the vital early NYC art-punk scene.