FEATURES
Piratón Records Fights Stereotypes Through Compilations
By Catalina Maria Johnson · July 03, 2017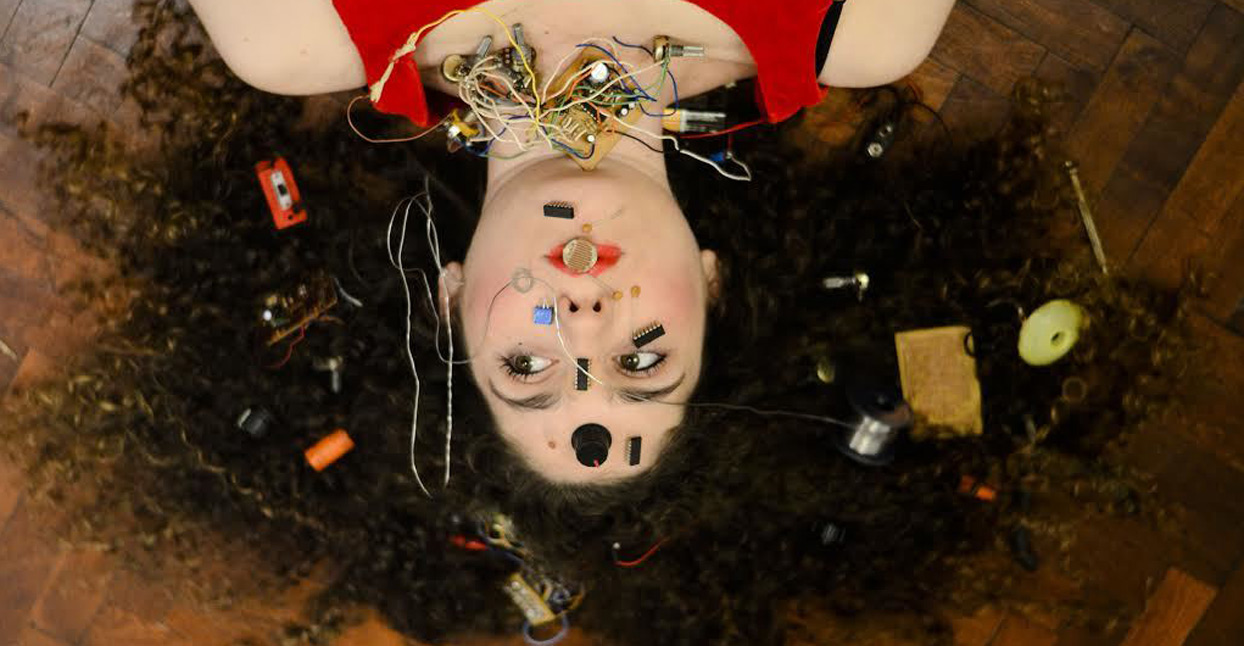 In 2015, Carlos Huerta, formerly known as electronic/rap artist Josué Josué, and currently a music journalist, founded Piratón Records in Mexico City. Huerta had no intention of focusing on any particular genre, but wanted to create a platform for experimental outlier-type artists. He chose the name "piratón" ("pirate") for the label to reference the idea of illegal recordings as well as the Spanish-language sense of something that is underground.
The first two releases focused on experimental rap and hip-hop beats, but the following veered into different territory. Titled No Hay Más Fruta Que La Nuestra and featuring only female artists, the label announced that the compilation sought to "break away from segregation, centralization, prejudice, machismo, double standards, classism, cultural exoticization, and other anachronistic expressions."
.
00:10 / 00:58
Highlighting the work of artists from all over Spain and Latin America (Mexico, Cuba, Chile, Argentina, and the Dominican Republic), that first compilation and its followup, released in May 2017, share a wildly varied and fresh range of musical styles—folk, experimental electronic, hip-hop, punk, psych-pop, noise, and shoegaze.
Both compilations' titles, which translate to "There is No Fruit Other Than Ours," are a play on words riffing on a famous quote by revolutionary Mexican muralist David Siqueiros: "No hay mas ruta que la nuestra" ("There is no other route but ours").
We caught up with Huerta in Mexico City to chat about the curatorial path from Piraton's first release to the compilations, which also took him to create a column for Thump/Vice called "El Eterno Femenino (The Eternal Feminine)."
The conversation with Huerta took place in Spanish, so we share both the original discussion and the English translation below.
So how exactly did the idea of the compilations come about?
I work in a bookstore and I found a book about [Latinx] women who had been lost to art. And it seemed very interesting because precisely in the world of art, there's always figures like Dali, Picasso, all those men. And you never really think about whether there were really female artists, and if there were, why were they not being recognized like these other artists.
That was when I started to think about all these issues, and I turned to looking at the music environment, which is where I work. I also write for some publications here in Mexico City so I started to look at my own columns, interviews, and reviews, and the 20 articles and artists that I had [written about] were all men.
That's when I started to wonder, 'Were there a lot of women making music, and were we making them invisible?' Just like in art. And that's how it all started to happen. First I started investigating, focusing on Latin America, and I realized that there's lots of women making music all over the place.
And I started to question, 'What's happening? Why aren't they headlining some of the festivals? Why aren't they playing here? Why is the press not talking about them?' And that's when I started to transition to creating the compilations.
Yo trabajo en una librería y encontré un libro acerca de las mujeres perdidas en el arte, en España y se me hizo super curioso porque justo en el mundo del arte siempre están estas figuras como Dalí, Picasso, todos estos hombres y uno no se pone a pensar si realmente había artistas mujeres, y si las había, por qué no están reconocidas como estos artistas.
Fue allí donde surgió mi inquietud y volteé a ver el ámbito musical que es en el que yo me desenvuelvo. También escribo para algunas publicaciones aquí en el D.F.; entonces me puse a revisar yo mismo todas mis columnas, mis entrevistas, mis reseñas y de veinte artistas de veinte artículos al final todas eran hechos sobre artistas hombres.
Fue justo allí donde surgió mi inquietud por saber si había muchas mujeres haciendo música o las estábamos invisibilizando? Al igual que en ese terreno del arte y allí surgió la iniciativa. Me puse a rastrear, primero enfocado en Latinoamérica y me dí cuenta que hay un montón de chicas haciendo música en todos lados, principalmente en Latinoamérica.
Y me surgieron estas preguntas de ¿Qué pasa? ¿Por qué no son headliners en algunos festivales? ¿ Por qué no están tocando aquí? ¿Por qué la prensa no está hablando de ellas? Es ahí donde surge la transición hacia los compilados.
So you're a music journalist also?
I write interviews, and right now the column that's most active is called 'The Eternal Feminine.'
I look around at a lot of scenes here [in Mexico City]: hip-hop, rock, electronic music. In these clubs, which are like 'men's clubs,' the guys don't even ask themselves why there aren't many women playing. Or in festivals, there are no women.
I only interview Latin American women—from Argentina, Chile, the Dominican Republic, and Mexico—who make electronic music [for the column]. You could almost say that the compilation came about based on my own column. I contacted them, interviewed them, and then later on invited them to the compilation.
Escribo entrevistas, ahora mismo la columna que tengo más activa se llama "El eterno femenino" es para una web que se llama Thump, de música electrónica, se deriva de Vice.
Yo veo muchas escenas, por ejemplo aquí el hip hop, el rock, la misma música electrónica como clubs de hombres donde ni siquiera ellos mismos se están cuestionando el que no haya tantas mujeres tocando… o en los festivales, o donde sea, el que no estén esas figuras femeninas nunca. Es como si asumieran que no están [en estos sitios] porque no existen o están haciendo otras cosas.
Allí [para la columna] me dedico a entrevistas solo a chicas latinoamericanas que hagan música electrónica, de Chile, de Argentina, de República Dominicana, de México. Podría decirse que el eje del compilado  se derivó a partir de esta columna, yo primero tuve contacto con ellas, las entrevisté y ya después me dí a la tarea de invitarlas.
So what's your criteria for choosing the genres or styles of music for the compilations?
Really, there's no particular narrative line, it's just about women making music in Latin America. That's the way it was at the beginning, and then I decided to open it up a bit more because inequality doesn't just exist in Latin America. I realize this is also happening in Spain, England, Poland, the whole world. And as far as musical genres goes, there's really no single genre. If you listen to the compilation, there's noise, hip-hop, acoustic, folk—there's no parameters.
Being in the music industry you have to be more or less up-to-date with what's happening, the sounds that are going around, and that's why the selection came about quite organically. The artists themselves would recommend other artists, and it [becomes] an infinite list. No way can they can fit on one compilation.
Pues realmente no hay una línea discursiva, simplemente que sean chicas haciendo música en Latinoamérica, así era en un principio, ya después lo quise abrir un poco más para no encerrarnos ahí, ya que esta desigualdad no solo es en Latinoamérica, me dí cuenta que también sucede en España, en Inglaterra, en Polonia, en todo el mundo. Y bueno hablando de géneros musicales pues no hay ninguno, si te pones a escuchar el uno y el dos  hay desde noise, hip hop, acústico, folk, realmente no hay ningún parámetro de género.
El hecho de estar en el mundo de la música te obliga a estar más o menos al día con lo que está sonando, lo que está pasando y así fue como de forma muy orgánica se dió la selección; las mismas chicas te recomiendan a otras y a otras y a otras y es una lista infinita que no cabe en un compilado.
.
00:10 / 00:58
And what about curation? You do it all yourself or are there any women participating in the curation?
[I do] all of [the curation]. And that's odd because that right there is the crux of the matter because nobody's asked me about that…
I do understand the point, and it's something that I'm always thinking about. I'm thinking in the future. Next year, I'll invite some women as curators so that they compile it themselves. At the end of the day, even though I was the one who thought of doing it, I absolutely don't want for everything to always come back to me nor do I consider myself some kind of genius for having the idea.
Other times I've been interviewed, I tried to make sure that attention doesn't just fall on me. I like to see it as a collective work in which everyone does their part and I simply put it together. It was simply a vacuum that I noticed—that concerned me and I wanted to do my part.
Totalmente. Y es curioso porque allí está el hito del asunto porque nadie me lo ha cuestionado…
Más que yo mismo, y tu ahora; Entiendo el punto y si es algo que pasa por mi cabeza todo el tiempo, estoy pensando posteriormente, al siguiente año invitar a algunas curadoras para que ellas mismas lo compilen; al final de cuentas se me ocurrió la iniciativa pero no quiero para nada que recaiga en mí ni asumo que yo soy un genio al que se le ocurrieron estas ideas.
En las otras entrevistas que me han hecho intento que no recaiga en mí toda la atención, me gusta verlo como un trabajo en conjunto en el cual todas hicieron su parte y yo simplemente lo compilé. simplemente era una ausencia que yo notaba, que a mi mismo me conflictuaba y por allí yo quise hacer mi parte.
What's been the reaction to the compilations so far?
These kinds of initiatives make people uncomfortable, especially men. If people themselves don't realize there's inequality, no one sees it. And sometimes there were women, when I would interview them wouldn't want to answer these kinds of questions. They would say, 'Well, I make music and I want them to listen to me because of my music, and it doesn't matter if you're male or female.' And they say they don't believe that there's gender inequality and that's strange because I think that today, this society in which we live, the world and all kinds of different environments, has all become internalized.
Just the fact that it doesn't seem strange that in a festival where there's 30 artists, only three are women, right? There, that's a problem. People were precisely like, [about the compilation], 'What for? If there's a good artist making hip-hop, sooner or later they will be recognized.' And they would perceive this compilation as some kind of 'help,' and something that was unfair. Like it's not necessary to make compilations of women artists; if their music is good enough, they will be recognized. But at the same time I kept saying, 'There's all kinds of compilations coming out and there's always like, two women.' That's why I started to question the whole situation.
There's always going to be differences of opinion about everything. I like that because it's precisely there, in the differences, that dialogue can occur and that's the idea: to question things and look for solutions together.
Este tipo de iniciativas incomodan mucho a las personas, hombres en particular, no sé cómo explicarlo. Si ellos mismos no se dan cuenta que hay una desigualdad pues nadie la ve, entonces desde allí hay chicas que al entrevistarlas no te quieren responder ese tipo de preguntas, te dicen: 'Pues yo hago música y quiero que me escuchen por mi música y no importa si eres hombre o mujer'. Y te dicen que no creen que haya una desigualdad de género, y eso es curioso porque yo creo que actualmente  la sociedad en la que vivimos, el mundo y diferentes ámbitos, se han interiorizado.
Ya el simple hecho de que no se vea como algo extraño que en un festival de treinta artistas tres sean mujeres, creo que desde allí ya hay un problema. Fue justo un ¿para qué?, si hay buenas mujeres haciendo Hip Hop tarde o temprano las van a reconocer, veían este compilado como una ayuda, algo injusto; piensan que no era necesario hacer compilados de mujeres, si no que sencillamente si su música era buena se les iba a reconocer. Pero igual yo veía compilados que sacaban y sacaban y había como dos mujeres siempre, también era de allí que surgían mis preguntas.
Siempre va a ver discrepancias en torno a todo, estámos acostumbrados y me gusta porque es justo allí en la diferencias que surge el diálogo y esa es la idea: cuestionar y buscar soluciones entre todos.
I noticed that you use the gender-free 'x' in 'Latinx' instead of [the gender-marked] 'Latino,' which is not at all common outside of the United States, especially in all-Spanish writing.
For me, it's exactly in the language where you have to start this process of decolonizing. Language is precisely where words begin to be imposed on you, the way that you are supposed to express yourself.
It's odd because normally when you write or read something it's always directed to a masculine audience. Maybe a lot of people would let that go like, 'It's no big deal, we're just reading an article.'
But it's a way of not directing anything to an audience that is neither masculine nor feminine. To address an audience in a way that is gender-free is a way of addressing people who might not identify with [a gender]. It's a way of speaking to everybody.
Pues mira, justo en el lenguaje es donde comienza este proceso de colonización; desde el lenguaje es donde te imponen las palabras, las maneras con las cuales tienes que expresarte.
Es curioso porque regularmente cuando escribes o lees algo todo va dirigido siempre a un público masculino. Y quizás mucha gente lo dejaría pasar de largo, así como: 'No pasa nada, simplemente estamos leyendo un artículo".
Y esa es una manera de no dirigirte a un público ni masculino ni femenino, sino a un público genérico. Y sí, pues dirigirte o apelar a todas estas personas que quizás no se sienten identificadas ni con el masculino ni con el femenino, es una manera de hablarle a todos.
Speaking of words, tell us more about the use of a play-on-words ('There's no other fruit but ours') of the Siqueiros quote in the title of the compilations.
It's making precisely the point that the Mexican muralist movement was always very masculine. Rivera, Orozco, Siquieros… I'm not against [Siquieros], he was one of the most important political artists that century in Mexico, but what I'm talking about is related to his masculinity. I think we as men are blinded by our masculinity and it's precisely because of that, that he and his followers didn't realize that to assume that they were the only way to go excludes a large number of possibilities.
And as far as the whole fruit thing, it touches a bit on the whole process of exoticizing. I've heard a lot of comments from friends and colleagues that go play in the United States, Germany, England, that the promoters present them as if it were some kind of super exotic thing, which makes them very uncomfortable. Almost all their flyers were, 'They're going to play and have piñatas, beans, it's a 'Mexican' party! It seemed very odd, as if that was the only way we could present ourselves in other countries. So it seemed very interesting to touch on that point.
And also considering that each region has its own fruits and identity, and it's all so often identified with what is 'tropical', what is 'wild,' what is 'Latino,' it was like saying, 'Well, yes, this is who we are and there you have it!'
Es que justo es movimiento muralista mexicano siempre fue súper viril: Rivera, Orozco, Siqueiros… que no estoy en contra de él, ha sido uno de los artistas políticos más importantes del siglo en México, pero a lo que voy es que dentro de su virilidad… creo que los hombres estamos ciegos por nuestra virilidad y es justo dentro de ella que no se dan cuenta que al asumirse él y ellos (sus seguidores) como la única ruta posible deja fuera un montón de posibilidades.
Lo de la fruta apega un poco también a lo de la exotización. He tenido comentarios de muchos colegas y amigos que van a tocar a Estados Unidos , Alemania, Inglaterra y los promotores los ofrecen allá de una manera muy exótica que les incomoda, casi casi a los flyers de dónde van a tocar les ponen piñatas, frijoles, ¡'Mexican Party'! Entonces se me hizo muy curioso que sea la única forma en la que podemos proyectarnos en otros países y me parece interesante tocar ese lado.
Además tomando en cuenta las frutas de cada región, de cada país, son su identidad y normalmente se relaciona con lo tropical, lo salvaje, lo latino, como decir: 'Sí, pues si, esto es lo que somos, ¡ahí les va'!
—Catalina Maria Johnson