FEATURES
Pinky Swear Deliver Teen Angst From the Rio Grande Valley
By Matthew Ismael Ruiz · August 23, 2017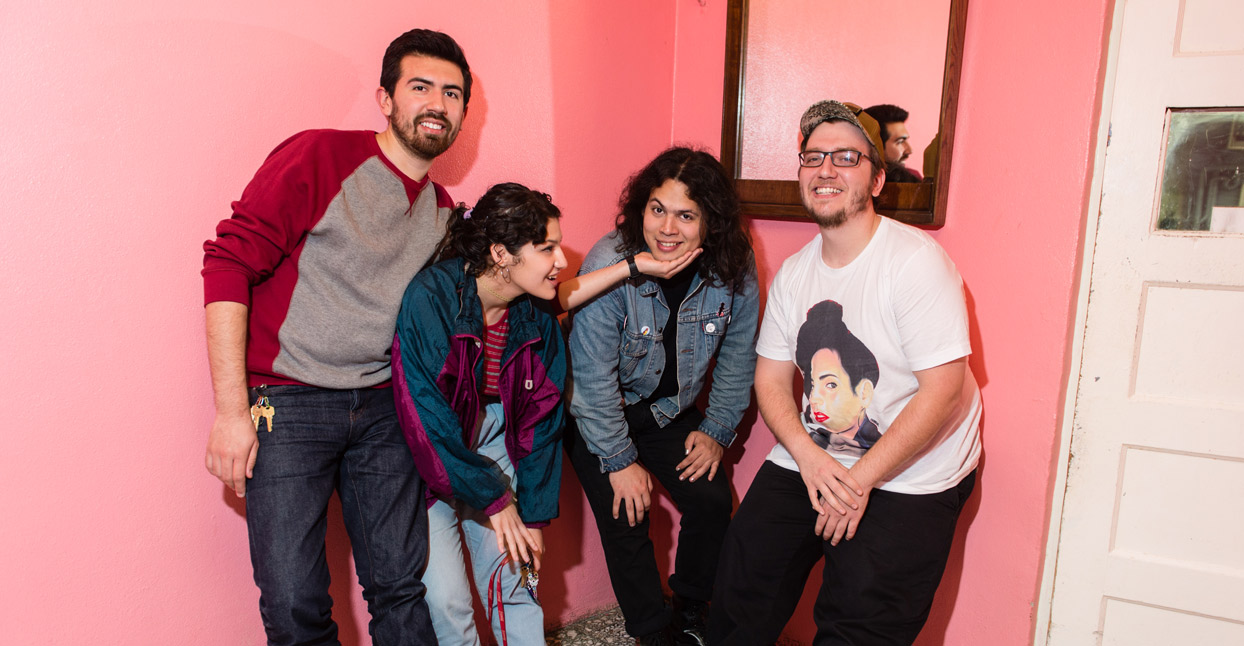 In southern Texas, right along the Mexican border, being "American" is an aspiration. In the Rio Grande Valley, specifically, assimilation is viewed as the road to the American Dream for generations of immigrant families. Even though Mexico is a direct neighbor, the members of McAllen, Texas group Pinky Swear don't speak fluent Spanish. "We were taught that if you spoke Spanish, you were lower," bassist Luther Mangrum recalls. Guitarist Chris Hanks remembers the indoctrination beginning at an early age. "In elementary school, speaking Spanish in school was disciplined. You weren't supposed to do it," he says.
.
00:10 / 00:58
It seems jarring to be discouraged from speaking Spanish in schools, especially for a region populated by so many immigrants from Mexico where the sounds of conjunto are as likely to fill the streets as Top 40 radio hits. And though Pinky Swear songs are sung in English, the gap they straddle—between the band's Mexican ancestry (all of the members are mixed Mexican) and the aspirations of the "white" American Dream—is a reflection of the place they're coming from with their music.
The Rio Grande Valley has a thriving—if isolated—music scene tucked away in the most southern reaches of South Texas, just north of the Rio Grande itself and the border it forms with Mexico. It's overwhelmingly Latinx; more specifically, Mexican-American. The Valley often finds itself on the front lines of political fights with national significance, from immigration reform to access to healthcare. The DIY scene in the Valley is tight-knit. There's lots of sharing: of resources, of instruments, and even of musicians. Drummer Max Perkins plays in a couple other bands (Modern Studies, Cat-ion), and when Hanks first joined—a week before their first show—he had also just joined another band, whose first show was on the same day.
Pinky Swear's latest EP, 2016's I Thought You Never Wanted to Be Strangers, places them firmly within the '90s alt-rock revival, delivering teen angst as channeled through the lens of both Built to Spill and the Beatles. Singer Sarah Danger's lyrics offer self-deprecation spiked with passive aggressive snark, and lead guitarist Hanks's guitar tone ranges from a sharp snarl to a bouncy jangle. Their most fully-realized song, "Change For Me," recounts a futile plea from a lover to change their ways, expertly wielding comedic timing ("You told me I was pretty…fucked up") and ironic juxtaposition ("I hate myself I will never love anyone, oooh-ooooh-ooh").
.
00:10 / 00:58
They recorded the album with Andres Sanchez at Sound of Rain Studios, a room in Edinburg, Texas, which is co-owned and operated by Charlie Vela, a veteran of the Valley's music scene, and Roland Treviño. "In the Valley, especially in mid-Valley," Mangrum says, "going to Sound of Rain and getting to record there is basically a rite of passage." Vela recently co-directed a documentary on the history of music in the region called As I Walk Through The Valley; one of the goals of the project was to connect the dots between various generations of musicians. So when Sanchez, another pillar in the local music community (SUPER, Slow Attack, Jungle Bodies), wanted to get some experience producing records, he talked Vela into cutting his friends in Pinky Swear a deal on some off-peak studio time. Just a friend helping a friend help his friends, but also an example of how ties are being created across multiple generations of the Valley's music scene.
The band is currently working on completing new songs for a debut full-length, with plans to re-record some material from its first EP, Only One Person Came To My Graduation Party, and an old song Danger wrote in between Pinky Swear and a stint in the backing band for Jesika, another ascendant Valley artist who opened for Mitski on the Texas leg of a recent tour. That track, "Why Do You Like Girls That Hurt You?" premieres here—it's a brash two-and-a-half minute pop-punk romp drowning in distortion and reverb, recorded at Sound of Rain by Vela himself.
Pinky Swear is currently label-shopping; Close Quarters Coalition, the label that put out I Thought You Never Wanted to Be Strangers, is going belly up. The Valley's geography makes it tough to play shows outside Texas, but they just opened for '90s alt rockers Tripping Daisy in Austin, and they'll play a final show with every band on Close Quarters Coalition, on August 26 in Corpus Christi. They're still a baby band, but they're ready to graduate. "We're toying around with this idea of sending it out to the major labels and stuff, getting our feet wet with the whole 'having a manager,' or having a label," Mangrum says. "So far we've kinda done everything by ourselves, super DIY."
—Matthew Ismael Ruiz