FEATURES
Pierce Freelon: The M is for Mayoral, the C is for Candidate
By Corbie Hill · Photos by Kennedi Carter · October 04, 2017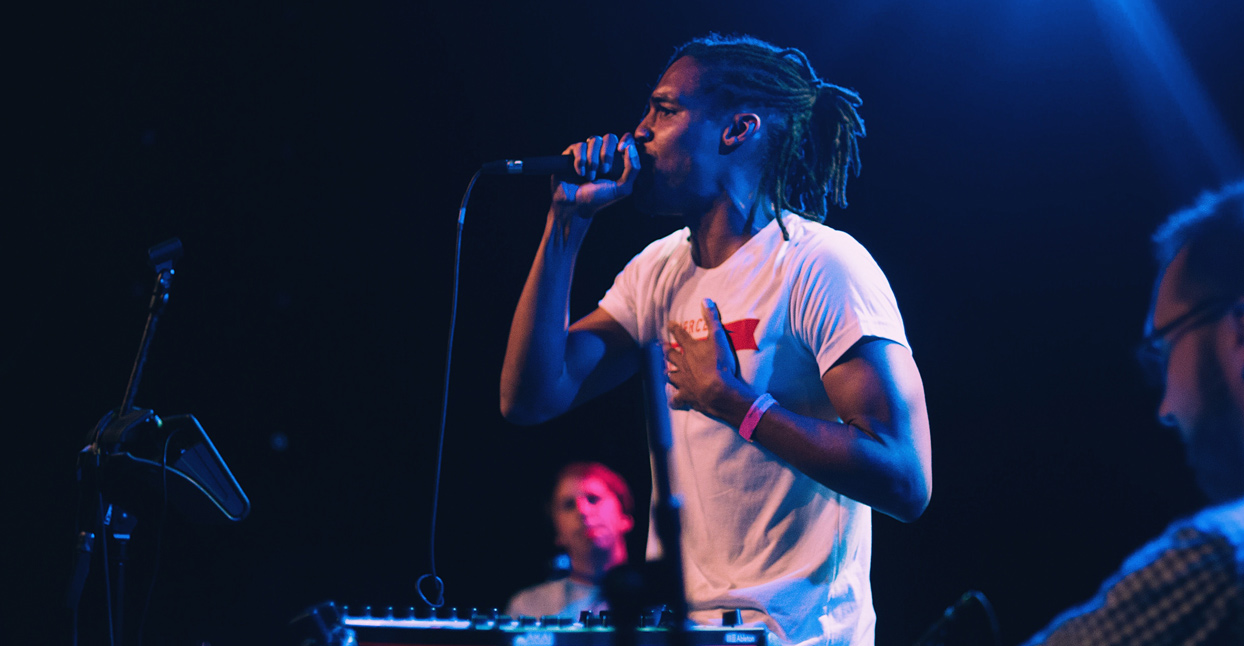 The Reverend Curtis Gatewood moves with purpose and determination toward the microphone. He's impeccably dressed—clean cut, dark suit—and he strides through the standing room only crowd at The Pinhook to ask his question. On most nights, this venue books rising indie acts touring through Durham. It's an accepting, socially progressive space, with gender-neutral bathrooms and a few nights a week given over to wicked dance parties. It currently holds the title of Best Gay or Lesbian Bar in the Triangle, according to the local alt-weekly.
When Gatewood takes the microphone this evening, he's addressing five of the six candidates for Durham mayor, only one of whom is white. The former North Carolina NAACP leader is asking them what they'll do to prevent terrorism and the infiltration of the city's police department by white supremacists.
One candidate answers in verse:
Merch for this release:
Compact Disc (CD)
"After emancipation they expanded experiments / Replicated the plantation under new management / They locked us in a cell, the propaganda was scandalous / Overseers, the officers, they branded us terrorists," Pierce Freelon raps, delivering the final verse of his song "Captain America" a cappella. "The private prison industry, they lobbied the candidates / Gave mandatory sentences for handling cannabis / Captain America, look what we saved Americans / Billions in cheap labor, it's a slave's inheritance / This is what it is to be black in America / It feels like any minute I'll be capped in America."
Artists See the World the Way It's Supposed to Be
"Tonight I dropped a verse," Freelon says about an hour later. "That's very uncommon."
We're sitting in an upscale bar about a block away from the Pinhook, and Freelon is finally eating supper. Durham locals tend to know him as a musician and not a politician, he explains, particularly as the MC in the hip-hop and jazz ensemble The Beast. Freelon, the son of a jazz singer, has fronted the combo since 2007. Now, at 33, he's running for mayor. As Freelon puts it, his campaign is about displaying his chops as a potential leader, rather this as an emcee. And while The Beast's latest record, Woke, was released the day Freelon formally entered the race, and the "Captain America" video was promoted in his campaign newsletter, Freelon has been purposefully avoiding rapping at mayoral forums like this one.
But when Gatewood mentioned policing's roots in slave patrols as part of his question, Freelon felt that his answer had to go beyond policy notes. It was an ancestral question, he says, and it merited a deeper answer. So Freelon merged his two public selves, the artist and the politician.
It's an unusual combination. As Freelon puts it, creatives and visionaries are often on the margins of power; bringing artistic thinking into public office has the power to change the status quo. But Freelon's resume extends beyond the time spent fronting a respected hip-hop group. He's taught black history through hip-hop in his Blackademics curriculum; he's traveled the world building studios for PBS webseries Beat Making Lab ; he's founded Afrofuturist hub Blackspace, and lectured at the University of North Carolina at Chapel Hill and North Carolina Central University. All of these experiences have informed the way he's run his campaign.
"If there was a city in the state of North Carolina or the South that would be open to electing a 33-year-old hip-hop artist, professor, organizer to the highest office in the city, I think it would be Durham," Freelon says. "There is a very unique community [here] that is progressive and queer and creative and awesome."
Merch for this release:
Compact Disc (CD)
Freelon is the youngest candidate in the election, and he's up against the CEO of a prominent nonprofit and ex-city council member, a retired police officer, a small business owner, a pastor, and the founder and former owner of local alt-weekly INDY, who is currently on city council. And because the current mayor, Bill Bell is retiring, there's no incumbent in the race.
And while Freelon hasn't held public office, he's no newcomer to political action, either. When he was a child, he watched Charlotte mayor Harvey Gantt run for U.S. Senate against incumbent Republican Jesse Helms—first in 1990, then again in 1996. Freelon's politically-active parents, jazz singer Nnenna and architect Phil, were involved in both of Gnatt's campaigns. Freelon, who was in elementary school during the first race and a teenager during the second, was inspired watching the first black mayor of Charlotte challenge an entrenched, established conservative. Knocking on doors to campaign for Gantt gave him a taste for what running for office entails.
Joshua Vincent, Freelon's campaign manager, also worked with a young, black politician who ran against an elder statesman of the Republican party. The same year The Beast formed, Vincent was hired to work on Barack Obama's first presidential campaign. He was 25. "If you ever need an example of what it takes to win, I think that campaign is probably one of the better ones to get your experience," Vincent says. "It was something that had never been done before. I learned a significant amount about work ethic." In 2012, Vincent was hired by the national NAACP and worked closely with prominent North Carolina civil rights leader the Reverend William Barber. Then, in 2016, he worked for the Color of Change Super PAC.
Vincent and Freelon have a lot in common. Vincent is only a few months older than Freelon; They're both musicians, and they've run in the same circles for years. Vincent, a jazz trombonist, even played on Nnenna Freelon's 2013 holiday album, Christmas. In the summer of 2014, Vincent helped organize Durham's National Moment of Silence after teenager Michael Brown was shot and killed by police officer Darren Wilson in Ferguson, Missouri. Vincent ran into Freelon again there. The two became—and remain—close friends. As artistic and political beings, Freelon and Vincent are on the same page.
"As a jazz musician, politics is kind of a natural thing for us," Vincent says. "We have to always negotiate through our process with other people." Like Freelon, Vincent feels an artistic imagination can lead to effective leadership and creative solutions. He thinks back to a conversation with a wealthy, successful uncle who told him, "You know, Josh, I'm envious of you." Vincent couldn't imagine why, so he asked his uncle to elaborate.
"He said to me, 'You're an artist, and artists see the world the way it's supposed to be,'" Vincent recalls.
Martin and Malcolm Were MCs
On August 14, 2017—three years to the day after the National Moment of Silence for Michael Brown—protesters surrounded the Confederate Soldiers Monument at the old Durham County Courthouse, tied a rope to it and pulled it to the ground. Days after a violent white supremacist rally in Charlottesville, Durham's response made international news.
This kind of activism is a time-tested North Carolina tradition, Freelon says. "The Greensboro Four, who launched the sit-in movement, those were four students at North Carolina A&T University," he says. "They were 18, 19 years old, breaking the law." During the Civil Rights Movement, The Student Nonviolent Coordinating Committee (SNCC) was formed at Shaw University, a historically black college in Raleigh. In 2015, Charlotte's Bree Newsome climbed the 30-foot flagpole of the South Carolina statehouse in Columbia and took down the Confederate flag. She was arrested, but lawmakers moved to take the flag down permanently soon after.
"Here we are in Durham, in 2017," Freelon says. "A couple of weeks ago, a North Carolina Central University Student—a queer, black person—tied a rope around a Confederate monument and pulled it to the ground. That, to me, is consistent with the organizing work of other young HBCU students throughout North Carolina."
Freelon is proud of North Carolina's civil rights activists and excited about Durham's potential. There's no racial majority in the city, he says. (In 2016, Durham was 50.3 percent white and 37.2 percent black, while the U.S. at large was 76.9 percent and 13.3 percent. The Hispanic and Latino population was 13.4 percent and 17.8 percent, respectively.) There's power in that diversity, but there are also troubling trends in this rapidly growing and increasingly gentrified Southern city.
"In Durham, we have the highest income inequality in the state of North Carolina," Freelon says. "We have 40 percent poverty in black and Latinx communities. We have 800 evictions a month. We have disparities in the criminal justice system. There is a lot of work to be done."
People in these situations know what their needs are, Freelon says, but they're rarely asked because they lack economic and political power. Freelon knows that if someone is dealing with an eviction, they don't have time to come to a mayoral candidate forum—they're more concerned about survival. Solutions come from listening, and from addressing the structural issues that have displaced minority and disadvantaged families. They come from going to housing projects like Durham's McDougald Terrace—"The Mac," as it's called—and meeting sidelined citizens where they are. This is what Freelon does.
"It's one thing to say you have certain values," Vincent says. "It's another thing to actually live the values you say you have. This is not campaign rhetoric, this is who [Freelon] is."
Merch for this release:
Compact Disc (CD)
Throughout his career, Vincent has learned that public figures are most effective when they are honest about what they believe. That's how Obama succeeded, he says, and it's a quality Reverend Barber shares as well. Vincent also believes that the electorate is more informed than they're given credit for.
"People are not stupid,"  Vincent says. "I think a lot of times some candidates want to pull the wool over the electorate's eyes and make them feel like they're talking to them, when they're really not."
Freelon finds that approach repugnant, using a hip-hop metaphor to break down the hypocrisy: "A lot of what you hear from politicians is like a Top 40 rapper's version of a wack verse," he says, "which is like 'Hi, I'm such-and-such. I'm a good, Christian, heterosexual, white man. Vote for me because I believe in values and safe communities and creating jobs.' We've heard that verse before, like a million times. And we all know that it's not true. There's more to the story."
To Freelon, civil rights leaders like Malcolm X and Martin Luther King Jr. were both, in their own way, MCs. King was a master of metaphor and cadence; to prove it, Freelon launches into a few lines of King's famously melodic "I Have a Dream" speech. "That's a dope verse," Freelon exclaims, when he finishes. "I think that he would have been an excellent politician because of the way he wielded the spoken word."
Truth to Power
It's getting late and Freelon is starting to yawn. He's eaten, he's relaxed, and we've taken a few minutes to talk about something other than politics (it turns out he really knows his Star Trek). As our conversation closes, he's got tired-but-satisfied look of someone who's put in a hard day's work at a task he considers important. The mayoral campaign hasn't left Freelon much time to make new music, but he's told his bandmates that he's going to have a lot to write about after the election.
And what if he wins? Off the top of his head, Freelon can't think of any other people in public office who are active performing artists, but that doesn't mean it's off the table. As he sees it, politics and art often have the same origin. "I wouldn't bother making music if I wasn't honest and speaking truth to power," Freelon says.
As he gets up to leave, he stops to say hello to two friends who have dropped by after a Black Wall Street meeting. They chat for a few minutes, and then Freelon bids them a good night and steps out the door, just another young Durhamite, downtown on a Wednesday night.
—Corbie Hill