FEATURES
How an Album Meant for Scientific Research Became Therapy for Its Co-Creator
By Aaron Carnes · September 25, 2018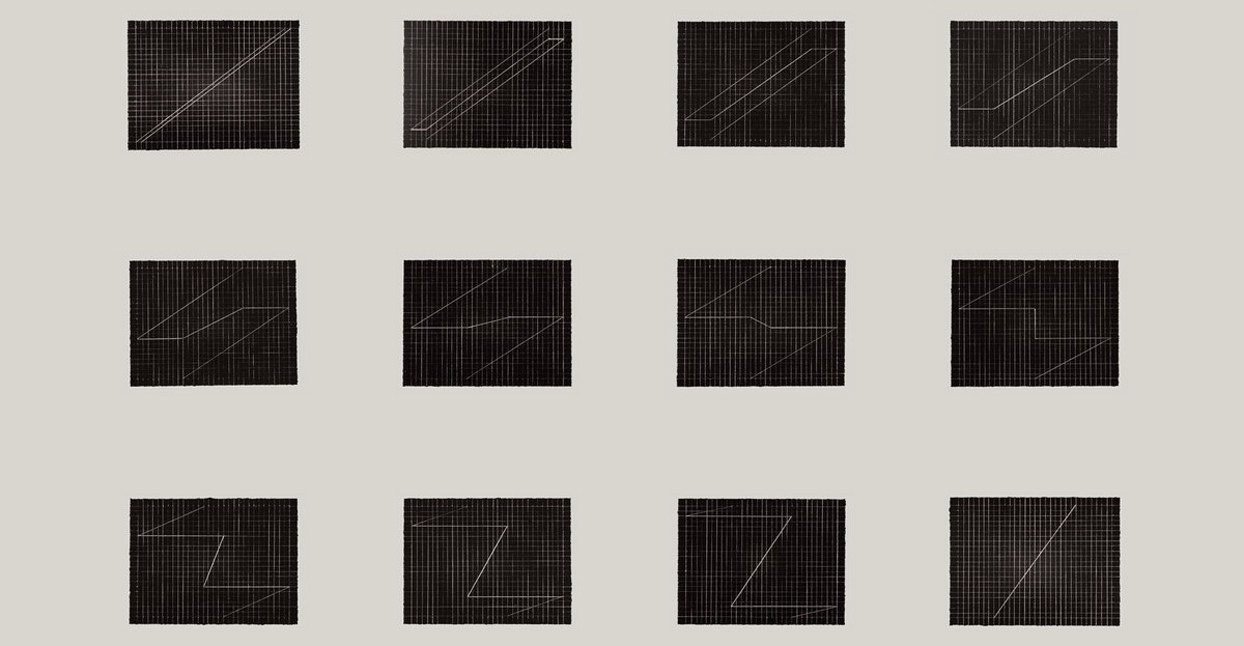 In 1982, musicians Paul Voudouris and Chris Spheeris co-wrote and released an ambient album called Passage. It was different than anything they'd done to that point and, perhaps for that reason, it didn't sell well. Still, 36 years after its release, Passage still occupies a special place in their hearts—Voudouris says he listens to it once or twice a day. "It's the perfect music. Not because I did it," he says. "I'm overly critical of everything I do. I think it's the lack of melody and structure which gives it longevity for me."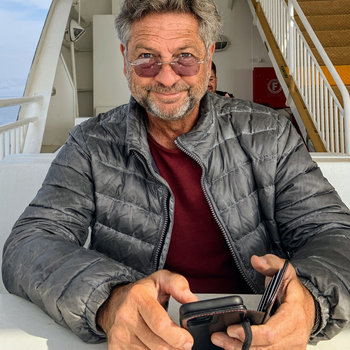 .
00:10 / 00:58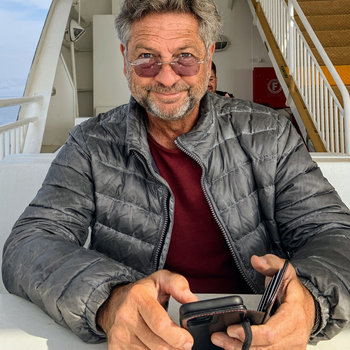 Before Passage, the duo played in a progressive folk project called Spheeris and Voudouris, and then in an avant-pop group called Primal Tech. The two have known each other since they were 13. Voudouris was born in Libya and grew up in Greece, where he met Spheeris, a Greek-American whose family had recently moved there. After Passage, they went on to have successful solo careers in the new wave and New Age markets. In 1989, the two reunited to release Enchantment, a New Age album that was a massive commercial hit in Spain.
Passage was commissioned by a biofeedback company that wanted to use the record as musical therapy for people with nervous disorders. The company hired Voudouris and Spheeris just as they were breaking up after six years of playing together. Recorded and mixed in a single day, Passage doesn't have any distinguishable melodies, just a twinkling mixture of electric and acoustic guitars and faintly burning synthesizers create a wash of delicate sounds that approximate the mood of the sun setting on an alien planet.
The record is meant to take listeners through the range of human emotion: Opening song "Prism," with all its seething intensity, is meant to portray the listener's state of stress and anxiety. By the time the title track rolls around, the record falls into a deep state of peace, with gentle strings and airy synths meant to convey serenity.
"You're capturing a person in that sphere of where they probably are at that moment, and from there begin to shift sonically into the more slow kind of things," Voudouris says of Passage. "Usually by the start of [song] 'Passage,' or two or three minutes into it, I'm gone. I'm asleep or in a deep meditative state. There's nothing to grab hold of. It's just the sonic fabrics that works for me."
.
00:10 / 00:58
The field of biofeedback began in 1969 by Barbara Brown, a veterans administration electroencephalography researcher. Brown contended that, through the power of your brain, you can learn how to control otherwise automatic bodily processes like heart rate, muscle tension, blood pressure, and skin temperature. There's debate about which specific conditions biofeedback is supposed to be able to treat, but some examples include headaches, high blood pressure, chronic pain, anxiety, and urinary incontinence.
The story of how Voudouris and Spheeris were approached to create an aural accompaniment for this therapy is a blur. Voudouris doesn't even remember the name of the company that hired them. He and Spheeris were popular club-level musicians that played what could be considered pop-rock-folk music, albeit versions of it that existed on its fringes. They'd never recorded an ambient record before this.
"It was a left turn," Voudouris says. "To me, Passage was a logical step, provided that someone created an opportunity for us."
At the time, Spheeris's mother worked for a biofeedback company and, according to Voudouris, that's likely the reason why they were selected to record the music. They also lived in Sedona, Arizona, the mecca for alternative medicine. That probably didn't hurt, either. "I think anything that uses the power of the mind to help assist someone—as opposed to being medicated—is great," Voudouris says. "I liked the confirmation that by focusing my mind on certain pleasurable experiences, I could lower or raise my temperature or beats per minute."
As Voudouris and Spheeris prepared for their studio session, they drew diagrams and pictures that were based on time and frequency and could help guide them through the process. Then once they mapped out the LP, they invited synth player Vince Andrae to join them on the recording. The group also didn't have much money, which is why the entire record had to be recorded in a day with no overdubs. They only had one shot to get this right.
"When we went into the studio, we dealt with the parameters at that moment," Voudouris recalls. "Sometimes you don't have the bucks. Limitations help creativity."
Voudouris and Spheeris liked what came about and decided to press 1,000 copies of the record on vinyl. To this day, Voudouris doesn't know if Passage was even used for the company's biofeedback research. A few months after releasing it, the duo officially split up, hampering their ability to promote the LP. Sales were so slim that, three or four years ago, they both had records from the original pressing stowed away in their garages.
Voudouris says both he and Spheeris were contacted by a company that wanted to buy the rest of their inventory, and they happily obliged, selling the wax for $30 each. Later, Voudouris looked online and saw his music was on sale for €150 each (or roughly $177).
That's when Voudouris uploaded the digital files of Passage to all the major streaming platforms, simply because he liked the album that much. To his surprise, people started streaming and downloading the record, which opened up a brand new market for an otherwise forgotten release. Passage was officially reissued in August as a joint release between labels Emotional Rescue in the U.K. and Mountains in the Sea in the U.S.
"I give these guys credit," Voudouris says. "The artwork and everything, they put a lot of detail into making sure it was reissued in the best way."
Still, despite the fact that Voudouris listens to Passage every day, he's never really pushed it on anyone else. Ultimately, it's his own private therapy.
"We weren't out there to create a new therapy or even sell it as healing," he says. "Whether [or not] someone would go into biofeedback, we never thought about it. We never tried to listen to it that way. Ironically, years later, that's what I do, and for me it works."