FEATURES
Parris Comes Into His Own on "Soaked in Indigo Moonlight"
By Ravi Ghosh · November 30, 2021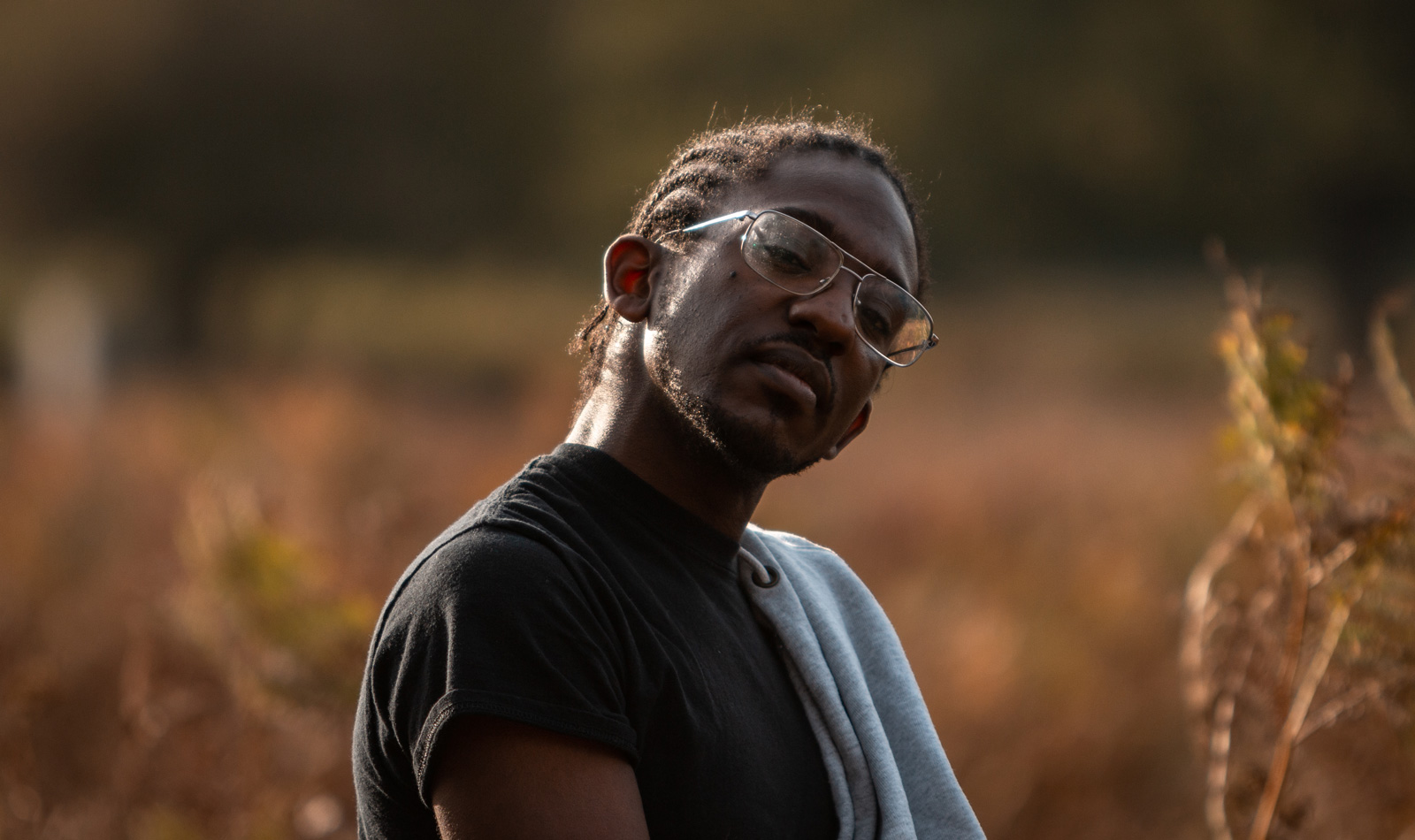 Around 2018, Dwayne Parris-Robinson was experiencing a serious bout of writer's block. At the time, the London-born producer (known simply as Parris) was still working mostly underground, having released a string of EPs since 2014 on UK dubstep-to-bass-focused labels like Tempa, Idle Hands, and Hemlock. He was also striking up relationships with other artists while promoting releases on his own label, Soundman Chronicles. His tracks maintained mid '00s dubstep's commitment to thick bass, while also reaching for more delicate melodies; they were club-influenced, but not club-exclusive. His 2017 EP, Your Kiss is Sour, demotes percussion in favor of oddball sound design and audio droplets from videogames; the title track, structured around a trembling two-toned chord sequence, is more cinema than club. 
.
00:10 / 00:58
Merch for this release:
Vinyl LP
"I was in a weird place musically," Parris-Robinson says. "Which was down to sonically not really understanding where I wanted to be." Having been embedded in London's dubstep scene from the late '00s—he worked at Tempa for four years beginning in 2013—Parris-Robinson was now starting to reject its culture and musical characteristics, especially its fondness for 140 BPM tracks. As a result, he was left in stasis in both his productions and DJ sets. Over the course of the last decade, the UK's burgeoning bass-driven electronic scene has been largely committed to developing dubstep's origins, with a cluster of producers (Pearson Sound, Kode9, Batu, Kowton) incorporating house, techno, and experimental sounds into richer, more dynamic tracks. Parris-Robinson found himself increasingly drawn to this world, but found it difficult to write dancefloor-ready music while staying true to his influences—pop music in particular. 
Fast forward to 2021, when Parris-Robinson seems to have cracked the code. His debut album, Soaked In Indigo Moonlight, is a high-energy collection of bright melodies, pop vocals, and propulsive dance tracks, its palette and range at times resembling his DJ sets more than his earlier EPs. So how did he get to this point? 
For one, exchanging ideas with Joe Seaton (aka producer and DJ Call Super) helped to give Parris-Robinson "a new sonic distinction," he explains. After meeting in Berlin in 2017, the pair began working on music together, resulting in two collaborative EPs: 2019's CANUFEELTHESUNONYRBACK and 2020's Design of a Body Sublime. The former showcases a direct approach, where listeners are instantly confronted with a track's core percussion, after which the compositions begin to layer and unravel themselves over a longer period. The pair chose to self-release both records, and their label Can You Feel The Sun (on which Parris-Robinson's new album appears) was born.
It was Seaton's sense of melody and movement that attracted Parris-Robinson, as well as his familiarity with European house and techno. "We kind of pull each other into one another's worlds," Parris-Robinson explains. "Poison Pudding," the penultimate track on Indigo Moonlight, is a collaboration between the two of them, and is the album's longest and busiest entry. After a staccato opening, it bursts open at the 90-second mark, breaking into a jungle shuffle before steelpan tones and a scaling melody arrive to give it a new shape. Parris frequently mentions Seaton's creative conviction: executing a vision without distraction. The two seem to complement each other. "I may struggle with an initial idea, but once I've got one going, I'm very good at structuring music," Parris-Smith adds. 
That confidence comes in part from the fact that he was surrounded by music from a young age; early training on the keyboard, trumpet, and tuba led to watching his uncle DJ at his grandmother's house. Rather than honing in on composition within a single tradition, his ideas of structure and narrative seem to stem from his exposure to huge volumes and styles of music. His impulses have been sharpened by years working for labels and in record stores (BM Soho until 2014; now as a label manager at Cargo Records), and the gaps between genres and eras have become sites of creativity. Indigo Moonlight marks roughly 10 years since he started producing. "But I still think I'm more of a DJ," he replies when asked whether the album takes precedence over soundtracking parties. "And that comes into how I hear musical structure."
.
00:10 / 00:58
Merch for this release:
Vinyl LP
Indigo Moonlight is driven by a practical rather than conceptual aim: to create eight to ten functional dancefloor tracks which reflect Parris-Robinson's tastes, influences, and everyday encounters. "Skater's World" began life as a lone drum track before Canadian vocalist Eden Samara added lyrics, her lines a paean to skating with Parris-Robinson in his native Clissold Park during lockdown—where they bonded over a love of Charli XCX and Caroline Polachek. Brevity is critical. When Samara's airy vocal turned the instrumental into a pop track, Parris-Robinson instantly cut 16 bars to stay true to the form. ("I'm always open to letting everyone shine in an idea," he says.) Her vocal arpeggio in the same key became the album's 20-second intro. 
Some collaborations emerged from fandom. Parris-Robinson's love for James K's vocal on Yves Tumor's "Licking an Orchid" led to her feature on "falling in the waves," an ethereal closing track where the album's heavier elements evaporate. "Contorted Rubber" and "Crimson Kano" are dancefloor experiments which resemble his EPs with Call Super, but with an eye for higher tempos. The latter is a response to a trend Parris-Robinson had noticed in clubs: DJs segueing from 160 to 120 BPM in sets using polyrhythms, something he wanted to emulate.
On the one hand, Indigo Moonlight is something of a disparate collection. Facta and K-Lone's recent debut albums on their own label, Wisdom Teeth, spring to mind as comparably hermetic projects, each warmer and softer where Indigo Moonlight is more kinetic, three-dimensional, and textured. 
"When you come from this melting pot of London, the most important thing is your sonic signature," Parris-Robinson explains (he now lives in Clapham, in the south of the city). "If I'm going to be an artist, what's making me different from anyone else?" Those kinds of questions offer an insight into Parris-Robinson's broader outlook. They reflect a spirit of self-awareness—less an existential "Where do I fit in?" than a considered, "How can I express myself most authentically?" 
Parris-Robinson could have gone in several directions after the stagnation of his post-dubstep period. Instead of angling Soundman Chronicles towards house and techno, he chose to retire the project entirely. He says he's thankful that his earlier EPs remained fairly underground; he now has space to maneuver without being tied to preconceptions. To him, music-making depends on conditions that are best not forced. "Music is all about moments in time," he says. "And you don't have to force a moment to be longer than it is. I'm a big fan of something representing what it is there and then."