FEATURES
Japanese Punks OXZ Were Ahead of Their Time
By JJ Skolnik · March 19, 2020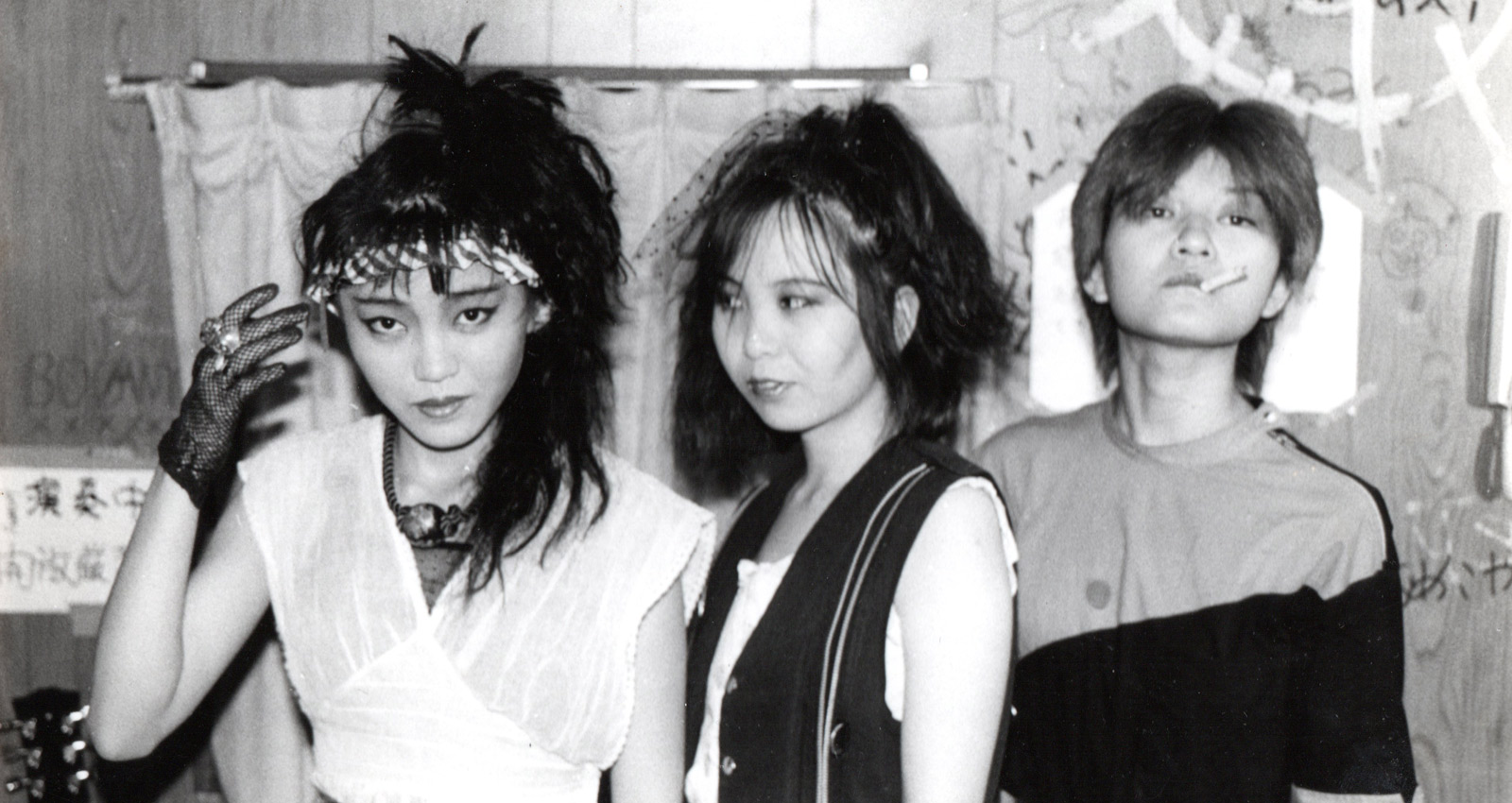 The Japanese '80s underground wasn't what one might call a welcoming place for bassist Hikko Yoshihara, guitarist Mika Hiwatashi, and drummer Emiko Ota, three young women who were more interested in making their own racket than going the pop idol route. This wasn't endemic to Japan, of course—excluding the contributions of marginalized genders from musical canons is an ongoing and popular project worldwide—but as Japanese feminist critics have shown, Japanese women often still must contend with prescriptive gender roles. While Shonen Knife were able to lift off into a fertile, lifelong career with help from American labels like K Records and Sub Pop, other punk trailblazers like The Comes and The Nurse have only recently been granted their places in history.
With their big, dyed hair, dramatic makeup, and gloomy song titles, one might mistake OXZ for goths. And sure, there's definitely a little bit of dark post-punk inflection to their music, but on the whole, they were much too adventurous to fit any generic conventions. "Fall in the Night," the opening track to Along Ago, Captured Tracks' new complete discography of the band, is agitated and off kilter, with ghostly group vocals pushed toward the back of the mix, above abrasive guitar, sharp percussion, orchestra hits, and synth noises in the chorus that sound like metal slicing through the air. The bass and drums clearly drive the songwriting, rather than the guitar, which serves almost purely as texture and punctuation. "We didn't have any specific musical styles in mind [when we started to play], but we eventually started to add more blues music and irregular rhythms," says Ota. ("Fall in the Night" dates from roughly midway through their eight-year career which spanned '81 to '89.)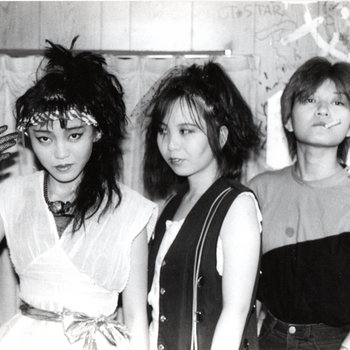 .
00:10 / 00:58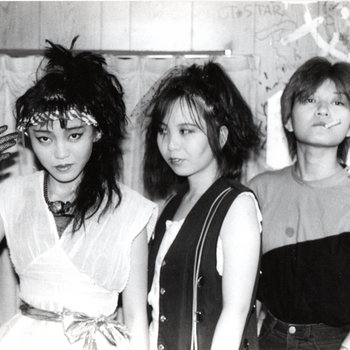 Merch for this release:
Compact Disc (CD), Vinyl LP
OXZ grew from the three members' friendship and shared love for music—the most common band origin story there is. (Hiwatashi and Yoshihara were actually in the same high school music club as the members of Shonen Knife.) Ota, who started her musical training at the age of five, had already started writing original music when the group formed; they started off mostly as a cover band, though. "We started to play each instrument for OXZ by covering songs, but I liked to write some poems as well. It came naturally, writing original songs and singing what I felt, more than playing cover songs," says Hiwatashi.
Growing up in the western Kansai city of Osaka, the underground scene OXZ found themselves in was a little bit more unorthodox than the Tokyo punk scene of the eastern Kanto region (the rivalry between the two districts is storied), and a little bit more willing to accept a trio of young women who were making intuitive music that followed the principles of freedom, roughness, and aggression rather than any direct genre references. Music historian Kato David Hopkins, who got to see the band when they were around, makes specific note of the Kansai scene's more freewheeling nature in his liner notes to Along Ago.
"There were metal bands, punk, hardcore punk, avant-garde, noise, new wave and visual [kei] music, all actively coming up at the same time," says Yoshihara. "We often played with punk bands, but didn't feel like we totally fit in. We felt musically like outsiders. We did not think that people were interested in our music." Hiwatashi adds, "I felt like everybody was surprised to see us when we started to play at some venues in 1982, 1983. After that time, there were more and more hardcore punk bands that came up, and I felt different."
.
00:10 / 00:58
Merch for this release:
Compact Disc (CD), Vinyl LP
Despite feeling a little bit like perennial outsiders, they had a great time playing together. Ota describes their time together as a "special feeling," and Hiwatashi says, "We are like sisters, close friends." They lived together for a short time, and weathered the common tribulations of being a band with no money on the road: "When we had recording sessions in Tokyo, we didn't have money to stay at hotels. We were sleeping in recording studios for some days and went to public baths together," says Yoshihara.
The band put out a few EPs—the self-titled OXZ 8-inch (1984), Fall in the Night (1985), And Blue and Bleed (1987), and a promo-only flexi with Gyoza Daioh and Yōran, which was given away for a Night Gallery Records live show the three played together in 1985. All of this and more is compiled on Along Ago, which shows a band with range and no shortness of ideas. There's the catchy "Boy Boy," the closest OXZ get to new wave; two different versions of the excellent "Etranger," which roils with raucous energy during the verses before flipping to a poppier chorus; and the driving and dramatic "Touching My Heart." Though they're not carbon copies—how could they be—they remind me most of a band like the Raincoats, music proudly for weirdos by weirdos, music built from sisterhood. "The lyrical themes [throughout our career] were anti-authority, solitude against [the] majority, 'people don't seem to understand us,'" says Hiwatashi. "I think our music had an impact on people, but we couldn't be a popular punk band. But those who loved our music, they came [to] every concert," says Ota.
The group came to an end naturally when Yoshihara decided to move in a different direction with her life; OXZ was her first and only band. Hiwatashi and Ota moved on to a group called Playmate, which Hiwatashi kept playing in after Ota left for Paris. Playmate put out a record on the storied experimental label Alchemy Records, as well as one with Kato David Hopkins's label. After taking a few years away from music, Hiwatashi now plays in another band called Bluedie. Ota has gone on to accrue one of the widest resumes in music—who else has worked with Rihanna, Fantazio, Acid Mothers Temple, Otomo Yoshihide, Les Elles, Urban Sax, and actor Yoshi Oida? She also continues to play in her own bands, Emiko & KiriSute Gomen, which she describes as "minyo psychedelic surf," and the folk and dance troupe, Burei Ichi.
All three are thrilled with the release of Along Ago, and are thankful to Captured Tracks for reviving interest in OXZ, a project they see as timely in an era of popular struggle. "This reissue album of OXZ, I don't think it's a coincidence it's happening now. When I began playing with OXZ, it was one of [the] first girl [bands] in Osaka," says Ota. "That's not a coincidence, either. Please, listen and feel it. We have to move each person even with the little things we do. Power to the people, especially for women."