FEATURES
Colombia's Ondatrópica Contextualize the Music of the Tropics
By Amaya Garcia · March 06, 2017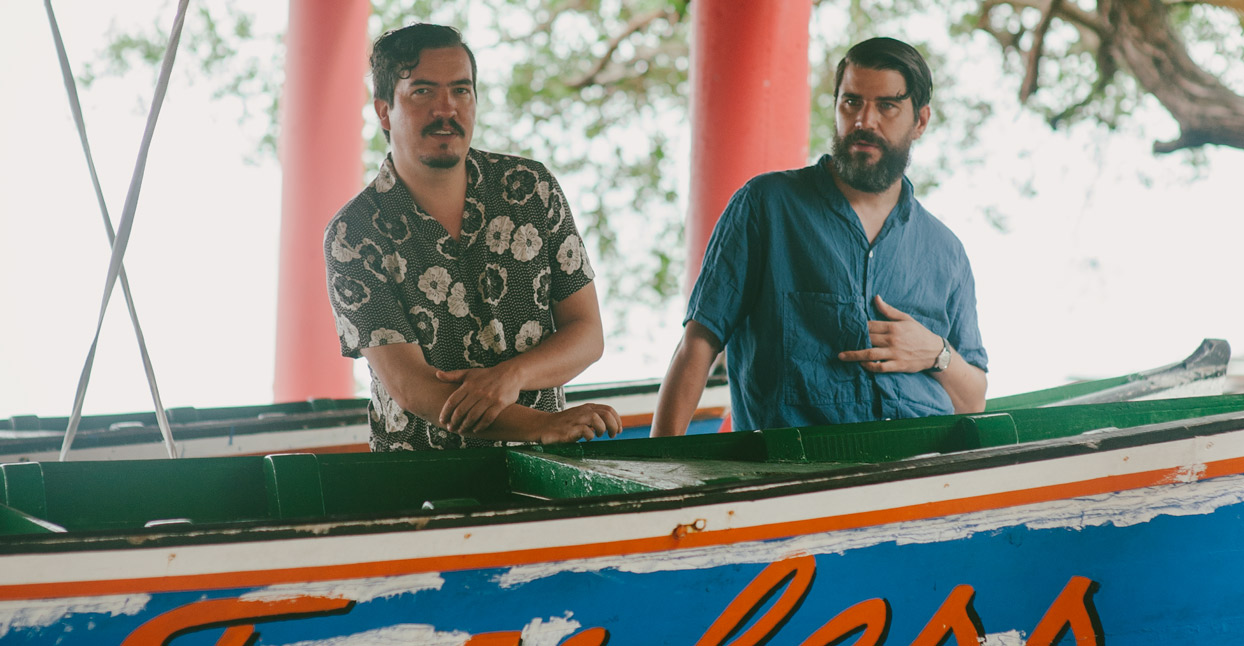 In the last few years, tropical themes have made a comeback in pop, with everyone from The Strokes to Diplo to Mike Posner leaning toward the equator through sounds, instrumentation and even the color palettes in their music videos. Most of these references coming from the mainstream are devoid of the historical, social and political contexts of the tropics, though. A good start in that direction is the music of Ondatrópica.
Since forming in 2011, the Colombian supergroup helmed by Mario Galeano and Will Holland —known as Frente Cumbiero and Quantic, respectively— has taken an overtly political stance in re-contextualizing tropical genres, specifically those tied to Colombian folklore and popular culture. As researchers and record collectors, they've been slowly studying the music and artists coming out of the golden age of the Colombian recording industry (roughly through the '40s, '50s, '60s and '70s) and incorporating in their own music, the production techniques, instruments and artists whose contributions to the country's musical canon have been overlooked or forgotten through the years. The result of their search was recorded in their first effort, 2012's Ondatrópica, which featured a total of 50 musicians from different generations giving a nuanced (and delightful) contemporary update to styles like cumbia, salsa, and vallenato.
.
00:10 / 00:58
Merch for this release:
Vinyl LP
After a long stint touring with their live band, Galeano and Holland went back to the drawing board with a new interest —exploring the intersections of the former colonial powers of the Caribbean (English, French, and Spanish), with indigenous styles. Focusing on the sounds they have in common and working from there, the end result is Baile Bucanero, an album recorded between Isla de Providencia (a Colombian island in the Pacific which was colonized by the British) and Bogota. Ahead of the album's release, Mario Galeano spoke to us from Bogota about the ideas behind Baile Bucanero.   
Baile Bucanero's main premise is about centuries of traveling and movement, specifically movement between cultures. Why did you guys decided to create your album around this concept?
The first record that we did, we did in Medellin, which was traditionally the recording epicenter of Colombia. All the bigger labels were based in Medellin. So, when we did the first recording, we wanted to be there, use the studios of the city and look at the technology, the way the industry there approached their recordings and their sound. With this new record, we wanted to explore a different story. We wanted to show a bigger picture of the Caribbean. You know that in the Caribbean we have the French Caribbean, English Caribbean, the Spanish Caribbean… The language changes but the sound is so mixed. In a sense of globalization, I would say the Caribbean is the first experiment of globalization in the world. So, we wanted to look at that and say, 'Look, even though we are playing a porro from Colombia, we can bring some elements of calypso into it'. We're basically trying to cut the boundaries of language, instruments, styles, and show how they are the same thing. That's kind of the idea.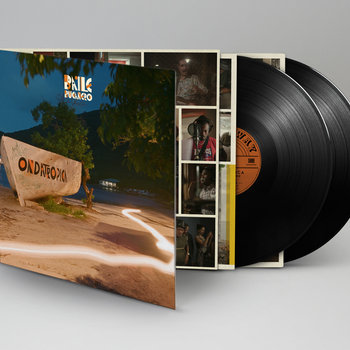 .
00:10 / 00:58
Merch for this release:
Vinyl LP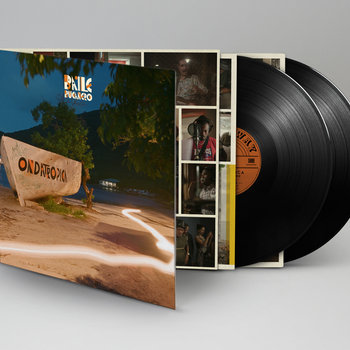 Lyrically, Baile Bucanero is very picturesque. What type of stories did you guys want to tell?
There's a whole bunch of different things. For example, there's a song that we recorded called "Bogota", and it's basically a song that Michi Sarmiento—he's the sax player and 77 years old—he wrote that song the first time he came to Bogota like 60 years ago. It was never recorded. We thought it would be a very cool opportunity to take this song and record it because there aren't many songs praising Bogota. Since it's the capital, it's basically a city that, to the rest of the country, looks very chaotic, very tough, there aren't many love songs dedicated to Bogota. Then, there's other songs like "Mar a Mar," which was written on the spot by Nydia Gongora, and it's just about the experience of being there and exchanging the music of the Pacific and the islands. There's also one that I did, it's called "Malaria." I got malaria in Africa last year, so I thought I would make a song about it. Those are basically the stories. They're different views. It doesn't have a linear approach. There's not only one way of approaching the lyrics, they're very different.
For your first album, you recorded with an incredible amount of musicians from very different social, cultural and musical backgrounds and varying levels of expertise. Why is it important for Ondatrópica to mix musicians of different generations?
This has been the spirit of the project since the beginning. For the first album, we recorded a total of 50 musicians, and for this second one we recorded around 40. You know how in Latin America the scenes are so divided? The salsa scene doesn't mix with the electronica stuff, jazz people don't mix [with other scenes]… All of these different dialogues are important and we believe that this is the way we could reach deeper into the fiber of the music and just start understanding better this bigger dimension of Latin music. The new record was done on a Colombian island where they speak English. It used to be a British colony centuries ago, so they're closer culturally to Jamaica or [the] Cayman Islands than to Colombia itself. They have this culture more rooted in more Anglo-Caribbean styles like mento, reggae, ska, and mod.
We didn't want to do fusion, because [that's] have already been explored so many times in Latin music. We were looking for the roots that link these sounds together. In the end, it was like a gathering of musicians in the studio just exchanging points of view, music and melodies.
You also recorded in Bogota as well as in Providence Island. How was the recording process? In terms of contributions, how was the work divided between the 40 musicians —was it collective or did it function more as sessions?  
We were kind of a collective. Of course, Quantic and myself are the directors… But, at the end of the day, the record has three songs by Quantic, three songs by me, and the rest of the eight tracks are from different people from Providencia, Cali [and so on]… each one brings their own compositions and we kind of arrange them in the studio, we mix them, we give ideas, and in the end it's like a big collaborative process. Not all of the musicians are giving super key ideas, composition-wise. Some of them are percussionists and back up singers, piano players, guitar players, that we give the harmonies to and they give their own flavor to them. But, we wanted to mix all of these sounds. On the islands, they have all of these different instruments like the jawbone that they use in their music, the top bass… so we kind of wanted to put all of these sounds into the mix.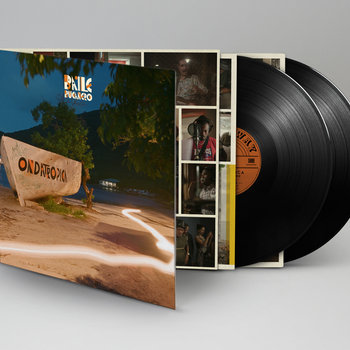 .
00:10 / 00:58
Merch for this release:
Vinyl LP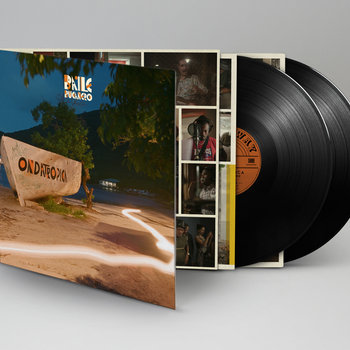 A lot of research goes into your work as Frente Cumbiero and for Ondatrópica as well, where I've heard you've taken it more into an ethnomusicological direction. Tell me about your research process. How do you and Will decide which sounds and styles you're referencing? 
I would say that it doesn't come so much from field research, but rather from recordings. William and I are very passionate record collectors, so we love all the music from the '30s, '40s, '50s and '60s. We're always looking for all of these old recordings that have these types of sounds that you don't find anymore in Latin music. Let's say the studio, even in the '30s, '40s, '50s, brings a kind of sophistication to the music of the countryside. So, all of those sounds that were recorded, the technology that they used, the mics, the processes, the reverb—all of those sounds, today, when you talk about the digital world of recording, it's something that is not present as much as before. So, we like to look more into those sounds from the decades before to bring them to the present.
Now that you're talking about production, were there any of those old recording techniques that you adopted for this record? 
We've been doing this exploration for many years prior, using spring reverbs, tape delays and approaching those techniques from decades past. Production, of course, is very important. If you sometimes lean too much towards the modern techniques, you may reach a modern pop sound or more commercial sound that is so saturated in today's industry. In Colombia, there's this big thing called tropi-pop. These guys are using all of these tropical sounds, but recording with very standard guitar sounds, very standard drum recording sounds. So, we try to look at it [another] way, because even though we're using the same material [and the] same rhythms, the sounds should be different than [those of] tropical pop and Latin pop. I think that's the answer, to look into these different ways of producing it, rather than sticking to the mainstream ways of doing that.
You know how the industry always wants to give you the freshest thing, the freshest sound? We're kind of against [that] concept of thinking. In a way we think that looking back gives also a fresh approach to what live bands [and] recordings sound like today. I think that we like to think ourselves in a bigger world, a bigger time frame, thinking that the music that was done 50 or 40 years ago is still fresh today.
In terms of the legacy of Colombian music and culture, where do you see Ondatrópica's place in it?
I see that we are bringing to… the ear of the listener sounds that are really not available anymore. People are now just focusing on digital media and there's a whole bunch of artists and a whole bunch of culture [from the past] that is [not as exposed to the mainstream]. We would like to think of ourselves as a kind of reminder of the powers of Colombian music—the powers of tropical music, the history and the depth. We think of ourselves as a political statement, of what tropical music is and should be.
—Amaya Garcia