FEATURES
Nyokabi Kariũki Illustrates Home on "peace places"
By Vanessa Ague · March 03, 2022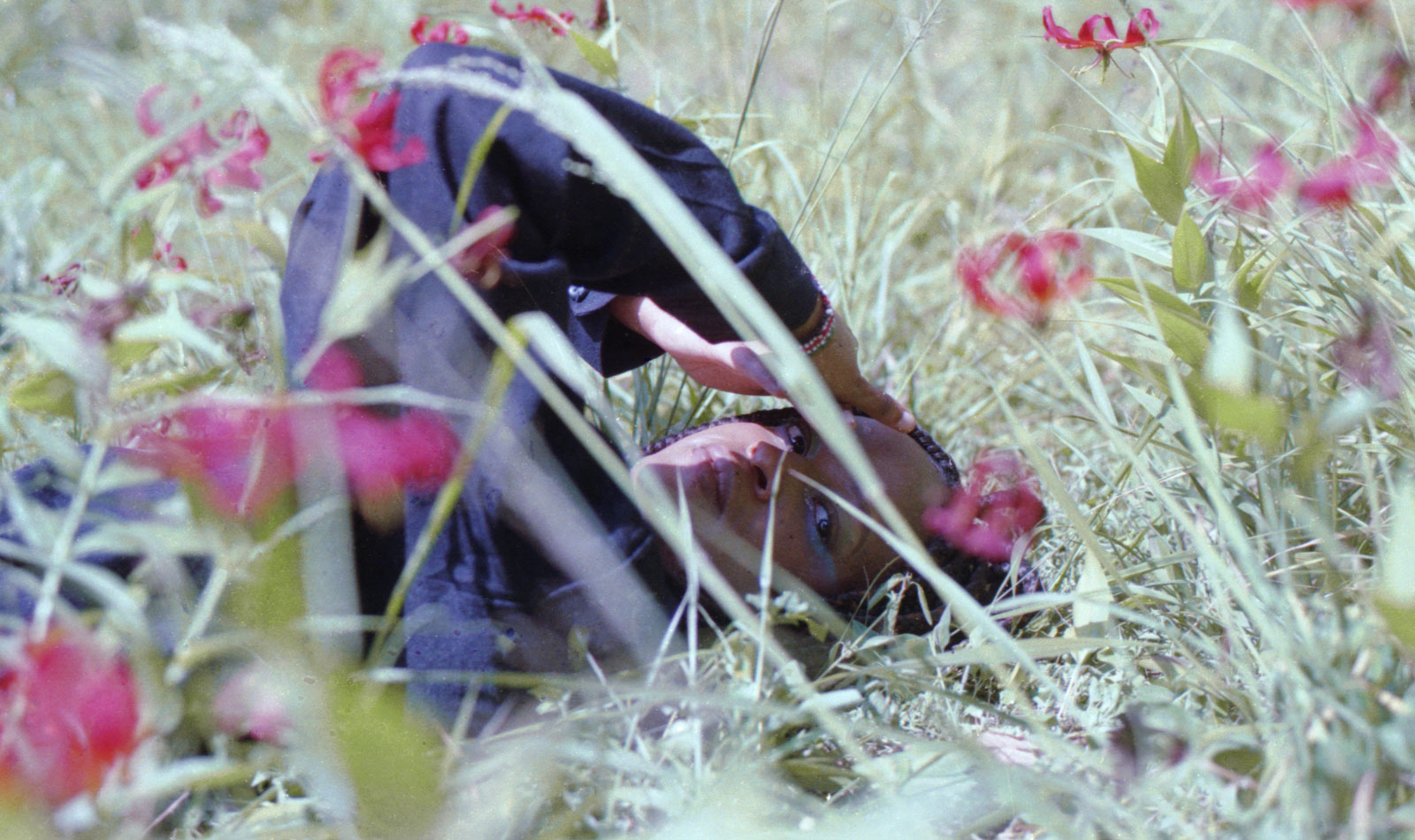 Nyokabi Kariũki wanted to illustrate home when she started working on the six pieces for her new EP, peace places: kenyan memories. At the time, she was living between New York and Maryland, far away from where she was raised in Nairobi. She didn't know when she'd be able to safely return to Kenya because borders were closed due to the pandemic.
So, she began imagining her favorite places in Kenya. The first that came to mind was Galu, a coastal town with a sprawling beach. She envisioned the bright blue hues of the ocean and started creating a graphic score, which is a style of music notation that uses images instead of traditional dots and lines, using photos she found on Google and brush strokes of paint. But as she wrote "Galu," she hit a roadblock: It wasn't working as a concert piece. Instead, it made better sense for the music to be digital. "It was very freeing to just let go…and see what weird things I could do with the electronic realm," Kariũki says. She then started composing other tracks that were inspired by other places she loves from Kenya, dubbed "peace places," by gathering audio from videos she had on her phone. Those pieces eventually became the EP peace places.
On the EP, which has album art painted by Kariũki's childhood friend Naila Aroni, bird chirps fold into fuzzy electronic clouds and chopped-up voices. Every track ventures to a different place using textural sound made of field recordings and vocals, as well as different percussion instruments, like kalimbas, mbira, piano, vibraphone, drumset, and gyil. The EP was a way for Kariũki to explore her newfound interest in electronic composition to celebrate Kenyan languages and places.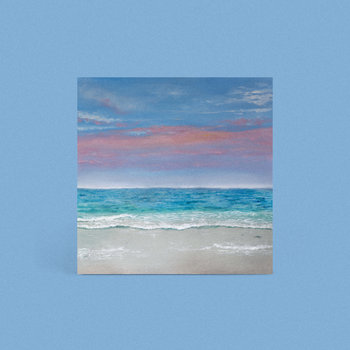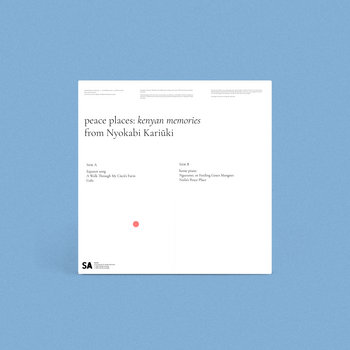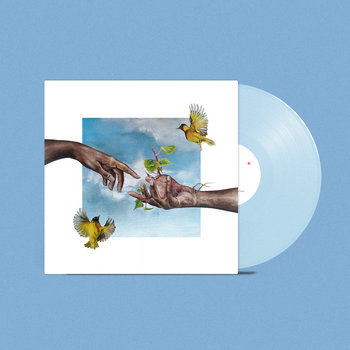 .
00:10 / 00:58
Merch for this release:
Vinyl LP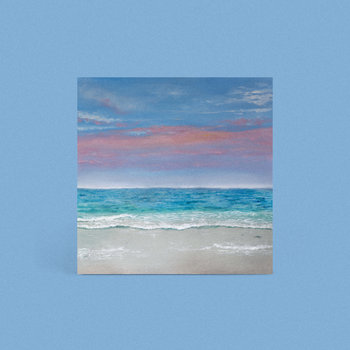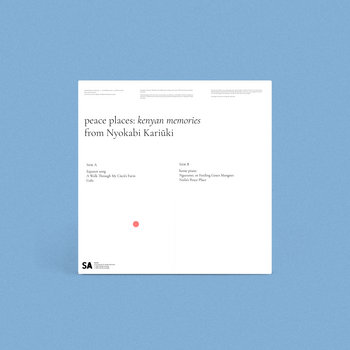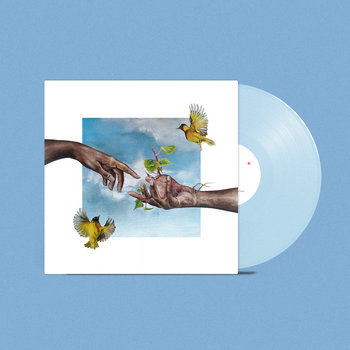 Kariũki's musical journey began around the age of five with classical piano lessons, but her spark for composition wasn't ignited until one day when she was 14 years old. She and her father had gone to the movies to see Life of Pi (2012), but it was sold out. They saw the next movie available, which was Cirque du Soleil: Worlds Away (2012). At the time, Kariũki had no idea what Cirque du Soleil was, so when she saw their soaring circus dances, she was surprised (and she didn't love it). But she did love the score. "The music was gorgeous," she says. "I was engaging with the music in a way that I had never thought about before." After the film ended, she told her father she knew she wanted to be a composer. She's been composing ever since.
In the fall of 2016, Kariũki moved to New York to study at New York University. She realized that many of the students there had enjoyed opportunities at young ages that she didn't have, like appearances at summer festivals and competitions, that prepared them for the rigor of composition school. When she started college, she thought modern composers only wrote film scores. But she quickly started to learn about whole new worlds of composition. "I wanted to do everything. And I still do," she says.
At school, Kariũki spent much of her time focused on writing works to be performed live. But the circumstances of the pandemic, and virtual coursework, encouraged her to start working in digital mediums. She started a project called 634: A Quarantine Sound Journal, in which she took recordings of her environment at the same time every day and stitched them together. Later, she expanded the project to include recordings from friends across the globe.
634 marked the beginning of Kariũki's work with electronic composition, which she expands upon on peace places. Similar to her sound journal, many of the recordings on the EP are from snapshots she holds dear. Most of them were unplanned. "A Walk through my Cũcũ's Farm" (cũcũ is the Kikuyu word for grandmother) features a recording of her mother exclaiming in Kikuyu how difficult it is to pull an onion out of the ground. It's a special memory for Kariũki, even if listeners aren't familiar with the context or the language. The track also uses audio from a video she took while she and her brother tried to close the doors that housed her grandmother's cows. Kariũki's voice can be heard saying "Let it open, let it open," though we aren't directly told what's being opened.
When thinking about electronic music, Kariũki is particularly inspired by the writings of Cameroonian composer and author Francis Bebey. He played a number of traditional African instruments, like the sanza, and created what he called African electronic music. "I was like, whoa, this is what I'm doing, but this is me from however many years ago," Kariũki says. "I found out he had a book called African Music: A People's Art and it was just so special to me to read, because I think oftentimes when you're looking back on the music makers of Africa, what you have is recordings most of the time, so it's just really special to see words and someone saying what they think of the music at the time and for the future as well."
Not all the recordings on the album are Kariũki's. The last track, "Naila's Peace Place," is an illustration of one of Aroni's favorite places, a coastal town called Lamu that doesn't allow cars—instead, boats or donkeys transport people. Kariũki hasn't been there, but Aroni and her other friend visited and discussed how surreal and magical the town felt. In the music, voices swirl around a pulsing vibraphone and clouds of electronic fuzz. Spoken words emerge: "Naila, how happy are you?" and "It doesn't feel real, this place, it just doesn't." It's meditative music, a celebration of the beauty of Lamu. "It sounds like joy," Kariũki says. "And [there's] this idea of time-stretching joy and just freezing that moment and marinating in it."
The idea of home being a source of both comfort and discomfort is a running undercurrent throughout the EP. Kariũki wanted to make music that showed both the joyful moments of being home as well as the difficulties. Her music lets dissonances and consonances seep together, especially on tracks that heavily feature bird chirps, which at times grow cacophonous. "Peace maybe always does come with disconnect and dissonance and that's still part of it, and maybe there's a bit of home in that as well," she says.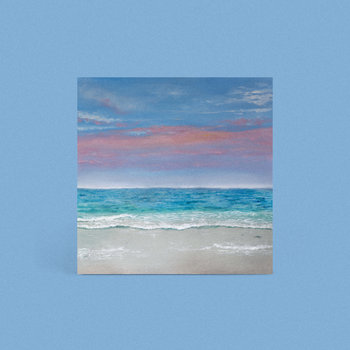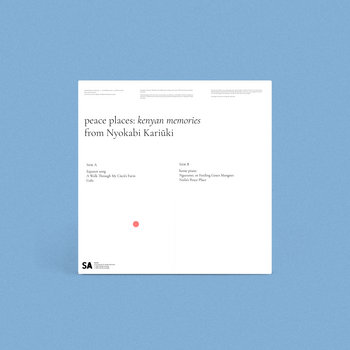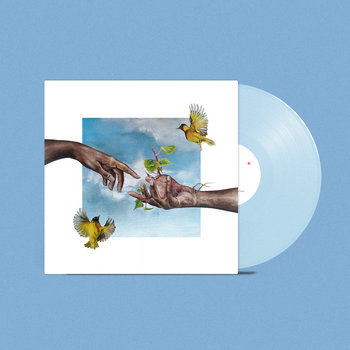 .
00:10 / 00:58
Merch for this release:
Vinyl LP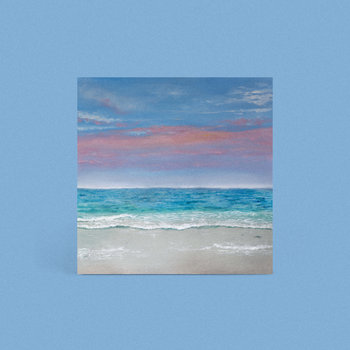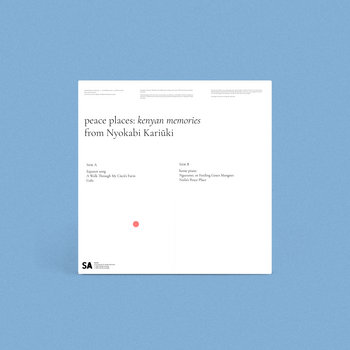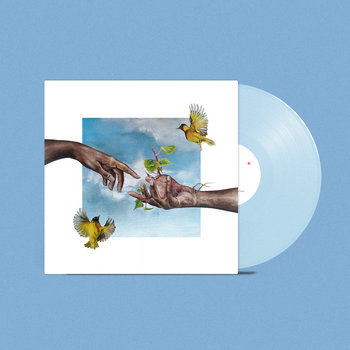 Kariũki was home in Nairobi when the EP was released, which was special for her. In her music, she hopes to show people that experimental music exists in Kenya, too, and to celebrate these peace places with others who live there (on the release day, she organized a listening party in Nairobi). There aren't many instances of African languages appearing in experimental music either, and on peace places, Kariũki wants to showcase them. "We can have fun with them and revel in what they sound like and how they feel in your mouth. There's so many different ways that we can tell African stories and it could be weird and experimental and people can engage with that, regardless of whether they understand or not," she says.
Now that peace places is finished, Kariũki is starting to focus on new works. Some of them will build on her new passion for field recordings, while others will explore the concert stage. Each takes on a different trajectory. That's what excites Kariũki most. "I'm always pinballing between different spaces because it's just so much fun," she says. "There's just so much that you could do with sound."