FEATURES
Nuovo Testamento Embrace Pop Life
By Andi Harriman · March 17, 2023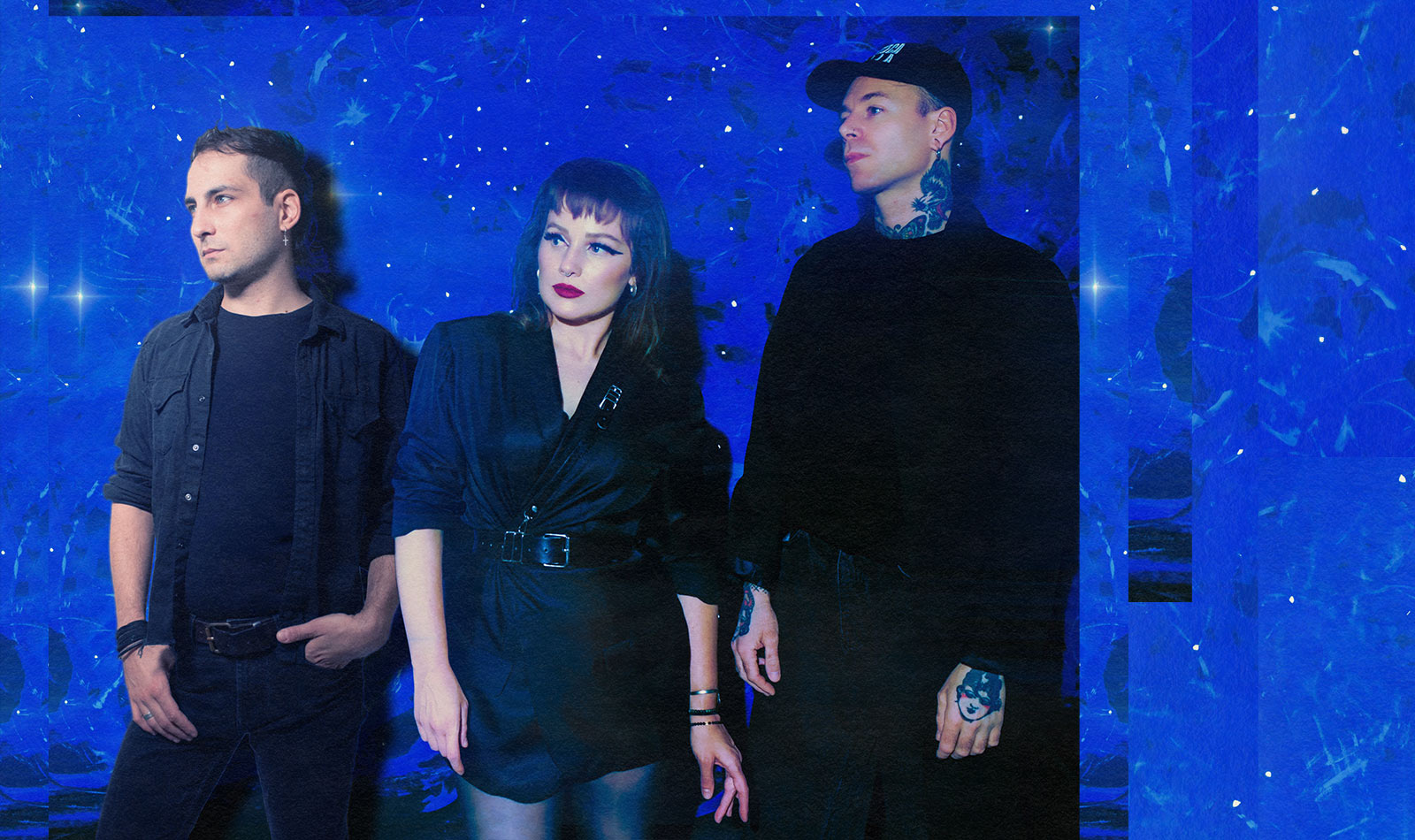 "When in doubt, what would Madonna do?" responds Nuovo Testamento's vocalist, Chelsey Crowley, when asked of her inspiration.
It might be a surprising answer, coming from the former frontperson of the brooding death rock band Crimson Scarlet. But like Crowley, Madonna has morphed sounds and waltzed through subcultures all her career. Over a Zoom call, Crowley sits in from Los Angeles with Giacomo Zatti, while Andrea Mantione is connected from Bologna, Italy. Zatti, who programs the machines (and performs live with an electronic drum set), and Mantione (on synthesizers), also come from the underground like Crowley. Whether playing in anarcho-post-punk or hardcore bands, their footing has always aligned in the shadows.
As one might guess from the Madonna reference, though, Nuovo Testamento's new LP Love Lines is pure pop music. It is lush and nostalgic, with a sheen that some subcultural denizens might be afraid to admit they love. It's music that could easily have been made in the '80s. Nuovo Testamento has an arsenal of vintage synthesizers, and the ubiquitous mid-'80s Yamaha DX7 shows up all over the album. As a whole, Love Lines fits somewhere between the monumental hooks of Taylor Dayne and the sleekly produced spectacle of European dance icons such as The Twins or Sandra, all topped with glossy Italo disco arpeggiations.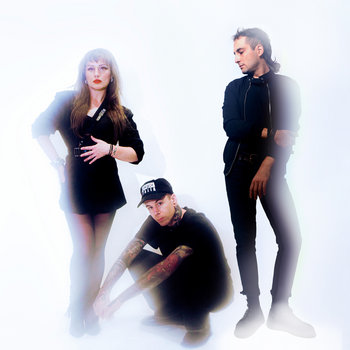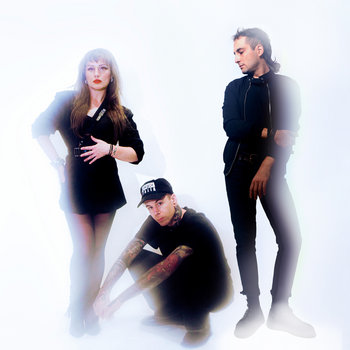 Merch for this release:
Vinyl LP, Compact Disc (CD)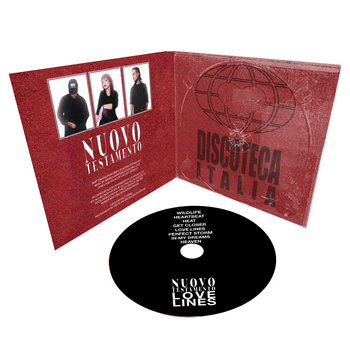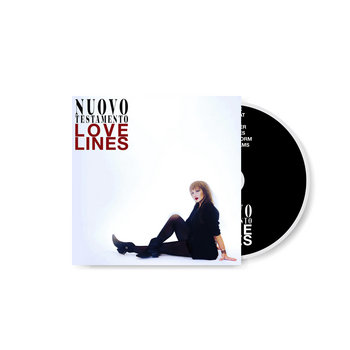 Zatti and Mantione formed Nuovo Testamento in 2018—but they've been friends for nearly all their lives, growing up together in a small town outside of Milan. Pop music was foundational— some might refer to the music they grew up with as "trash music," on 1980s Italian television shows and films such as Rimini Rimini (1987), Vacanze di Natale (1983), and Professione Vacanze (1986), whose soundtracks included Italo disco heroes like Righeira and Sabrina Salerno. ("Trash music is Italo disco and '90s Eurodance," says Zatti. "It's disposable music, music that's been overused by everyone.") The duo made a demo of their first songs with Zatti's vocals, despite his move to the United States in 2014. But it didn't take long for him to realize that singing isn't so easy: "Essentially, they planned on having it be just the two of them," Crowley explains; she joined the band soon after the initial demos. "Then, I started receiving panicked text messages that it's very hard to sing! Who knew?"
Their first EP, Exposure, was released in 2019 and, even though they aimed to make pop music, it didn't quite hit the mark—mostly because of the songs' register. "We played everything on the left side of the keyboard instead of the right," admits Zatti, who had never worked with synthesizers before Nuovo Testamento. "We wanted to be as pop as we could but we weren't ready." The lower notes didn't quite coalesce with Crowley's vocal range and the result was a restless darkwave offering à la Linea Aspera. "I think that's one reason why the first stuff we did was as dark as it was," says Crowley. "Everything after that started to evolve naturally."
Over time, their confidence grew—as did their technical abilities on programming synths—and the band progressed towards their ideal sound: a fusion of Italo disco, Hi-NRG, and freestyle. With 2020's LP New Earth on AVANT! Records, warmth radiated through the icy cracks. "Certain sounds and ideas were always in us but since we were playing different genres for so long, it was hard to see ourselves do something different," Zatti says. "It was hard to let go of certain things." But as they abandoned comfort, their sound moved more towards what they'd envisioned all along.
Merch for this release:
Vinyl LP, Compact Disc (CD)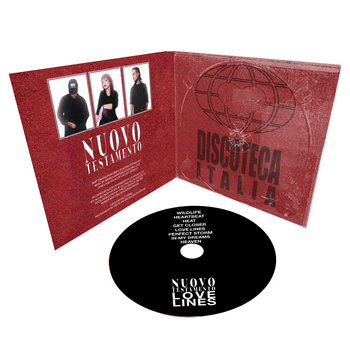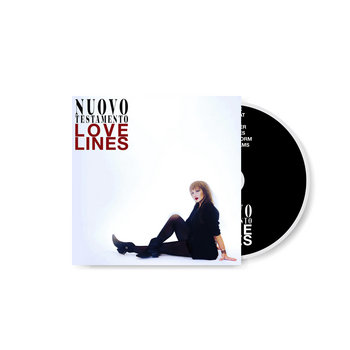 Love Lines, whose title invokes the racing excitement only a crush can bring—the flush of cheeks, the incessant flutter of the heart—is chameleonic in its sound, much like the output of the Pet Shop Boys. "[They] are the template for everything," says Mantione, whose synthesizer parts mimic that legendary group's career-spanning transitions between dance genres. "Wildlife," the opening track, jumps right into a cyclone of synthetic brass melodies alongside Crowley's voice, which fuels the flame. "When you've lost control, the heat is animal," she growls.
Love Lines has plenty of moments of bombastic pop ecstasy, with Italo house percussive elements over funky grooves, but it's leveled out with darker, theatrical tracks that are tucked in-between as a buffer. The overall effect is sweet, but never too much so. With a dash of melancholy set to a sultry, mischievous swing, "Get Closer" and "Heaven" interject the album's brightness, ultimately proving they'll never completely abandon their dreary origins. The album's lead single, "Heat," blends it all together—a saccharine pop anthem with a sharp edge. "Boy you're looking for a fire. I'll burn it down if you don't give me what I'm dreaming of," Crowley warns, describing a tumultuous relationship. "Heartbeat," with its echoing voice pads and plucky bass, crashes into its fantastical chorus, while "In My Dreams" beckons to the Italo disco spirits of yesteryear (think the energetic catalogs of Fancy or Koto) with synth melodies that accent Crowley's vocal ability.
Merch for this release:
Vinyl LP, Compact Disc (CD)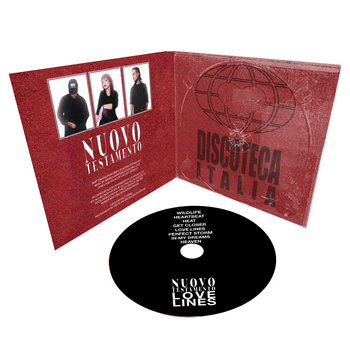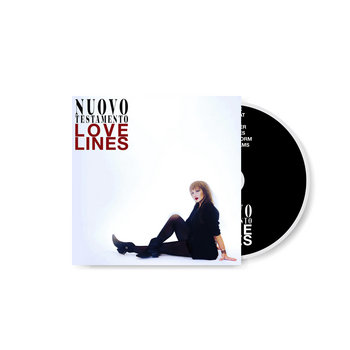 "There's something about pop music that resonates with the human experience and that's why it's so pervasive," says Crowley. "I think that's at the heart of it, because under everything else, under the goth and Italo disco influences, it's pop music that speaks to people." The band's metamorphosis from the cavernous bat cave into the luminous light of the disco ball proves that, just maybe, goths really do want to have fun. But like Madonna, Nuovo Testamento doesn't need validation from anyone. "I don't care anymore," concludes Zatti. "I like pop music and I want to make it."