FEATURES
On "When We Are," Bandleader Nubya Garcia Explores New Sonic Terrain
By Andy Thomas · March 22, 2018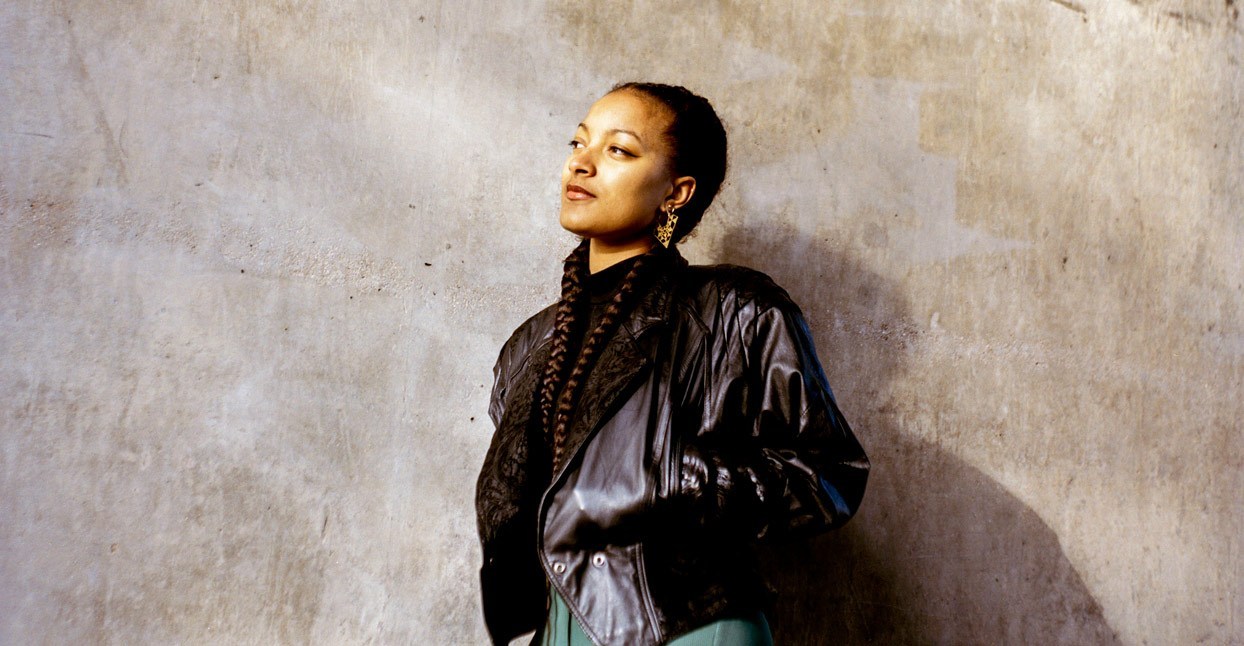 Nubya Garcia is a leader in London's young, club-conscious jazz renaissance. An accomplished tenor saxophonist, composer, and bandleader, she appeared on five tracks on Brownswood's We Out Here, the recent, era-defining compilation featuring fellow stars of the London jazz scene: drummer Moses Boyd, tuba player Theon Cross, and saxophonist/clarinet player Shabaka Hutchings (who curated the project). Garcia personifies the collaborative spirit at the heart of the scene as part of a number of collectives and a regular player at some of the capital's most creative nights. And, alongside the likes of saxophonist Tamar Osborn and trumpeters Yazz Ahmed and Laura Jurd, she's challenging the jazz scene's long-running gender imbalance.
[Listen to an interview with Nubya Garcia on Bandcamp Weekly.]
.
00:10 / 00:58
Merch for this release:
Vinyl LP
Brought up in a creative household in North West London by Caribbean parents, Garcia graduated from Trinity Laban Conservatoire of Music and Dance. She earned stripes as a member of Tomorrow's Warriors, the educational collective founded in 1991 by double bassist Gary Crosby, which has produced such talent as Boyd, Cross, and Hutchings.
"Tomorrow's Warriors were so incredibly welcoming and supportive throughout the journey I've been on, and so important to my musical development. They created an important community for all of us," Garcia said a few days before she appeared at this year's U.K. jazz showcase at SXSW in Austin, Texas. "When you are a 17-year-old kid, you don't really come across other people who play this kind of music. So it was so important that we had a hub. They have supported the younger generation of musicians coming up, and we are all indebted to them."
Along with her participation in Steez—a South London live music event—Garcia has also honed her skills as a member of Jazz Re:freshed, a steadily-growing underground movement that releases albums and books events. Jazz Re:freshed launched in 2003 as a weekly live residency in West London; over the years, Garcia has performed in a number of ensembles at the event, including the woman-led collective Nérija. Jazz Re:freshed also released her debut LP with Nubya's 5ive, a collective that included fellow Tomorrow's Warriors' alumni Joe Armon-Jones on keyboards, Daniel Casimir on bass, and Femi Koleoso on drums. Like those players, Garcia consistently explores the parameters of jazz and what it means for a new generation raised on pirate radio and club culture.
For her latest EP, When We Are, Garcia explores how electronics can be used within a live jazz setting. The EP was created as part of the Steve Reid Innovation Award, an initiative by U.K. music charity PRS Foundation to preserve the late jazz drummer's memory. The award provides a grant to artists to advance their creativity through mentorship, and to have their music released via a 12" singles series. Garcia was one of its first recipients of the grant in 2016, and with her quartet of Armon-Jones, Casimir, and Koleoso, she set out to give her sound a new, progressive edge. "I wanted to use electronics because I've been interested in the different sounds that can be created through the use of pedals and running them through Ableton," Garcia says. "I'm also really into delays and looping. So it's been on my radar to explore this new territory and I'm really interested in what's possible with my horn."
.
00:10 / 00:58
Merch for this release:
Vinyl LP
Under the mentorship of Sam Shepherd (aka Floating Points), Garcia set out to bring a new dimension to her art. "Sam's been incredibly helpful and has really given me the time to explore in his studio, because the gear he's got is just crazy," she says. "We spent a lot of time going through all his synths and talking about all the different pedals. It was great to take the tunes I was creating to him and ask what he liked and what he didn't. I think it's so important to get opinions, and Sam helped me explore what I  heard in my head and to get that out."
When We Are arrives a month after the release of We Out Here, and the compilation has brought increased attention to a scene that has been bubbling under the surface for a number of years. Says Garcia: "It's been super special to see the response worldwide to an LP that has a bunch of my friends on it who I love and respect hugely. And it's really been a blessing to be involved in a number of the tracks."
The current U.K. jazz scene is entering its most exciting period since the late '80s. And, as it was then, London club culture is central to the movement. That connection is reflected in the mixes Garcia commissioned for the EP from K15 (Kieron Ifill) and Maxwell Owin. "I'd known Max for years and I think he's the most incredible musician/producer and is a real joy to work with. I just love the sounds he creates, and the same with K15; his stuff is really incredible," she says. "I just wanted to reimagine the tunes in a new musical world and take it to a new audience. I want people to dance to my music."
-Andy Thomas