FEATURES
Naomi Wachira's "Song of Lament" is an Ode to Resilience
By Chaka V. Grier · May 04, 2017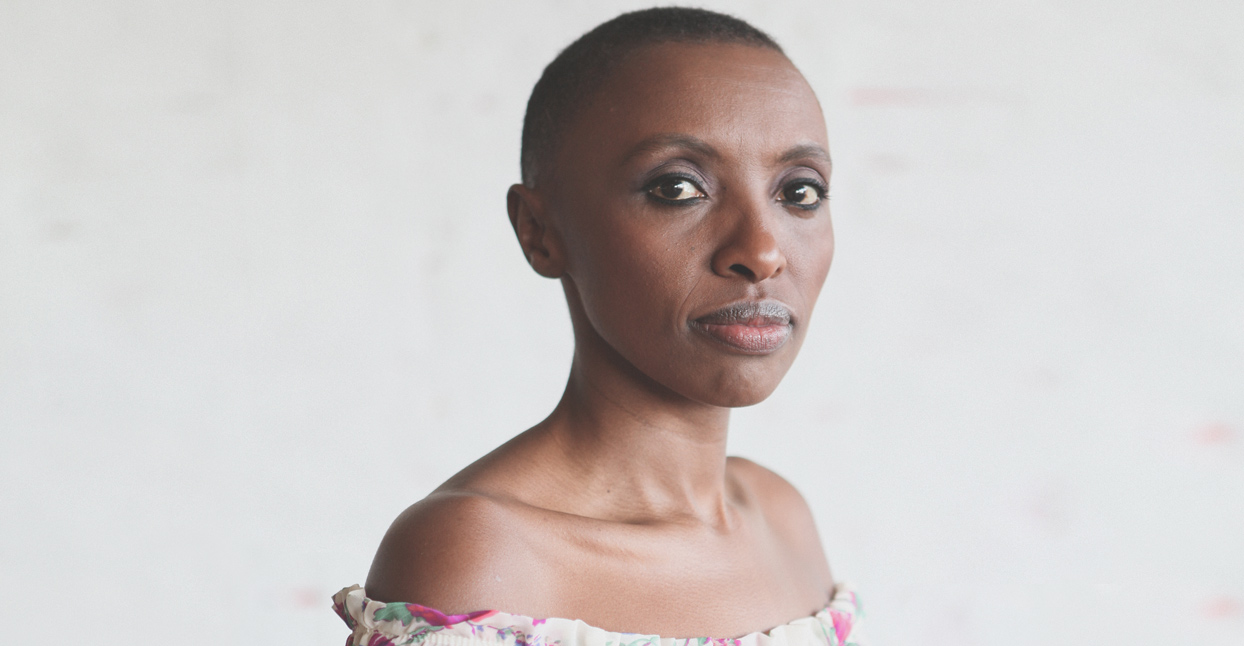 Some albums communicate a truth, urgency, and humanity so profound that it resonates long after it ends; singer-songwriter Naomi Wachira's Song of Lament is one of those albums. It speaks to the political, economic, and cultural strife of the present age, while its beauty soothes, inspiring the listener to look beyond these turbulent times to remember how much we desperately need one another in order to grow.
Born to a middle-class Kenyan family, Wachira moved to the U.S. as a student, earning an M.A. in Theology at the Seattle School of Theology and Psychology. "I know how dehumanizing it feels when you're asked to prove that you are a human who deserves to be here," she says, discussing the immigrant experience from her home in Seattle. In 2011, she discarded her day job to pursue music full-time, resulting in her self-titled debut.
Song of Lament, its follow-up, is an album influenced by world tragedies and personal struggles, brought to life by Wachira's formidable ability to mine the darkest human experiences and return with lyrical jewels. It's also an album on which she moves outside of her musical comfort zone. Producer Eric Lilavois recorded Lament in Seattle's historic London Bridge Studio, which has hosted more than a few iconic local bands. Wachira describes the experience as one of her best thus far. "Working with Eric was so good for my soul," she explains. Exploring influences from her childhood, everything from reggae to rock, was a breath of fresh air. "I liberated myself from the need to sound like anyone else. I write in more than one style. I loved Southern rock when I was in my 20s, and you can hear a little bit of that influence in 'Up in Flames,' and that classical feel with strings in both 'Where is God' and 'Farewell.'  I also love the combination of Kikuyu [language] and strings on 'Farewell' because that's something I've never heard before."
.
00:10 / 00:58
We spoke to Wachira about humanizing "the other," being a proud "African girl," and making music that transforms hearts and minds.
Let's begin with the crowdfunding campaign that made Song of Lament possible. Was it a challenge putting on a business hat and not just the creative one in order to raise the money?
This was actually my third time using crowdfunding to help with production costs for the album, but it's always nerve-wracking. My strong suit is being an artist, and the business aspect of it is something I'm still learning how to do well. I had a fear when I started this campaign, because a few months earlier I had tried to raise funds through a different platform and it wasn't successful. Re-launching it was definitely an act of courage, and a belief that just because I failed didn't mean that I couldn't try again. Overall, it was a great experience, watching friends and fans come alongside me. But it was full of anxiety. The other challenging aspect of it was having to talk about myself for 30 days straight, which in itself caused a lot of stress. I'm such an introvert, and I keep to myself quite a bit. But I'm really grateful that people supported me and instilled confidence that I'm on the right path.
Song of Lament is a collection of songs that you've written over the past six years, but you said that it was really inspired by two world tragedies in April of 2015: the death of 700 men, women and children, all migrants, on the Mediterranean Sea, and the murders of 148 students at Garissa University in a Kenyan terrorist attack. Can you talk about how soon the first songs started coming to you? And which songs were particularly inspired by the tragedies?
I was staying with my sister in Germany when the attack at Garissa University happened, and I remember feeling so defeated by this new [kind] of terrorism. The following day, while trying to find words to express what I was feeling, I wrote 'Where is God?' It's a song that tries to find God in the faces of the religious extremists. Based on my Christian upbringing, I was taught that every person bears the image of God, and I find it hard to trace that image on someone who decides to massacre hundreds of people all in the name of God. It's an aspect of religion I will never understand. 'Farewell' was the song inspired by the loss of the 700+ men, women, and children in the Mediterranean Sea. I felt so incredibly helpless just thinking of them, and the countless others who've perished since then. Their only crime was trying to find a peaceful place to raise their families, chase their dreams, and have a normal life. Writing felt like the one way to honor their lives.
Does writing help you emotionally? Or is singing the healing side of your art?
Both do, in very different ways. What I love about writing is being able to get the thoughts, feelings, and emotions that get stirred by any particular event out of my mind and onto a piece of paper. It always feels like a purging process. When it comes to singing, there's a feeling of being washed over by the purest expression of love I've ever known. I really don't know how to express it, but that's how it feels.
Song of Lament really explores "broken humanity" and, unfortunately for us, it is as timely as ever. You have tracks called 'Our Days Are Numbered' and 'Up in Flames.' Aside from the tragedies we've just discussed, was any of the album influenced by the recent U.S. presidential election and ensuing political upheaval?
The album was already done by the time the political chaos happened last year, but I think the powerful aspect of music is the ability it has to transcend circumstances. Songs like 'Up in Flames' convey the despair that some people have been feeling as we watch our new government unfold. And 'Beautifully Human' highlights the issues of human equality, especially in reference to refugees just trying to find a place to call home. This album, even though I wrote it in 2015, reminds me that music is really a gift that comes from a place that is much higher than I am. Music is here to serve humanity and be a light in dark times.
What are your feelings about the new administration's immigration policies?
The new policies towards immigration triggered so many of the fears I went through when I traveled with student and work visas and, later, a green card. I know how harrowing that process can be, and how dehumanizing it feels when you're asked to prove that you are a human who deserves to be here. It is heartbreaking when you think about what some of these people have already endured and just before their dreams are fulfilled, they are taken away in such a cruel manner. I get the need to safeguard the country, but I think there are kinder ways of doing that without ripping people's dreams, hearts and families apart. But it goes beyond refugees. Just this week, I had a show cancelled because the artist I was opening for, Oliver Mtukudzi from Zimbabwe, wasn't given a visa to travel for the show. It's just devastating, considering he's a legendary African artist.
Speaking of kindness, you really delve deeply into the importance of empathy, of seeing others as human not simply the 'other.' Why do you think this is such a challenge for us as humans?
I'm a big believer that we can accomplish so much more as a human race if we learn to see each other beyond the labels we use to make navigating life a little easier. I know it takes a lot more energy to see each person for who they are and not the group they represent, but I think the rewards of those efforts are far more beneficial to the human race. What makes it hard to see the 'other' is because we like to feel like we have control, especially when encountering something that is unknown to us. It's easier to see people as a single story or stereotype and paint them with broad strokes instead of nuances, because then we feel like we have a grasp of them. But as my favorite author Chimamanda Ngozi Adichie said succinctly in her TED talk 'The Danger of a Single Story,' 'The consequence of the single story is this: It robs people of dignity. It makes our recognition of our equal humanity difficult. It emphasizes how we are different rather than how we are similar.'
You weren't part of the Women's March, but you wrote on Instagram that you supported the resistance with your music that night. How important will music and vocal artists be during this time?
I absolutely believe that music is pivotal for moments like this, because it is the one thing that can pass through the tiniest of cracks and disarm people. A few years ago, I remember reading a quote from Benin singer Angelique Kidjo where she stated that 'Even enemies listen to the same music.' That's the kind of power music has, to cross all kinds of boundaries, real or imagined, and break down walls. That is why I believe that an album like Song of Lament can help unite us, remind us to hope and not give up on our potential for goodness as a human race. We might be at a rough patch, but just as it's true in our personal lives, it can be true on a global level and we can rise up to be better.
The motto that you use, 'I Am An African Girl,' is one that is both celebratory and defiant. When did you decide to take on 'I Am an African Girl' as your declaration? And how has it evolved over the years?
It was probably when I began to embody this song, and I turned it into a declaration. I constantly come back to the line, 'I know where I'm coming from, I know who I want to be' when I need a reminder of why I'm doing what I'm doing. I recently turned 40, and one of the joys I've been experiencing is really owning what and how I want my story and life to unfold. I've always been a bit of a people-pleaser, and now I'm focusing on listening to my inner guide, both personally and in business. I'm more interested in following my path instead of trying to live up to other people's expectations of who I should be and it's both terrifying and liberating. I'm learning to become best friends with my intuition.
I remember back in 2013, the Seattle Weekly hailed your music as being superb, which is true, but I took a personal issue with them referring to your sound as Afro-Soul, when in fact you are deeply married to the folk genre, and do it so beautifully. Do you believe that it is a challenge to be seen as a folk singer when you are a black woman? Has that changed over the last four years?
I think when I first came to the music scene, I really had no idea what my genre was. I felt like I was influenced by so many genres that I couldn't quite find my landing place. Then I started thinking about folk musicians from the '70s and I felt like I was closer to that genre, especially the storytelling and social consciousness aspects of that genre. Once I owned that this was where I saw myself fit in this huge spectrum of music genres, I feel like everyone I've met has seen me in that light. I think that's the beauty of defining who you are with certainty.
You sang much of Song of Lament in your native language.
I sing in both Kikuyu, my tribal language, and Swahili, our national language.
How do you decide when to weave in your mother tongue? And would you ever consider doing a full album in either Kikuyu or Swahili?
Like everything else in my life, it is a very intuitive process because singing in either of these languages always feels like a prayer. I honestly don't know if I would do a whole album in either Kikuyu or Swahili, but who knows!
Your music is so healing, imbued with such love and truth. I love 'Beautifully Human.'

Thank you so much! This is one of the goals I have as an artist, which is to bring healing, love, and truth with the songs I write. I've been trying them out over the last year, and 'Beautifully Human' is a fan favorite. It's actually going to be the first single release, and it fits perfectly with what world really needs to hear right now. There's a lot of fear-mongering going about people who are different from us, and it is only creating more division, and isn't really accomplishing anything good. This is a message I want to sing on every rooftop, that every human being is beautiful. Overall, there's been such an encouraging response on the songs and I think people recognize that the purpose of this album is not just to mourn some of the things we've seen happen, but also arm us with hope and inspiration to be better.
What do you hope listeners' hearts, minds, and souls feel after hearing this album?
My hope is to inspire people to find courage to use whatever talent they have to share light and love in these uncertain times. I hope that we as a people will take time to know those who are different from us, that we will choose love, kindness, and empathy as tools to bring change in the world. That even when it feels like we've hit rock bottom, we can choose to keep running and not give up on what we're capable of being.
—Chaka V. Grier