FEATURES
Mykele Deville's "Each One, Teach One" is a Love Letter to the Next Generation
By Lorena Cupcake · December 07, 2016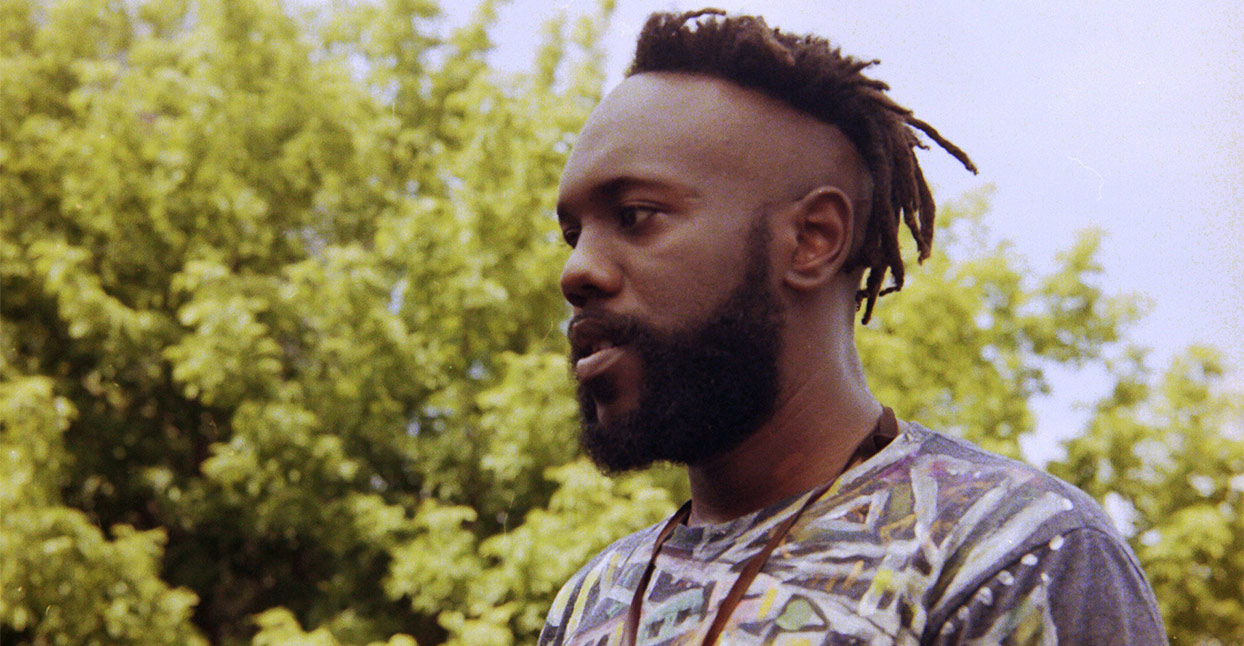 The week before Mykele Deville recorded Each One, Teach One, he traveled to South Carolina to bury his grandmother on his great-grandmother's land. There, next to a small shack built by his grandfather amidst corn fields that had once belonged to plantation owners, he felt what he described as his grandmother's voice speaking to him through the land.
"I was just filled with this creative energy, from her I believe, telling me do something for my niece, and it could be beautiful, and be done in the time in which you want it to be done. Because she's speaking to me, I feel like it's coming out a lot purer these days, to create a purpose, instead of just willy nilly yelling at Hillary Clinton all the time, which is usually my modus operandi."
Deville set out to make an album dedicated to his sister's nine-year-old daughter Vaniya, a quiet girl with a sly sense of humor and an encyclopedic knowledge of Wii hip-hop dance routines who likes to draw beautiful dresses of her own invention. "I didn't want her to look back in the decks and just find Super Predator and see like, oh man, the world is a dark place," he admits.
Each One, Teach One's narrative device takes the form of a series of bedtime stories Vaniya wheedles to delay her bedtime. The rap songs are woven with spoken interludes as well as stories, poems, and melodic songs from guests. Deville instructed his collaborators to address their own nine-year-old selves: "Not that nine-year old who's watching cartoons, but the nine-year-old who was dreaming and saw themselves as a dancer or an actor."
Though the album was originally intended as a five-song EP, Deville wrote 16 to 17 songs in the week following his grandmother's funeral. He found two producers willing to attempt his breakneck, five-song-a-day pace: Colin Mulhern, who created the instrumental hip hop beats, and Chicago DIY space The Foam Palace's Chris Lee, who recorded the vocals and fleshed out the overall sound.
At the release show in the cavernous darkness of Chicago's East Room, his performance was electrifying and dynamic. Deville takes the stage with an actor's assurance, his face crinkling with emotion and his arms stretching towards the ceiling. One hand mimed insertion of a bolt in his neck during "Headless Giants," a brilliant Afrofuturist take on the Frankenstein story that he refers to as "my only Slim Shady moment."
"It was my swing at sci-fi hip-hop, which I don't think is done so much. I used to love to sit listening to Eminem tell this really crazy story on songs like 'Brain Damage' back in the day like, 'These are the results of a thousand electric volts, a neck with bolts, nurse we're losing him, check the pulse!'"
In "Headless Giants," a body lies on the slab riddled with police bullets as a mad scientist attempts to revive and reprogram him as meek, obedient, and unthreatening. "Something that permeates through all people of color's experience in this country is assimilation: how can we take assimilation, and force it into this person," Deville notes. The song's protagonist wonders "What attributes will the white folks like?" and types a message into his reprogramming device: "Be a good negro."
"While he's doing that," Deville says, "the god-voice, the voice from possibly the body on the slab, speaks to him and says 'This is a mistake. You're trying to change something very ancient, very beautiful, and there will be revenge because of it.'"
Deville eloquently communicates the stress of navigating a world where even the most mundane activities are laced with hidden danger due to your how others perceive your skin color. Like a silver-screen jewel thief in an action film, blowing smoke in a room to reveal the hidden security lasers, his lyrics reveal the triplines deliberately set in his path. Lines like "Status quo, white fragility and black pain" and "Two Americas for one me" expose violence against African-Americans as the hidden cost of the relative privilege afforded to others; two faces of the same coin.
Mykele Deville with Vaniya. Photo by Sarah Joyce.
"There's more Americas," Deville says. "There's so many different experiences in this country, but this one I grew up in was a very unforgiving one. You may have to take a route that isn't looked upon favorably with the government, and in most of the cases, you have to take that route because it's been set there before you that you got basketball, or you got this weight."
He continues: "You gonna figure it out, because you're bound to get some sort of charge…even if you didn't commit the crime. I watched it happen to family members, to myself, to other folk, and it develops a deep distrust from a very young age when you see your cousin being thrown under the jail for a dimebag under the Clinton administration, when you watch people get killed and watch the police come with one ambulance, push the blood into the storm drain, put up the yellow caution tape for like five minutes and then take it down like nothing happened. That's an America people live in every single fucking day, and that's not addressed."
Deville is a founder of the eclectic multi-arts space The Dojo, whose collective of resident artists create whirling three dimensional spaces filled with vendors, visual artists, and a wider array of musical genres than most of the venues in Chicago's punk-dominated DIY scene. After moving on, he was sleeping in a loft bed at Eco, a sister venue topped with a beautiful rooftop garden overlooking Pilsen. Still, he notes that if he walked out the door and happened to look 'suspicious,' which could really mean anything, he would immediately be in danger.
Over on the west side, Vaniya faces her own obstacles. "She says she hears shootings. You gotta think, for a kid to know that sound very very well, and still have to traverse that area, and still have to worry about algebra first period.. You develop post traumatic paranoia, you're walking around afraid constantly."
Each One, Teach One is a roadmap to the love and optimism inside yourself in an unforgiving world. Despite the heavy subject matter tackled, Vaniya says she had fun recording the album. "We had to stop a few times because I kept laughing, it was funny. I really liked it. I especially like recording C'est La Vie with him."
Mykele Deville with Vaniya. Photo by Sarah Joyce.
"C'est La Vie" is the album's closing track, a clearheaded and ebullient anthem for self-determination that features Vaniya's voice in the chorus. It reflects their real-world relationship, where he steadfastly encourages her to take her own path.
"Something he really taught me is never put yourself down or anything, and it don't matter what nobody else says, It only matters what you say, if you want to be outside the box, you can be outside the box," Vaniya says.
Reflecting on what positive message the album has to offer, Deville says, "This album is a lot more about love, acceptance of your color, acceptance of who you are as a young person growing up on the West Side of Chicago like I did; finding self worth, and loving yourself and loving your hair and your beauty, because I have to tell myself these things too. It's not a gender thing, it's a person thing. If I can show her that, versus puffing my chest out and telling everybody how good of a rapper I am, I think over time she'll be able to hear these things and really internalize them for herself."
He pauses, looking at Vaniya in the rooftop sunlight. "We got a little nephew, my little nephew Mikey. Maybe I'll make a mixtape for him too. You know, share it around, spread the joy."
—Lorena Cupcake