FEATURES
William Eaton, the New Age Guitarist Who Played Concerts to Canyons and Rivers
By Jesse Locke · April 22, 2020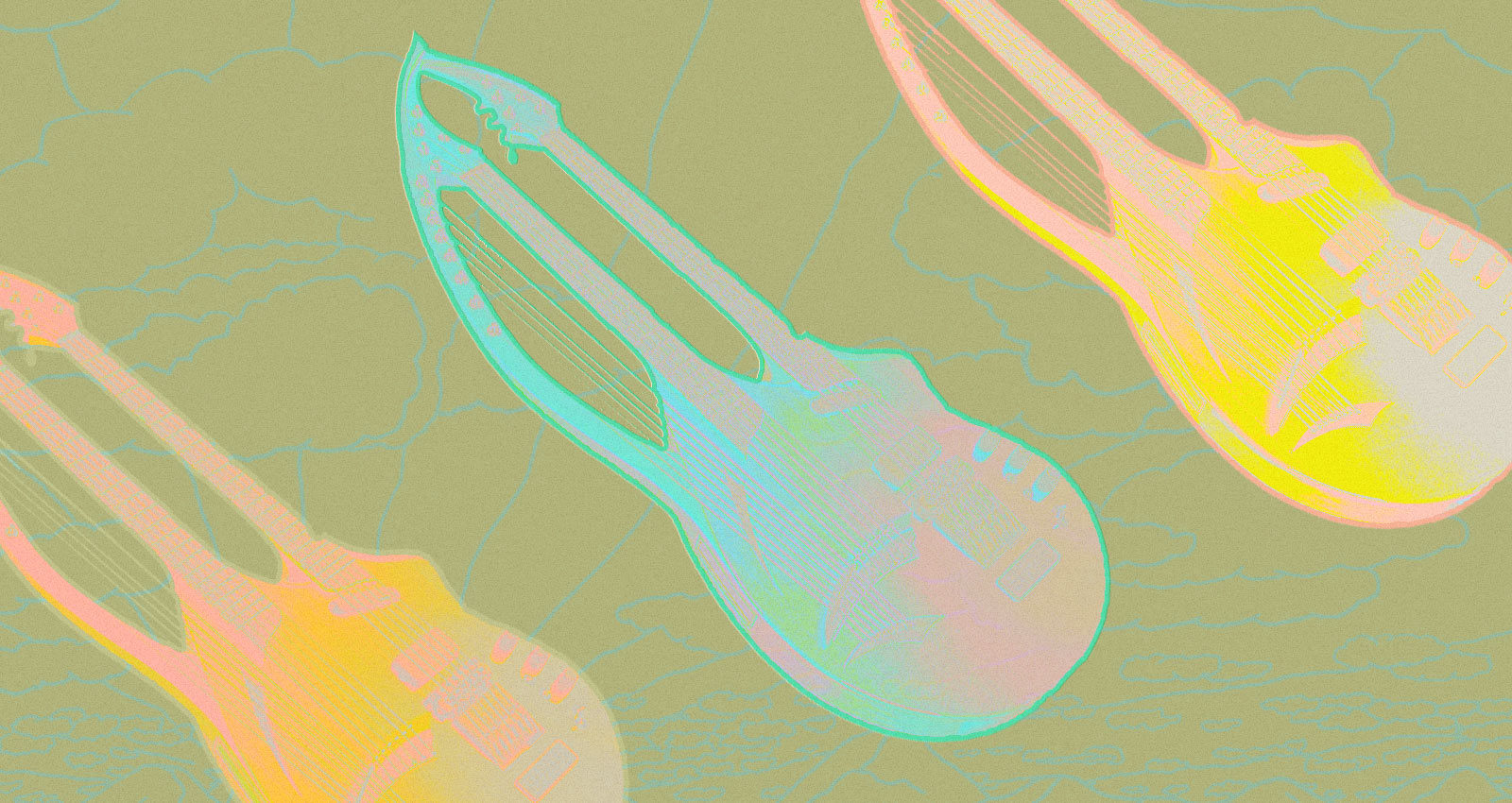 The 18 untitled, entirely improvised tracks on Music By William Eaton have only been performed once: in 1978, when the acclaimed New Age guitarist ventured into the Arizona desert and played them for the canyons and streams and birds that surrounded him. The spatial sound of his privately released debut album conjures both the American Primitive fingerstyle guitars of John Fahey and shimmering zither washes of Laraaji, with a tranquility reflected in the sun peeking over mountains Eaton drew for its cover. Now, a long overdue reissue from Morning Trip Records will bless listeners with its gentle tones once again.
Merch for this release:
Vinyl LP
The album arrived on the heels of a period of renewal for Eaton. He had learned to play the guitar at age seven, but stopped after high school when he moved from Arizona to California to study business at Stanford. Yet his musical itch remained; when he returned home during his first year of school on holiday, he decided to get his fingers back on the strings. He gradually developed a desire to build his own instrument, an urge that led him to John Roberts, a local luthier who did that very thing. Roberts guided Eaton in his first custom instrument creation.
"I had quite a busy course load at that time, so after I made that first guitar, I would use it to help me relax," says Eaton. "Playing became these quiet moments where I didn't worry about technique. In the same way you listen to your breath and have a mantra for meditation, I was just listening to one string at a time and letting it ring."
Eaton initially thought this interest was a passing fancy—until one night he had a vivid dream in which he built a second guitar. He decided to transition his interest in creating custom instruments from idle hobby to life pursuit. When one of his Stanford professors gave the class an assignment to create a business plan, Eaton decided to make his project a proposal for a guitar-building school. He enlisted Roberts, who by then was working with electric guitar specialist Robert Venn, and the three men resolved to form the Roberto-Venn School of Luthiery.
Merch for this release:
Vinyl LP
Eaton remained in California to complete his studies at Stanford, and began as a security guard for the school's outdoor concerts. It was there that he witnessed a performance by English horn and gong-playing guru Nicholas Ivazes. Eaton was transfixed by Ivazes's Zen-like stage demeanor, and the way his songs progressed without repeating any musical phrases. Eaton approached Ivazes after the concert, and the two chatted late into the evening, discussing the physiological connections between living things.
"After our first meeting, he told me to visit him in Sunnyvale, a city near Stanford," says Eaton. "I asked him how he would know when I was coming, and he said he just would. A week and a half later I decided to go, and there he was [waiting for me]. He said, 'When your mind is clear, we all transmit thoughts that are available'."
Inspired by the state of enlightenment Ivazes had reached, Eaton decided to return to Arizona and reconnect with the natural world. Throughout the 1970's, the young guitarist lived outside in the desert, running for hours in bare feet, sleeping on the ground, and subsisting on fruits, figs, and nuts. On the cover of Eaton's second album, The Tale of a Musician, is a photo of him from this era: thrusting a guitar into the sky above his shirtless chest, long hair blowing in the breeze.
Outdoor living attuned Eaton to the sounds of wind and rain whistling through the forests, and he began to hear a new kind of music surrounding him from all directions. As he returned to instrument building in his early years at the Roberto-Venn School, that sense of connection to each individual tree informed the creation of his stunningly unique wooden instruments—such as his harp guitars, which include as many as 26 strings.
Merch for this release:
Vinyl LP
"Each instrument is a story in itself," says Eaton. "The Spiral-Clef came from looking at a treble clef. Spirals are one of the most common forms in the universe, appearing everywhere from trees and plants to our DNA. Galaxies are formed with them, and they appear in petroglyphs. That started as a guitar and developed into a raga instrument when I put in two bone saddles so the strings buzz or twang like a sitar. Instruments take on their own life if you're attentive to their personality."
These days, Eaton's stringed creations have been displayed in museums, and his courses attract students from all over the world. The Roberto-Venn School's intensive nine-month program subtly follows Eaton's philosophy of connection to the natural world: it begins with the selection of a tree, and ends with its rebirth as a guitar. Eaton has earned four New Age Grammy nominations, including one for his collaboration with celebrated Indigenous flautist R. Carlos Nakai, and continues to perform with his latest environmentally focused group, Earth Speak.
But there's no better introduction to his work than Music By William Eaton. Like the most memorable scene in Errol Morris's documentary Gates of Heaven, Eaton's outdoor performances in the late 1970's began with nature as his only audience. But when he started inviting friends to join his late-night desert concerts, they begged him to record the performances. One night, Eaton plugged a quadrophonic guitar into four speakers connected by 200-300 foot cables, and rolled tape while strumming and picking under the starry sky. Listening to his meditative, enveloping instrumentals today is both a time capsule into Eaton's peaceful playing, and a reminder to mend our own relationship with Mother Nature.
"I think where we are today with climate change is a product of overpopulation from human beings," says Eaton. "The source of our ancestry comes from having conversations with the wind, elements, animals, and plant world. Our leaders throughout time have had reverence and complete awe for the surrounding landscape and all of the families that are part of that. When you step back you see a biosphere that's completely unique in the universe and very fragile. We've seen various species come in and out of existence, and it's amazing that's not part of our everyday dialogue. Our innate intelligence is far behind where it could be with those relationships."