FEATURES
Moses Boyd Is An Old Soul At The Forefront of U.K. Jazz
By Andy Thomas · August 10, 2017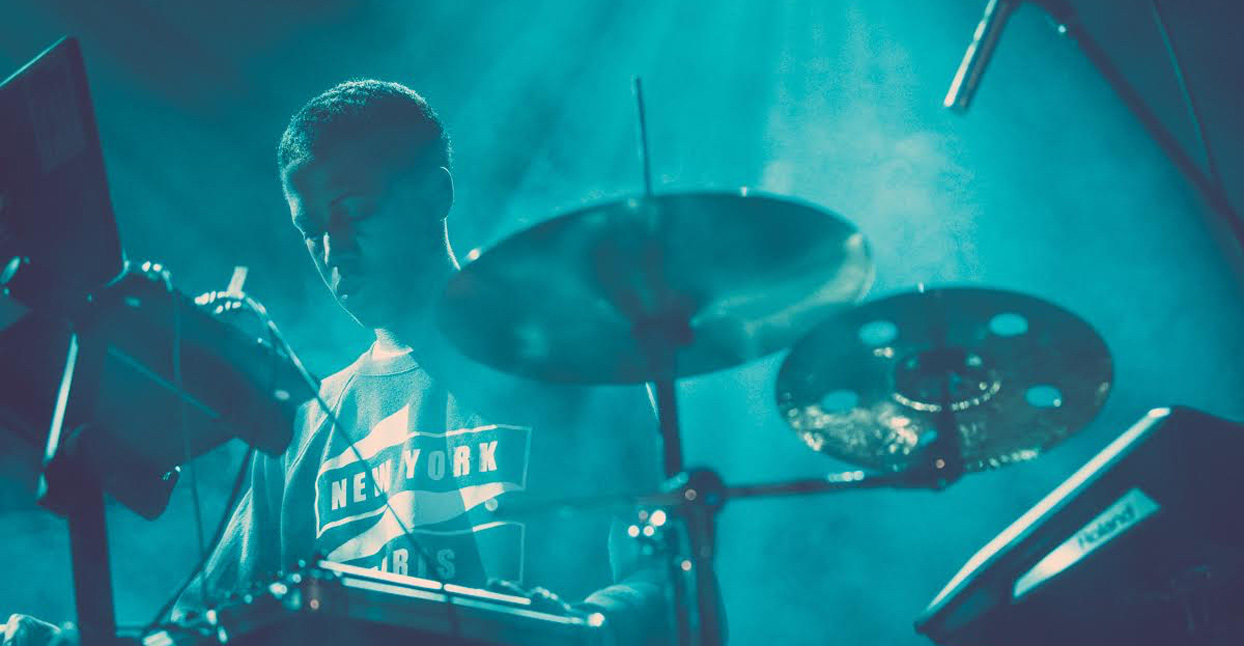 Drummer Moses Boyd cut his musical teeth as a teenage member of the jazz music education program Tomorrow's Warriors (the younger incarnation of the Jazz Warriors), playing alongside renowned jazz bassist Gary Crosby. Now, at 25, Boyd is bandleader of the Moses Boyd Exodus, as well as one-half of Binker & Moses with tenor saxophonist Binker Golding, and is considered one of the best innovators in the U.K.'s new jazz movement.
The South Londoner first picked up the sticks at age 13 at his school in Lewisham, where he was taught by British jazz drummer Bobby Dodsworth. While studying at Trinity Laban College, he became a regular at Tomorrow's Warriors jam sessions at Soho's Spice of Life pub. Raised on both Miles Davis's Kind of Blue and Dizzee Rascal's Boy in da Corner, Boyd's musical journey has been shaped as much by club nights in Peckham as it was listening to old Blue Note LPs. Binker & Moses' 2015 LP Dem Ones received a Best Jazz Act at the urban MOBO (Music of Black Origin) Awards, and introduced them to an audience schooled on grime acts Wiley and Skepta.
Released last year on his own Exodus imprint, his debut 12" with his Moses Boyd Exodus Ensemble (including Binker) "Rye Lyne Shuffle" was mixed by Kieran Hebden and Floating Points. Named after the Peckham street where African butchers sit next to clubs like The Bussey Building, the storming jazz shuffler was premiered by Gilles Peterson (who called Boyd "the next Art Blakey") and played by DJs like Alexander Nut of Eglo Records and Four Tet on his Boiler Room mix. Whether he's dropping a live set with Exodus for Boiler Room TV or fusing electronics with world music with his Solo Exodus improvisational project, Boyd is a very 21st century South London jazzman.
We spoke with Boyd about his new Absolute Zero EP, how jazz titans like Tony Williams and Bobby Dodsworth shaped his musical perspective, and why jazz isn't really jazz in 2017.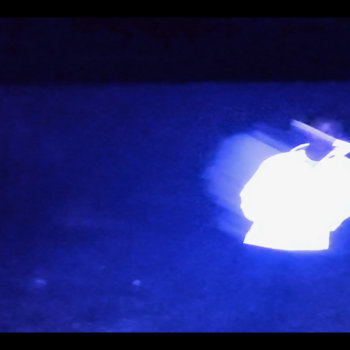 .
00:10 / 00:58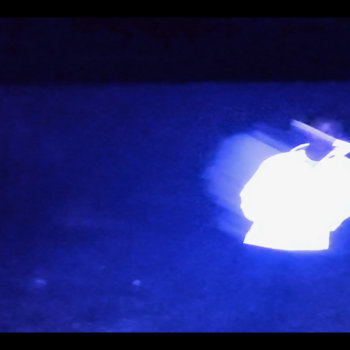 Could we begin by talking about the new EP and how you think it sits with your other work as Exodus?
Sonically and aesthetically, this EP explores sounds and influences I've always been into, from grime to ambient. Maybe people listening will see it as a step away from some of the music I've released, but to me it's not that far removed. It's still me and my ideas expressed in other ways.
It's coming out on your own Exodus label. How important is the creative freedom of releasing records on your own label?
It's very important for me. I like doing things I believe in as and when I feel. Having my own imprint freed me from outside pressure to try and fit any mould and just be myself at my own pace, under my own rules. And in turn it allowed me to create my own niche following.
I first saw you playing Jazz in The Round a few years ago, and what struck me was the both the energy and dexterity of your drumming. How would you define your style of playing?
I suppose it's coming from the jazz school of thought. My heroes are people like Philly Joe Jones, Roy Haynes, and Ed Blackwell. But I'm equally into drumming traditions from West Africa and the West Indies. I find it hard to describe my approach fully. But I'm taking all those influences and filtering it through my experience.
Could you talk about the influence of jazz drummer Tony Williams?
Tony is a massive influence who changed the way I perceived how drums can and should be played. I first heard him on Miles Davis's Nefertiti LP. His playing at the time was so abstract, but perfectly in control, with a full understanding of how to influence time and space, both from a drummer's point of view and also within the ensemble.
How important was it to have a teacher like Bobby Dodsworth?
I loved having lessons with him, because he would go as far as I would. I'd come every week with a head full of questions, and he'd come with a bag full of questions and answers, too. I think I was his most inquisitive student, and he really nurtured that in me, and put me onto people like Tony Williams, Max Roach, and Buddy Rich. One thing I've taken from him is his economy of motion. When I used to watch him play, he looked like he was never breaking a sweat at any tempo, he was always slick. I've tried to model a lot of my technique on that. He was a really important mentor.
Could you talk about pianist Leon Michener, whose workshops you attended? I understand he introduced you to Fela Kuti?
Leon introduced me to everything. At 16, he was filling my head with music from Steve Coleman, Art Ensemble Of Chicago, Frank Zappa, Bud Powell, Fela Kuti, and so much more. And not just me, but people like Theon Cross, Nathaniel Cross, Nubya Garcia, and more. They all benefited from Leon. He really encouraged eclecticism, and at that age I was just soaking up everything. He completely blew my mind with his musicianship. There was nothing he couldn't play or explain, which was really powerful to me at the time. We would go to his workshops every Sunday for a couple years in Camden at the Roundhouse, and it prepared me so much musically for life as a diverse musician.
.
00:10 / 00:58
You also tuned into pirate radio and listened to U.K. garage. Did you ever see a conflict between that and your love of jazz?
Never! I love both. At the time, people couldn't really see why I did like both or how the two worlds could even co-exist. But they did for me. I didn't grow up listening to jazz. I had to discover it and search it out for myself. But garage, grime, and pirate radio were my everyday soundtracks. I'm from South East London, and around that time, grime and pirate radio were developing alongside me. So I never felt I was looking back trying to discover it, like I was with jazz. It was just there in my community—in my face, constantly. I loved Dizzee Rascal as much as I loved Duke Ellington, but I was definitely part of the minority.
How important was the town of Catford in your musical development?
It was important, but not directly in a musical way. But it's a colorful place with a lot of amazing people and characters. It also had—and still has—a strong sense of community. I can walk down the high street on any given day and see someone I know and hold a conversation. Musically, there wasn't much going on in Catford back then, despite the fact that a lot of musicians and artists grew up there. So we had to go to places like Camden and Soho to play and hone our skills. But it gave me a great respect for cultures and mixing of styles and ideas that I carried into my music.
Your other great mentor was Gary Crosby—how important was it to have someone like that guiding you?
He was like the last part of the triumvirate of mentors, after Bobby Dodsworth and Leon Michener. Having someone of my culture and background who has already walked a path that I'm following was inspiring. He gave me, along with many others, a chance. That simple. His door was wide open if you would do your part. He had these famous mantras that appeared almost every time we would see him. Things like 'Practice…be the best' and 'The better you are, the more money you make.' Which is what we needed to hear. It's hard to visualize at 17 that you can travel the world and be successful playing music. I'd never seen that represented in my community. My peers were walking a very different path. Without making it a sob story, I went to a bad school, I grew up during postcode wars and knife crime, and London was a very different place back then. Music was all I had, so for many of us, Tomorrow's Warriors—led by Gary—was a much-needed safe and positive space.
How important was it to be part of a collective?
At that time, it was amazing to be with people like Nathaniel Cross, Nubya Garcia, Theon Cross, Shirley Tetteh, Reuben Fox, and many others who were all trying to be the next Wynton Marsalis. Which was great. Over time of course, we found our individuality and ventured into our own niches. But that sense of community and healthy peer competition was something special. We'd play together for hours, then listen, dissect, share, and write music together. It was like boot camp but for music. Great times.
How did you meet Binker and when did you start playing together? What connected you so well?
I met him via Tomorrow's Warriors. Gary had recommended me for the late trumpeter Abram Wilson's Band and Binker was also in the band. We then went on to play in many groups together before forming our own group. He has a great sense of humor and I think that that's the main thing that connected us. I don't take things too seriously. Neither does he.
When did you start using electronic music?
I've been using it as long as I've been playing drums. I started messing around on Cubase in secondary school and just continued from there. I think it's very important to experiment and try things outside of your normality. I try to shake things up constantly to inspire new ways of thinking and creating.
That leads us into Solo Exodus—can you describe that project?
I've been trying to mix the two worlds of acoustic and electronic music from the beginning. Solo Exodus or Solo X is my way of trying to use improvisation within a different framework. I still use my own music as the framework, but I incorporate different tools that are more suited to the DJ electronic world. The sound may be different but my ethos is the same. And that is to be as free to improvise and create with some samplers or a modular synth and drums as I would be in my band setting.
How did you feel when 'Rye Lane Shuffle' blew up?
It was a great feeling for sure. I never expected that reception when I wrote or recorded the song. But it snowballed very organically. Both Four Tet and Floating Points were very gracious in helping out on the mix, as well a playing it out. Before I knew it I was hearing it everywhere. It's a great feeling.
The U.K. jazz scene is very healthy right now. What acts should we look out for?
Parshmuane, Ashley Henry, Theon Cross, Ahnanse, Tori Handsley, Shirley Tetteh, Vels Trio, Idiom, Joe Armon Jones, Nathaniel Cross. It's all coming.
What is jazz in 2017?
I see it as 'A WAY OF'; I don't try to define it, that's not my job. There is a history and culture attached to the word, which cannot be ignored. But once you go through that you still have to create. I see jazz as a way of approaching things creatively.
—Andy Thomas