FEATURES
The Evolution of Doom Innovators Morbid Evils
By Philip Freeman · August 07, 2017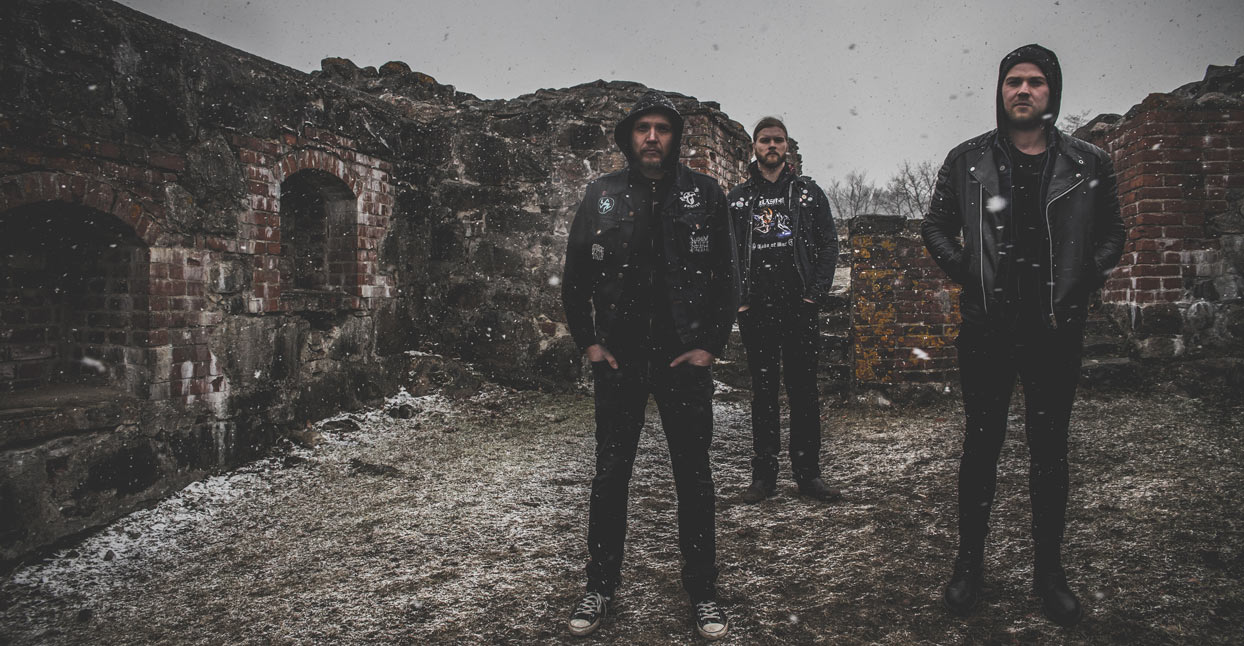 Keijo Niinimaa likes to keep busy. "I've almost always had two bands," he says via Skype from his home in Turku, Finland. A founding member of grindcore legends Rotten Sound, he was also the frontman for the death metal band Medeia from 2007 to 2014. But as he explains it, "I went on tour with Medeia and realized that was going to be the last tour with me in that band. I just didn't enjoy the music enough anymore." Fortunately, another idea had already been percolating for a couple of years.
"I guess it was Roadburn 2012 when I saw Bongripper, YOB, and Conan and a couple of other really cool bands," he recalls. "I knew about them, but I never saw them live before, and that kind of planted a seed to start doing something heavy and downtuned but still our own thing, with death metal added into it." He recruited drummer Timo Niskala and guitarist Jan Trygg from the grunge/alt-rock band Molly Grows Up, along with bassist Tero Nordlund, and they began playing stoner/doom cover songs, and slowly developing material of their own, as Morbid Evils. In March 2015, they released their first album, In Hate With The Burning World.
The album's six tracks combined doom metal with post-punk and industrial, very different from the ultra-heavy stoner doom Niinimaa credits as inspiring the group's creation. The drums were soaked in reverb, booming as though from the back of a warehouse, the riffs were as monotonous and punishing as early Swans, and Niinimaa's guttural, roaring vocals sounded like a grizzly bear preaching an apocalyptic gospel. Samples of crackling fire made the whole thing even more ritualistic and dark.
.
00:10 / 00:58
"The first album was the first four months of the band's existence and [we were trying to] form the band's sound. I also learned how to produce, and made a bunch of mistakes which made it sound like the way it does," Niinimaa says. "It's unique. Right now I don't hate it anymore, but I used to hate the sound a lot, because it didn't sound like I wanted it to. Especially the drums. And I just realized that it's OK, we didn't want to record it again, because Svart picked us up right away when I sent the first early mixes from it. They wanted to release it so we decided to just go for it. So it's more unintentional production flaws which made it sound that way."
Following In Hate's release, they played a few shows, one of which was recorded—without their knowledge. "The place in Oslo, I wasn't aware that they had a really good studio in the basement, and that they had connected the studio to the live room, and there just happened to be one camera shooting the stage," Niinimaa says. "So after the show, they asked us if we wanted to have the tracks, so in two weeks we had the EPs out." That EP, Abacinated and Blind Live, included the first-ever live performance of the title song, which is also the final track on the new Morbid Evils full-length, Deceases.
The song has been reworked very slightly over time, partly because the band always takes the limitations of vinyl records into account. "We made it shorter, because of the 40-minute sound barrier," Niinimaa explains. "You can do longer vinyls, but they sound more quiet and I don't think we want to be more quiet, so therefore we cut off something of it. And the ending has changed quite a lot. The base of the song is pretty much the same; same riffs, and I think I changed my lyrics just a bit, but it's pretty close, too."
.
00:10 / 00:58
Time constraints were a factor for all six songs on Deceases. "Originally we recorded everything a lot longer than they are now," Niinimaa says. "There was an idea to have a double album version as well, but that probably would have failed miserably." The album is structured as a six-part suite; the tracks are labeled "Case I" through "Case VI." But that only happened once the music was finished, and Niinimaa began writing the lyrics. "Track four ["Tumour"] and track six were older ones, but for everything else I wrote the lyrics and sang them on the album right away…when everything was attached together it started to feel almost like one song." The first three tracks are all linked; a caustic, layered drone blurs the line between "Case I – Murder" and "Case II – Dead Weight," and "Dead Weight" flows seamlessly into "Case III – Evaporate." The songs on the album's second half are slightly more discrete, but there's never the once-customary two seconds of silence between tracks. Morbid Evils are relentless.
Now that Deceases is complete, Niinimaa has to re-learn the songs, since he's one of the band's guitarists as well. "I never tried them at the rehearsal space," he says. "Now I have to learn how to play them. Guitarist-singer problems. But that's how I'm always doing the vocals. I don't care about if it's too hard to play or something. They're not that hard, anyway. But still, some of the rhythms are, like, going against each other. It would be easier to avoid those, but then I wouldn't be happy with the vocal arrangement."
The music, again self-produced, doesn't radically change the formula established on the debut. It's just a little heavier. Niinimaa says, "The new one has more of the sound that we all wanted to sound like, and is closer to how we sound at the rehearsal space and live. It's a little more raw. More bite in the guitars, bigger drums. Timo is tuning really low on purpose and hitting really hard because he said otherwise he cannot be heard behind our amps, so he has to hit hard. All that is captured now on the new one, in my opinion. When you produce yourself and you're at the rehearsal space, you kind of know how it should sound, because you're used to it anyway."
—Phil Freeman