FEATURES
Mini Golf, Softness & Strength: An Afternoon with Diet Cig
By Maria Sherman · Photos by Brad Ogbonna · April 07, 2017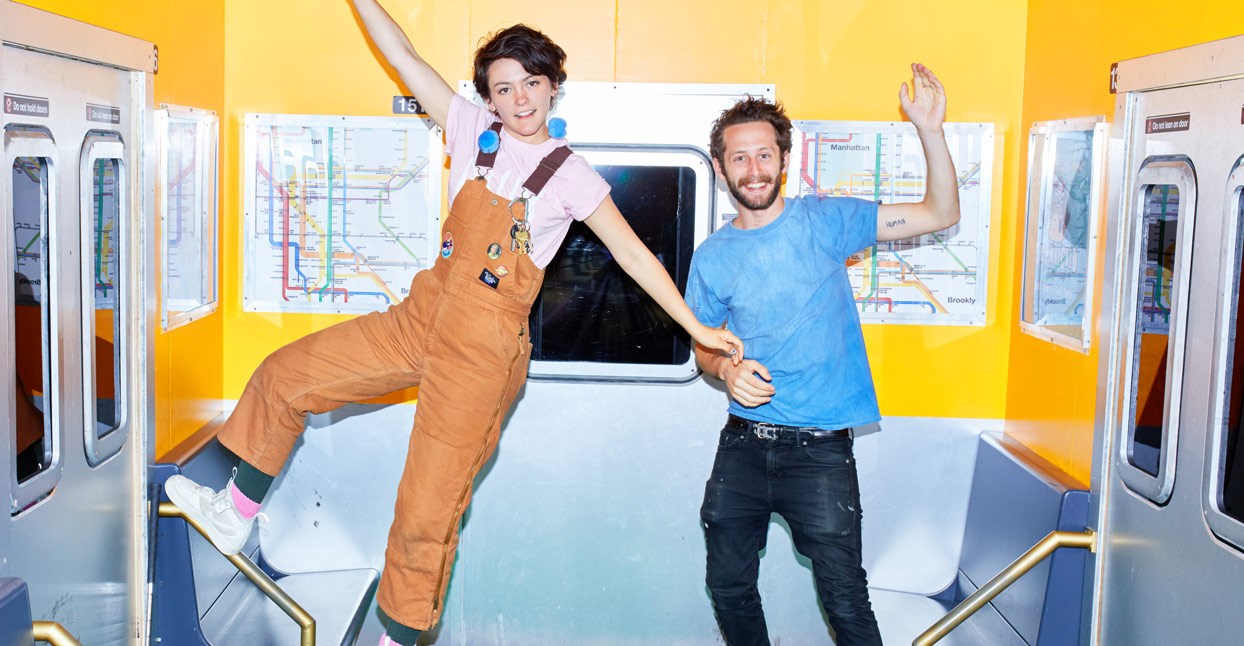 Diet Cig, the punky-pop duo of guitarist Alex Luciano and drummer Noah Bowman, have agreed to conduct an interview over mini golf—in many ways, they feel like the perfect band to do so. At a time where indie rock feels predicated on some level of mystique, Luciano and Bowman are in it to have fun; they're outgoing BFFs who possess a certain inviting sense of humor—playing putt-putt with them feels as comfortable as going with a childhood friend.
It's a Monday afternoon in Brooklyn's industrial Red Hook neighborhood and the streets are mostly unoccupied. It's right before school lets out for the day—a conscious decision made to avoid the rush. Diet Cig are eager to play and eager to talk about their debut album, Swear I'm Good at This, in a nostalgic, campy setting in line with their musical identity: if it feels good, do it.
We're at Shipwrecked Mini Golf, a pirate-themed indoor park on the second floor of an isolated warehouse building. It's exterior isn't much to look at, but the entrance is another story: sounds of crashing ocean waves and sporadic parrot squawks meet you right away. We're ushered into a windowless room before the game begins to learn about the theme: pirate ghosts tell a tale of lost treasure, and it's up to us to uncover it. It takes about five minutes and two ill-placed jokes to get through the explanation. When it's over, we're all desperate to play.
Merch for this release:
Vinyl LP, Cassette, Compact Disc (CD)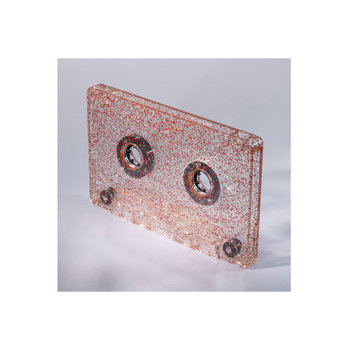 The last time Diet Cig played mini golf was while on tour last summer. "It was this cool, alien-themed place. It was all black-lit so you could see all the lint on my shirt, my teeth looked crazy," Luciano says excitedly. "Then there were these aliens everywhere like, 'Ahhh!'" She jumps, swinging her club around in anticipation. We walk into the first room of the ongoing course: the shipwreck. Soothing blue lights and water-y ambient sounds fill the space. Bowman is the first to get a hole in one—he does so on the second attempt. Luciano misses his expert shot while examining the ceiling display. Bowman spins around, expecting to be met with high-fives. Instead everyone realizes the blunder with a brief moment of silent understanding followed by explosive laughter. "Come on!" Bowman laments through a smile.
Diet Cig formed in the summer of 2014 on what Luciano describes as "a boring Sunday" almost by happenstance. Bowman's band Earl Boykins was touring through Luciano's college town of New Paltz, NY; he remembers going to a record shop and Luciano taking photos of him and his bandmates from afar. "There was this really lame thing that's still on Facebook called 'Souls of New Paltz.' It was like Humans of New York. I was going around New Paltz taking photos of people," Luciano laughs. "I do remember being with my band like 'Is this kind of weird?'"
Merch for this release:
Vinyl LP, Cassette, Compact Disc (CD)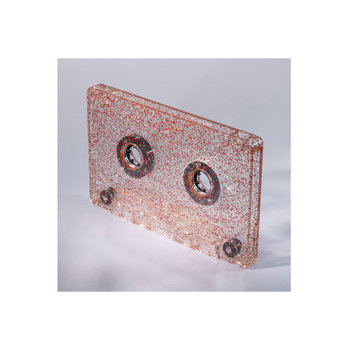 Bowman agrees. They didn't actually interact until a few months later, when they'd come across each other at a house show. Luciano interrupted Bowman's set to ask for a lighter and they became fast friends. "If we didn't meet that night I don't think we would have ever met," Luciano assures.
She went on tour with Earl Boykins to take photographs, eventually feeling the desire to make music herself having only known a few chords. Bowman offered to assist. "I started a project with my roommates at the time, but none of us could really play our instruments and it fizzled out," she recalls. "I'd written songs on my own with hopes that I'd do it with that band. Noah knew I had these songs. Before anything happened, he said, 'Do you want to hang out and try to play your songs together?' I was like, 'I don't know. I've never really played music with anyone before in a like drums-guitar-synergy situation.' I plugged in the guitar, I'd never really played electric guitar before, and thought 'Oh yeah!'"
"I could tell from that day," Bowman says with a laugh. They recorded their debut EP, Over Easy, in 2015, catching the eye of Jessi Frick of Father/Daughter Records. Soon, a passion project became a full-time endeavor, one they're still in awe of.
"We went into it thinking we'll play house shows, she'll finish college, I'll start a job," Bowman explains. "This is supposed to be fun. As long as it's fun, let's just keep doing it. If it ever gets to the point where this sucks, we're going through the motions, we'll call it." He stops. "On the way over here I was like, 'It's a Monday and I'm on my way to go play mini golf, and it's for the job that I do. What else would I be doing right now?'" That appreciation comes across in how they approach the game: Luciano swings with force, Bowman plans his attack. There's no real competitive energy and the duo take turns setting up creative shots. This is their job, and they make the most of it—even when Bowman's ball falls into a water trap.
Few young bands present a fully-fleshed out aesthetic identity: most wouldn't have agreed to mini-golf, perhaps for fear of infantilization, but that's not a concern for Diet Cig. They exude a confidence in their identity; they have figured it out—Diet Cig focuses in on personal transparency, expressing angst and heartache through pastel pinks and crocheted-images of empathy. It's seen on the cover of Swear I'm Good at This, on a limited-edition satin jacket collaboration with L.A. illustrator Tuesday Bassen, within the very nature of the music they make—narrative punk-pop that sounds sweet and feels hopeful. In 2017, they're a band dedicated to storytelling, to challenging ideas of femme expectation. The album's opener, "Sixteen," tackles high school slut-shaming through the personal narrative of Luciano dating a boy also named Alex. In "Link in Bio," the band details societal limitations placed on women and femmes. "Maid of the Mist," demands consent or else in the lyric "And I am bigger than the outside shell of my body/ And if you touch it without asking then you'll be sorry." These very direct messages unravel on top of ascending power chords, the self-assured saccharine storytelling of two people working it out.
"In the past two years I've confronted ideas of identifying as a femme person and what that means," Luciano explains. "So many people are like, 'Girl band! Female-fronted whatever!" I've always been a feminist, but after starting this band I realized how important feminism is—activism and consent and all of these themes that pop up on the record and how they tie into my personal feelings. This record is political, but it's also really emotional, and those things go hand in hand: as a femme person my existence is political. It's a blend of both things on the record: talking about my feelings turns political."
She continues, "It was hard for me to think, 'Okay, this shitty thing happened to me, why does it matter?' And taking it and being like, 'This happens to a lot of people because they're femme or they are marginalized,' and relating it back to the bigger picture. That was hard: separating myself from those emotions but it was cathartic to be able to unpack those feelings in the sense of what's happening."
Merch for this release:
Vinyl LP, Cassette, Compact Disc (CD)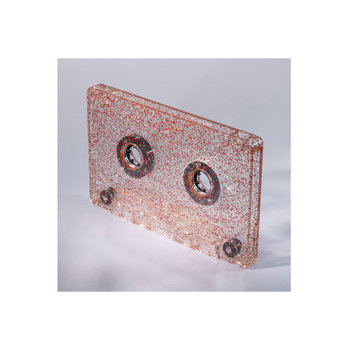 The resulting image is one of radical softness, a notion Luciano deems to be the ultimate punk. "Punk is saying fuck you to the man, to government oppressors, to anyone putting you down. A really big way to say 'fuck you' to that is to be empathetic when these people want you to turn against each other," She sits up. "It's really cool to go out of your way to make sure people are safe at your shows. They can engage in this community that you're building to have each other's backs. I think the whole idea of radical softness is this way to be punk, to be present, to take care of each other. It's punk as fuck to take care of each other."
The game ends—Bowman victorious—with a simple hole stylized like a New York City subway car (the treasure, it appears, was Brooklyn.) They both make it in one shot and a celebratory Luciano climbs onto the false bars, falls, laughs, and an equally-giggly Bowman picks her up. If there were any moments of real contest, it was all in good fun–they're dedicated to each other.
We decide to sit down for Sun Chips and Welch's fruit snacks in the venue's lobby before departing when I ask how Diet Cig want to be viewed. Luciano responds, "We're just dudes! Everyone is just a frickin' dude doing their thing. We want everyone to see that we're just noodles," "In a big bowl of spaghetti," Bowman adds. Luciano cuts back in, "We're just some meatballs rolling around on stage, leaving sauce in our path, just trying to have fun."
-Maria Sherman